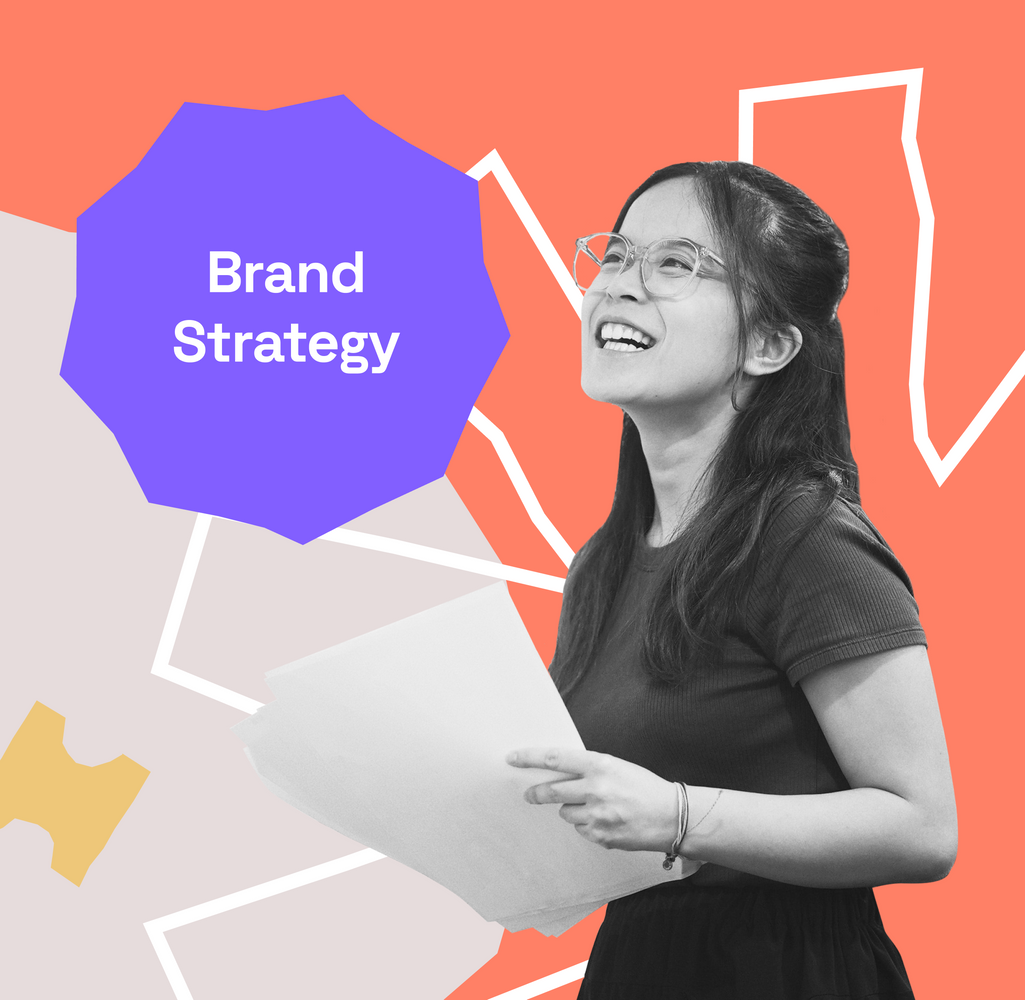 What is Brand Strategy (& How to Create a Strong One)
Is your brand clearly identifiable by customers? Do all your employees understand the goals of your brand? If the answer to either question is no, you may need to define or redefine your brand strategy.
A strong brand strategy helps make your brand more recognizable and increases internal alignment. Here we define what brand strategy is and provide a clear step-by-step process for developing your own.
What Is Brand Strategy?
Brand strategy is a long-term plan to effectively communicate and promote your brand to your target audience. Your teams use it to align on how you'll get the message about your product to customers.
Everyone in your company should understand and know how to execute your brand strategy, including C-suite leaders and employees from your design, UX, sales, marketing, and brand team.
Your brand strategy should include components like:
Your brand's vision statement
An analysis of your target audience and competitors
Your brand identity (including voice, tone, personality)
A defined approach for executing your strategy (i.e., type of content to produce and channels for communicating)
Inclusion of your employees (including in the development process and by asking for feedback)
Brand strategy isn't something you develop then forget about — it's an evolving piece of your company. Have a plan in place to audit it in a year or two. The goal of an audit is to make sure the brand itself is always representing the people and values that stand behind it.
Benefits of a Strong Brand Strategy
There are many internal and external benefits of a strong brand strategy. A strong brand strategy helps create a consistent and cohesive brand customers can easily recognize and employees can easily understand and embody.
Achieves Internal Alignment
With a strong brand strategy, your values are defined and accessible to every employee. The benefits of your product offering are also clearly defined. This makes it easier for them to embody your values and execute your strategy.
Internal brand alignment is a measure of how well your people understand, share, and embody your core values; the more you involve them in the development process the better they'll be able to do this. One key indication of internal misalignment is if your employees aren't able to clearly and consistently communicate your core values and product offering. Your employees should give similar answers if asked to describe your brand. If, instead, your employees have a wide range of ideas that miss the main values and benefits of your brand, there's probably some misalignment.
Easier to Communicate Your Values to Customers
It's important your customers understand what your brand stands for. The better they understand, the more they can make a decision about whether they agree and share your values. And 79% of U.S. consumers say they feel a deeper personal connection to companies with values similar to their own, according to a study by Porter Novelli.
A strong brand has a defined vision and buyer persona. With these components clearly defined, your brand has an understanding of what resonates with your target market and how you can meet their needs. When you communicate this to your customers, they'll see your core values in your vision statement and know they have similar values.
Clearer Differentiation Between Competitors
Your brand strategy articulates the difference between you and competitors — and therefore, employees can articulate the difference, too. A strong internal understanding of your competitors and unique selling points will help you set your product and brand apart from others. For instance, Dunkin' and Starbucks are both fast-serve coffee brands, but they are very distinct and easily differentiated by customers. Between Dunkin's bright-colored logo and Starbucks' muted interiors, most people don't confuse one for the other.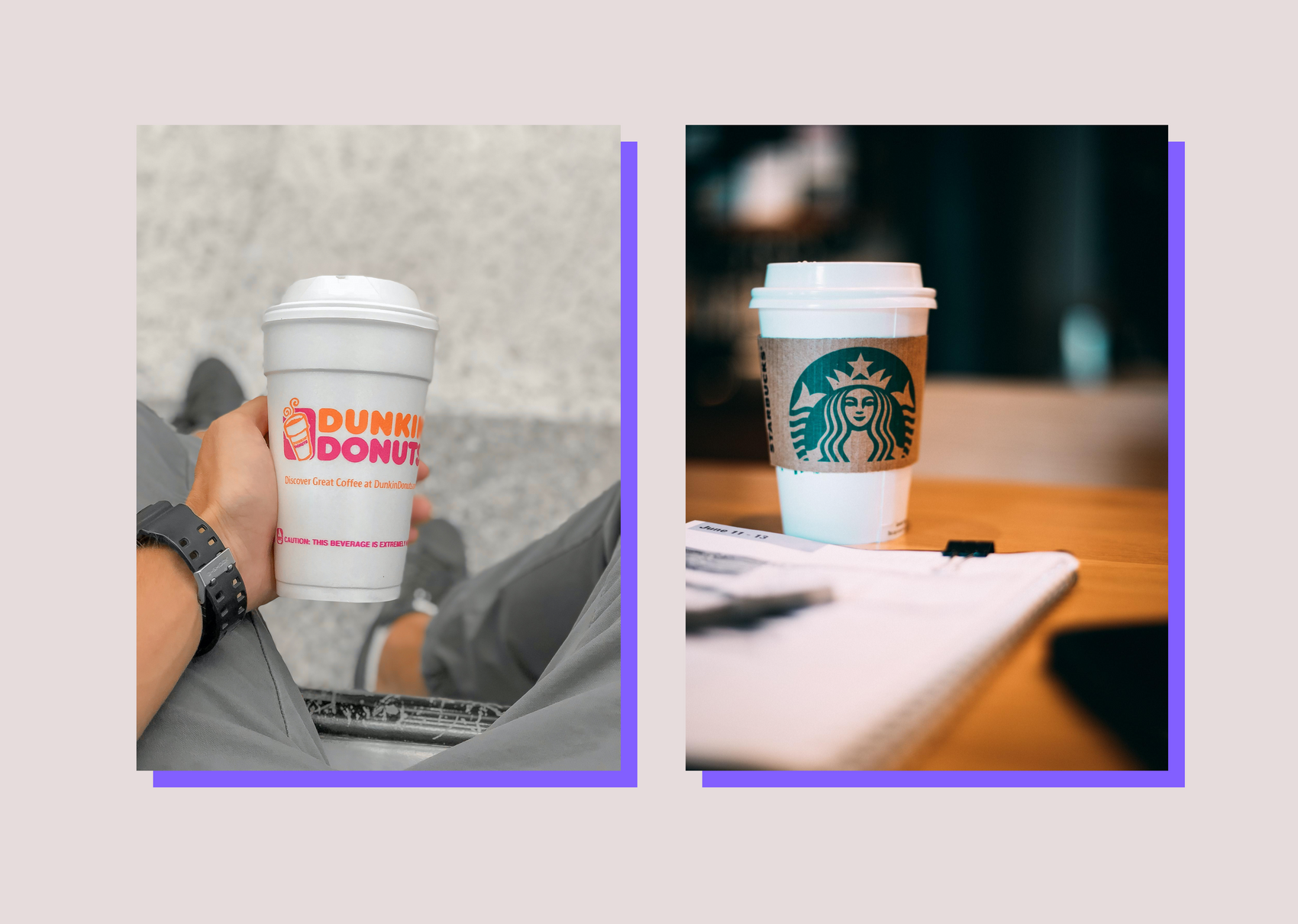 With a well-developed brand identity — one that uses brand-specific style, logos, and messages and is used consistently by employees across all channels — your customers will have an easier time picking out your product compared to a competitor's.
Stronger Brand Advocacy
When your employees know your brand strategy and can embody it, they can be stronger brand advocates. Your employees want to understand the value of your brand and what you stand for. Having this understanding also helps them communicate your brand to customers, investors, and other partners.
And your people are eager to advocate for your brand. We found that 69% of respondents to our State of Brand Ownership report (primarily brand, marketing, UX, and design professionals) want more ownership in the development and management of their brand.
Builds Brand Authority
The more brand authority you earn, the more trustworthy your audience sees you as. The brands that have the most authority in their niches are the ones that are credible, knowledgeable, and provide resources to their customers.
Build your brand authority with content and knowledge. Establish in your brand strategy what type of information and content your brand will produce to position you as an authority in your industry. Content like eBooks and webinars can help you build authority by talking in-depth about a topic you know well. For example, if your brand is an eCommerce brand, consider hosting a webinar series on effective e-Commerce communication methods like SMS, email, and social. Showing your target audience you know your market inside and out can help increase authority.
How to Develop a Successful Brand Strategy
Developing a strong brand strategy is a collaborative effort. The strongest brands have buy-in and involvement from all areas of the company, creating internal alignment throughout. Here are the steps to take for developing a strong brand strategy.
Define Your Vision & How It Aligns With Your Goals
Your vision statement helps your employees understand the meaning, purpose, and long-term goals of your brand. It's likely your brand already has a vision and goals, but you may have to either define or refine them. Having a clearly defined brand vision — one that aligns with your brands' goals — gives you a clearer pathway to achieving your vision.
Your vision should embody both your values and goals. Look at Dove's vision statement as an example.
This statement briefly touches on Dove's values ("beauty should be a source of confidence") and its long-term goals as a brand ("we are here to help women everywhere develop a positive relationship with the way they look"). It's also short, sweet, and to the point. When you write your own vision statement, try to keep it to 1-2 sentences; anything longer ends up being less clear and more convoluted.
Make sure your vision statement is clearly visible and easy to find on your website. A lot more customers are looking at 'About Us' pages for the brands they want to purchase from to understand that brand's values. Show them you have a clear vision for your brand.
Analyze Your Target Market
In order to gain a competitive edge, you need to meet the needs of your potential customers better than any other brand does. And you have to show them you understand their needs and can meet those needs with your product or service offering.
Start by looking for your target market's pain points. Look at the comments on yours and other brands' social media platforms, look at reviews your brand has received, reviews other similar brands have received, listen to customer calls, and read customer notes. Then identify their main pain points and make a plan for communicating how your product or service can help potential customers.
It's also helpful to create buyer personas for your target market based on real demographics, what they're looking for, common pain points, and more. Buyer personas help you talk directly to your audience because you've created an accurate representation of your actual target market.
Conduct Competitor Research
You have to know what your competitors are doing so you can set your brand apart with your products, service, and branding. Competitor research helps you define your strengths, weaknesses, opportunities, and threats (SWOT) in relation to other brands.
Identify your main competitors. Then create a comparison chart that includes mission, product offerings, and customer perception (which you can find via reviews and social commentary). Once you've collected that information, make a conclusion about what your strengths, weaknesses, opportunities, and threats are and how you can use those to your advantage. For example, if your research tells you customers are having bad experiences at competitor brands, consider that an opportunity to show customers your brand provides a superior CX.
Uncover Your Brand Identity (& Create Guidelines for Consistency)
Your brand identity helps your customers identify your brand and differentiate it from competitors; every brand has a unique identity — you just have to uncover it and build it out.
Slack is an excellent example of a clearly defined brand identity with well-developed guidelines and style guides.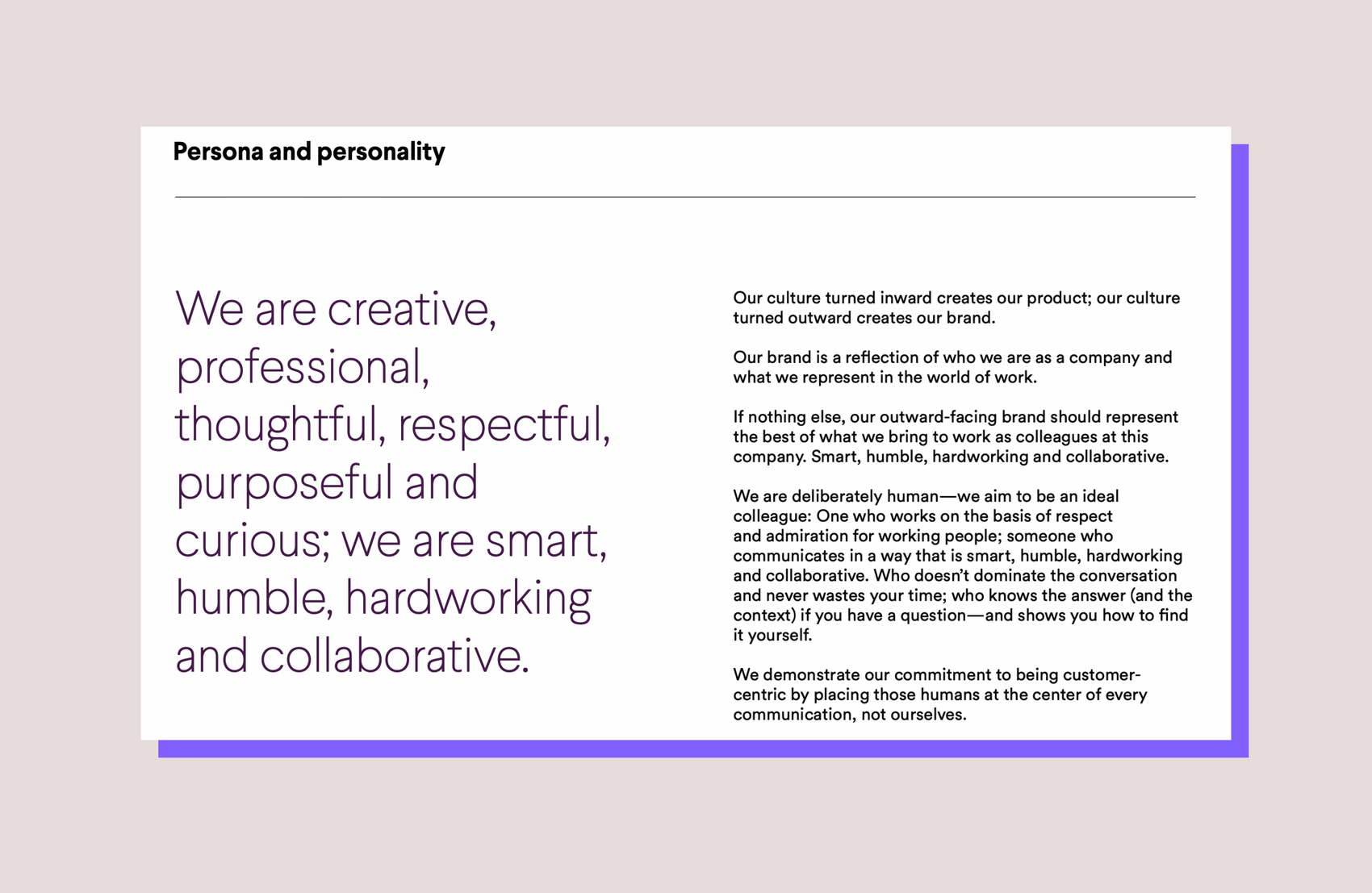 Uncover your voice and tone by capturing your brand's unique characteristics and identifying the tone you want to convey. Try comparing opposite traits. For example, is your brand formal or informal? Quirky or serious? Once you've defined your characteristics, create examples and guidelines anyone in your company (including investors, contractors, partners, and more) can access and easily follow.
Enable & Engage the People in Your Company
In order for your employees to embody your brand and execute its strategy, they need to be involved with it. They need to understand the goals of your brand, how to communicate your brand message, and when to use certain branding and styles.
Get your employees involved. Encourage them to use your company's branding tools, read guidelines and strategy documents, and ask questions or give feedback. By allowing more people to take part in actively using and developing your brand, your brand becomes stronger and more impactful.
Establish a Plan for Executing Your Strategy
You need to have a plan for how to execute your brand's strategy. As part of your brand strategy execution plan, you need to designate certain tasks to the right departments. It's important everyone is on the same page about how to present and communicate your brand externally.
Your plan should include the type of content you'll produce and the channels you'll distribute it on. Try to get as specific as possible so your teams can easily execute the plan.
For example, when thinking about the type of content to use, consider the following:
Long-form blogs vs. short-form blogs
Whether you'll use SEO-focused content
Videos on social vs. static images vs. both
What specific topics to cover (try to include headline suggestions for each topic)
You'll also need to establish the channels you'll communicate on and how you plan to use those channels. Have a content plan for each channel. The most commonly used channels for content are social media, email, blog, and your website. Think about less common channels you can use to communicate your brand, too, like podcasts and webinars.
Create content calendars for channels that need regular updates and posts, like social media, your blog, and email. Review your website content to make sure its message and branding align with the content you're sharing on other channels.
Examples of Strong Brand Strategy
A strong brand strategy is reflected in a strong brand. Here are two examples of strong brands with strong strategies. Both of these companies are Frontify customers who had unique challenges that led them to adopt our management platform.
Kuehne+Nagel Engages Its Whole Company With Its Brand
The Kuehne+Nagel Group is one of the world's leading logistics companies, with over 70,000 employees across 1,400 locations in over 100 countries. That's a lot of people spread out over a lot of locations. That many people in a company could easily have resulted in the misalignment of its brand and its strategy.
But Kuehne+Nagel believes in having more people take part and engage in the development of its brand. So that's what it set out to do. Now, over 25,000 of its employees are actively using Frontify to engage with and understand the brand. By allowing all its employees to have access to their brand strategy, Kuehne+Nagel is able to create more internal alignment.
Lufthansa Is Consistent Across All Channels
Lufthansa is a large global airline with 36,000 employees and hundreds of customer touchpoints — and a goal to be more consistent across all those touchpoints.
Lufthansa used Frontify to develop cloud-based brand guidelines, so anyone who uses any of its branding materials uses them consistently.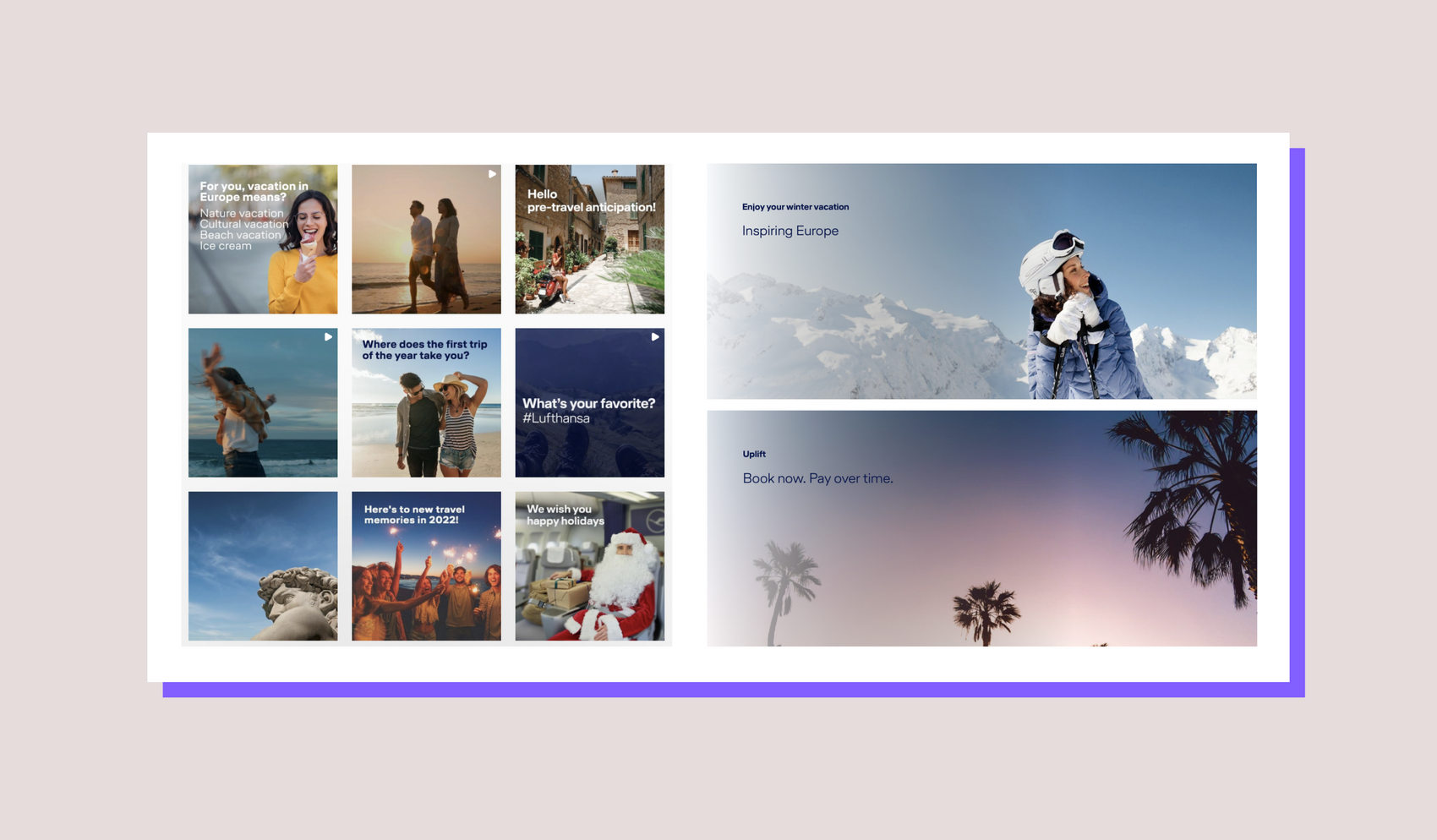 Lufthansa was able to increase the quality of communication to customers and enabled every employee in the company to have access to brand information. The result was greater brand consistency, high user engagement, and increased productivity.
Use a Brand Management Platform to Strengthen & Grow Your Brand
There are a lot of moving parts around managing your brand so that it continues to strengthen and grow; use a brand asset management platform to keep all your brand assets in one place. Frontify simplifies the process of brand management and makes it a collaborative effort.
Ready to learn more? Get started today.
Oskar Duberg
Senior Brand Marketing Specialist