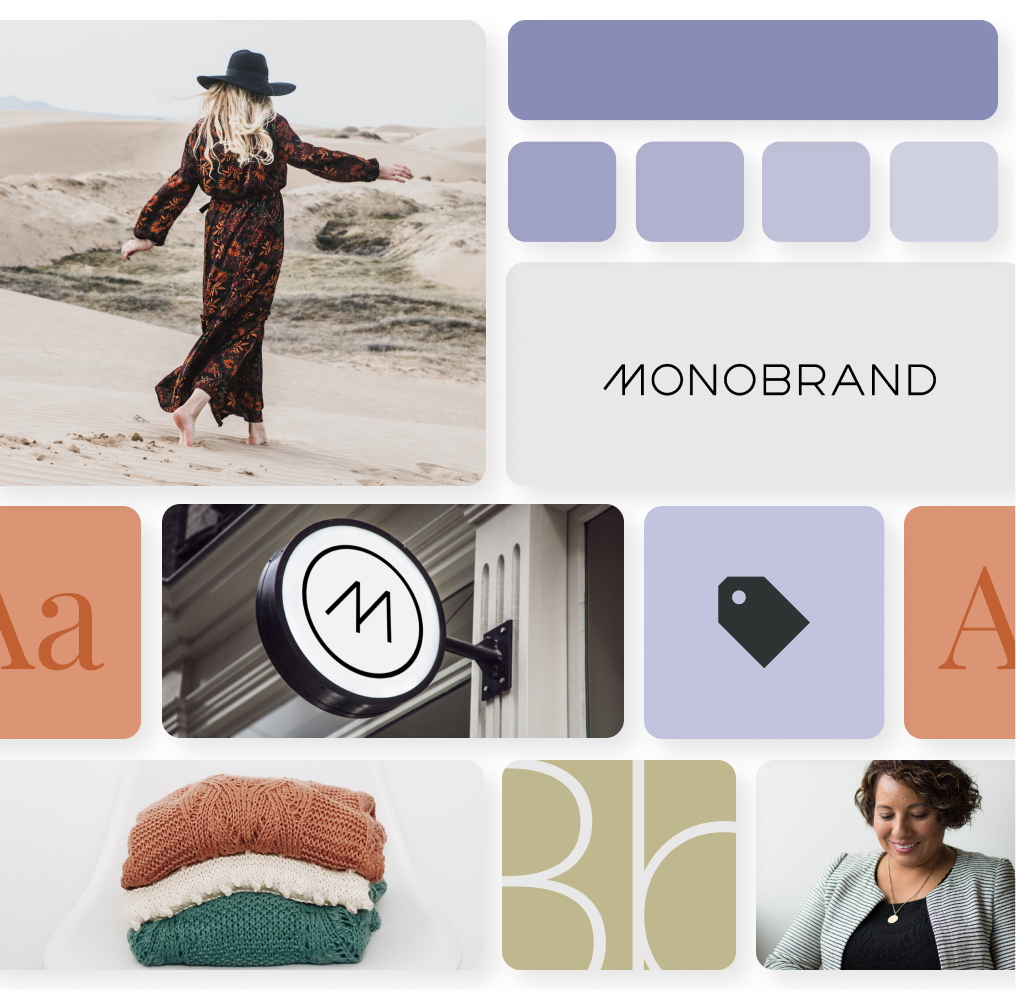 Brand Assets 101: How to create and manage them
Uncover the art of brand assets: a comprehensive guide to crafting, organizing, and ensuring consistency in the digital age.
What are brand assets?
Brand assets are the files or resources that make up the look and feel of your brand. Most brand assets are visual elements, like logos, typefaces, icons, or graphics. But you can also have non-visual brand assets. These include your brand voice and tone, values, and mission statement.
Brand assets are the design and marketing elements that help people recognize your brand when they see it, whether on a store shelf or their favorite social media channel. They help you stand out from competitors and give your business its unique identity and personality.
Your brand assets are more important than ever because consumers interact with brands across more channels. So you need a strong identity to help them recognize you, wherever they encounter your brand.
Essential brand assets every company should have
Here are a few brand assets that your company should have if it wants to develop a recognizable presence in the market:
Logos: You should have multiple variations of your logos — different sizes, configurations, and colors — to ensure you have a version suitable for every use case.
Color palette: Using consistent colors helps people recognize your brand. So your brand's specific color palette is one of your core assets.
Typography: Your company may have a specific typeface or font for written content, like on your website or in marketing content. This helps create a cohesive brand identity and makes your brand look more professional.
Photos, images, or icons: You likely have images that are an important part of your branding kit — core assets used across multiple channels and documents. For example, product photos, illustrations to represent your core use cases, or even photos of your team.
Brand voice and tone: Voice and tone are all about how your brand sounds rather than how it looks. A recognizable voice helps your brand stand out in written content, from long-form marketing content to push notification micro-copy.
Brand values: A core set of principles that guide your decision-making and influence your interactions with everyone who comes into contact with your brand – internally and externally.
Mission and vision statements: Big picture, what does your brand stand for? What is its purpose? Your mission statement is your brand's guiding light and one of its most important assets. Everyone in your organization should know it.
Common challenges managing brand assets (and how to overcome them)
Your brand assets are essential for ensuring visual and messaging consistency across all departments, projects, and products. But companies often experience several challenges when managing their brand assets.
Providing easy access to brand assets
Sixty-five percent of respondents to our research said more than half their company needed to create or use branded materials on a weekly basis.
Unfortunately, many companies rely on outdated systems and don't update sharing permissions, so employees must request access whenever they need a particular asset. Your marketing team is constantly inundated with requests for files or file access, making it difficult for employees in other departments to develop a sense of connection or ownership with the brand.
A comprehensive brand management system makes it easy to give everyone access to your core brand assets. You can set user permissions and maintain control over what people can (and can't) change, so people can easily use your brand assets without compromising your brand's identity.
Ensuring brand consistency across global teams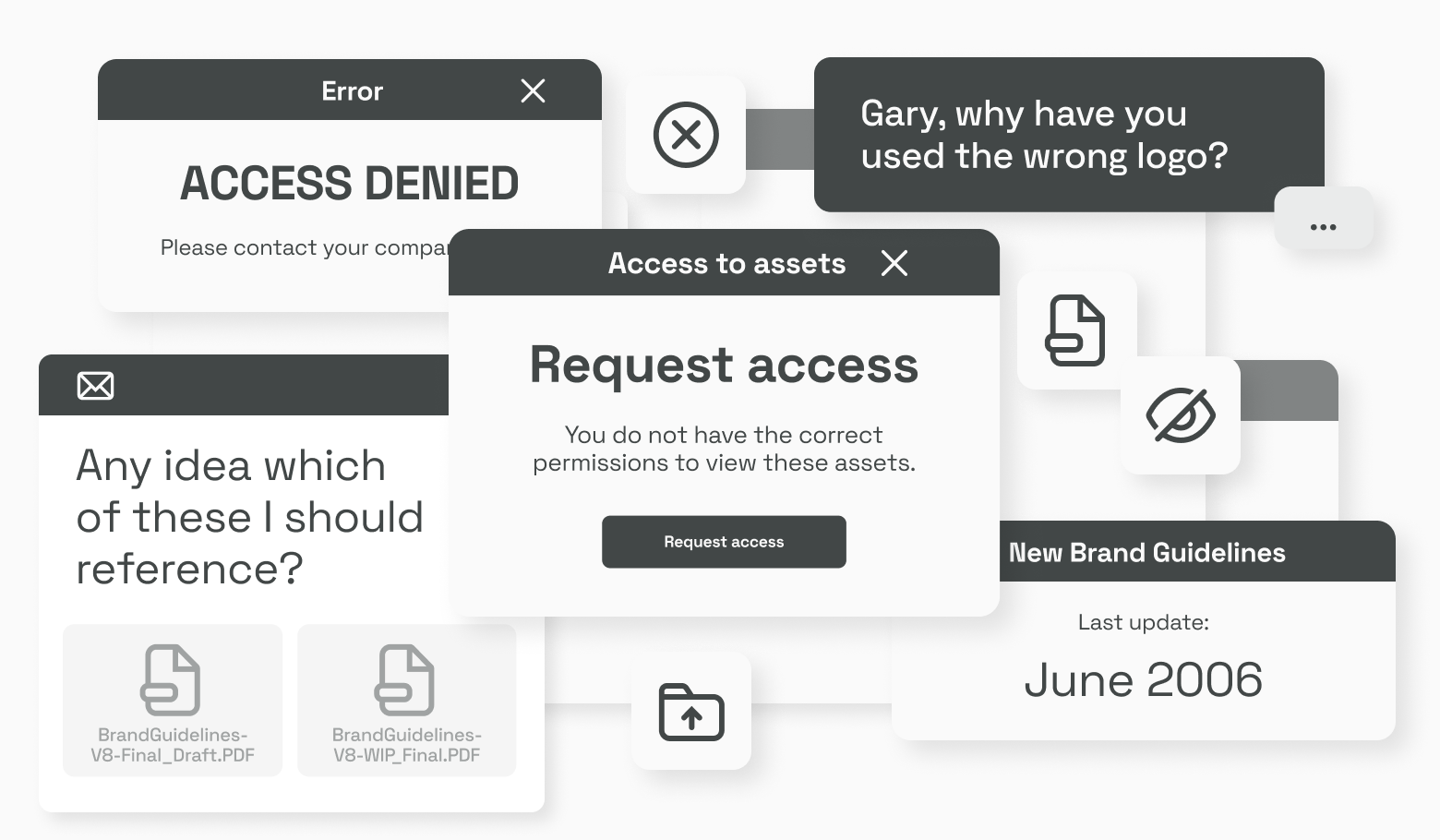 Ensuring brand consistency across global teams
When you have a lot of brand assets to manage, it's hard to ensure they're used correctly. For example, you might have sub-brands or brand variations in different regions or particular assets that should only be used for a specific market.
To address this challenge, you need a comprehensive set of brand guidelines to help everyone understand how to use the different brand assets. The best guidelines show as well as tell — they're not just pages of instructions; they also show your brand assets in action.
A brand management platform can house brand guidelines and assets so everything's in one place. Additionally, it will have rigorous, customizable user permission settings, so you can easily set up sub-brands for each region and control who can use those region-specific assets.
Adapting to evolving market trends
It's difficult for companies to adapt their brand in response to ever-changing market trends, without compromising on their brand's essence. This could be driven by emerging technology trends and tools, or by changes in consumer tastes and preferences.
Companies may find they're making subtle changes to their brand — for example, adapting their brand voice for new social media channels. If these are changes you make regularly, it's important to document them in your brand guidelines. Alternatively, you may need to replace outdated brand assets altogether.
With a centralized brand management system, replacing outdated assets is easy. You replace the asset in your system, and it automatically syncs across all employee accounts, so you don't need to worry about people using outdated assets.
Ways to manage and organize your brand assets
The more brand assets you have, the more important it is to have a way to store, manage, and organize them. Several types of tools and systems make asset management easier: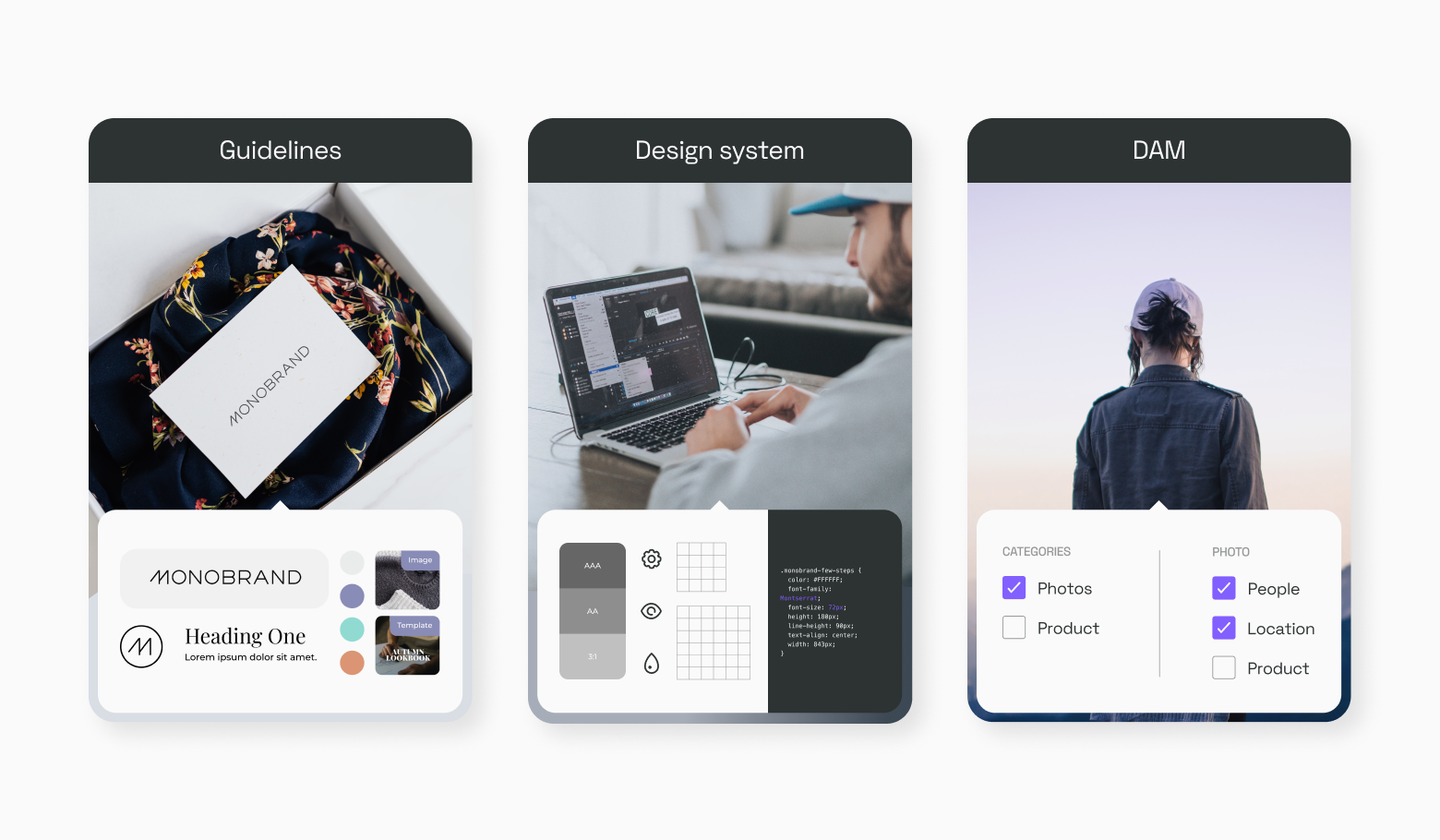 Brand guidelines: These are where you provide guidance on how to use your brand assets. Many companies use PDFs to document their guidelines, but a much more helpful option is using an online platform like Frontify. Online brand guidelines are centralized, and you can allow users to download your brand assets directly from your guidelines, making asset access easier and quicker for everyone.
Design systems: A design system communicates how to create digital experiences representing your brand. Design systems are predominantly used by developers, designers, and UX specialists, so they would likely contain a more specialized set of assets — and the guidelines for using them.
Digital asset management systems (DAM): A DAM helps employees organize, collaborate on, and distribute their brand assets within one centralized location. These are a comprehensive system, and can be used to house all your company's digital assets, not just core brand assets.
Brand portals: A brand portal is a centralized online platform where you store all the information, resources, and assets related to your brand. It houses both brand guidelines and digital asset management systems. Global enterprises often favor brand portals, as you can manage multiple sub-brands within one portal.
Asset management tips to improve efficiency and consistency
Your brand's assets are essential for presenting a consistent and cohesive brand identity. These tips will help you use your assets effectively.
Create detailed brand guidelines to enable creative consistency
Brand guidelines should provide guidance and best practices on how and when to use your various brand assets. Detailed guidelines will make the difference between people being able to use your assets as intended, and using them inconsistently.
You can turn your brand guidelines into a practical resource for your team by showing approved assets in use, and enabling users to download assets directly from your brand guidelines.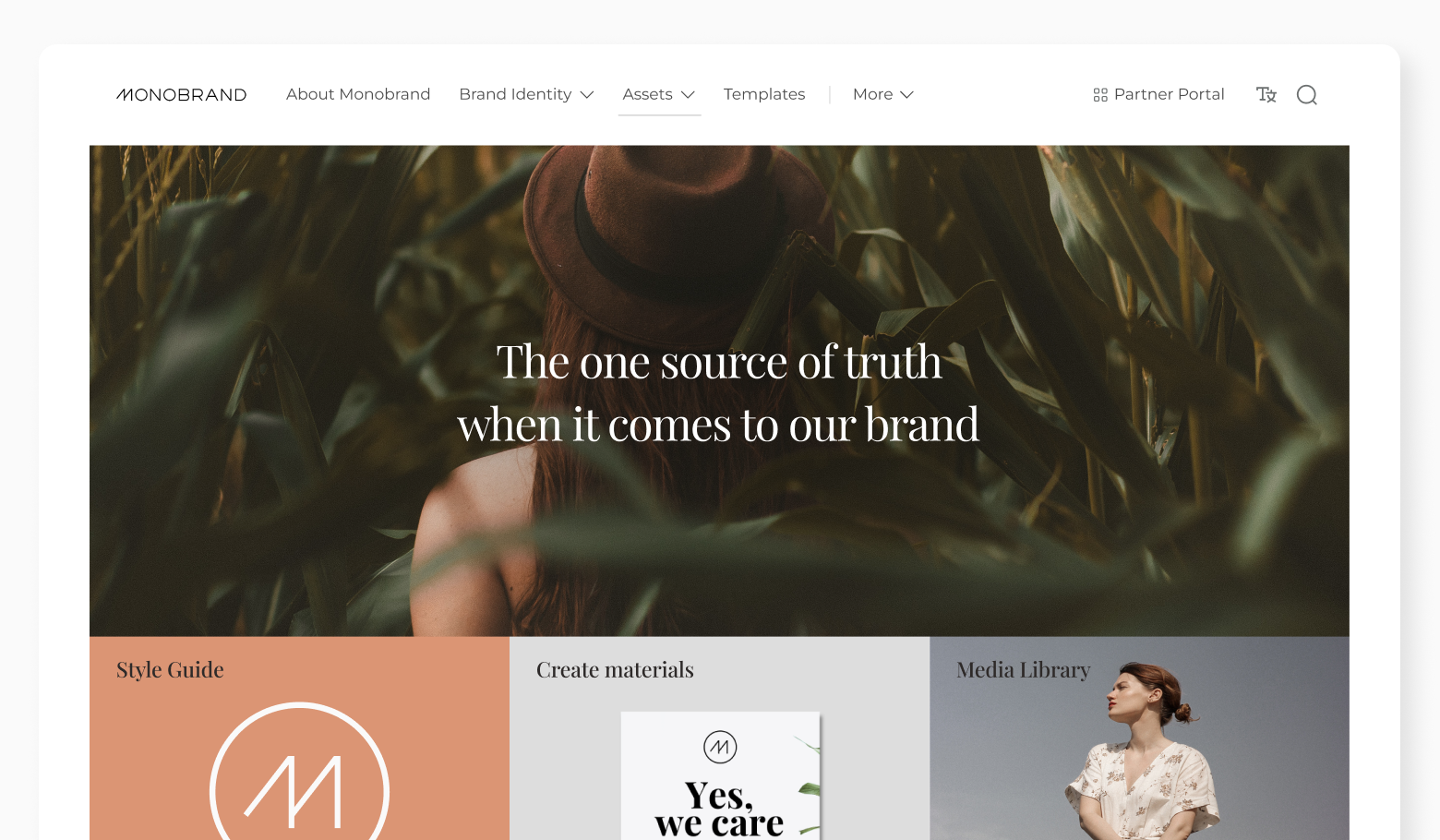 Enable brand ownership and governance
Without effective brand governance, inconsistencies creep into your branding efforts, diluting your brand identity. Centralizing your assets into a DAM or brand management system empowers everyone in your organization to find and use your approved brand assets whenever needed. This gives them more ownership over your brand, while allowing brand managers to effectively govern the brand by maintaining control of the assets in your system.
Control asset usage across the whole lifecycle
If you have a large volume of brand assets, you need a process for managing their whole lifecycle, from creation to retirement. A DAM gives you control over the full asset lifecycle: you can limit who can add or edit branded assets, or set expiration dates to retire assets at the end of their life.
A DAM also lets you control who can access your brand assets. You can add or remove user permissions, and give people access to individual assets or entire libraries. This means internal and external stakeholders can access brand assets more efficiently, without compromising asset security.
Choose asset management solutions that integrate with other organizational tools
You want to make it as easy as possible for key stakeholders to find and use your brand assets. The simplest way to do that is if they can access them directly from the tools they use every day.
Make asset management easier by choosing a solution that integrates with your most-used tools and technology, to break down the silos within your organization. Find out about the full range of tools that Frontify integrates with.
The future of brand assets in the digital era
All the different elements of your brand, like your logo or color palette, can be a real asset for your organization if they're managed correctly. This will only become more important in the coming years.
With the rise of generative AI tools, it's easier than ever for people to create their own versions of branded materials. And in today's digital landscape, there's an ever-growing number of channels where people can encounter your brand. So you want to ensure your employees can access and use your approved brand assets and materials to maintain the integrity and consistency of your brand.
A digital asset management system like Frontify brings all your brand's assets (plus those crucial guidelines) into one centralized location, giving everyone the access they need — without compromising your brand identity.