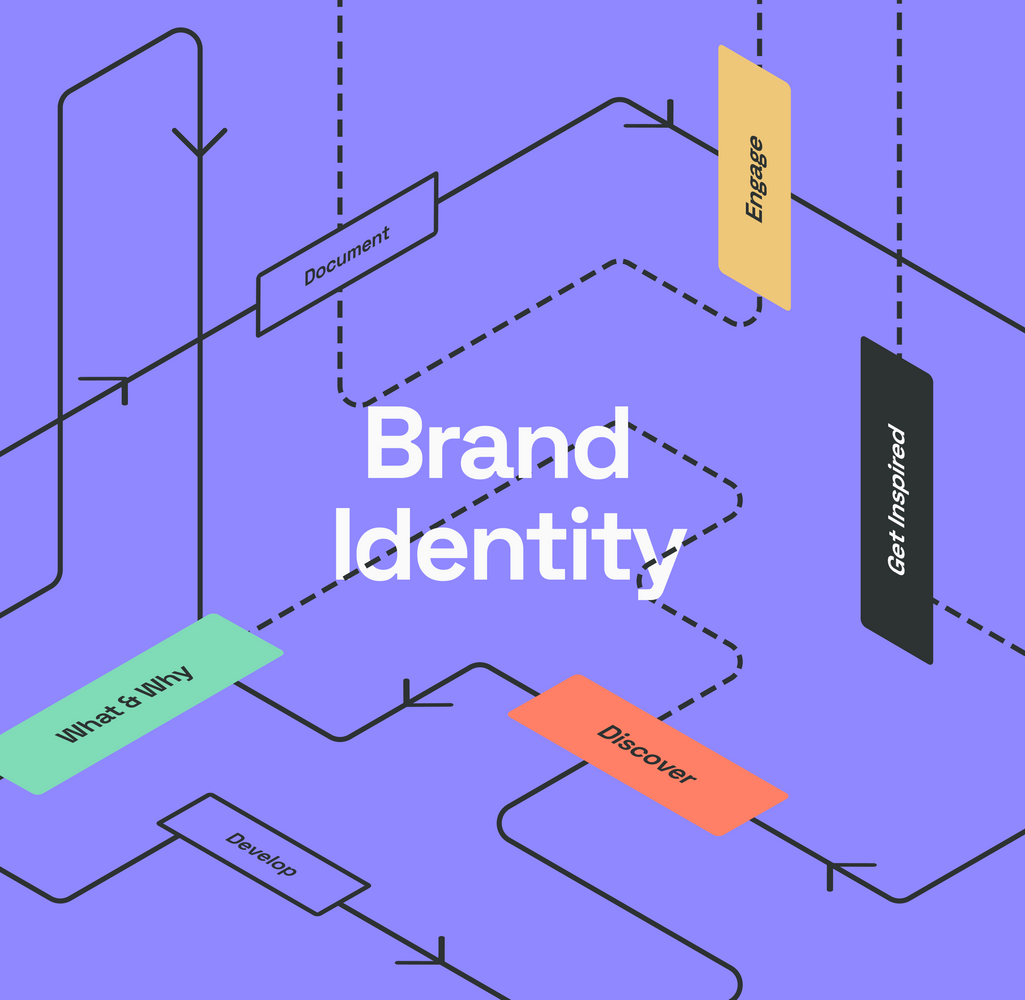 How to Build a Recognizable Brand Identity That Sets You Apart from Your Competitors
Some might think that their logo and color palette are the brand identity. But these are simply one of many ways you can visually present your brand. They're not, in fact, your brand identity.
Brand identity is "the combination of your company's values, principles, and vision – think of it as the spirit of your company or your brand." Things like your logo design, color schemes, and brand voice are how you communicate that identity, not the identity itself.
Your brand identity is intangible, so it takes time and effort to establish a strong one and develop a corporate identity that's the right fit for your organization. But it's worth the investment. A strong brand builds brand recognition and sets you apart from your competitors. Here's a guide to help you develop a recognizable identity for your company.
Discover Your Brand Identity
Most companies already have some sort of identity, but they've never spent the time defining it properly. Here are some steps to follow to discover your brand identity for the first time.
1. Assess Your Current Position
Take some time to understand the current state of your brand identity. Look at the campaigns and marketing materials you've produced recently. Identify the common themes across each one in terms of style, tone, and visual design.
You should also look at your competitors in the market, so you can understand what differentiates your company from theirs – not the product features but based on your brand personality. Finally, you should look at your target audience to understand what brand style appeals to them.
2. Invite Internal Stakeholders to Share Their Opinions
If you asked 10 people in your business to describe your brand, you'd likely get 10 different answers. Every department will have different ideas about your brand based on how they experience it in their work. Bring representatives from each team into workshops or discussions about your brand identity. Inviting stakeholders from different departments will give you a broader foundation of ideas to work from and may give you insights about the brand that you hadn't previously thought of.
3. Develop Your Brand Voice & Tone
What you say and how you say it is one way to express your brand identity. Do you want to sound formal or informal? Respectful or playful? Authoritative or like a peer? There are lots of exercises to help you develop your brand voice and answer these questions. Once you've identified the key traits of your brand voice, you need to document them. Tone of voice guidelines will help your team understand what your brand sounds like.
It may seem hard to evaluate your current brand. But defining your identity as it is now is the first step toward building a strong identity that sets you apart from your competitors. You need to understand your current position before you can develop it further, improve consistency, and build up brand recognition in the market.
Read More: 6 Steps to Discover, Develop, & Document Your Company Identity
Get Inspiration from Other Examples of Strong Brands

Your company's identity should be an authentic representation of your brand. You shouldn't copy a particular style or tone just because other brands you admire are doing it. But there's nothing wrong with learning how others created a strong identity or achieved brand consistency. Then bring those lessons into your internal conversations about developing your brand identity.
Consider your current challenges, and look for other brands that are shining examples of how to overcome that challenge. Here are three examples to inspire you.
A Brand That's Great at Aligning Its Products with Its Mission: Nike
Nike is a great example of a company that produces products that align with its identity. Nike's brand purpose is to "bring inspiration and innovation to every athlete in the world" and states that "If you have a body, you are an athlete." Since 2017, Nike has aligned its product range with its brand purpose by making more inclusive products. It has launched a plus-size women's range, a maternity range, and started using parasport mannequins in its stores for the first time.
A Brand That's Rebranded Effectively: Mailchimp
Some companies struggle when they rebrand because they're used to a particular design palette or style of messaging. Mailchimp is a fantastic example of how to focus on internal education to empower your team and achieve brand consistency – even after a rebrand. When Mailchimp rebranded in 2018, it introduced a new brand identity and design system to help its team adopt the new brand. The design system "introduced a framework of core components, so that the elements existing inside of it can be as free and expressive as we want."
A Brand That's Achieved Consistency Across All Customer-Facing Channels: Headspace
Headspace has created a recognizable, consistent visual identity using a bright color palette and quirky illustrations. Whether you're on its home page, in the app, on Twitter, or watching a video on its YouTube channel, Headspace uses the same visual style across each channel. Headspace is a great example of how you can use distinct design elements to build a strong visual brand identity – and then adapt your brand assets to suit each marketing channel.
Look at other companies to work out what they're getting right with their brand, as well as things you'd do differently with your own brand. You can also see how companies use Frontify's platform to improve their brand management, and strengthen their brand identity, for more inspiration.
Read More: 5 Strong Brand Identity Examples (& Tips to Uncover Your Own)
Document Your Brand Identity to Improve Consistency
Consistency is essential for building up brand recognition in your market. So once you've established your brand identity, you need to make sure all your employees communicate your brand externally – on sales calls, in marketing materials, and even in support tickets – in the same way.
You can help your team (and external contributors to your brand) achieve consistency by documenting your brand identity and providing guidance on using and describing your brand.
Brand Guidelines are a great way to provide written and visual information about your brand identity. Guidelines help educate your team on how to use your different brand elements and assets. They should include all your brand elements, such as logos, color palette, fonts, and taglines. They should also include guidance on how to use each element, with practical examples where possible. The more details you can provide in your Brand Guidelines, the better equipped your employees will be to use your brand assets confidently, without running everything past your brand manager.
For example, E.ON uses Frontify's Brand Guidelines to document its various UI components, as well as images, logos, and color codes. Its Brand Guidelines are the home for all the different elements it uses to express and communicate its brand image to its customers.
Develop Your Brand Identity Over Time
Your brand identity isn't developed overnight. It takes time to discover and document an authentic identity that feels right for your company. But even once you've done so, it's not set in stone. Over time, your company will change, priorities will shift, and your brand identity will need to develop with it.
Set aside some time to revisit your brand identity every year to check that it still feels like a true representation of your company's values and vision. As your company evolves, there are a couple of different ways to adapt and develop your brand identity.
Make Incremental Updates to Your Brand
There are two reasons you need to make regular updates to your brand. The first is to make sure your messaging and visuals are still an authentic representation of your brand identity. The second is to adapt your brand to changes in the market and to customer expectations.
Examples of updates you may need to make include:
Tweaking your brand's tone of voice to better attract potential customers
Adding new logo variations as you discover new use cases, such as animated versions, single color, or black and white versions
Updating your company tagline as your product range expands
Adding new guidance about using brand assets or creating brand content for new social media channels
When you make small changes to your brand, remember to update your brand guidelines so that everyone in the company can use your updated assets. You can also share brand updates with the company to keep everyone up-to-date with these changes and help maintain brand consistency.
Carry Out a Major Rebrand
Companies often carry out a rebrand when they feel like their public-facing brand identity is no longer an authentic reflection of the organization's vision and values. During a rebrand, you'll revise your brand strategy and make bigger changes to your brand, such as:
Revising your mission statement, value proposition, and brand values
Changing your logo or company name
Changing your tagline
Reviewing your color palette
Adapting your brand voice
Updating your brand guidelines to document your new brand identity
On average, companies rebrand every 7-10 years, so this won't be something you do often. In that time, you'll have built up a lot of brand recognition in the market, but there will have been lots of changes, too. You'll have new competitors in your space, your products will have changed, and your target audience will be different.
A rebrand often involves rethinking and redefining your brand identity. It's a major project that will involve employees from all departments, so your new brand is an authentic representation of the whole company – not just your executive team or your marketing department.
Help Your Team Engage with Your Brand Identity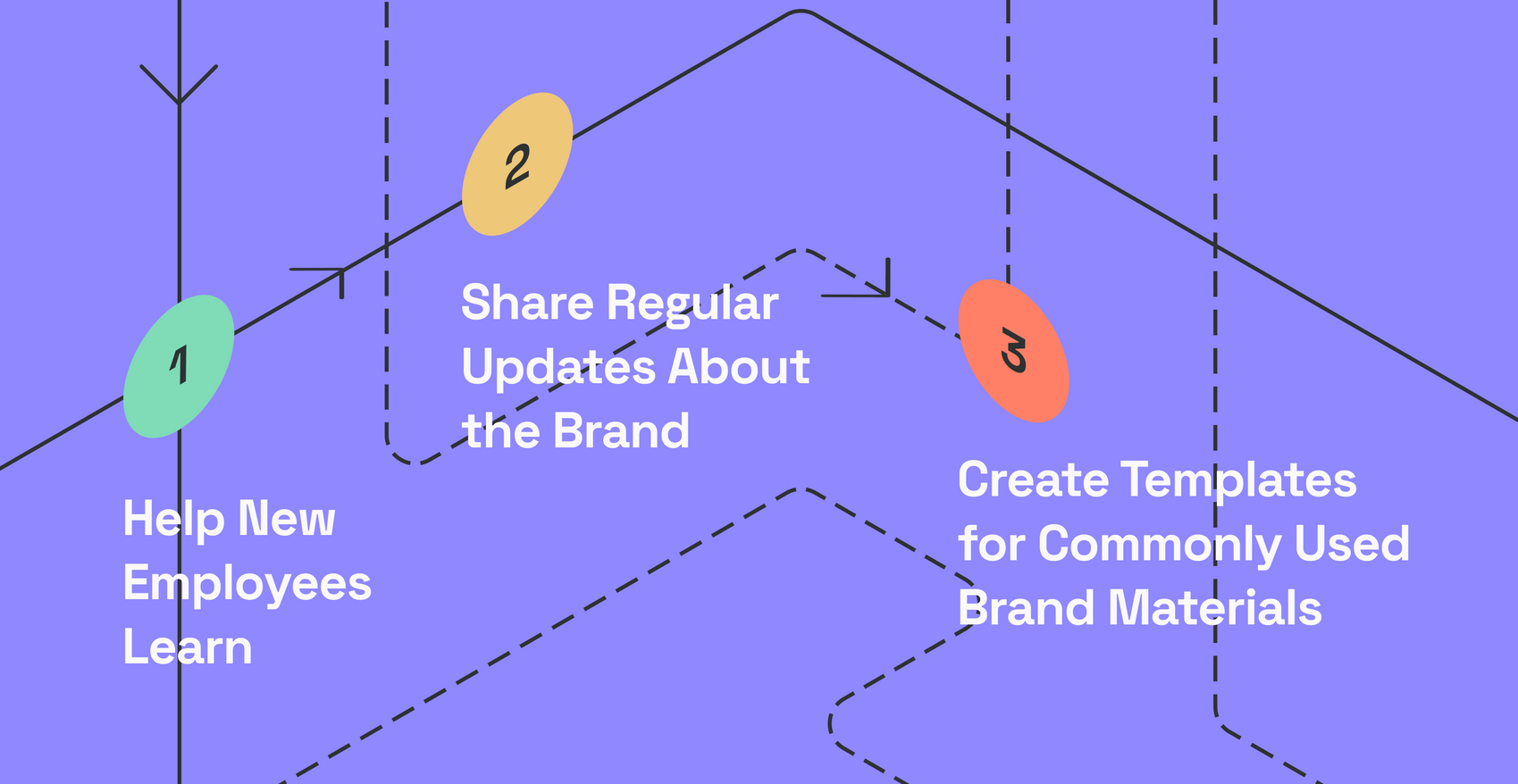 Many companies still think of brand-building as a job for their marketing team rather than a long-term project for the entire organization. But if you can help the whole team understand your brand identity (and why it's important), you boost your chances of presenting a consistent, recognizable brand to the market and your customers.
Here are three practical ways to educate and update your team on brand-related topics.
1. Help New Employees Learn About Your Brand
It can be difficult for new team members to familiarize themselves with your brand without help. Run introductory training sessions during the onboarding process to help your new employees understand your brand identity.
Training should be in two sections: first, an overview of your brand identity, values, and principles; then a more practical session on using branded elements like your logo, colors, and taglines. This combination will help new employees understand your brand identity and how to apply your brand in their work.
2. Share Regular Updates About the Brand
Keep all your employees up-to-date with changes to your brand by sharing regular updates. Send updates when new brand assets are ready to use or when you make changes to the brand as part of a bigger rebranding project. Frequent communication about your brand makes it feel more "real" to your employees and makes it easier to understand how your brand is changing over time.
3. Create Templates for Commonly Used Brand Materials
An easy way to help employees feel engaged with your brand identity is to empower them to create branded documents and assets to use in their own work. If they can do so without having to go through your marketing or design team, it helps them feel a sense of ownership over their brand-related work.
Help team members create their own brand assets (without compromising on brand consistency) by creating templates for common brand materials like newsletters, social media graphics, and slide decks. For example, SRF uses Frontify's digital templates to help its 200 social media content creators create on-brand assets for all its social channels without help from graphic designers.
Brand identity is owned and developed by everyone in the company. It can't be developed by just one person or one team alone – not even the CEO.
Read More: How to Help Everyone in Your Organization Engage With Your Brand Identity
See How Frontify's Rethinking Brand Identity Management
A professional brand management platform can help you develop, define, and document your brand identity by providing a home for everything related to your brand.
Frontify's Brand Identity Canvas walks you through the process of discovering your authentic brand identity. It then provides the tools and a place to document that identity and helps you understand how to measure the performance and value of your brand over time.
The Brand Identity Canvas is part of our brand management platform, an all-in-one platform that brings together all of your brand-related tools and work in one place. From your Brand Guidelines and DAM to digital templates, Frontify is where you can develop and manage all aspects of your brand.
Ready to start developing your brand identity? Request a demo to learn more about the Frontify platform, or start your free trial to start documenting your brand today.