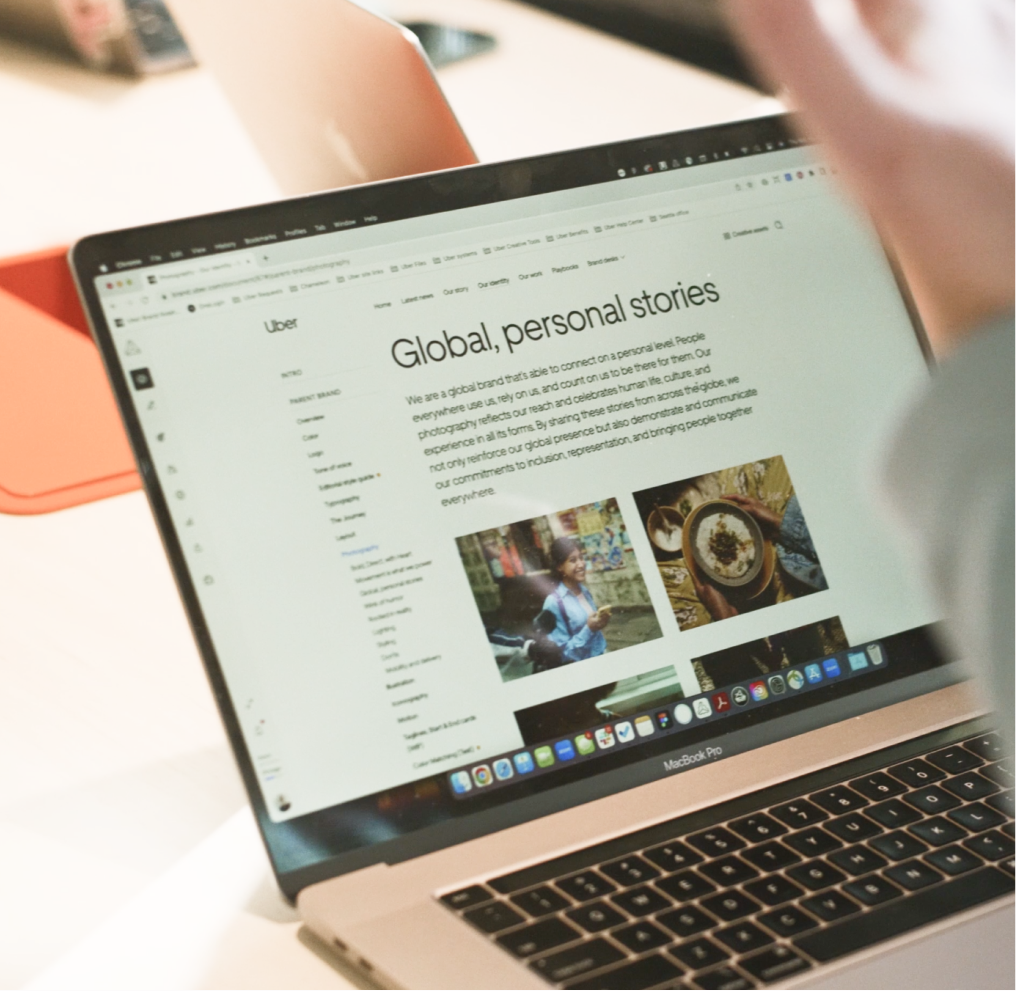 Brand portals: Everything you need to know to elevate your organization's branding
A brand portal is much more than an online library where you store your digital assets. It's a central home for everything related to your brand.
What is a brand portal?
A brand portal is a centralized online platform where you store all the information, resources, and assets related to your brand. It has two key components:
Brand guidelines to document the rules, standards, and guidance on how to communicate your brand correctly.
Digital asset management (DAM) solutions to store and manage all your brand's digital assets, including logos, icons, videos, and images.
This makes it much more practical than just being a digital library to store brand assets. It's a centralized hub that keeps everything related to your brand in one place, so it becomes your brand's single source of truth. A brand portal makes it easy for everyone in the organization to access digital assets and guidelines, which helps build internal engagement and connection with the brand.
Large organizations can house multiple brands within a single portal. You can organize the portal as you see fit — for example, by setting up sections for different regional markets or sub-brands. You can control who can access your brand hub so internal or external stakeholders can find and use the materials they need.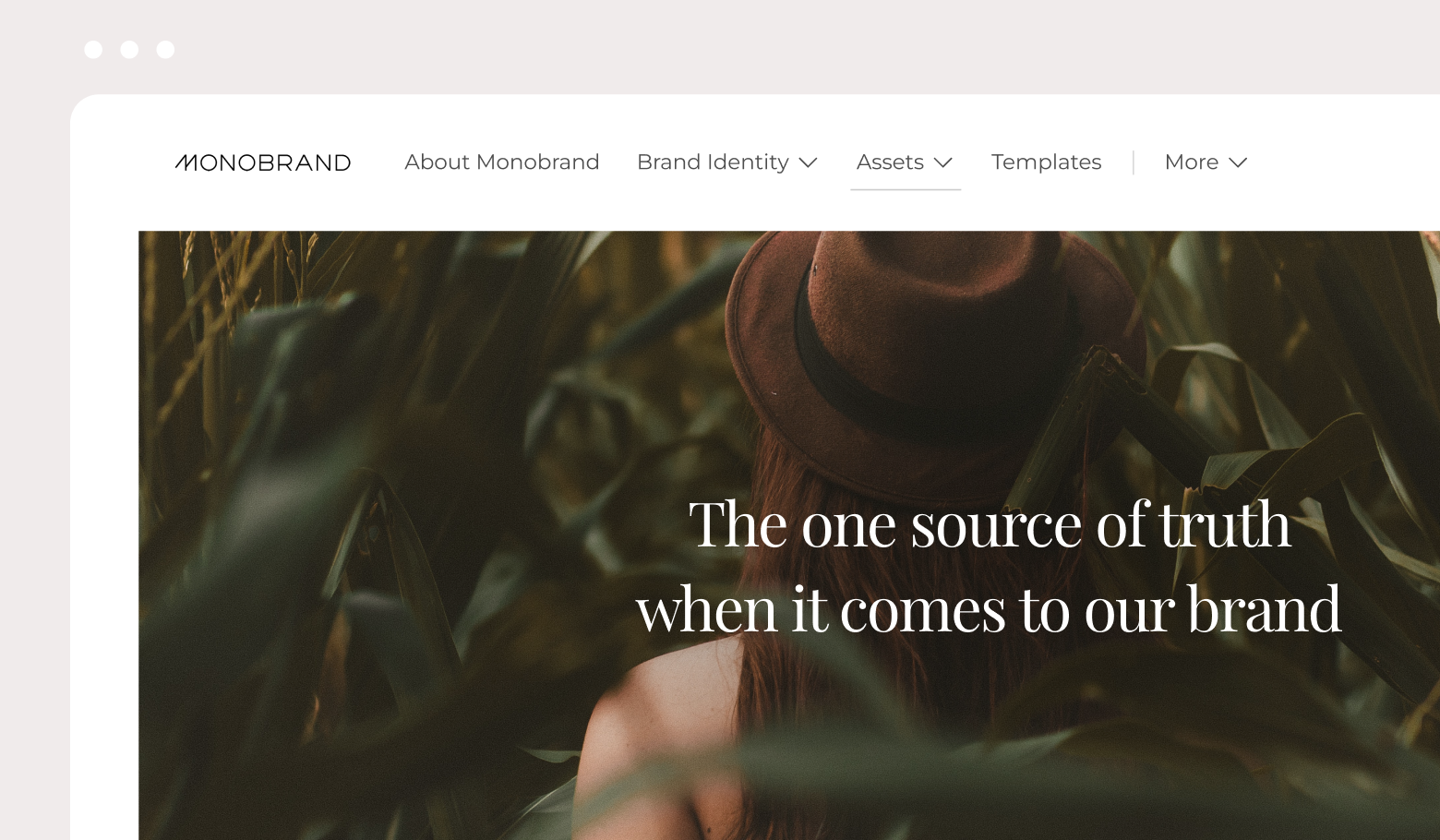 The importance of a brand portal in the digital age
Today's consumers engage with your company across more channels and touchpoints than ever. Staying on brand is essential for building trust and recognition in the market, so you need a way to help all your employees present the brand correctly. That's where a brand portal comes in.
Ensuring brand consistency across global operations
International businesses often adapt their brands to suit local preferences and cultures. A brand portal helps organize your digital materials under different sub-brands or for specific markets. Assets and guidelines are located within a centralized hub, and employees in all locations can easily access the brand materials they need to ensure consistency as they use them.
Streamlining communication and asset distribution
Brand portals make asset distribution a lot easier. All assets are uploaded to a centralized hub, so if you need to access any files, you can find them all in one place.
As all employees can access your brand portal, sharing and communicating about assets becomes simpler. Your marketing team won't be fielding endless emails requesting the latest logo version or access to a particular file because everyone can go straight to your brand portal to access it themselves.
Essential for both B2B and B2C companies
The traditional assumption has been that it's only B2B companies that need a brand portal, but B2C companies can reap the benefits, too. B2C companies may require a way to store, organize, and control access to important assets like product photography and user-generated content. A brand portal can help manage those files and ensure the right people can use them as needed.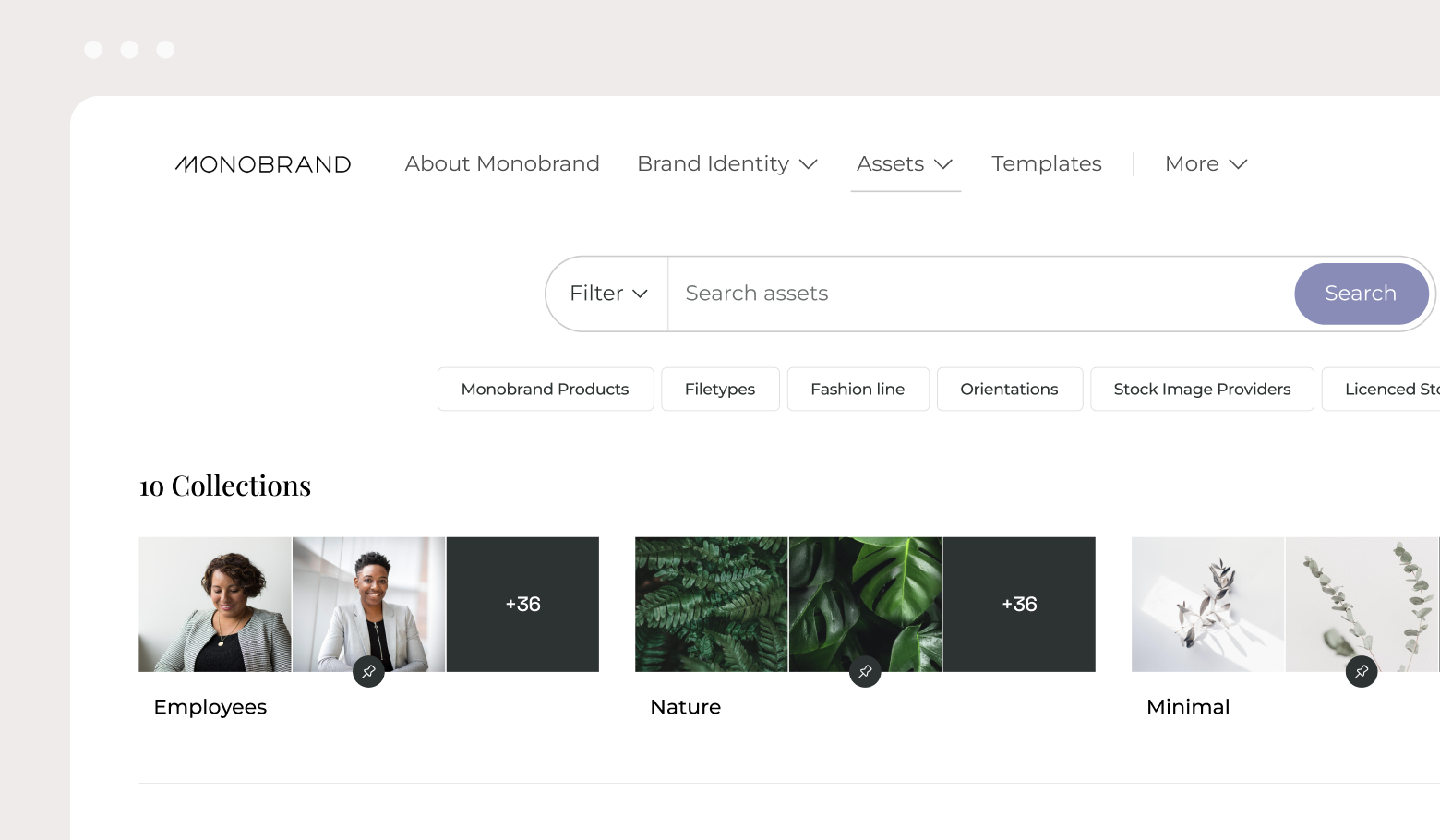 The benefits of implementing a brand portal
A brand portal offers businesses several benefits to help them manage and oversee their brand. And while it may feel intimidating or time-consuming to implement such a space, the benefits will more than outweigh the initial investment to set it up.
Enhance brand consistency and governance
A brand portal can improve brand consistency by providing a single, centralized home for everything related to your brand. Your portal is where you'll store your assets, marketing materials, and updates. So whenever anyone needs to use any files, they know exactly where to find them.
You can also add your brand guidelines to the portal, making it even easier to maintain consistency across all teams.
Support brand architecture within large organizations
In large, multi-brand organizations, it can be difficult to manage the distinct brands within your portfolio. With a brand portal, you can manage multiple brands (or sub-brands) while keeping assets properly organized and separated.
If you have created your brand architecture, you can tailor your brand portal and set it up to mirror that structure, with sub-brands nested or grouped as needed. You can also set file limitations so that only the relevant guidelines or assets appear.
Enable efficient asset management
Managing your brand assets can feel like a full-time job: You need to ensure everything is up to date, on brand, in the correct format, and available for the right people to use.
A brand portal helps companies manage their assets more efficiently. With a single, centralized hub, you no longer have to keep track of files stored across multiple shared drives or saved on
individuals' local drives. This means you can easily update or replace assets at the end of their lifecycle, and new versions automatically sync to all user accounts.
Additionally, you have centralized control over access to your brand portal. You can add or remove users easily and set up user permissions based on characteristics such as department, location, or the sub-brand they're working on.
Simplify access for diverse stakeholders
As an enterprise organization, you'll have lots of different people who need access to your brand. Not just internal employees — external agency partners, investors, and members of the press or media may need to use your brand assets occasionally.
A brand portal can simplify access for all the people who need to use your brand assets. You can control user permissions, limiting who can download, add, or edit assets. With a single location or link, you can share where people can access your brand assets as needed.
Integrate with other organizational tools for seamless operations
You want to make it easy for key stakeholders to find and use your brand assets from within the tools they use daily. This includes everything from communication platforms like Slack to content management systems like WordPress or Contentful.
A brand portal like Frontify can integrate with your most-used tools and technology. This helps to streamline creative projects and other operations by breaking down informational and technical silos within your organization. Find out about the full range of tools that Frontify integrates with.
Brand portal, DAM, and CMS: What's the difference?
Brand portals, digital asset management (DAM), and content management systems (CMS) are tools companies use to store, manage, and access their branded digital assets. Even though they're different systems, they often have overlapping features or functionalities, so it can be hard to understand the differences:
A brand portal is a centralized online platform where you store all the resources and assets related to your brand. This includes DAM systems and brand guidelines.
A DAM allows you to manage and organize all your company's brand assets — from logo files and brand components to finished marketing collateral.
A CMS is primarily used to manage the assets on your website, including publishing or updating website content.
These systems are often complementary rather than competitive. For example, just because you have a CMS doesn't mean your organization wouldn't benefit from implementing a brand portal. You can easily use the two systems to manage your brand more effectively across all channels.
And while some companies use DAM systems in isolation, they are more commonly used as part of a comprehensive brand portal. A DAM is one part of your larger branding toolkit, and the portal is where you bring everything together.
The most important brand portal functionality
When you're looking to set up a brand portal for your organization, you'll likely compare several different options. Let's take a look at some of the most essential functionalities you'll need to manage, organize, and govern your brand effectively.
Security and accessibility
Your brand portal needs to support asset security while allowing the right people to access and use your materials easily. The platform should allow you to set and customize user permissions for different roles and stakeholders:
Viewers: Users who can only view and share your brand assets. They need permission to access specific libraries, assets, or pages within your brand portal.
Editors: Users who can make changes to your brand assets. They may be able to create new assets and upload files to your portal, depending on their permissions.
Reviewers: Users who can comment on assets — for example, managers who need to sign off on finished materials.
Owners: Users who have full access to your brand portal. They can update your guidelines and add or remove users and files.
You also want to be able to control which assets users can access. For example, some portals enable you to set up target audiences for different assets or libraries. This is particularly helpful if you have regional brand variations or multiple sub-brands, as you can hide irrelevant assets from particular user groups.
Finally, you want a brand portal that complies with the highest global data security standards and regulations. This is important for keeping your assets safe and ensuring your users' data is secure, too.
User engagement
For some companies, their brand becomes quite siloed. Their marketing or brand department is the gatekeeper of everything brand-related. By implementing a centralized portal, you aim to democratize your brand by giving access to all your internal and external stakeholders.
Your brand portal should make it easy for users to engage with your brand, giving them easy access to all the relevant materials and processes of creating and developing brand assets.
Look for a brand portal that enables you to add many users and has varied user permissions. Other features further encourage user participation:
Brand templates allow users to create their own branded materials, as they can customize elements of common asset types without going off-brand.
Brand guidelines help users understand what is and isn't on brand, giving them the confidence to create their own assets.
Brand centralization within a single portal gives users a sense of ownership over the brand — they no longer need to ask someone for access or permission to use particular files.
Multi-brand support
Many enterprise organizations don't just have a single brand to manage. That's why it's important to choose a brand portal that can support regional variations, sub-brands, or other portfolio brands.
Multi-brand companies organize their brands in different ways. Here's what some of the models include:
Branded house: This model contains multiple brand portals that are built upon the strong identity of a central master brand.
House of brands: This model contains multiple sub-brands that work independently from the main parent brand — and from each other.
Hybrid brand architecture: This model combines the other two — some brands may work independently, while others build upon your parent brand identity.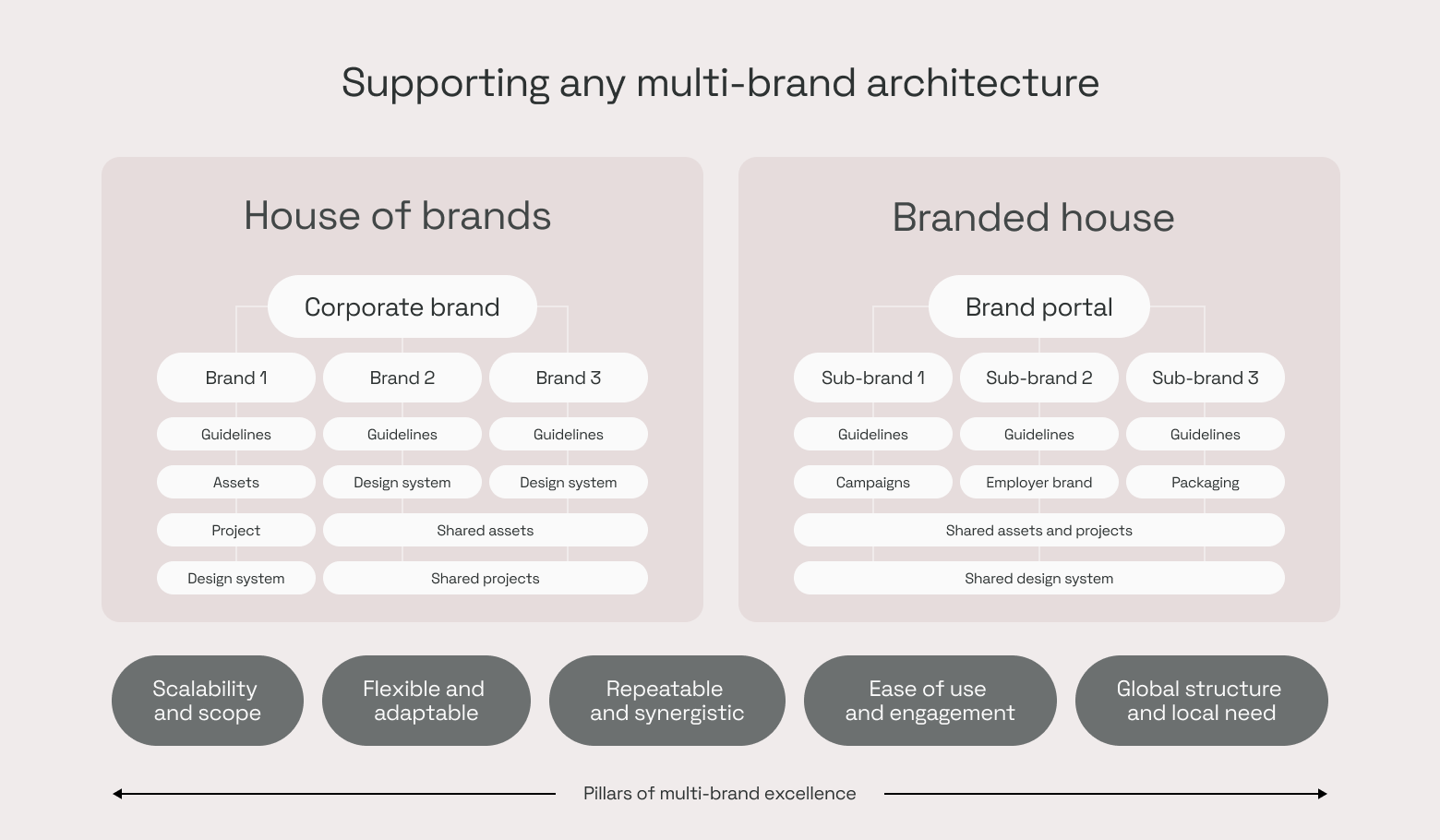 Whatever your brand architecture looks like, you need a brand portal that has the flexibility and can be customized to support your setup. You want a space that fits your brand rather than trying to fit your brand into the constraints of a rigid system.
Examples of best-in-class brand portals
Uber
Uber needed a platform to manage multiple sub-brands, centralize assets and tools, and drive user engagement. It developed a centralized portal with Frontify, creating a space for all its brands to thrive within its branded house structure.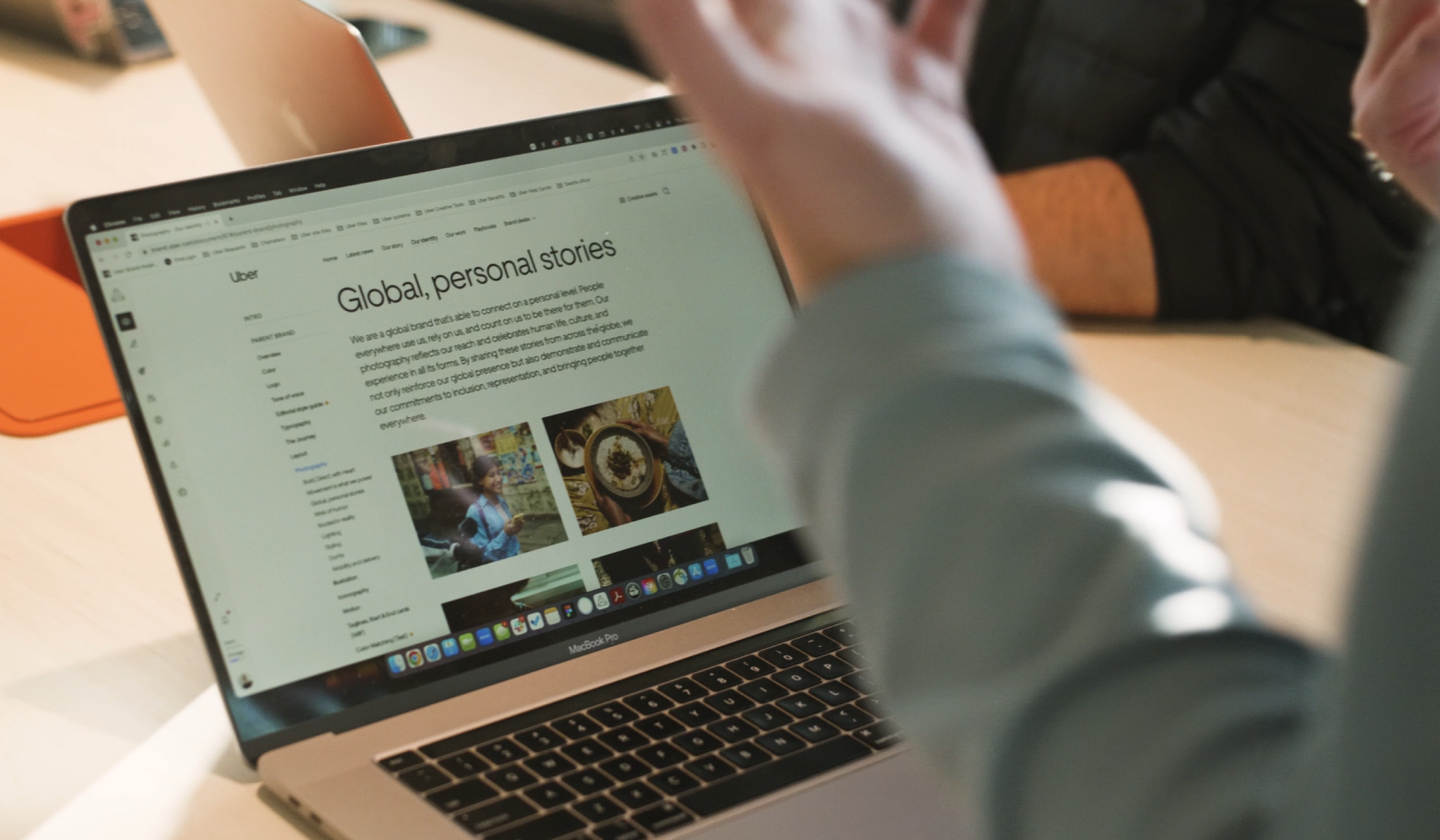 Uber's brand portal enables more than 20,000 people in the company to create, manage, and share assets. "It really demonstrates a one Uber, one brand approach. We're all one company that is built on the same solid foundation, the same platform," explained Uber Global Creative Director Brian Coonce.
Learn more about how Uber's brand portal has helped the company create a unified brand experience.
Telefónica
Telefónica manages 16 brands across 16 global markets. Its brand portal — which the Telefónica team refers to as their Brand Factory — provides an intuitive, scalable, centralized space to manage and maintain a high level of consistency across all its brands and markets.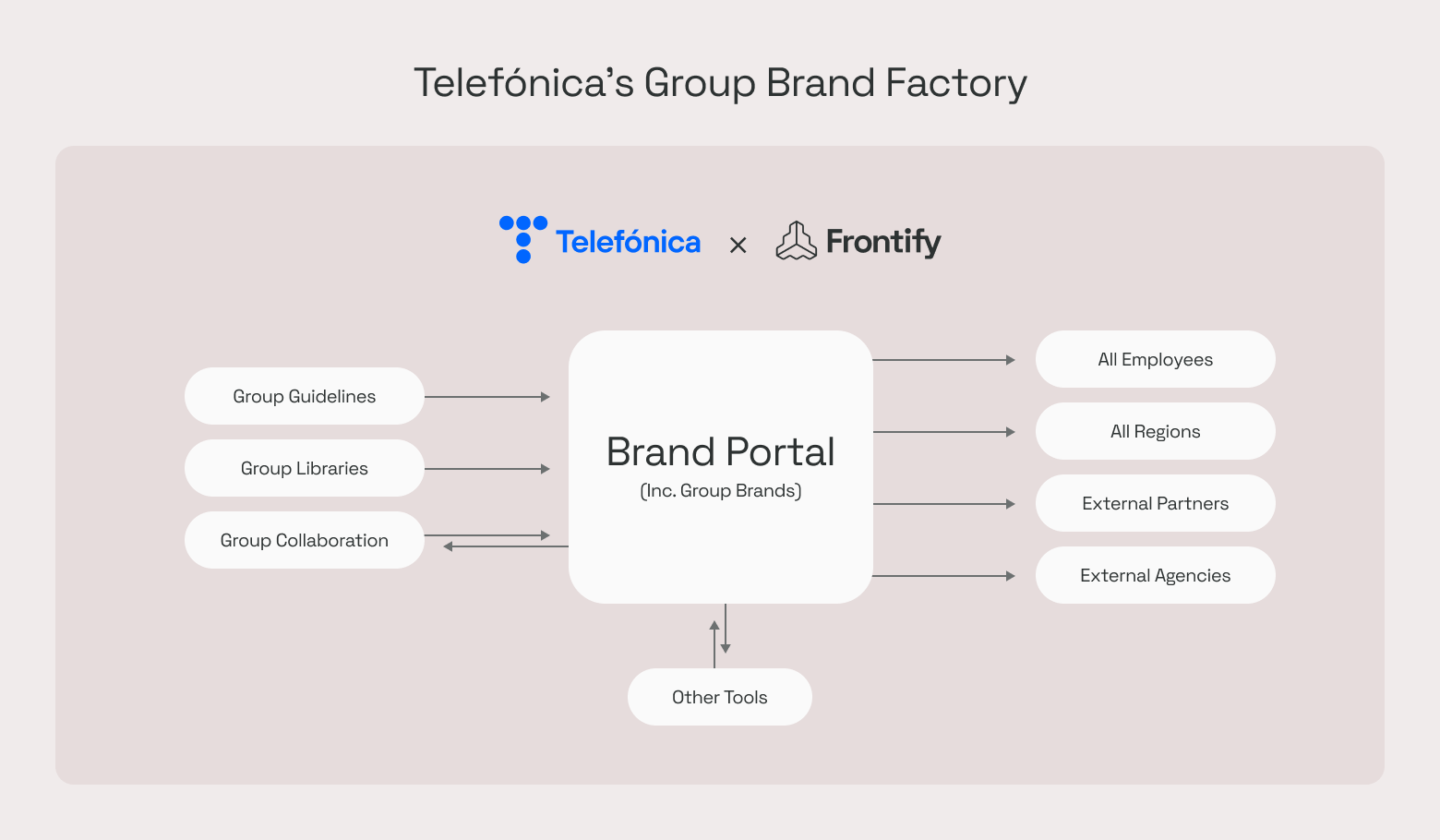 Telefónica follows the house of brands framework — its brands all have distinct identities, meaning each has its own guidelines, assets, and resources. "To manage all brand materials and workflows at the same time in one unique space for all countries and brands is the main benefit and a milestone for Telefónica," said Cristina Terrón Moreno from Telefónica's brand team.
Learn more about how Telefónica's Brand Factory helps manage all its group brands in the most centralized and digital-friendly way.
Frontify's unique approach to brand portals
Frontify's brand portal provides a single source of truth for everything brand-related. Here's how our solution enables teams of all shapes and sizes to work together to build their brand:
Customize entry points to your brand hub: Create a central hub that points people in the right direction so they can easily find the materials they need. Navigate straight to each sub-brand, important asset collections, brand guidelines or tutorials, and resources for particular teams or projects.
Collaborate on brand projects in real time: Get everyone working in the same shared, collaborative space, and enable users to request and exchange feedback. Automating approvals processes and setting up workflows make cross-team work simple.
Create a one-stop shop for brand management: Centralize all your brand materials — from digital assets and code snippets to guidelines, design templates, and creative projects — so it's easy to find the right resources. Save your marketing team from yet another email asking where the right logo is, and help people find it themselves.
We work with over 2.5 million brand builders at some of the world's leading brands, like Kia, Borussia Dortmund, and the Emmy® Awards. According to our customer reviews on G2, users love Frontify's brand portal solution because it saves them time and brings all their brand assets into one centralized place. Our software helps everyone and everything brand-related come together – and thrive – under one roof.