Pricing for Everyone
We've got plans for everyone – from small scale-ups
and freelancers to large multi-brand empires.
Essentials
Up to 25 users
Everything your small team needs (and deserves) to take your brand to the next level.
Enterprise
Fully scalable solution to more than 10,000 users
Everything for your large-scale branding universe. Align, manage, and advance your brand(s) across different countries, departments, and languages.
Used by companies such as Allianz, KIA, Lufthansa, Optimizely, Telefónica, MAN, E.ON and more.
What's available in Essentials?
Brand Guidelines
Central, digital brand guidelines, connected to all our other products to drive your brand into everything you do.
Digital Asset Management
A DAM that knows your brand. Find the right assets every time with a DAM that's connected with your brand guidelines.
Creative Collaboration
A workspace to shape campaigns, simplify feedback loops, and bring your brand to life (and teams together).
Privacy Control
Maintain security over all your products with multi-factor authentication, and malware and vulnerability scans.
Integrations
Make use of some of our integrations to connect to tools you use every day.
Developer Platform
Use our self-service Developer Platform's capabilities to create custom Content Blocks for your Brand Guidelines and integrations.
What's available in Enterprise?

Everything in Essentials, plus:
Multi-Brand Universe
Separate different brands into individual brand platforms for improved workflows.
Branded Experience
Stylize everything with your brand: your domain, whitelabeled emails, and more.
Digital & Print Templates
Create customizable templates to enable non-designers to produce on-brand collaterals.
Video Templates
Create, edit and share on-brand video templates easier and faster.
Advanced Access Management
Create custom user groups to manage different levels of access to your brand.
Identity Management
Access enhanced permissions and team support via SAML and SSO.
Personal Success Manager
Work with a Customer Success Manager for onboarding and for periodic audits.
Premium Support
Get instant support within minutes and arrange custom service agreements.
Managed Services
Leverage our experts to complete migrations of your data and assets.
Developer Platform
Use of our Developer Platform's capabilities to create custom Content Blocks for your Brand Guidelines and integrations.
Full Suite of Integrations
Create an ecosystem for your needs with our GraphQL API and Developer Platform.
Analytics & Insights
Access data and insight reports to track the performance of your brand.
Frontify Community
Join our exclusive community of brand lovers sharing expert insights.
Advanced Security
Secure public and private control over the Frontify platform.
More questions? Let's have a chat.
We're here to answer all your unanswered queries, and discuss the specifics needed for your brand and business.
Curious to see what ROI our customers are getting?
Frontify commissioned Forrester to show you the impact of our software, black on white. Check it out.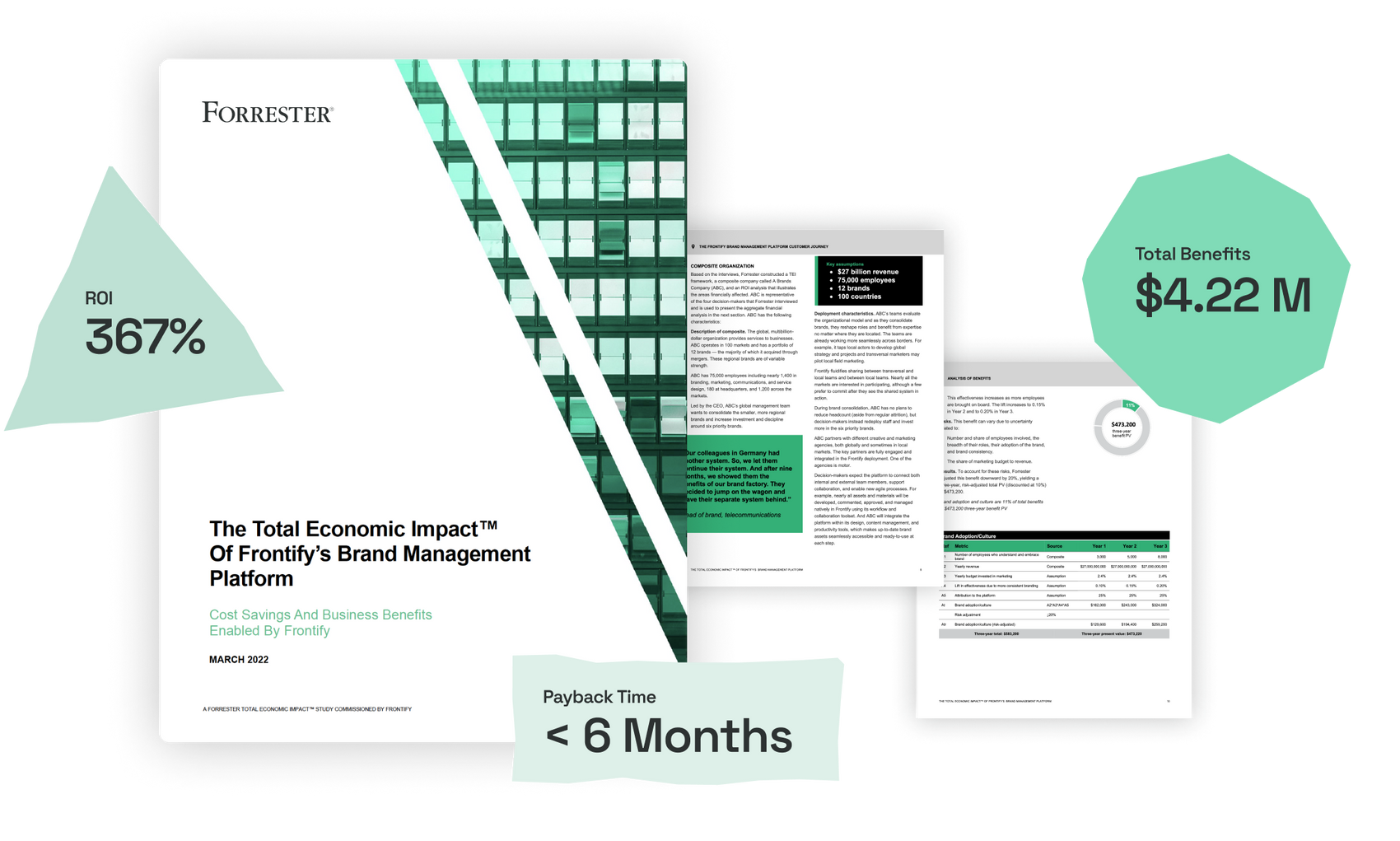 Frequently Asked Questions
How many brands and guidelines can I create with the Essential plans?

You'll be able to create one brand and one guideline with our Essential plans.

Do you offer individual plans for non-profits?

Looking for a multi-brand environment?

Is Frontify GDPR compliant?

Which plan suits me best?

What's the difference between an Enterprise plan and an Essential plan?