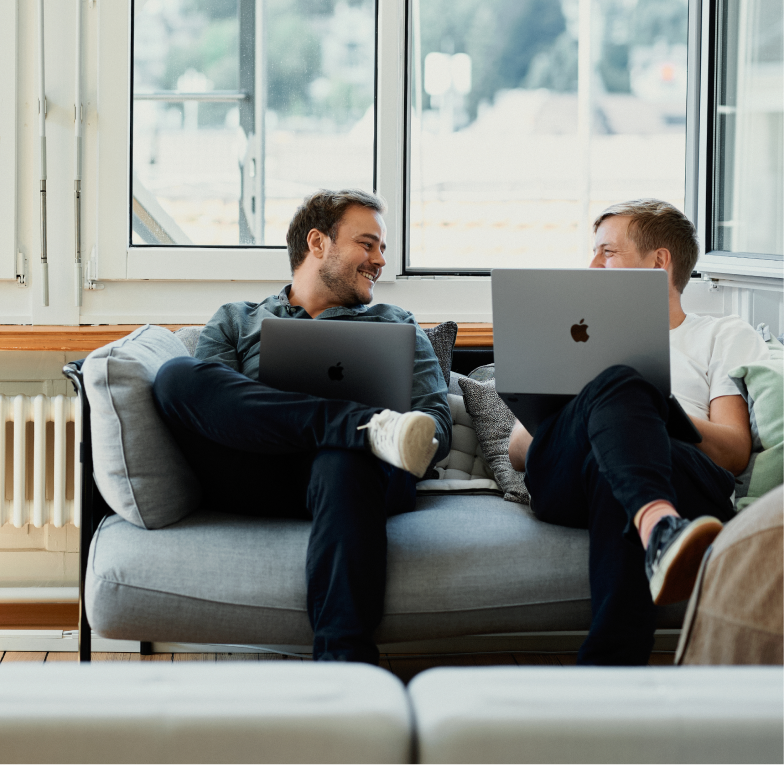 How to choose a DAM system - 4 concerns you may have
A digital asset management (DAM) platform can make handling brand assets easy, effective, and efficient. But choosing and implementing a DAM can be challenging: Outdated ideas no longer reflect the reality of modern systems. We're here to show you why Frontify is the ideal partner to future-proof your brand with intuitive and secure DAM solutions.
Digital asset management (DAM) systems help organizations manage, store, and distribute digital assets effectively. Images, videos, documents, and audio files are critical to promoting products, creating brand awareness, and establishing customer loyalty — having them all accessible in a centralized platform increases efficiency and collaboration.
DAM solutions turn brand strategies into action: Employees, agencies, and partners can search, edit, and access digital assets — wherever and whenever they need them. Approving, embedding, and reusing assets become more streamlined, allowing brand builders to create impactful on-brand touchpoints.
Despite the many benefits of using a digital asset management system, some organizations may hesitate to implement one. We're here to address the main concerns and support you in making DAM decisions — just as we supported Telefónica, the Emmy® Awards, Süddeutsche Zeitung, Voi, and Vacasa when they implemented their Frontify DAM solution.
Concern 1: DAM is complex to set up and use
Implementing a digital asset management system can feel daunting. Navigating complex set-up processes and needing extensive coding and technical expertise can crush any enthusiasm for simplified asset management. And once the solution is up and running, there's the fear that users need regular training to adopt the system. Moreover, none of that hard work and investment guarantees a high adoption rate.
Complexity is a valid concern, but we thrive on solving intricate problems and getting people excited about digital asset management.
Frontify solution #1: Creating an intuitive user experience
Our state-of-the-art platform offers a modern, user-friendly experience that'll change how you work. You don't have to worry about complex set-up processes or extensive coding to get going: With Frontify, you can set up and implement everything in just a few days — and use it without any special training. "The implementation was actually pretty easy and the process very smooth, as no installation was required being a web-based platform," said Dmytro Taran, Global Head Centers of Excellence at Kühne+Nagel, a global transport and logistics company. He continued: "Everything is easy to use, and all content easy to find. [...] To keep everyone involved, we also conduct regular internal onboardings using videos, which enables new users to stay up to speed with Frontify in no time. However, users usually realize that the platform is extremely intuitive, so no major training is really needed."
Fronitfy's out-of-the-box but fully customizable solution gives you a faster time to market so that you stay ahead of the competition. What's more: We provide advanced metadata capabilities to make content accessible through intuitive filters and powerful keywords search. Our customers love using Frontify to simplify and optimize their everyday work, making the platform a valuable investment for any organization.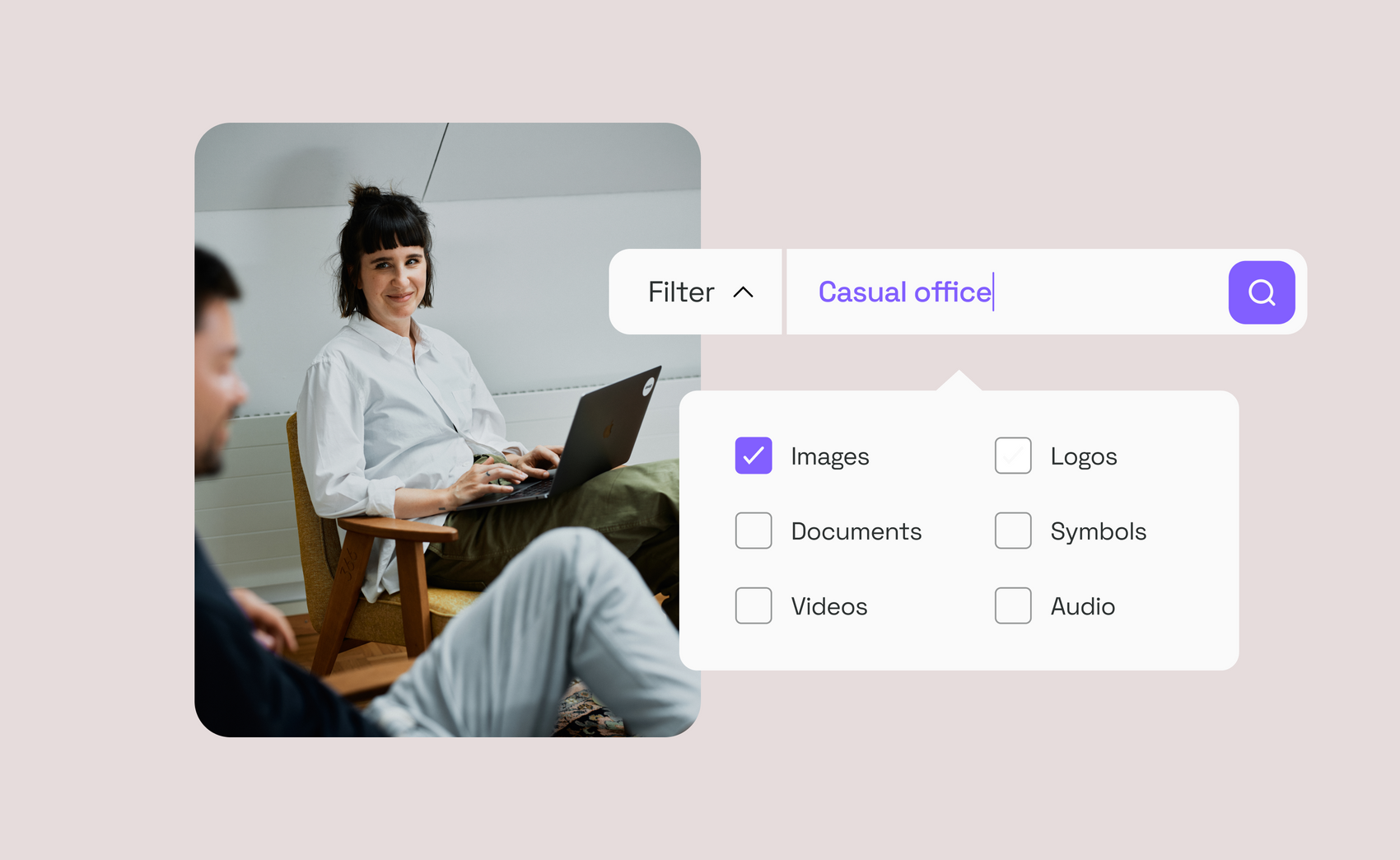 Concern 2: DAM is a stand-alone brand product
Many people think that "using a DAM" means having one giant folder that everyone can access. To get work done, employees export and import files into other software. A small change can start a chain of tasks that can keep teams busy all day. At the end of a project, someone must remember to upload the final versions and formats to the DAM to ensure the asset library is always current.
This sounds like something from an old movie — and has little to do with the present.
Frontify solution #2: Thinking beyond digital asset management
With Frontify, you get more than a DAM: Our platform provides products to boost organization, collaboration, and analysis. You can manage and share your core brand assets while working with tools and features that support real-time commenting and editing. All this with precise data about asset usage.
Our DAM also comes with automated workflows, metadata management, and analytics to help organizations streamline their workflow, improve efficiency, and gain valuable insights into their digital assets' use and performance.
Let's not forget that the future of digital asset management is integrated: You can link the Frontify DAM to the rest of our portfolio — including Brand Guidelines, Digital & Print Templates, and Creative Collaboration — for an end-to-end experience directly within the same platform.
Concern 3: DAM limits where and how you access your assets
DAM systems that are only accessible from a personal computer make collaborating a challenge. Having different, decentralized libraries prevents people from finding relevant assets — or encourages them to go with plan B and use the outdated asset on their desktop. On top of everything, the scattered folders need a powerful internet connection and a dedicated IT team to stay, well, scattered.
Silos are for grain. Brand management is all about connecting people and tools.
Frontify solution #3: Managing digital assets anywhere and anytime
Explore, download, comment, and share content and assets the way that works best for your teams. Our mobile app allows you to have an impact on your brand-building operations, regardless of where you are, while the desktop app gives access to brand content in seconds. Of course, Frontify also works in a browser tab. This flexibility makes it easier for teams to collaborate and be efficient regardless of location or device.
Plus, our software-as-as-service solution ensures that you always use the latest version of the software and don't have to worry about upgrades or maintenance. Since Frontify hosts everything, your IT staff can focus on more strategic tasks. Thanks to our focus on secure and powerful data centers, network infrastructure, and security — topped off with specialized security teams and compliance certifications — you'll have the peace of mind that your data is safe and complies with regulations.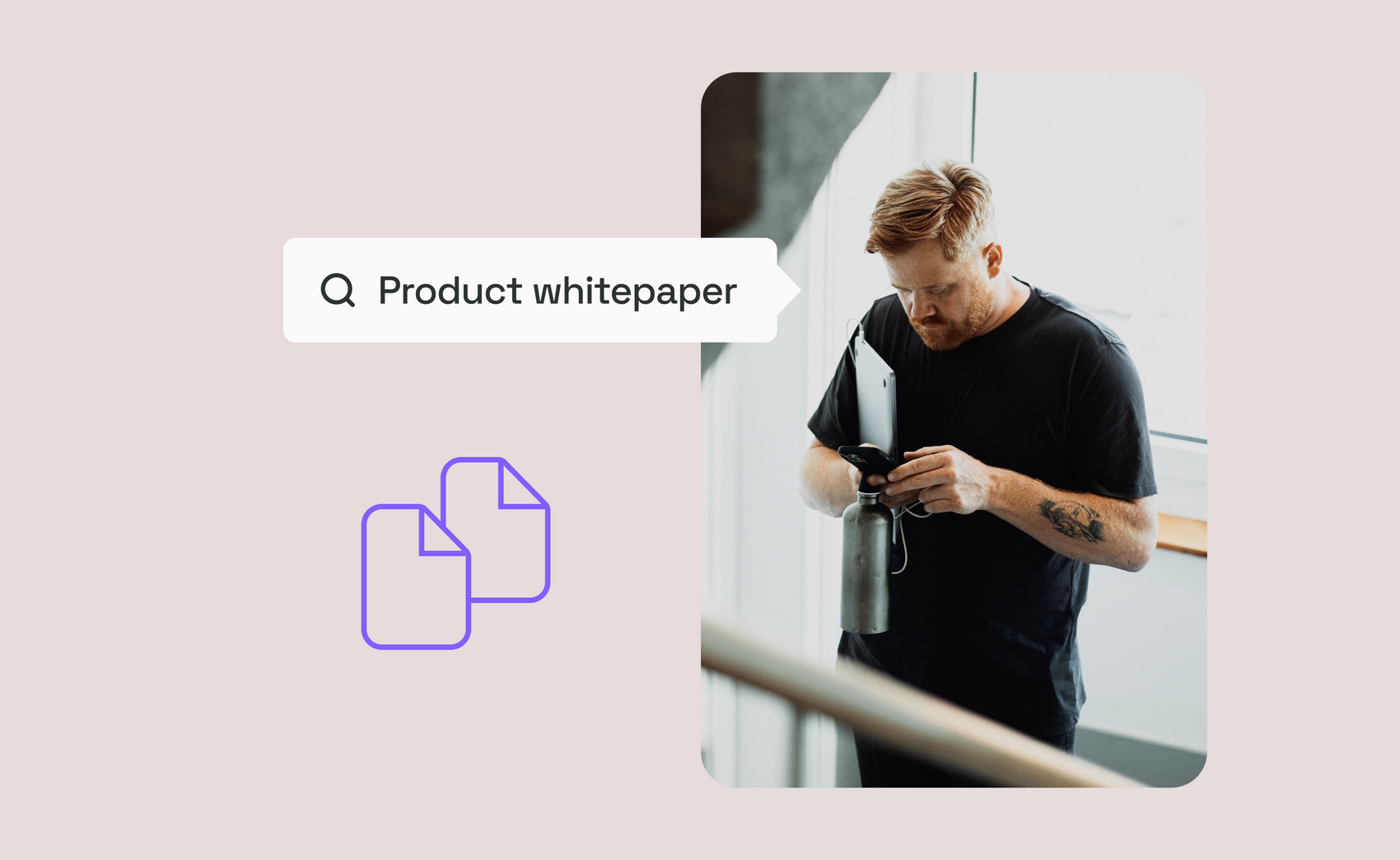 Concern 4: DAM is difficult to integrate into an organization
Integrating a new DAM system into an existing network can feel like a complex process: Legacy systems can struggle to work with newer technologies and make it difficult to share data between systems. Top this off with worries about building all the integrations between the DAM and other tools from scratch, add some long and risky implementation processes, and voilà, you have your recipe for a DAM nightmare.
Legacy systems exist, but they're no obstacle for us.
Frontify solution #4: Integrating your DAM seamlessly into your ecosystem
At Frontify, we understand the importance of seamless integration when managing digital assets. That's why our DAM solution comes equipped with pre-built connectors for popular systems such as Figma, Adobe Suite, SharePoint, and Salesforce. These connectors make it easy for organizations to connect our DAM to other systems in record time, helping automate workflows and making them more efficient.
Our DAM is customer-centric and tailored to meet the needs of any organization. We use open application programming interfaces (APIs) or web services that allow other systems — such as content management systems (CMS), project management software, stock images, design applications, and customer relationship management (CRM) systems — to communicate and exchange data. For example, a website may use our API to access and display images stored in our digital asset management system, eliminating the need for manual file transfers or duplicate data.
Our DAM is cloud-based, so accessible from anywhere with an internet connection. This allows organizations to integrate Frontify with other systems, regardless of their location.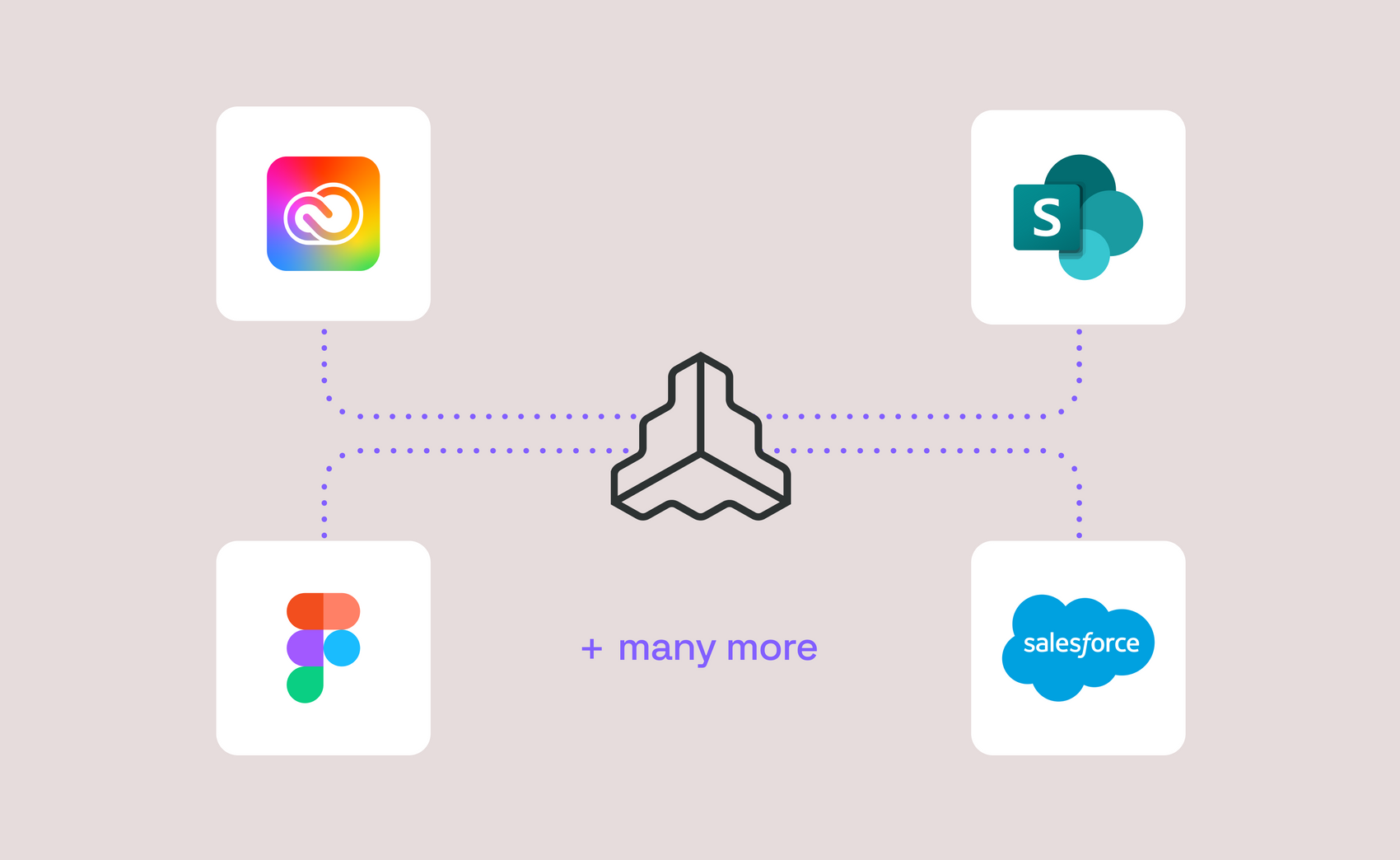 Why Frontify is more than your DAM solution
However, not every solution will make you go, "Wow, that's a damn good DAM!" But Frontify will. When you go with Frontify as your digital asset management provider, you don't just pick software — you choose a partner. And that's the starting point of your collaboration with a branding specialist that brings your vision to life and helps you achieve your potential. We not only set up your system but also integrate it into your existing brand ecosystem. Our intuitive user experiences, streamlined collaborations, and accessibility are just some of the features that allow teams to engage with and grow thriving brands.
If you want to know more about Frontify as your DAM partner, download our white paper or contact us!
Claudia Colombo
Brand ambassador