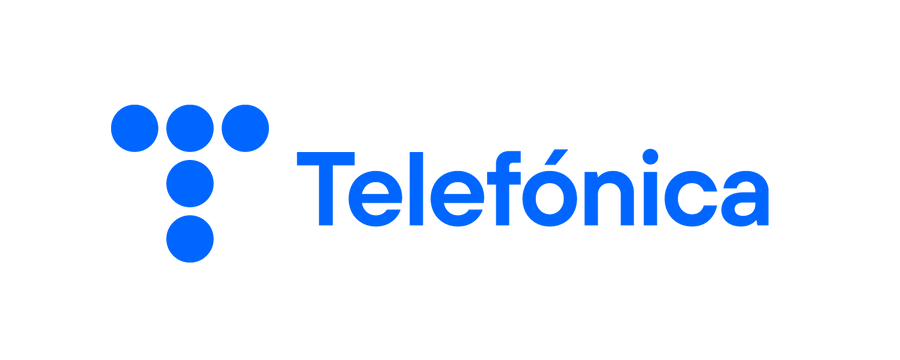 Building a Brand of Brands Full of Possibilities
Telefónica is one of the largest telecommunications companies in the world. Its mission is to make our world more human by connecting lives and putting people at the center of everything they do. With Frontify, Telefónica has built a Brand Factory to manage all its group brands in the most centralized and digital-friendly way across every touchpoint. At the heart of it all, Brand Factory has pushed the boundaries of digital transformation far beyond the scope of a pure content DAM by encompassing the digitalizing of work processes and collaboration for everyone across the organization and with their partners.
Telefónica uses Frontify since 2019
Brand Guidelines
Digital Asset Management
Creative Collaboration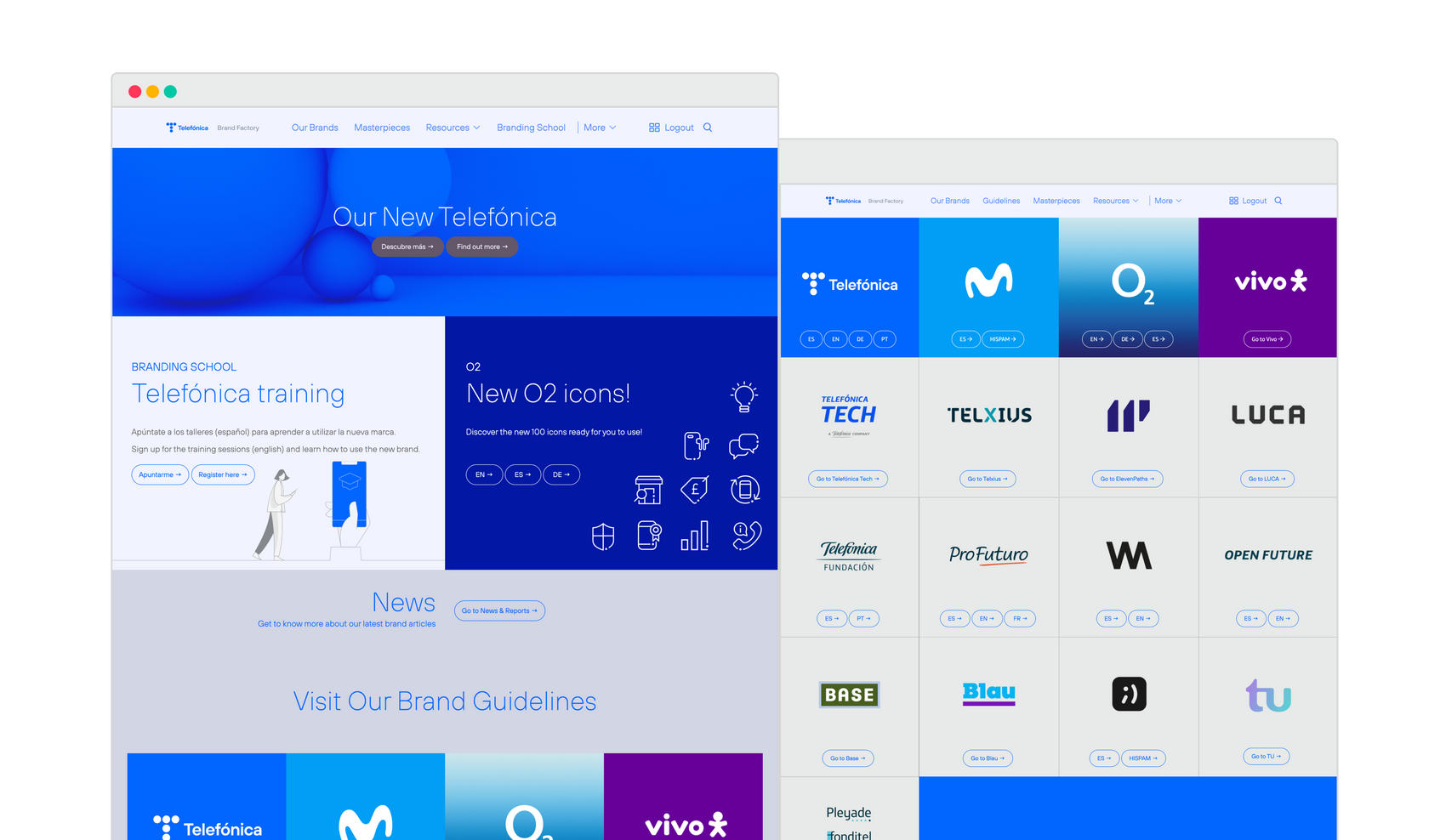 Since the summer of 2019, Telefónica has worked alongside Frontify to maximize the power of its brand management platform, especially the ability to manage multiple brands across regions, and varying user groups – all through one intuitive, scalable, centralized space. Telefónica's extensive brand landscape is an exciting one to manage, as beside its own at the heart, are all its commercial brands including telecom giants Movistar, Vivo and O2 forming a vibrant network spread across 16 markets.
With such a large brand ecosystem, being able to consolidate these growing individual entities efficiently and independently was never going to be an easy task, but since activating Frontify, simplifying this complexity has become more of a reality. Now, it's not about if but how Telefónica can create order and clarity to the brand in the backend and maintain the same level of consistency across all its brands and markets.
Through Frontify, the creation, shareability, and maintenance of brand guidelines alongside branded content and assets has never been easier. Group collaboration has improved as well, with project spaces in high use across internal and external users to facilitate the creation process and align better around it.
Telefónica has approached its unique set-up brilliantly by accommodating and connecting all its group brands under one roof, but still giving each one the flexibility to grow independently under the primary brand. The synchronous growth of the main and group brands has fostered a cohesiveness that has been able to improve significantly. For the crew behind the brands, working closely together and learning from one another is a philosophy that has enabled Telefónica's brand ecosystem to flourish by accelerating digital transformation – as a group and as a leader in the telecom sector.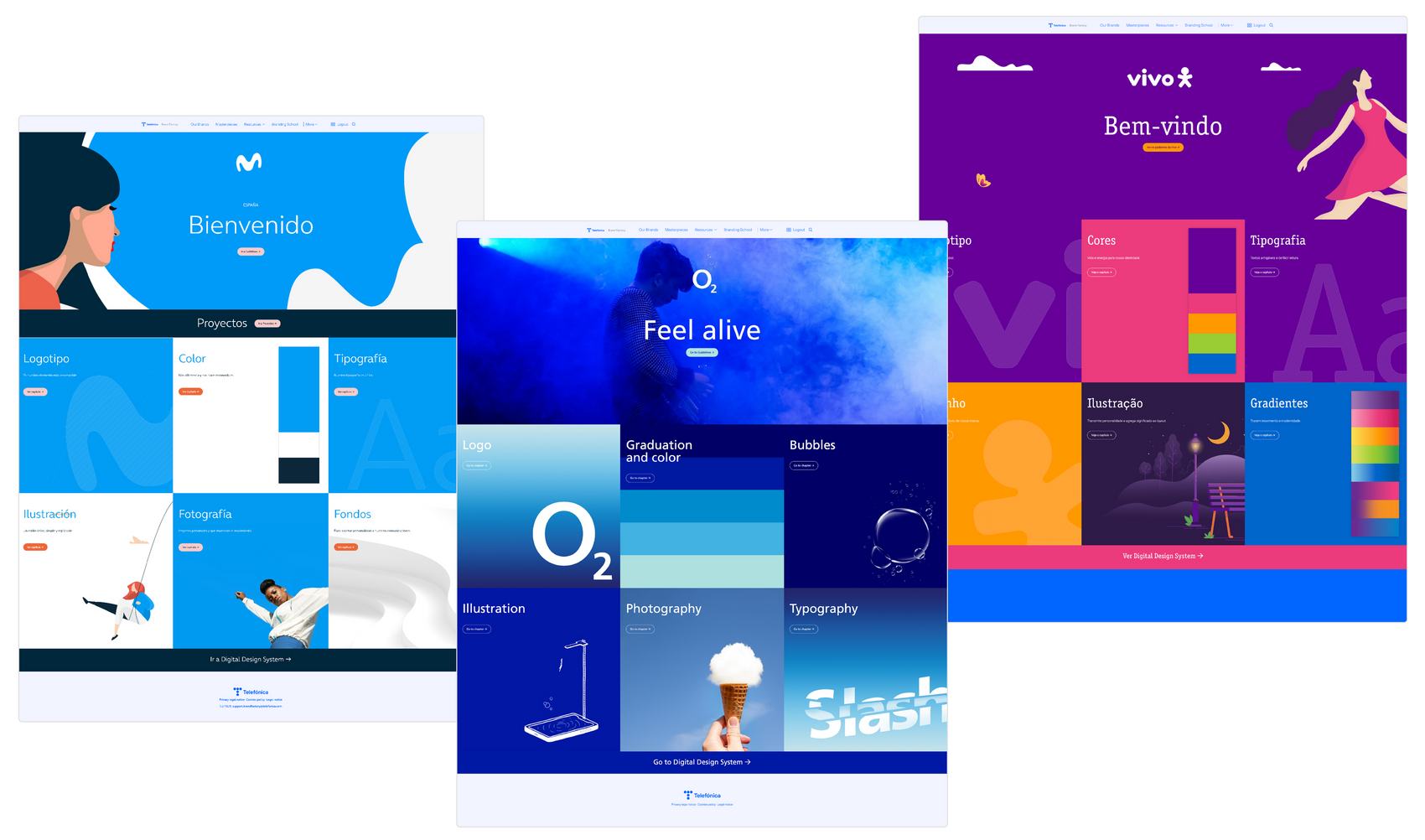 Telefónica's Brand Factory is the global brand and advertising tool that underpins consistency and efficiency for the brand(s) in all its markets. Used as a comprehensive library beyond pure asset management – Frontify enables the company to share information about campaigns and best practices, as well as serving as an ever-present source of inspiration. Easy access for all Telefónica employees through SSO, and external partners and agencies, means that usage can grow far beyond the brand and marketing teams for greater adoption through proximity.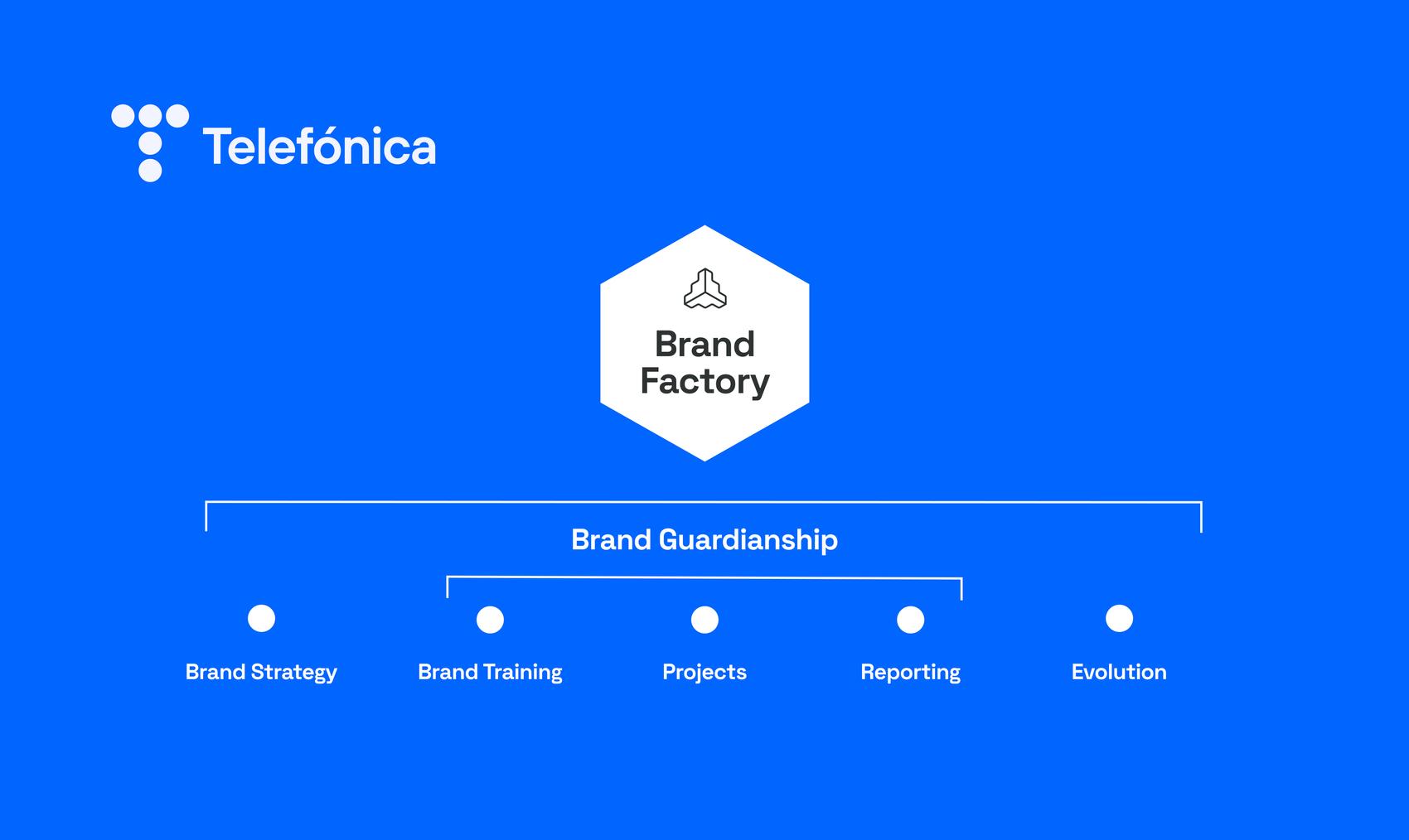 For Cristina Terrón Moreno from Telefónica's Brand team the highlights of working with Frontify are clear: "To be able to manage all brand materials and workflows at the same time in one unique space for all countries and brands is the main benefit and a milestone for Telefónica." Cristina continues by saying that, "This is actually the first time we've been able to implement a solution globally covering all larger markets and their brands. Previously, some of Telefónica's larger markets were using their own local platforms."
In many ways, the Brand Factory has become the go-to place for all brand users to consult, access and live out the brand on a daily basis. The recent launch of Telefónica's new identity has been a clear confirmation of its ever-growing popularity.
The Brand Factory has played a central role in conveying this new identity to all users and will continue to do so moving forward. Moreover, Brand Guardians in its larger markets and regular brand trainings ensure that this company-wide consistency is met across borders and touchpoints, always.
The most powerful medium for any brand is a strong connection with the people who live it out every day. Brand engagement is indeed more than just a word; in essence, it's the glue and driving force behind emotional attachment and brand cohesion. Being able to manage this more efficiently on a company- wide scale involves the perfect mix of engagement, collaboration, communication, and overall efficiency. That's where Frontify really hits home.
For Telefónica, the sheer size and layers of the organization made the decision to centralize the brand within Frontify a clear one – but one requiring care and detail, especially considering the effect on cultural differences and methodology. From the early implementation to the present, the adoption has grown (and continues to grow), with company-wide establishment as a staple tool and hub, thanks largely to positive feedback and functionality for so many across the group.
"
Every day, we discover new possibilities within the platform, that are either related to new functionalities or that we had not yet discovered, which make it even more engaging for our users who are also frequently requesting more functionality. Frontify's Customer Success team has been very helpful in this regard by showing us the most efficient ways to do things to become more efficient on the platform as a company.
"
Cristina Terrón Moreno
Account Manager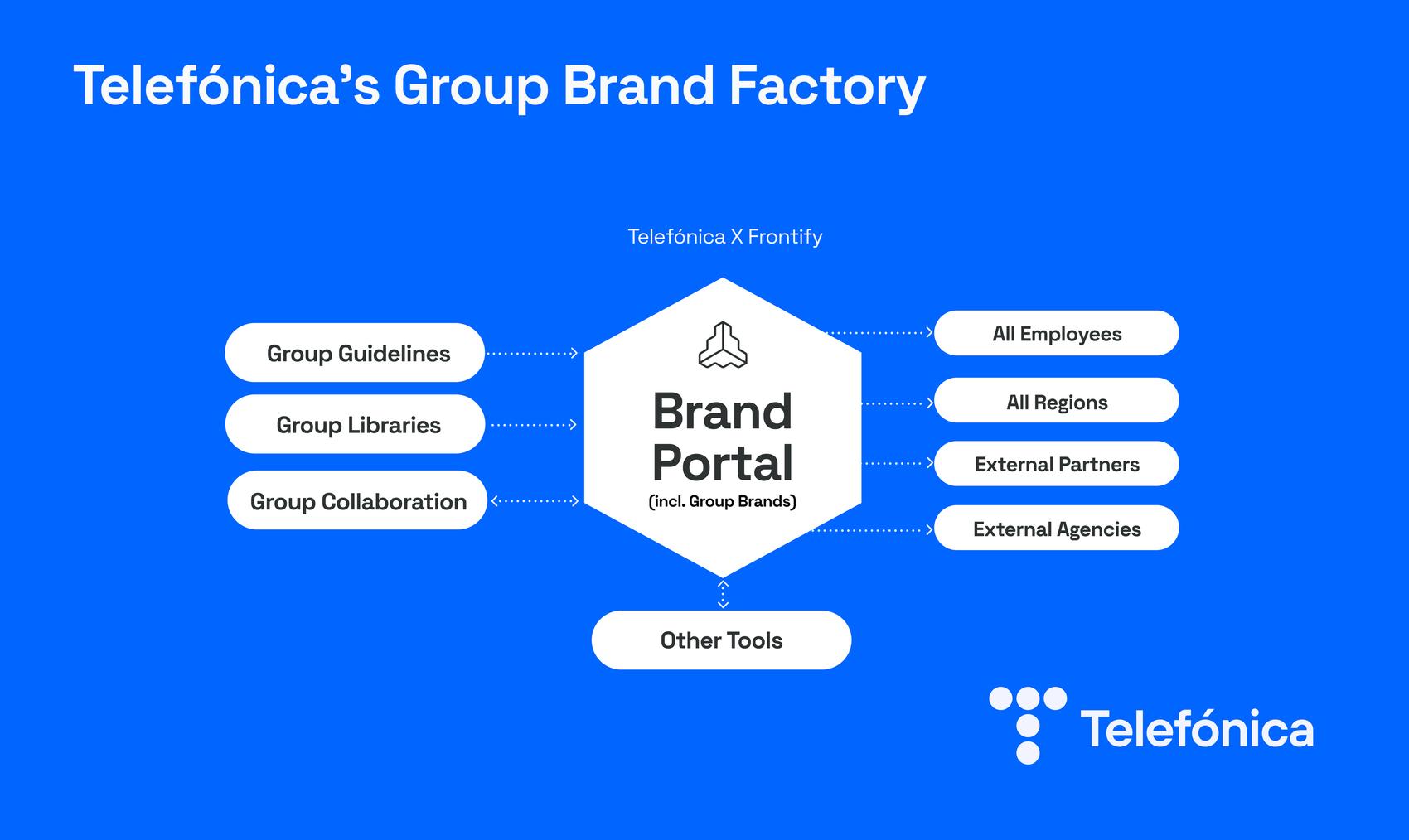 Using Frontify as its single source of truth and global repository for all content means that by integrating Frontify with the wider Telefónica tool stack, consistency can be guaranteed over time across all touchpoints. Campaigns can roll out without the extra time needed to check if assets including imagery being used are the latest ones, and workflows are ultimately streamlined by eliminating redundant approvals. This robust ecosystem set-up will ensure the brand can grow and adapt sustainably within Telefónica's rapidly-changing IT landscape. One example of this trend can be seen in the CAT (Content Automated Tool) project between Telefónica, Frontify and Accenture to implement a highly effective automation process which will optimize hyperpersonlization for users across Telefónica's creative teams indefintiely.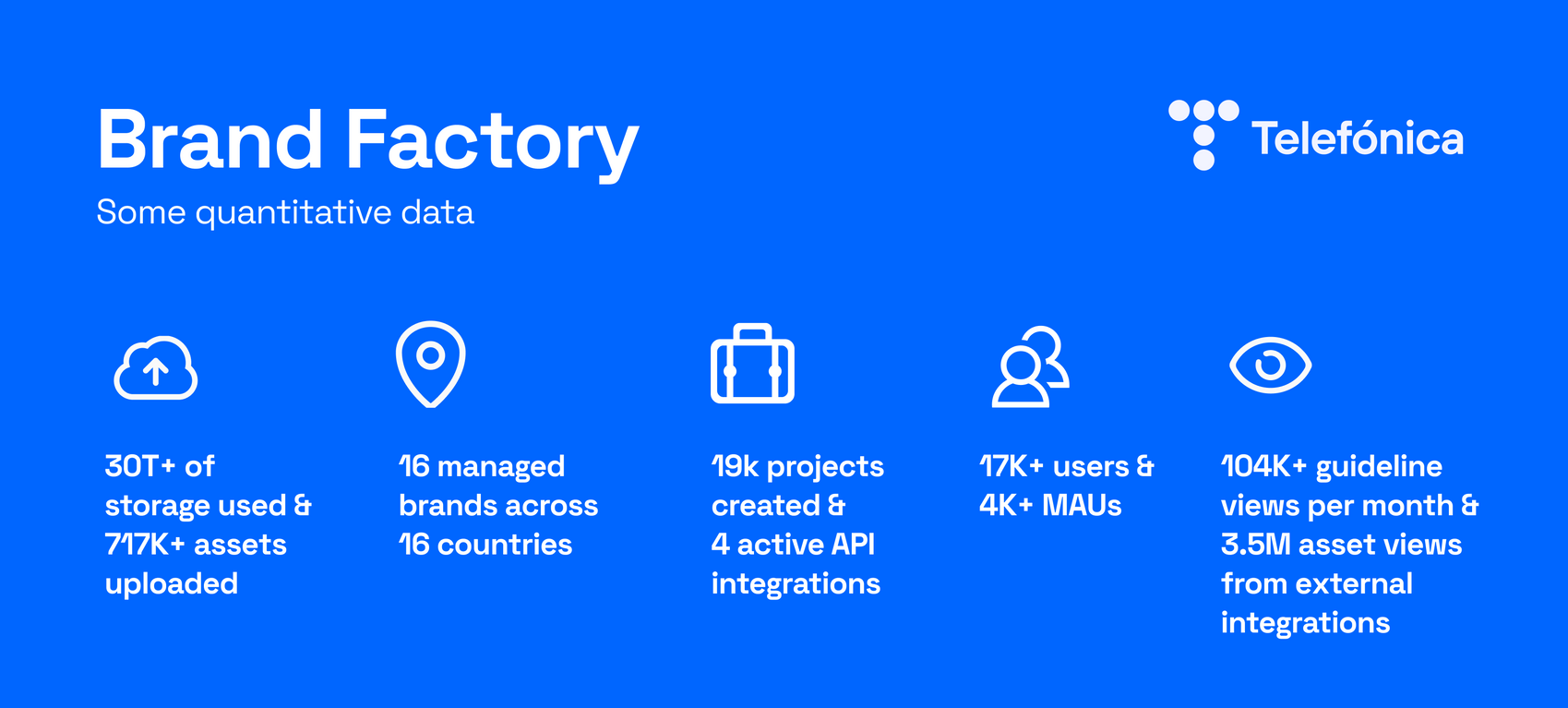 Ready for whatever's next, Telefónica is in a great position to reach its goal of unleashing a brand full of possibilities for its users, many of which have never been as close to the brand as they are today with the Brand Factory.
To put this product adoption and user engagement into context, just take a look at the current numbers. Over 700k assets have already been uploaded to the Brand Factory, showing the sheer scale of need for a central hub for Telefónica's 16 managed brands. The portal sees over 104k guideline views from individual users each month, with higher-than-average use from just over 4k of those users. Combine these numbers with the 19k+ projects and 3.5M+ asset views from external integrations and the impact of collaboration and centralization speaks for itself. What's more, we're set to see these numbers continue growing as Telefónica continues its growth journey.
With Frontify, the telecom giant can count on a partner sharing the same vision for better brand enablement and execution, across the range of commercial brands, markets, and groups. Together, strengthening the brand and the experience with it, is more than a possibility, but an everyday reality on its exciting journey ahead.