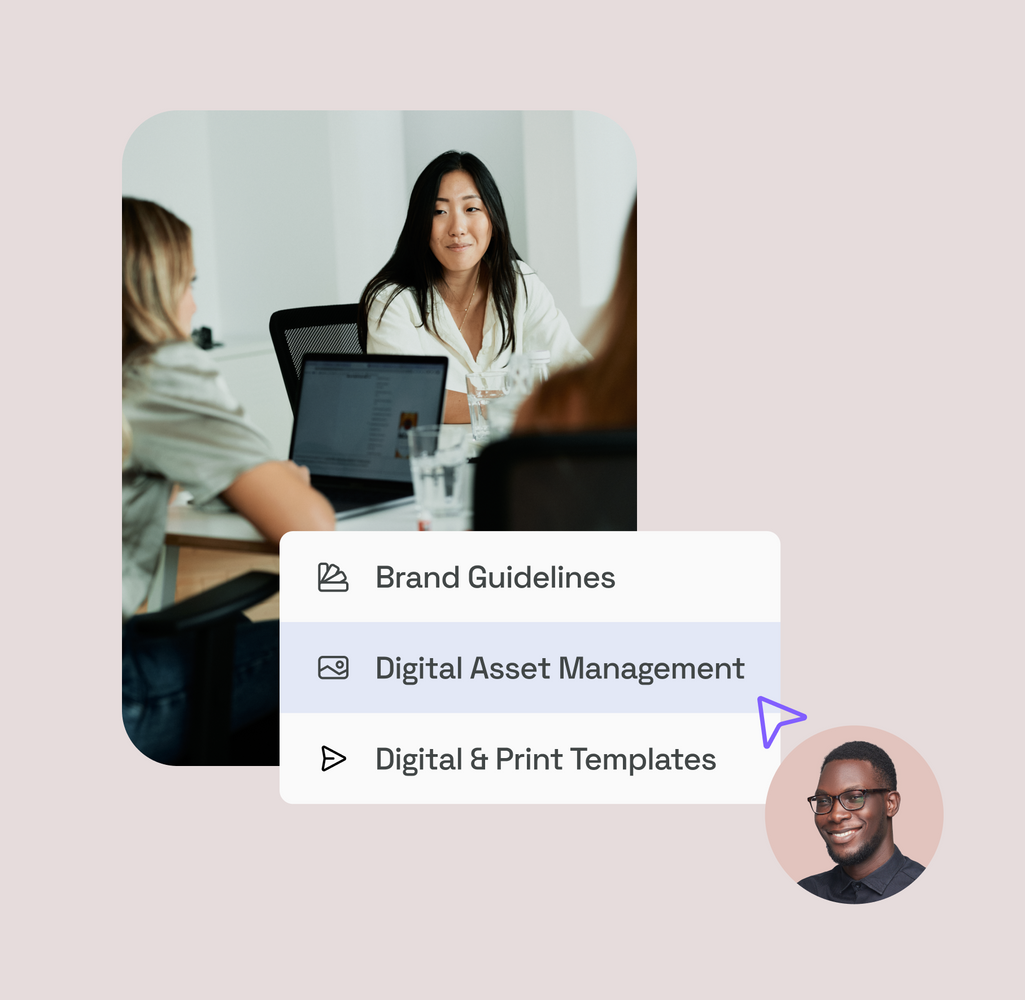 What is Digital Asset Management? (DAM)
Digital asset management is the process of storing and organizing your company's digital assets, such as logo files, marketing collateral, pitch decks, and product photography.
What is a Digital Asset Management system?
Digital asset management is the process of storing and organizing your company's digital assets, such as logo files, marketing collateral, pitch decks, and product photography.
Many companies use a dedicated digital asset management system (DAM) to make the digital asset management process as easy as possible. This solution provides a centralized home for all your brand materials, making it easy for everyone to find and access the assets they need.
How DAM software works
Digital asset management software provides the backbone for comprehensive asset management. It helps access, organize, and distribute digital content and creative assets.
Access
DAM software provides a centralized location for storing all your brand assets. Whenever anyone in the business creates a branded asset, they save it to your DAM rather than on their laptop or in their personal files. Today, DAMs are often cloud-based, though some companies may still prefer an on-premises solution.
Organize
In your DAM, you can categorize files into libraries to make them easy to navigate. How you group files will depend on your business needs: For example, you could set up libraries for different file formats, marketing campaigns, product lines, or departments.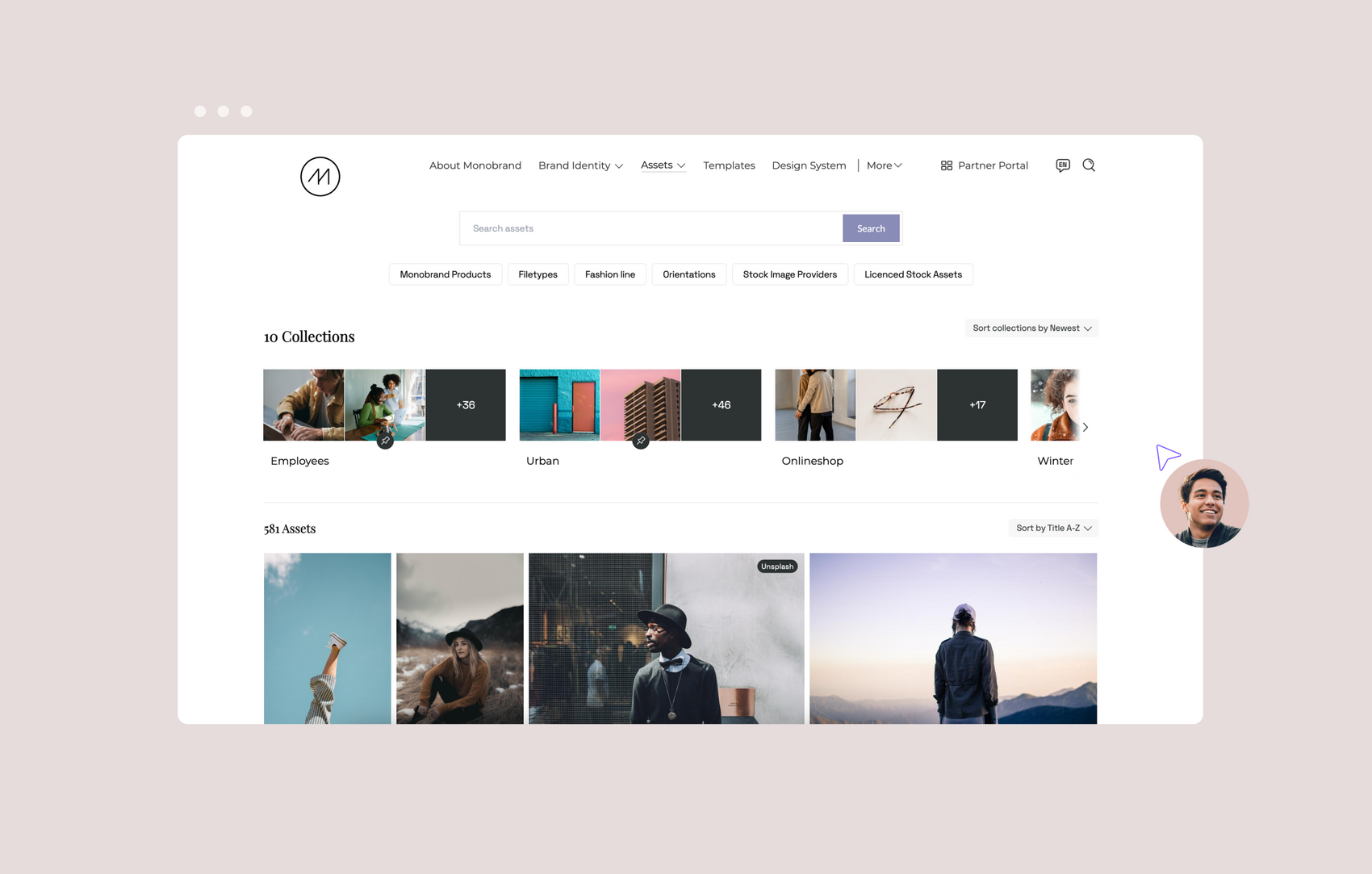 When you upload an asset, you can add detailed metadata and tags to make it easier to search within your DAM:
Metadata simplifies categorizing and has a clear format, like "date." It helps to structure the asset library, similar to how "genre" structures your music library.
Tags are entirely open-ended with no restrictions. If you use only tags and multiple people upload assets, the tags might be inconsistent, which makes finding the right asset more difficult.
Metadata and tags work best together if you follow a clear metadata structure. Then, users can add tags to help narrow in on an asset within a metadata "category." For example, some customers may want to use metadata for "department" or "product line" and include tags for the description of the asset, such as "red" or "people."
Distribute
DAM software gives all team members access to your brand assets so they can find and use them whenever they need. Everyone can have their own account, and you can add or remove people as they join or leave the company.
A DAM can also help you restrict access to assets if needed. For example, if you have creative assets for a marketing campaign that are still being reviewed, you can hide them from the wider organization until they're approved for publication. Many DAM solutions let you customize permissions, so you can give people access to different libraries or assets based on team, seniority, or location.
Do you need a DAM?
When considering whether your organization could benefit from a Digital Asset Management (DAM) system, ask yourself the following questions:
Does your organization frequently create, use, and share a large volume of digital assets? If multiple teams and external partners need regular access to branded materials, a DAM can centralize and streamline this process.

Is your team geographically distributed or do you have regional offices? A DAM ensures everyone has access to the same assets, regardless of their location.
If you found yourself answering 'yes' to the questions above, you're likely in need of a DAM system. Let's explore the key benefits of using digital asset management software to understand how it can revolutionize your organization's handling of digital assets.
5 benefits of using digital asset management software
While software won't solve all your challenges, a DAM solution can improve your company's file management and organization processes. It offers several benefits if you can get your whole team engaged and committed to using it as part of your tech stack.
1. Makes it quick and easy to find and use digital assets
Many companies don't have one centralized place to store their digital assets. So, if employees are looking for specific digital files, they have to search through their emails, their downloads folder, and the mass of files saved to their desktops.
Disorganized files are a huge productivity drain. Research shows that 60% of workers spend more time digging for documents than replying to emails. And the more time people spend searching for the right assets, the less time they can spend doing their actual work.
A DAM provides a centralized home for all your digital assets, so it becomes your single source of truth. Assets get organized into libraries and tagged with detailed metadata so people can search and find them more easily.
2. Ensures everyone uses up-to-date digital assets
Without a DAM, people might not know where to find the approved version of your latest marketing assets. They might have an old or draft version saved to their desktop and not realize it's not the final version.
But if you have a digital asset management system, all your assets are saved centrally. When you change things like messaging or brand assets, you replace the old version on your DAM. Then, it updates for everyone in real time, so people can't access the previous version anymore
3. Simplifies sharing file access internally and externally
Employees who can't access your brand files are less likely to use them. Requesting access to individual files interrupts the workflow and tests your patience. Keeping an overview of who has access to what is no fun for your marketing team either, who constantly has to respond to requests for specific files.
A DAM makes it easy to give people access to your brand assets. You can grant access to the whole system or limit it to specific libraries. Robust security measures — such as copyrights, access management, and targeting — protect your assets, allow you to share them with relevant people, and simplify managing usage and accessibility.
People can easily access the files they need, but you also control who can view which files. This applies to internal employees and external partners, so any agencies or partners you work with can access files as easily as your team.
4. Helps improve brand consistency across the business
Inconsistency makes your company look unprofessional. Our State of Brand Ownership Report found that "too much deviation from the core brand colors, typography, brand voice, general brand behavior, or logo sizing" weakens your brand identity.
With a DAM, everyone can access the same files, which you can update or replace as needed. If you update your product descriptions or company boilerplate information, those changes are instantly visible to everyone with access. No one can use the old versions because they no longer have access, which helps improve creative and messaging consistency across all departments.
5. Gives visibility into brand asset use
Many DAM solutions include analytics functionality so you can see how different assets get used and which teams use them most often. This helps you understand how engaged each department is with your brand.
Sixty-five percent of respondents to our report say that at least half the people in their company need to use branded company materials each week. Detailed analytics data can help you identify the most popular assets. Over time, this helps strengthen internal education and engagement with your brand to improve brand consistency.
Who uses digital asset management tools?
Most employees will likely access your DAM at some point, though some teams will be heavier users than others. But it's not just your internal team who will collaborate — external partners may also benefit from your DAM software.
Creative teams
The creative teams in your company are likely to use your digital asset management platform most frequently. These teams typically include designers, photographers, and videographers who make most of your company's creative files.
They'll use the DAM to organize and store the media assets they produce and share access with other colleagues for approvals and feedback.
Marketing department
Marketing teams are also heavy users of digital asset management tools to create marketing materials, content, and templates.
A DAM gives them a central place to store those assets and makes it easy for everyone to access. This is especially useful if you have regional offices or a distributed team, as everyone can find the files whenever needed. This way, the marketing team can spend less time sending documents to everyone or individually granting access to specific files.
Sales team
Sales teams are often the first people a potential customer speaks to in your business. They're one of your brand's most visible representatives, so they must know how to access and use your branded content.
They'll use a DAM to access product information packs, sales decks, and product demo videos. You can also set up branded templates for frequently-used assets (like sales decks), so they can customize their own docs without veering off-brand. This helps improve brand and messaging consistency and gives potential customers a great first impression of your business.
External Partners
Any external partners you work with — such as creative agencies, freelancers, or PR companies — may need access to your DAM.
This will mean they can use your logo or add your mission statement whenever they need. Additionally, they can add files to your DAM, which makes it easy for creative agencies to share assets with internal stakeholders for review.
How to choose a DAM system
There are lots of DAM tools on the market. When comparing different options, here are a few things to consider in your decision-making process.
Integrations
Look for a DAM platform that natively integrates with your other tools. This is especially true for creative tools like Sketch or Adobe because this makes it easier for your creative teams to use and add things to your DAM.
It's best to include your developers in your DAM decisions so that they can give the thumbs-up from their side. For example, allowing the software to communicate and exchange data with ease via open application programming interfaces (APIs) or web services is a must-have feature. Alternatively, you could look for DAMs that offer a developer platform and brand SDK to let you set up your own integrations, so you can customize them to fit your existing tech ecosystem.
Ease of use
Try out product demos of different DAMs to get a feel for how easy each one is to use. Look for a simple, intuitive user interface and user experience that's easy to set up and use so that you won't need any coding or a lot of training. This will ensure a high adoption rate and fast return on investment.
Horizontal solutions
Compare different options and find out if the solution is a stand-alone DAM-only product or if it's part of a bigger brand engagement platform. Comprehensive brand engagement platforms offer you other functionalities — including real-time commenting and collaboration and connecting with products such as brand guidelines and templates. This will allow users an end-to-end experience directly within the same platform, boosting collaboration and organization.
Asset accessibility
Your users want to collaborate anywhere and anytime: Find, download, and comment on content and assets on their phones or computers. Depending on your needs, you can choose a vendor that offers a mobile app perfect for brand-building on the go and a desktop app that provides instant access to all your brand content without opening the application in the browser.
Large asset volumes management
The more your brand grows, the more files and assets you'll have — to a point where it becomes impossible to keep an overview, let alone manage anything. Ensure to select a DAM solution that helps scale your digital asset volumes by centralizing, managing, and sharing your growing number of assets with ease.
Access and rights management
You'll want lots of people using your DAM, but you don't want everyone to have access to everything. Find out how easy it is to set up rules about who can access what, and how granular you can get when adding or restricting user access. For example, can you limit access to individual files or only to whole libraries?
Analytics
The best digital asset management systems provide some level of analytics data that shows how your team uses the DAM and specific assets. It helps you start understanding and tracking brand engagement levels within your team. Analytics is a must-have feature that helps you monitor asset usage, creating a data-driven culture for all things creative and brand-related.
Some vendors offer user-friendly analytics dashboards that help you make:
Budget decisions: Managers get visibility into the brand platform's usage and performance to prove its ROI
Content marketing decisions: You can identify whether the resources spent creating branded content are paying off and get insights to guide your content strategy. Are teams using the content you create? Do specific content types or topics get used more than others?
Software integration decisions: You get a bird's eye view of your brand operations, helping you identify the gaps in your team's daily workflows and where new software integrations might improve common processes.
Vendor support
Before choosing the vendor, you can read reviews from your peers and look at case studies to understand if customers are happy with the support and help received by the vendor. Collect all the information about the initial rollout: Find out if the vendor provides initial training to help new users understand how to use the DAM or additional sessions when they add new features.
How 3 companies use DAM to streamline brand management
Uber
Since 2021, Uber has been using Frontify's brand management platform to manage its brand assets and document its guidelines.
Uber's DAM houses thousands of brand assets and materials. The global company has also created a public brand asset library so journalists, marketers, and other external parties can access their core materials. It includes logos, fonts, branded templates, and usage guidelines.
*"Today, more than 20,000 Uber brand builders have engaged with the platform globally — about 12% of the company creates, manages, and shares assets through a centralized hub." - Brian Coonce, Global Creative Director at Uber *
Learn more about how Uber uses Frontify's DAM.
Telefónica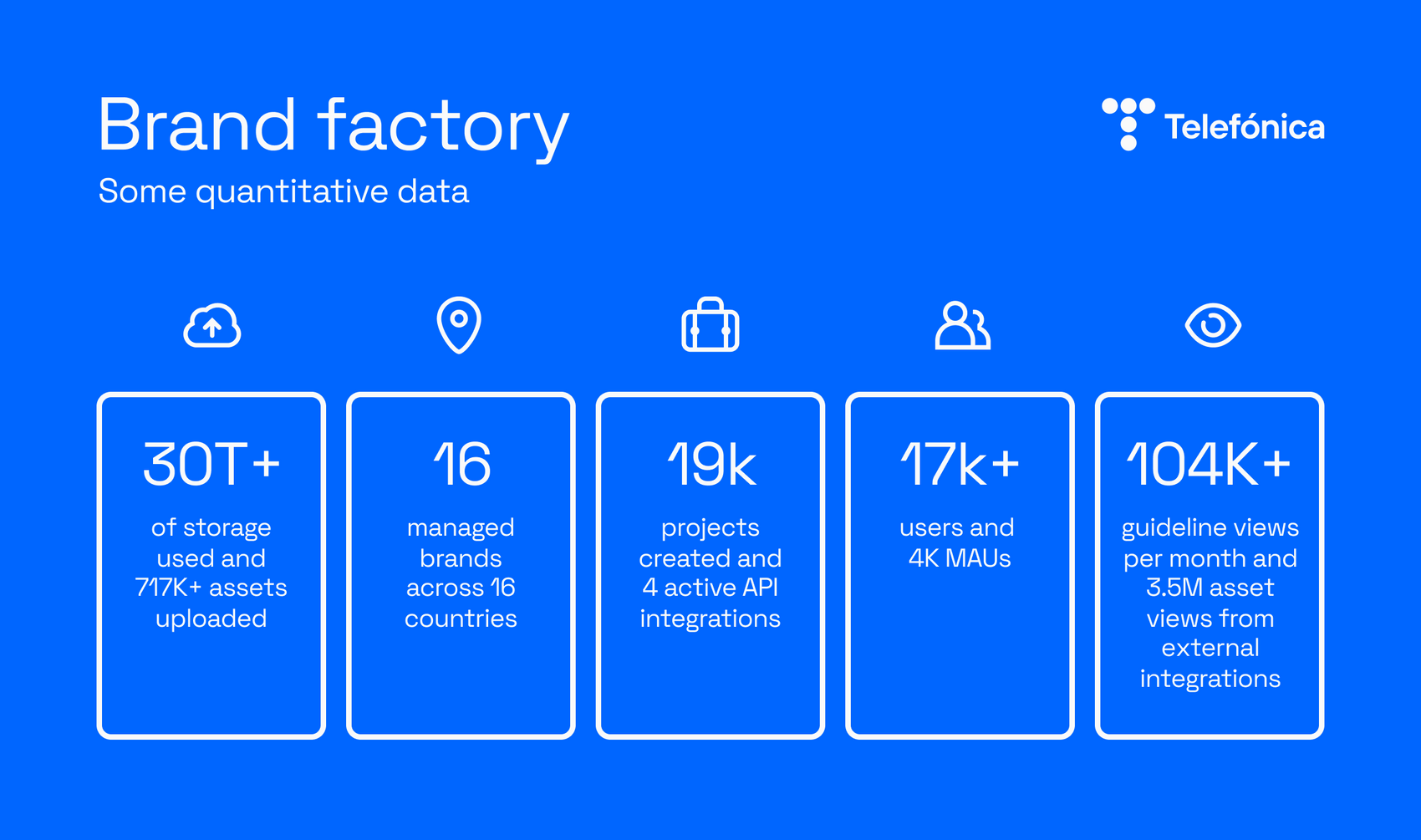 Telefónica uses Frontify's DAM to house over 700,000 brand assets, including logos, illustrations, and color palettes. They manage 16 brands, all in the same central digital asset management system.
Cristina Terrón Moreno from Telefónica's brand team explained the benefits they've found from using a DAM: "To be able to manage all brand materials and workflows at the same time in one unique space for all countries and brands is the main benefit and a milestone for Telefónica."
Learn more about how Telefónica uses Frontify's DAM.
Bayer 04 Leverkusen
Soccer club Bayer 04 Leverkusen has a truly international brand, with partners in multiple countries and fans around the world. Harald Hartel, Head of Brand at Bayer 04 Leverkusen, said using Frontify's DAM means they're "able to centralize all the brand and corporate design material into one platform… Our goal is to be able to provide the right tools for all questions concerning our brand, both internally and externally."
Digital asset management makes it easy for everyone to find the assets they need with just a quick search.
Hartel illustrated some of the people and partners who need to be able to access their brand assets, from international agencies to merchandising suppliers — and even the club's beloved mascot.
Learn more about how Bayer 04 uses Frontify's DAM.
Are you ready for a DAM system?
Frontify's DAM helps companies like Telefónica and Uber manage their brand and creative assets. Learn more about our DAM and how it integrates with our full brand management platform.
Oskar Duberg
Senior Brand Content Specialist