Reinventing collaboration: How GANT's Brand Portal improved cross-team alignment and communication
American fashion brand GANT came to Frontify in 2020 with a common challenge: They needed to update and improve the way they managed their brand. The brand was inconsistent across touch points, and they lacked alignment on moving it forward. Frontify's platform gave the team a centralized home for everything brand-related, giving GANT a solid foundation to build upon as it continues to defy fashion conventions with style and passion.
GANT uses Frontify since 2020
Brand Guidelines
Digital Asset Management
Creative Collaboration
Digital & Print Templates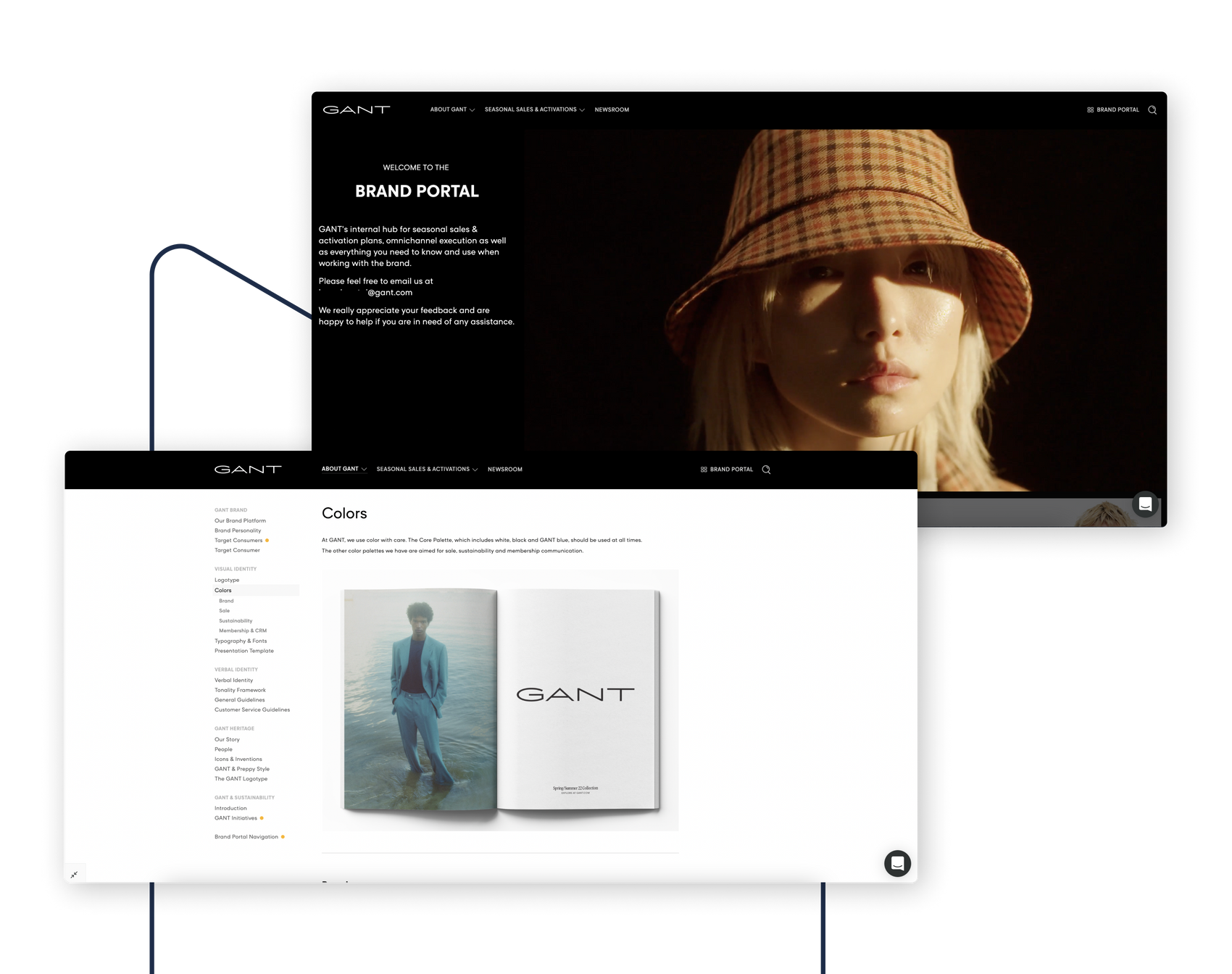 A discerning dilemma
Fashion brand GANT revolutionized how the world dressed in the late 1940s and '50s. It pioneered East Coast style; today, the company continues to combine effortless cool with an elegant style. The brand needs to be playful, contemporary, and somewhat unexpected as it challenges conformity.
For a company founded in the 1940s, the GANT team knew they needed to bring the way they managed the brand up to date and revamp their processes for the 2020s and beyond.
Internally, the company struggled to present a consistent brand identity due to scattered information and content. Important details would be shared as emails, PDFs, presentation documents, or discussed during in-person meetings and conferences.
These decentralized processes led to inefficient alignment and communication between departments and markets. On top of that, their brand assets were scattered, difficult to access, and there were no clear guidelines on how to use or share them.
A scalable solution
The Frontify platform helped GANT regain control of its brand and develop better ways of working together. The GANT team started small: initially, they used Frontify to create consolidated brand guidelines for internal use. This helped their departments align on the brand's core assets and messaging.
Encouraged by the success of their brand guidelines, GANT transferred more projects and initiatives onto the Frontify platform. Now, it houses brand guidelines, channel guidelines, and overall information about the brand. It is used by GANT's global sales, brand marketing, and product departments to share information with their markets, both for B2B and B2C. The result?
"
One brand, one point of reference, one voice to the internal GANT community.
"
Cornelia Persson
Head of Global Go To Market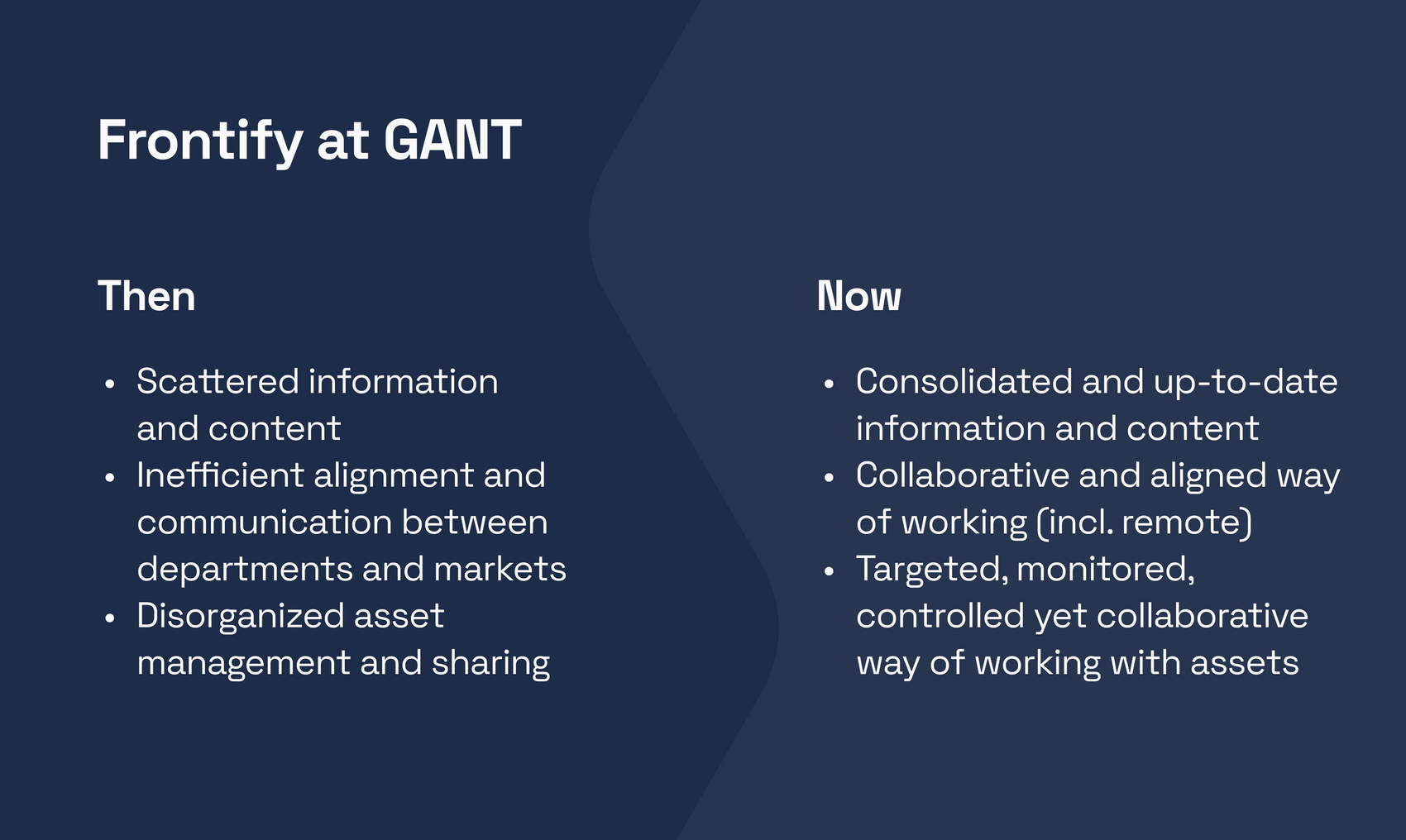 Frontify's Brand Guidelines helped GANT maintain brand integrity and communicate its unique style to all departments and markets. In addition, Frontify's DAM enables them to organize and manage all their brand assets. It gives everyone access to consolidated and up-to-date information and content for the brand.
A revolutionary result
Frontify enabled GANT to build a Brand Portal that's flexible and easy to customize to their team's needs. It's helped them develop a collaborative, aligned way of working where they keep control of how different users engage with their brand assets.
"
We can manage what different users can see. This allows us to show consultants or external agencies selected pages only, with the information and content that is relevant for them.
"
Cornelia Persson
C2C Coordinator
From humble beginnings as a home for its brand guidelines, GANT has used Frontify to build out a comprehensive Brand Portal and improve every aspect of its brand and digital asset management:
Used Frontify to build an external press site to give media companies easy access to core brand materials.
Frontify's flexible user permissions mean internal teams (including head office, markets, partners, and licensees) can access relevant assets, and they can grant temporary access to external agencies and consultants too.
Scaled to over 1,300 users, led by 100 "authors" who are responsible for managing all brand assets.