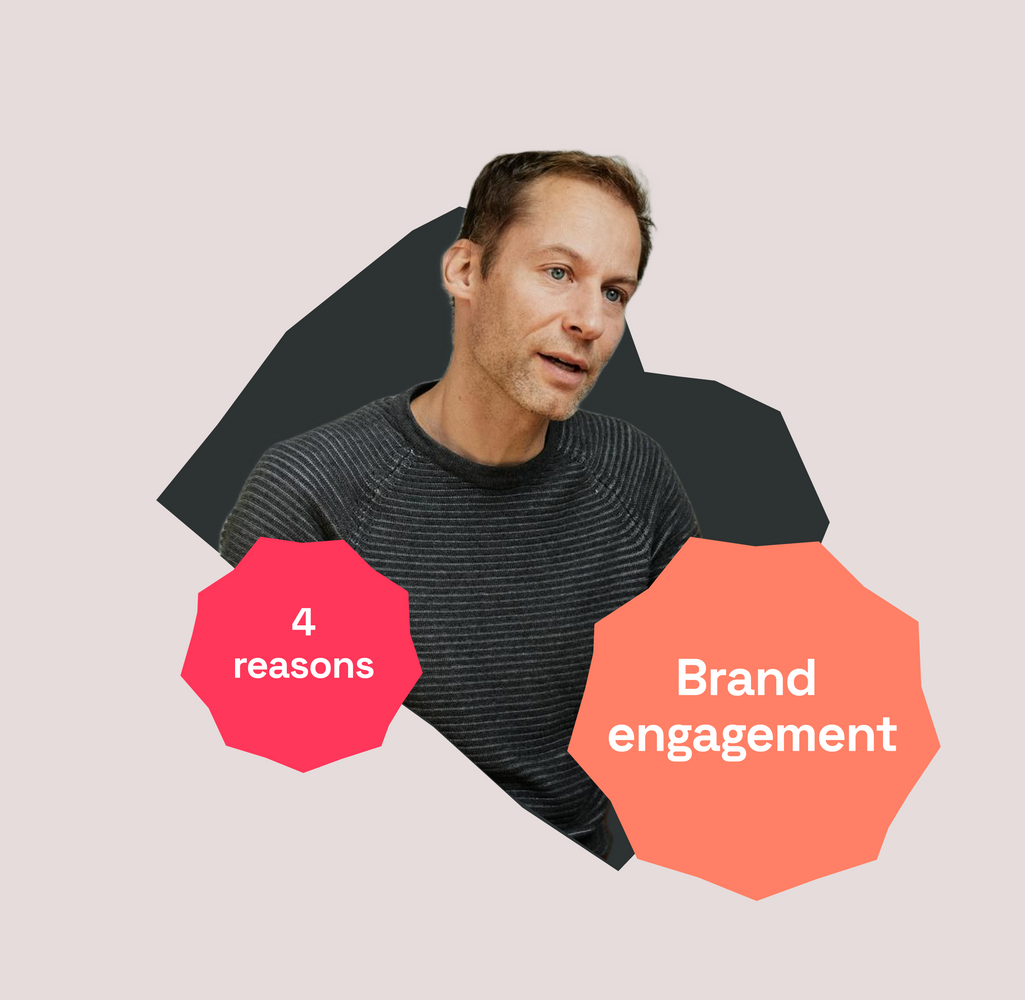 4 reasons why internal brand engagement is important for your business
You'll struggle to build a strong external brand if your employees aren't engaged first. Here are four reasons why internal engagement is so important for ambitious brands.
When you see an advert from a strong brand like Apple or Nike, you know what company it's for before their products even appear on the screen. Everything about the ad – its style, tone, and composition – is unmistakably them. But iconic brands don't achieve that level of recognition by chance. The secret to their success: internal brand engagement.
Internal brand engagement is the attachment your internal stakeholders (like employees, managers, and board) have to your brand. Companies will struggle to present a consistent brand to their customers and the wider market if they can't engage their employees and internal team with the brand first.
1. Every team member takes part in shaping the brand
Every frontline team member shapes how people outside the company view your brand – whether they realize it or not. Even small departures from your established brand style guide or messaging can dilute the brand and make it less recognizable to your current and potential customers. Internal brand engagement helps every department become familiar with your brand and understand how they represent it in their individual role.
For example, each interaction customers have with your company affects their impression of your brand. That includes every online touchpoint, such as adverts and social media posts, but also every time they speak to a sales rep or member of your support team.
Companies go through different brand engagement levels. As their brand matures, so does the team's understanding of the brand and how they contribute to it:
Low engagement – your brand is thought of as a marketing project. Other teams don't get involved with anything related to the brand.

Medium engagement – your marketing team still leads on brand-related projects, but more departments are getting involved. There are higher levels of consistency in how each team talks about the brand and uses brand assets.
High engagement – every team understands how their role and interactions with customers reflect on the brand. Each individual is confident in finding and using brand assets and communicating brand values in their work.
Sports brand Bayer 04 Leverkusen works hard to maintain high levels of internal brand engagement and ensure its discerning fans get the best customer experience. Harald Hartel, Head of Brand, said, "It is important that our employees are trained on the topic of brand so that everyone is aware at all times of what our behaviour can achieve in public, as football has a high public profile."
Learn more: How Every Team Helps Build Brands (Not Just Marketing)
2. Marketers don't have to be the brand police
If you have low levels of internal brand engagement, then everything brand related falls to your marketing team to review or deliver. They become the "brand team" – or less affectionately, the "brand police" – when other departments feel like they hear too much about your brand.
Brand management takes up a lot of time and resources. For example, designers spend a lot of time making one-off visual assets for the sales team, and copywriters have to fix messaging inconsistencies in documents created by other departments. So, instead of focusing on higher-level strategic initiatives that will drive more revenue for the business, marketers fall into the role of "brand creators" and spend most of their time on low-impact work.
For our Total Economic Impact of Frontify report, researchers from Forrester spoke to several brand managers about how using Frontify has helped increase brand engagement within their company. One of them said, "local marketers spent a lot of time creating marketing material. … We see we are freeing up at least 50% of our local marketers' time that they can use to do valuable marketing work, such as identifying how to reach new audiences or existing customers in new channels."
Internal brand engagement means your employees have the tools and information they need to make the brand assets they need themselves and can be confident they're staying on-brand. For example, they have clear brand guidelines that show how to use different assets like logos or icons and templates so they can make on-brand visuals to use in their own work. As a result, your employees are empowered to do more themselves rather than going to your designers and marketing team for every little task.
3. You boost internal brand consistency and external brand recognition
Brand consistency is what builds brand recognition in the market. If your customers constantly see the same visual style and hear the same messaging when they engage with your content, they'll start to recognize your brand against your competitors. But consistency is something many companies struggle with. According to Gartner, 46% of customers "can't tell the difference between most brands' digital experiences."
Internal brand engagement helps improve brand consistency across the business. Engaged employees care about your company and how it's perceived externally, so they want to present an authentic impression of the brand when they interact with customers. When they're creating documents, visual assets, or other content to share externally, they are more likely to refer to your guidelines and use the correct assets and brand messages in their work.
By increasing brand engagement internally, you can boost brand awareness and recognition externally. Research by Lucidpress found that 33% of respondents reported that brand consistency contributed to 20% or more of their revenue growth. So, while consistency may not feel like the most important thing for companies to get right, it can have a surprising impact on your bottom line.
4. Employees feel like they belong, which improves talent retention
Internal brand engagement helps your employees connect with your business based on the company mission and brand values, not just their work. As a result, they develop an emotional connection to the brand and its purpose, which can be the foundation for your company culture.
Employee experience is increasingly important for workers. CareerArc found that "employer brand is a top motivating factor" for people actively and passively looking for new jobs. So, if you can build a strong employer brand that your team connects with, your brand can help improve team retention and reduce turnover.
Research from Culture Amp found that the costs associated with employee turnover range from "30% to 200% of a person's salary." And as well as hurting your budget, when employees leave, you lose their knowledge, experience, and the relationships they've built across the business. Replacing that lost expertise and rebuilding the connections across departments is expensive and takes time to get right.
Engaging employees with your brand gives them a sense of pride and belonging in your company, which is a strong incentive for them to stay. An authentic employer brand that your team connects with can turn your employees into true brand ambassadors.
Internal engagement is essential for building a successful brand, so don't leave it to chance
Your employees can become the biggest champions of your brand, but engagement is unlikely to happen organically. Put together an engagement strategy that focuses on both your employees and customers so your internal team fully supports your external branding efforts. Want to learn more? We've identified six practical steps to boost employee engagement with your brand.