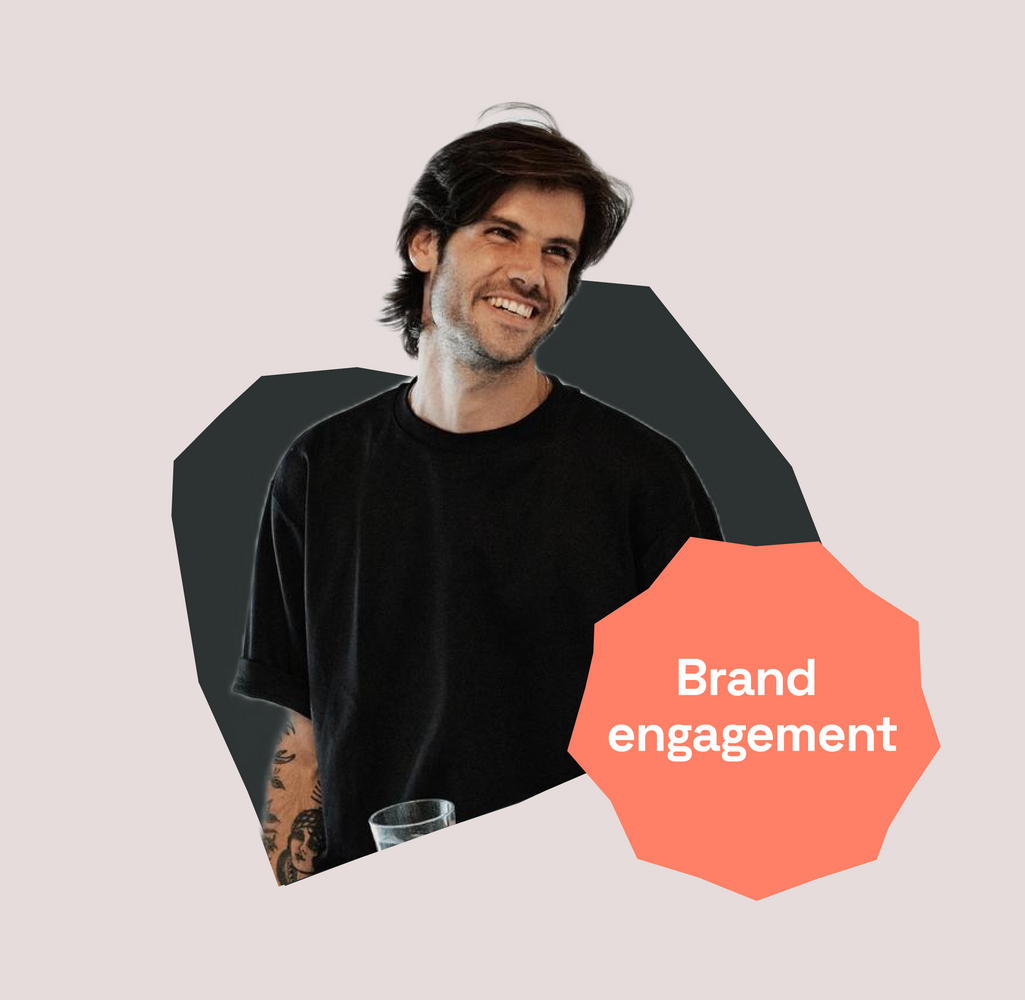 What is brand engagement and how can it benefit your business?
If your customers and team don't engage with your brand, it's hard to grow your business. Building brand engagement is key to increasing recognition and loyalty.
What is Brand Engagement?
Brand engagement encompasses the profound bond individuals establish with your brand. It goes beyond mere purchasing decisions, capturing the depth of emotional investment customers and employees have in your brand. It is the measure of the connection they feel, reflecting their level of loyalty and dedication. By fostering brand engagement, you create a strong sense of unity and alignment, forging lasting relationships with both customers and employees.
Highly engaged brands form active connections with their audiences. Typically, this means interacting with customers on social media, creating opportunities for in-person interaction, and finding other ways to create connections, like exploring the metaverse. For employees, it usually includes things like team-building activities that help establish a healthy work culture that reflects company values.
Why is Brand Engagement important?
The more customers and employees that engage with your brand, the better they'll understand its values and its mission, and the more likely they will be to grow into loyal supporters who will recommend your brand to others. But if you don't prioritize engagement, you risk damaging your brand's reputation and bottom line.
On the one hand, failing to engage both customers and employees increases the risk that someone who had a bad experience will speak poorly about the company. And both disgruntled customers and employees pose risks to the brand's reputation. Building engagement helps establish a connection that will mitigate the impact of a negative experience by helping everyone know what to expect from the brand. And rather than leaving a negative review about the experience, they're much more likely to brush it off as a fluke (rather than the established norm).
On the other hand, loyal customers are also "23% more likely to spend" money on a brand's products and services, which means they have a big impact on profitability. And engaged employees are "involved in and enthusiastic about" the brands they work for. This helps them bring a positive attitude to the workplace and represent the brand more authentically.
Increasing engagement is the secret to building a successful brand, so don't try to go it alone. Building a sense of connection between your brand, your customers, and your employees is essential for creating a strong, recognizable brand. Here's everything you need to know about brand engagement – both inside the company and externally.
Customers and employees: The two key audiences who need to engage with your brand
Companies often focus on establishing brand engagement with their customers. But they also need to engage their employees.
Customer brand engagement is the relationship companies have with current and future customers. This relationship is based on customers' interactions and experiences with the brand across multiple touchpoints and channels – for example, an advert, a marketing email, or a conversation with a customer support agent after they made a purchase.
Customer brand engagement is essential for companies because it:
Improves customer retention. Salesforce found that 71% of consumers switched brands at least once in the past year" for numerous reasons, including customer service, product quality, and value alignment. But they also found that 62% of consumers feel emotionally connected to the brands they buy from most frequently, which is essential for building brand loyalty.

Drives customer referrals. Customers who feel connected to your brand, trust your company, and love your products are more likely to recommend you to their network. So engaging your current customers helps to reduce the cost of acquiring new customers.
Employee brand engagement is the relationship and sense of connection that your employees and other internal stakeholders have to the brand they work with. Employee brand engagement comes from having shared values and from everyone feeling able to represent the brand to customers and the wider market.
Employee brand engagement is just as important as customer engagement because it:
Improves talent retention. CareerArc found that 53% of employees left their jobs because of a "poor or diminishing" employer brand or reputation. Employees who feel connected to your brand and their work are less likely to look for opportunities elsewhere because they share a sense of belonging.

Improves brand authenticity. If everyone in the business has a say in the development of your brand, you'll end up with something that is a more authentic representation of your shared values and mission. If not, your brand will be based on one person or team's idea of what it should be and feel less genuine and trustworthy to consumers.
3 Benefits of growing brand engagement
Some people think of "branding" as a fluffy project that only focuses on your brand's appearance. But we know better: increasing brand engagement has tangible benefits for your company's bottom line.
Increased brand consistency boosts brand recognition
If you have high levels of employee brand engagement, then your internal team understands how your brand should look and sound. But, more importantly, they care about presenting the brand in the right way across every department and customer-facing interaction. This means that your externally-facing brand assets – from marketing campaigns to support emails – have a consistent tone and visual style.
Increasing brand consistency helps improve brand recognition because customers and potential customers repeatedly see the same messages and brand visuals. Over time, they are more likely to notice your adverts, emails, or products on store shelves because they're more familiar with your brand.
More brand ownership improves the overall customer experience
Engaged employees understand how their individual roles contribute to your customers' perceptions of your company, products, and brand. They also understand how to use your brand assets, know your key messaging, and can create their own brand materials without relying on your designers or marketing department for help.
When your internal team reaches this level of ownership and empowerment, you can deliver a much more consistent experience for your customers. This is because different departments are fully aligned on your values and messaging, so customers don't get one impression from your marketing efforts, something different from your sales reps, and something else from your support team. In addition, providing a more consistent, joined-up experience makes it easier to meet customer expectations as they don't change with every interaction with your company.
Increased brand trust drives customer retention
As we've seen, high levels of brand engagement help to improve brand consistency. If you're presenting a consistent brand image to the market, customers are more likely to trust your brand. Likewise, if you present a consistent brand identity internally and uphold your brand values, it builds trust with your employees as they feel that your brand values are genuine.
Brand trust helps to drive business growth: 88% of consumers "buy more" from brands they trust, and 82% are more willing to forgive trusted brands "if they make a mistake or something goes wrong." But if that trust is broken, it's harder for companies to retain customers or rebuild their trust over time.
What is your current brand engagement level?
Before you can increase your internal and external brand engagement levels, you need to understand your current position. How engaged are your customers and employees right now? Here's what different brand engagement levels look like.
Low brand engagement
Most of your customers are one-time purchasers – they don't have strong feelings of attachment toward your brand that keeps them coming back. Internally, most of your employees don't understand why your brand is important, so you see many inconsistencies in brand style and messaging across different departments.
Medium brand engagement
You're heading in the right direction. You're seeing an increase in repeat customers – some might even praise your brand or products on social media or review sites. This is helping to increase brand awareness and recognition. Additionally, more of your employees are starting to pay attention to your brand, making sure they use the correct brand assets and consulting your brand guidelines when creating customer-facing documents. However, this isn't consistent across the business: some individuals or departments are much more engaged than others.
High brand engagement
You have lots of loyal customers who make frequent, repeat purchases from you. They feel a strong emotional connection to your brand and engage with you beyond making a purchase. For example, they may follow you on social media and engage with your posts or recommend your products to their friends and family.
Your employees are all familiar with your brand, its messaging, and its values and can use brand materials and messages when interacting with customers. Additionally, they know where to find all your brand assets and how to create their own without compromising your brand consistency.
You may find that you have different levels of internal and external engagement. In that case, focus on increasing the area with the lowest engagement levels first, so you have a strong foundation to build from.
How to measure brand engagement
Tracking brand engagement, like any other key metric, helps to demonstrate the impact your brand has on the business. This helps others in the company understand the value of investing in your brand, which can help increase internal brand engagement as people better understand its importance. Here are some metrics you can use to measure brand engagement.
Metrics for customer brand engagement
Track customer brand engagement by monitoring how people feel about your brand.
Social media engagement
Social media is where engaged customers share their experiences (and complaints) with different companies, products, and brands. Track social media engagement to see how people talk about your brand and their experience buying from you. Social media engagement includes:
Mentions on social media platforms

Likes and shares of your posts

Comments on your posts and brand adverts
Customer referrals and recommendations
If customers recommend you to their network, that indicates high levels of brand engagement. hey wouldn't recommend you if they didn't have strong, positive feelings about your brand, products, and service. Monitor customer referrals by looking at:
Number of customers using your refer-a-friend scheme
New customers who say they heard about you through "word-of-mouth" or "personal recommendations"

Number of visits to your website from review sites
Metrics for employee brand engagement
Track employee engagement by monitoring how your internal teams find and use your brand materials. If your employees regularly use different brand assets, that suggests they understand the importance of presenting a consistent brand image, which makes it a good way to measure internal brand engagement.
Brand asset use by department
As brand engagement levels increase throughout the company, you'll inevitably see some teams that are more engaged than others. For example, our State of Brand Ownership report found that 90% of C-level executives feel connected to the brand. But only 55% of UX professionals feel the same way.
Monitor brand asset use by department to understand which teams are most and least engaged with your brand. Do this by:
Tracking which teams are logging in to your brand management platform and downloading finalized assets

Regularly reviewing customer-facing materials created by each department to see which teams are correctly using your brand materials
Brand asset use by individual
While some teams may be slower than others to engage with your brand, you'll also see different levels of adoption on an individual level. Track how often individuals on each team are using your brand assets. This will help you identify "brand champions" in each department who can help educate their team on the importance of brand consistency and help increase their team's engagement with your brand.
How to increase brand engagement
If you're struggling with low levels of brand engagement from customers or employees, these tactics can help you boost engagement.
Identify low engagement areas
First, you need to understand where you're still seeing low brand engagement levels. Then you can work to make targeted changes to increase engagement in those areas. Use the metrics we've identified to measure your current brand engagement levels internally and externally. This will help you understand which areas are seeing higher engagement and which are lagging behind.
For example, you might identify one or two internal departments that have lower engagement levels than the rest of the business. Similarly, you could find that customers who bought from you in the last three months are less engaged than those who bought from you in the three months prior.
Encourage and share user-generated content
User-generated content helps to increase customer engagement from both current and potential customers. If your existing customer base shares photos, videos, and reviews of your products, that's a clear sign of high engagement. That content helps to engage potential customers as they trust content from other customers more than brand-produced content.
Encourage your existing customers to share content with you by asking for reviews and feedback after a purchase, and enable them to add photos and videos. Don't just assume people will leave feedback automatically.
Regularly reshare photos and videos in which your customers have tagged or mentioned you on social media, and consider adding customer photos to your product pages. This gets your user-generated content in front of a wider audience of potential customers.
Provide first-class customer support and service
An exceptional customer and user experience helps establish trust and engagement with your target audience. If you consistently provide a better experience than other brands they shop with, customers are more likely to tell their friends about it. One report found that 94% of consumers would recommend a brand they had a "very good CX" with.
Your customer support team plays a major role in communicating your brand values to your customers. Provide training and resources to help them provide the best experience for your customers and ensure the service you deliver aligns with your brand's values and ethos.
Use a brand management platform to give employees greater ownership
Our research found that 69% of employees want "more ownership in the development and management of their brand." So most of your team wants to engage with your brand-building efforts – they just don't know how.
A brand management platfor gives employees greater brand ownership by enabling them to access all of the brand materials and guidelines they need. So when you start using brand management software, enable all of your employees to log in rather than keeping it just for your marketing or brand department.
Additionally, create detailed brand guidelines and templates so your employees feel confident using your brand assets. These can all live on your brand management platform, so employees know where and how to find everything related to your brand.
Frontify can help you overcome your internal brand engagement challenges
A brand management platform like Frontify gives your team access to all the brand materials they need and helps them become true brand owners. And if you boost brand engagement across your team, you'll see increased consistency in all of your customer-facing materials, which will increase brand recognition outside the company.
Learn more about how Frontify can help you engage your internal team with your brand. Request a demo today, or start a free trial to try it out for yourself.