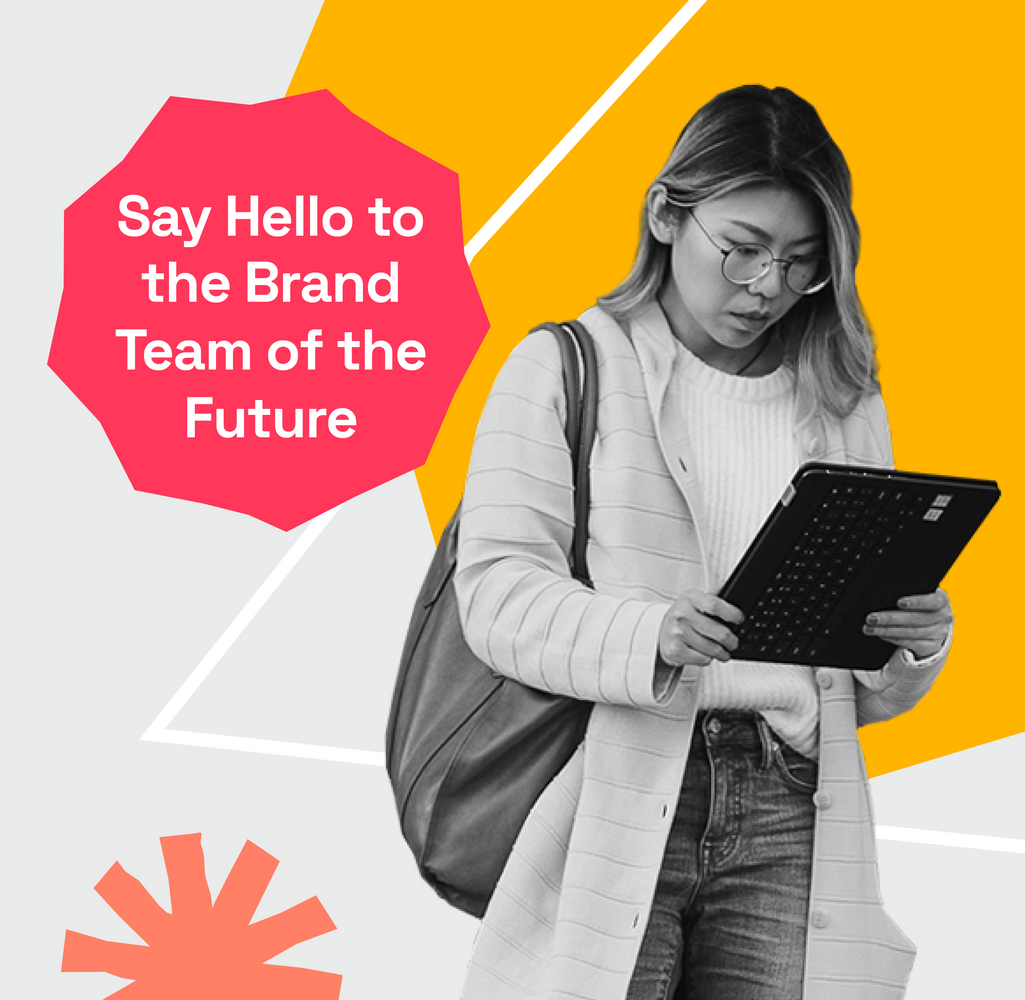 Say Hello to the Brand Team of the Future (No Time Travel Needed)
Brand governance used to mean a small team of brand experts ruling over a brand with an iron fist — controlling the use of assets, putting a stamp of approval on every project, and rigidly enforcing guidelines across every team. But now that social media trends and real-time news updates are driving customer behavior, brands have to move faster than ever to keep up. Add in customer expectations for a seamless, omnichannel experience, and it comes as no surprise that companies are looking for a new way to manage their brands.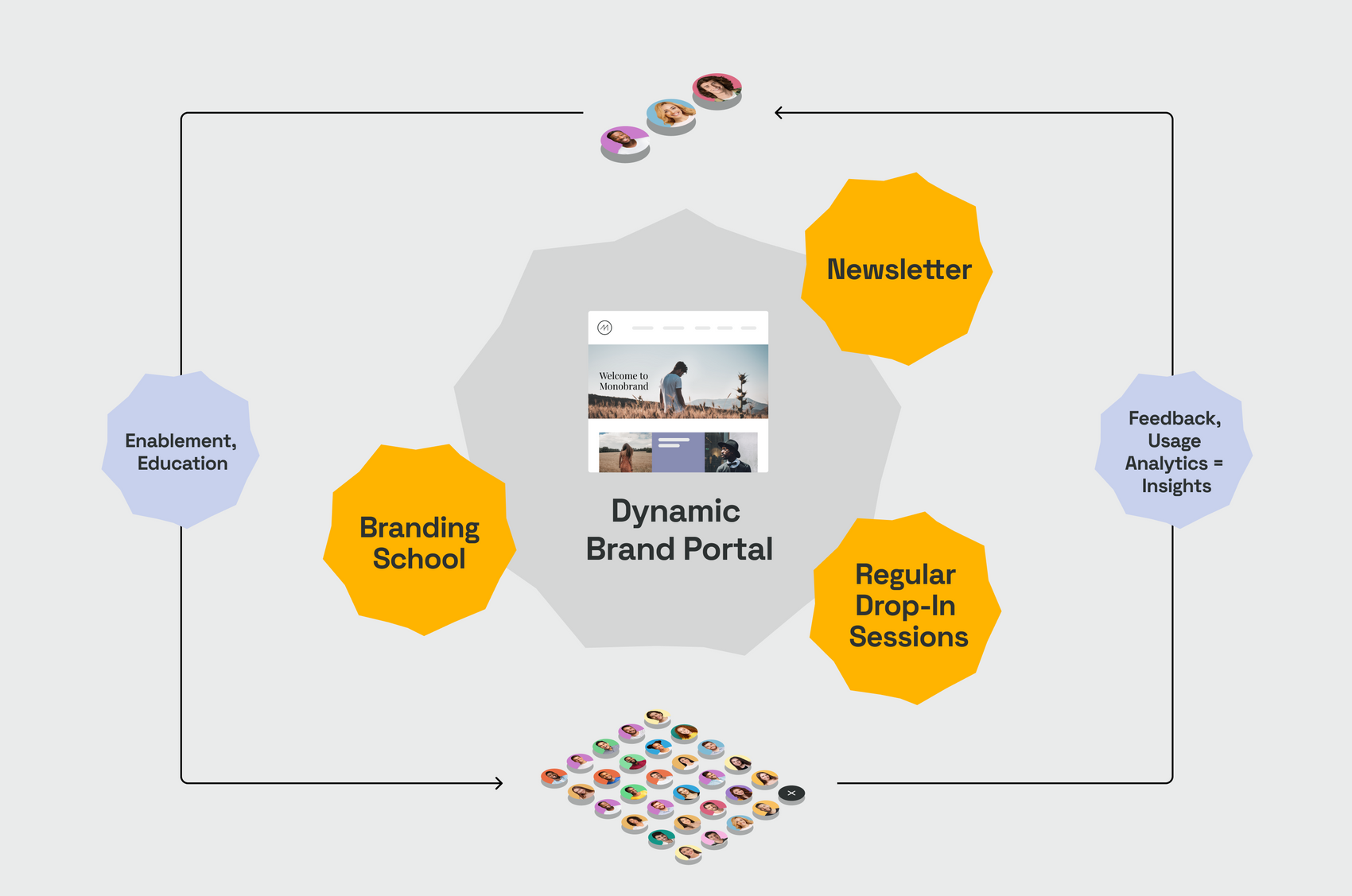 Fortunately, modern brand governance can help businesses achieve brand agility without sacrificing or watering down their core brand identity. How exactly does this new approach work? And more importantly, is it better than the old model? Let's take a look.
The Modern Brand Governance: Connected & Co-Creative
Brand governance has been flipped on its head. Now, instead of using top-down control to maintain brand consistency, businesses are sharing brand ownership with everyone in their organization.
As a result, brand teams are taking on a smaller (but more significant) role as coaches, trainers, and strategists. And employees can experiment more freely with brand messaging and design elements that aren't central to the brand's identity.
Graphic designers are free to try out trending design styles in ad campaigns, marketers can play around with campaign messaging, and sales reps are encouraged to create personalized customer interactions. Yes, they still need to use iconic design elements like logos and core messages like UVPs verbatim, but they have a lot more freedom within the boundaries to explore.
And once projects are completed, the team can review, approve, and launch the deliverable on its own, rather than handing it off to the brand team for a brand consistency check.
Is this Approach to Brand Governance Better?
The short answer is yes. By approaching brand governance this way, businesses get the best of both worlds. Their hard-earned brand equity remains intact, and they get to capitalize on current trends too.
Meanwhile, internally, everyone gets to focus on high-value work. Brand teams can use their expertise to strategize, design (and redesign) brand assets, and educate employees on using those assets and guidelines correctly. And local marketing teams can create a brand experience — made up of campaigns, products, and interactions — that keeps pace with the latest trends. No brand team approval needed.
The question is, how do global companies with thousands of employees, dozens of offices, and multiple brands implement a co-creative brand governance model successfully? We'll answer that question below. Plus, we'll give you a few tips for managing your brand in the modern era.
Take a look at another relevant article: Creative Operations: How the New Kid on the Block is Shaking Things Up (in a Good Way)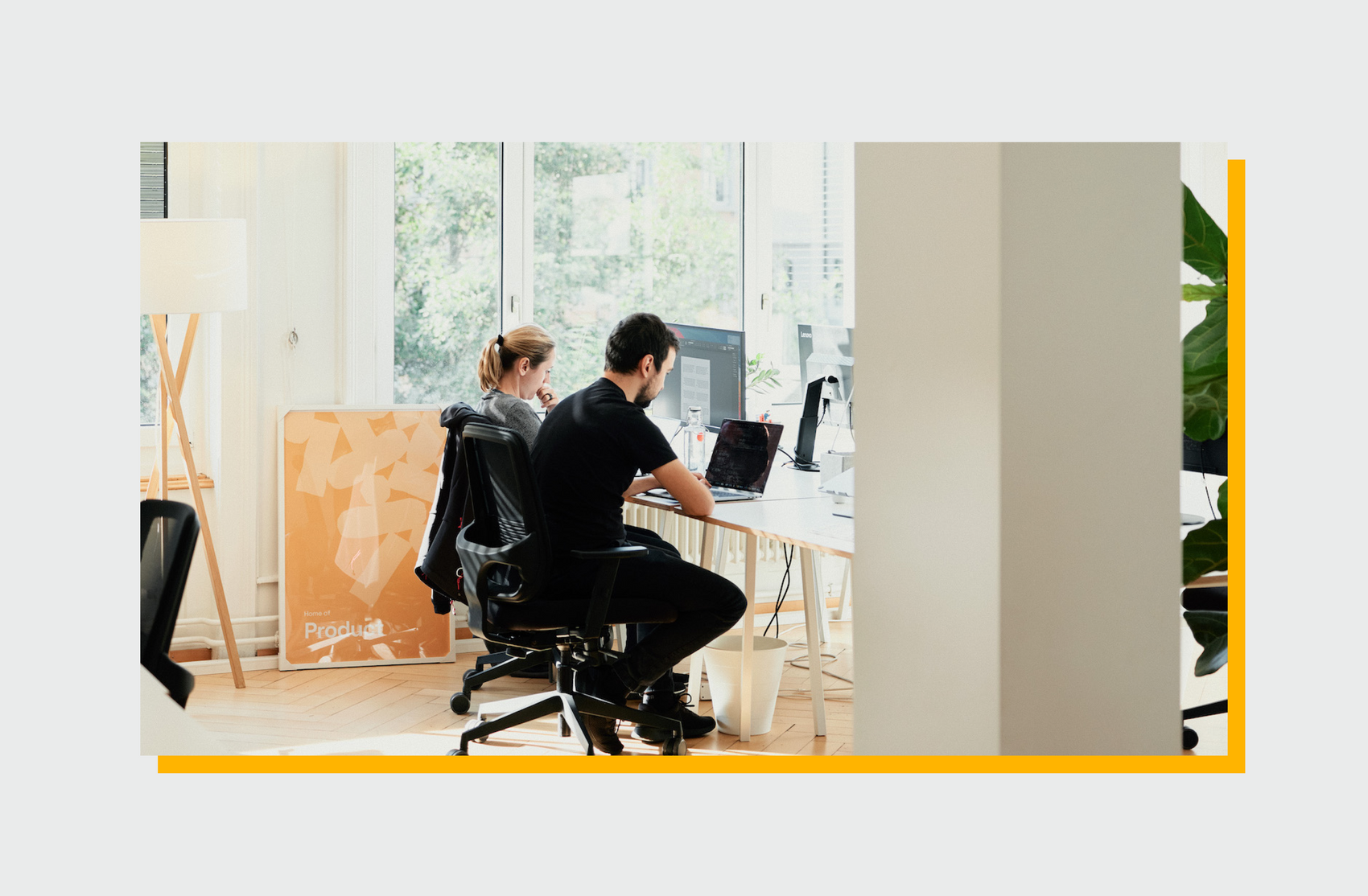 How to Implement the Brand Community Model
From building a strong brand culture to assigning roles and responsibilities, there are several tasks you need to complete to make the switch from traditional brand governance to organization-wide brand management. Here are just a few.
Define New Roles and Responsibilities
The first step is deciding who will be responsible for brand management and how much they'll be responsible for. Obviously, your small group of brand experts (i.e. the brand team) should handle brand strategy, brand asset creation, and training. That's easy. But, you need to figure out how employees and teams will get involved.
In theory, sales reps should take control of their conversations with leads and customers. Marketers and designers should proactively explore new trends that will keep the brand relevant. Developers should embrace new techniques and technologies to build future-proof apps and websites. And HR, Customer Service, and Operations teams should create custom-branded experiences for the job candidates, customers, and partners they work with daily.
To give employees the right amount of responsibility, you need to know how experienced they are with branding and how invested they are in maintaining it. If you find that your entry and mid-level employees don't understand or appreciate your branding, you shouldn't give them the freedom to innovate right out of the gate.
Instead, you should give the team leader or manager the responsibility for brand governance within their team — and slowly increase employee autonomy as they're trained by the brand team and their manager. You can learn more about responsibilities in our Brand Stewardship guide.
Teach the Core Brand Principles
The more control you have over key brand assets, messaging, and designs, the better you have to understand the brand's underlying principles (i.e. what makes it unique and meaningful to customers).
But even if employees aren't part of the brand team, they need to have a foundational understanding of the brand. That way, every project they work on (even small and seemingly insignificant ones) will reflect your branding — giving you a professional, seamless experience at every touchpoint.
The easiest way to get everyone on the same page is to hold an all-hands meeting or large group training session to discuss your brand's purpose and highlight the key features of your brand identity. Since these topics form the foundation of your brand presence, this information will help your employees stay grounded as they accept more creative freedom.
Create a Brand Culture
As you get employees up to speed, you need to think about the type of brand culture you want to have and start creating it. Not only will this make brand management more enjoyable for your employees, but it will elevate your brand experience too. Here are some questions you can ask yourself as you start formulating your brand culture:
How do we want employees to think and feel about the brand? How can we help them think and feel those things, authentically? What should communication look like? How do we want teams to collaborate and co-create?
It won't be perfect overnight. No culture is. But by starting early, you'll have a solid foundation to build upon as your employees take on more responsibility for the brand.
Build a Brand Community
You can't take a community approach to brand governance without a community. So, naturally, one of your top priorities, as you make the transition, should be building a brand community. This consists of employees, partners, customers, agencies, influencers, and media outlets.
Since all of your employees should be involved in your brand community to one extent or another, all you need to do is decide which employees are experienced enough to fill a brand ambassador role. Designers and other brand experts on your marketing team are a great place to start. Externally, you'll need to be more selective.
Members of the brand community should be evangelists or advocates who are passionate about your brand and eager to help you grow as an organization. For example, agencies that are responsible for recruiting influencers and creating branded campaigns on your behalf, resellers who promote and sell your products to their clients, and customers who love telling everyone (friends, family, and strangers at the grocery store) about your brand.
Building a strong brand community will take time, though. So be patient. As you consistently invite interested parties to participate in your brand management – either through your official channels or their personal ones – you'll be able to scale your brand presence far and wide.
Offer Ongoing Brand Training
Employees can only be successful if they know how to do their job effectively. This is true for brand management too. To push the boundaries and evolve the brand without veering off track, employees need to know what the essence of your brand should look, feel, and sound like. And they need to be reminded regularly what the brand purpose is too.
Naturally, this means brand managers — in their new role as leaders and guides — need to regularly train employees at every level, in every corner of the organization. Here are a few ways this can be done:
Brand Newsletters (and perhaps best practices)
First, and perhaps most easily, your brand team can develop an internal newsletter to keep the rest of the organization up-to-date on key brand changes, announcements, struggles, and successes. And they can use it to offer branding tips, tricks, and best practices too.
If done right, and at a good cadence, brand teams will be able to engage employees more deeply in the brand management process and immerse them in branding terms, trends, and techniques they need to know.
Since this approach is the least intrusive — allowing employees to read and respond on their own time — it's also a good way for brand managers to check in with employees bi-weekly or monthly.
Branding School
You don't have to officially send your employees back to school or to a Bootcamp to get a degree in branding. But internal "branding schools" can be helpful if you want your employees to be well-versed in your brand strategy, and you want to unlock more of their creativity and innovation.
Here, your brand team can create a "curriculum" of sorts around brand management and "enroll" employees in weekly or biweekly "classes". During these classes, members of your brand team can dive deep into topics like the brand's mission, vision, and purpose; current best practices for different brand expressions; strategies for cross-functional collaboration; and more. They could even use a class to answer employee FAQs or demonstrate certain techniques.
If the brand team wanted to differentiate its "curriculum" by department, it could do that too — by assigning different brand experts to different groups or holding several team-specific classes every week.
Regular Brand Drop-In Sessions
Since employees will have different questions and needs at different times, a standardized "curriculum" or newsletter isn't always enough. Brand teams may need to include some type of one-on-one coaching or mentoring. One easy way to do that is by holding regular drop-in sessions.
During these sessions, employees can pop in to ask questions and talk to brand managers one-on-one or in small groups. And brand managers can meet pressing needs in person by modeling branding techniques or demoing brand management tools and features.
As a result, employees don't have to wait until a particular topic is taught in a brand class or discussed during a monthly training session — they can get the information they need on-demand.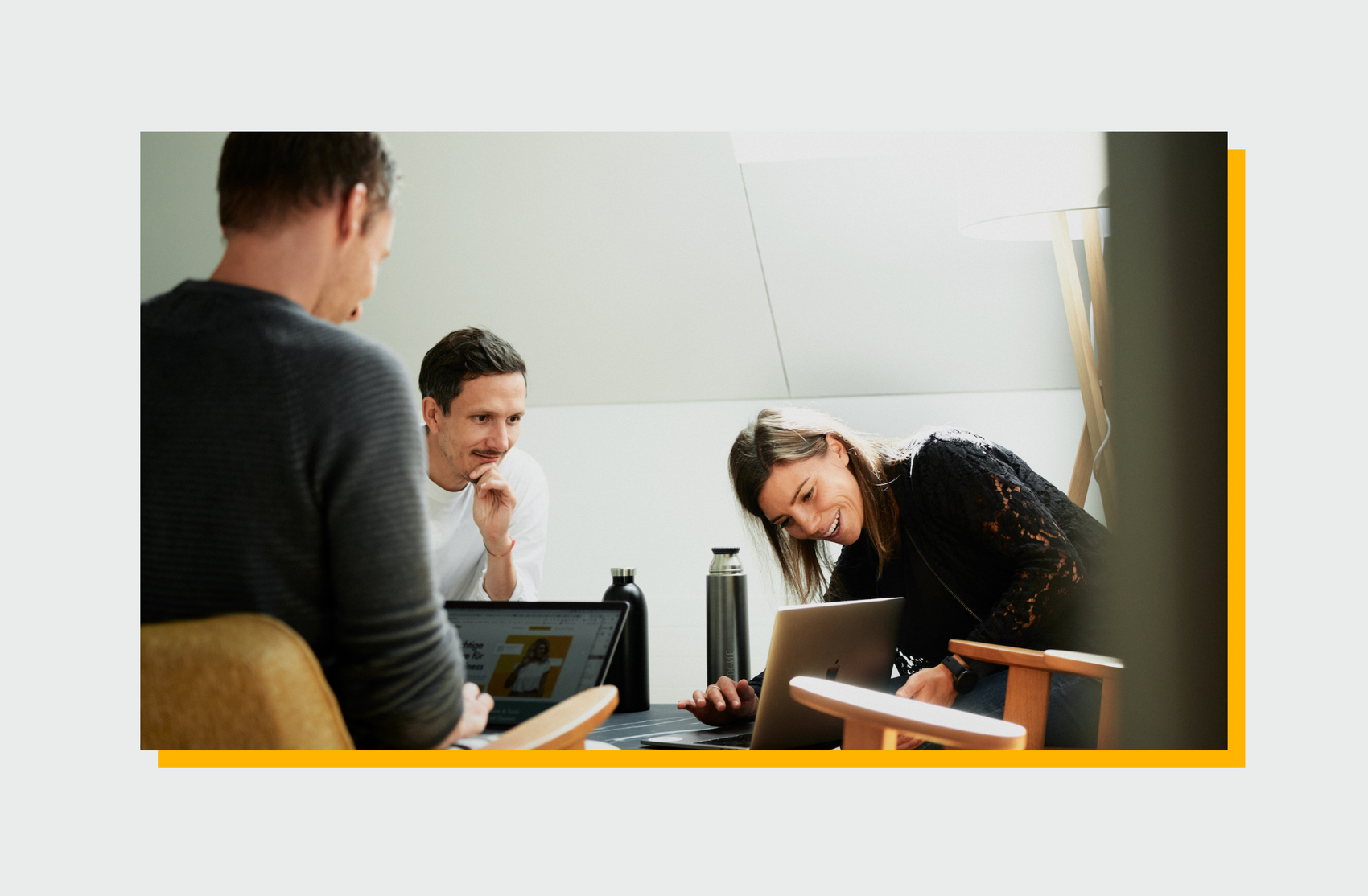 The Community Brand Governance Toolkit
While training and culture-building have an impact on your implementation, your brand team's brand management toolkit is equally, if not more important. Not only does this make brand management easier, but it can help you elevate your brand experience too. Here are a few features you should look for in a brand management solution if you're making the jump to a brand community model:
Cloud-based brand guidelines that are flexible enough to adapt as your brand changes and scale as you acquire new brand
Digital asset libraries for housing icons, logos, media, and documents intuitively
Online workspaces where employees can collaborate cross-functionally from around the globe
Robust integrations that connect the brand portal to the design system, allowing developers and designers to work on projects in their preferred tools without any extra hassle or headache
Analytics solutions that highlight gaps into your brand assets
Unfortunately, most "brand management" solutions out there don't check all the boxes. As a result, employees can waste hours (and thousands of dollars) navigating a messy, Frankenstein-esque system anytime they work on a project.
If you're wanting to make the switch to community-oriented brand management, though, you can't afford to adopt or continue using outdated solutions. You need an agile, future-proof brand management platform that can keep pace with you. And that's exactly what Frontify is designed to do.
By centralizing your brand assets and creating a living version of your brand guidelines, Frontify creates a single source of truth for your business. And with added features like our Workspace and Template Libraries, you can make project co-creation a breeze. Frontify also offers dozens of integrations to make brand assets accessible to employees while they work in their favorite tools like Figma, Sketch, Adobe, AEM, Sitecore, and more.
Want to learn more about Frontify? Connect with our team.
Thomas Meichtry
Account Director, Global Strategic Accounts
Hayley Campbell
Branding Expert & Content Writer