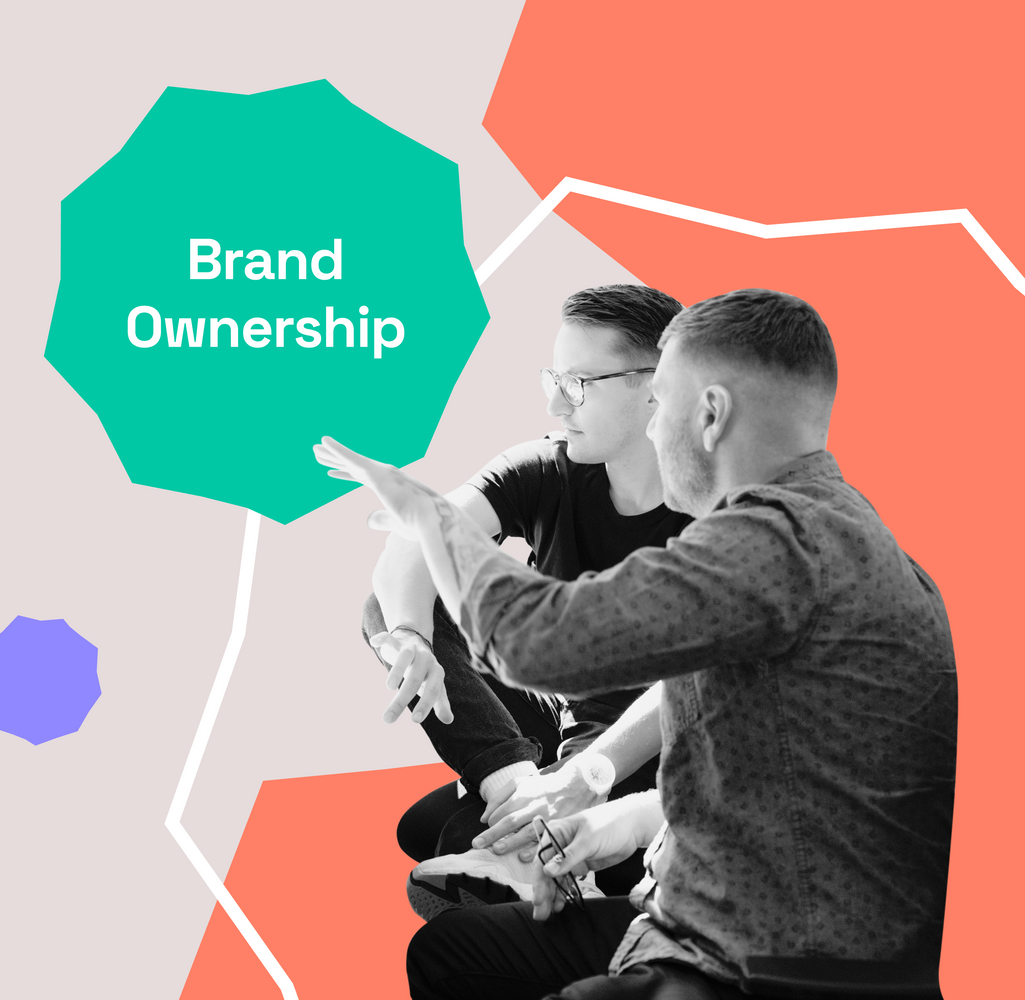 What is Brand Ownership & Why Is It Important For Your Company?
Your brand isn't built in a day. Building a strong brand is an ongoing project that requires buy-in and ownership from your whole team.
Strong brands can't be built by one person alone. Even the most experienced CEO needs the rest of the company to engage with and share their vision for the brand. Without the rest of your team on board, you're likely to experience inconsistent design, messaging, and content – all of which undermines your brand identity.
Thankfully, most employees are keen to be involved in building their company brands. We found that 69% of respondents to our State of Brand Ownership report – primarily brand, marketing, UX, and design professionals – want more ownership in the development and management of their brand.
Building a recognizable, consistent brand is an ongoing project that requires buy-in and commitment from the whole company. A shared sense of brand ownership enables companies to build strong brands by engaging all employees with the brand. It also helps all employees feel connected to the company mission and empowers them to achieve brand consistency across different departments and projects.
What is Brand Ownership?
Brand ownership is the internal and external responsibility for developing, building, and maintaining your brand. Brand ownership shouldn't lie with an individual (like your CEO) or a single team (like marketing). Instead, every employee and department should feel like a co-owner of the brand.
Shared Ownership Means Shared Responsibility for Your Brand
Each department in your company has a part to play in developing and maintaining your brand. It's important every team understands the different areas of the brand they have ownership of:
A shared sense of brand ownership makes it easier to build a strong brand because everyone in the company understands how their team and role help build and maintain your brand identity and reputation. It also means they're actively engaged with your brand and work hard to maintain consistency and high-quality branding.
Shared ownership makes your brand more authentic because you're not building a brand based on one person's idea of what your brand should be. Instead, you're bringing in insights and experiences from different departments and working to align customers' perceptions of your brand with what your company wants its brand to be.
Unfortunately, companies often struggle to develop a shared sense of ownership for their brands. For our State of Brand Ownership Report, we asked over 700 brand builders about their brand development and management processes. We found that 80% of respondents believe their company brand would be stronger if ownership and responsibilities were clearly defined.
The more responsibility and control you can give employees over creating their own branded assets and materials, the more engaged each individual will feel with your brand. You can encourage shared brand ownership by involving all teams in brand-related projects and decisions.
Why is Shared Brand Ownership Important?
A shared sense of brand ownership means all your employees are engaged with building your brand. As a result, the brand becomes a company-wide priority, rather than the responsibility for individual employees or departments.
Shared Brand Ownership Helps Increase Brand Consistency
When everyone in your company feels a sense of ownership over your brand, they are more invested in maintaining the brand identity through consistent messaging, visuals, and design. But when employees don't feel a sense of ownership over your brand, they can inadvertently compromise your brand quality and consistency.
Our State of Brand Ownership report found that 69% of respondents want more ownership in the development and management of their brand. This desire for increased ownership and engagement is great to see, but many respondents acted on those feelings by getting creative with the company brand. 67% of respondents shared that they use their own set of creative guidelines that aren't part of the official company brand guidelines.
Employees will only make their own versions of your creative guidelines if they don't feel empowered to contribute to your official ones – as brand owners and co-creators. So creating a culture of shared ownership within your company will help improve brand consistency. This is important because consistency across channels and departments makes your brand look professional and trustworthy and helps to build brand recognition.
Shared Brand Ownership Improves the Customer Experience
A shared sense of brand ownership means all departments understand their role in maintaining your brand reputation, including customer-facing teams like sales and customer support. Unfortunately, our State of Brand Ownership report found that customer-facing teams are usually least engaged with your brand, which makes them less likely to get involved in brand-related projects. This can become a problem because they interact with your customers most frequently and have the most significant impact on the customer experience.
Strong brands inspire brand recognition and loyalty but don't guarantee you'll always be the top choice for customers. Microsoft Dynamics' Global State of Customer Service report found that 58% of customers "will sever a relationship with a business due to poor customer service."
Customer-facing departments are less aligned on your messaging, values, and how to present your company to prospects and customers if they don't have a strong sense of brand ownership. This misalignment can create an inconsistent customer experience and erode trust in your brand. Even worse, inconsistent service and messaging can lead to once-loyal customers turning away from your company and switching to a competitor instead.
Customer-facing departments that have a stronger sense of brand ownership will be able to provide a consistent, high-quality experience for your customers because all teams will be aligned on the company messaging and values. On the Frontify podcast, Gong's Marketing Director Russell Banzon explained, "Branding is the interactions that people have with your sales team, with your customer experience team... It's the summary of all the touchpoints a person has with a brand."
Shared Brand Ownership Leads to a Strong Customer-Facing Brand
Building a strong, authentic, consistent brand is a long-term project that can't be achieved by one person or department alone. The right tools can help employees develop the brand ownership mindset and feel more comfortable contributing to your brand.
A shared brand management platform like Frontify helps engage your whole team in building your brand and increase their sense of brand ownership. It does this by giving them a shared space to collaborate on brand projects, create branded materials, and share them across departments to improve consistency for customer-facing assets.
Oskar Duberg
Senior Brand Marketing Specialist