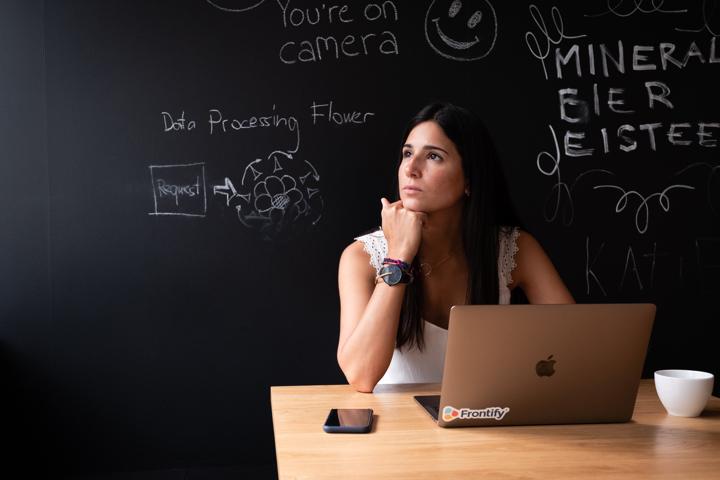 Why Your Brand Guidelines Get Ignored
You perfected your brand guidelines, but you keep finding off-brand content. Find out why and what you can do to solve your consistency problems.
You spent months working on your brand guidelines. You were thoughtful about each aspect of your brand. You thought about how you wanted it to look and sound – what you wanted people to feel when they saw it. And you finally got all your brand components – your logo, typography, colors, voice, photography – to work together to tell the perfect brand story. The problem is, none of this work is showing up in your marketing materials.
The font is regular instead of bold. The tone of voice is too stuffy. The colors are slightly off. The imagery is way too formal. All these little inconsistencies add up, and you find that the brand identity you built on paper isn't what your customers or prospects are seeing.
Inconsistent branding is a pretty common issue. A 2019 study on brand consistency found 95% of organizations had branding guidelines, but 81% said they dealt with off-brand content. And these brand inconsistencies had an impact. While consistent brands are "3-4 times more likely to enjoy excellent brand visibility" and increase revenue by 23%, inconsistent brands create marketplace confusion, damage their brand reputation, and lose revenue.
So why do people ignore your brand guidelines? And what can you do to get your consistency back on track?
Reason #1: Your Brand Guidelines Are Hard to Find
Brands are living entities that change, which means companies are continually updating their brand guidelines. And since most organizations rely on PDF guidelines, your team and agency partners are often stuck looking for the latest version.
Is it on the intranet? Was it emailed? Is it the one labeled "Brand-Guidelines-Final," or "Brand-Guidelines-Final-V2"?
The consistency study found that only 26% of companies had brand guidelines that were easy for employees to locate. Making guidelines easier to find is a "surefire way to ensure brand consistency."
Solution: Put Your Guidelines Online
Stop the endless search for PDF files, and switch to cloud-based guidelines like Frontify's Brand Guidelines. With our guidelines, your team will always have the latest and greatest brand information, like typeface, sub-brand logo designs, HEX and RGB brand colors, messaging, brand voice, and mission statement, all in one spot.
The benefits of using Frontify to create brand guidelines:
You can create guidelines in minutes. We provide predefined templates to help you quickly build your online brand book.
Customize your guidelines to meet your needs. Brands are unique, and your brand identity guidelines should be, too. It's quick and easy to customize our templates to meet your
It's always up to date. With cloud-based guidelines, there's no more searching for that PDF; everyone has the latest version.
Sharing is easy. Need to give your guidelines to a new teammate or agency partner? No problem. You can invite entire groups or share individually. Want to give your guidelines to the world? With a single link, you can give everyone access.
It's secure. If it's important to keep your brand guidelines locked down, we've got you covered. We give your brand a powerful user-management console to monitor users' access, rights, and permissions. You can give someone temporary access if they only need your guidelines for a one-off project. You can also designate roles to make sure some people can view and not edit.
You can easily make a PDF. If you've got people in your company who like to kick it old school, we've made it simple to turn your cloud-based guidelines into a handy-dandy PDF.
Ticino Turismo Improved Consistency with Frontify's Brand Guidelines
Ticino Turismo is the tourism company for the Swiss region of Ticino. It switched to Frontify's Brand Guidelines because it struggled with inconsistency issues, thanks to its PDF guidelines.
Since it's a small company with about 40 people, Ticino Turismo relies on external partners for its marketing needs in international markets, from Italy to India. Before Frontify, the company shared brand information by copying and pasting sections of a PDF guideline into several emails. This process was time-consuming, and the end result was inconsistent marketing materials that diminished the brand's value.
When it switched to cloud-based guidelines instead of relying on emailed PDFs, Ticino Turismo instantly shared up-to-date brand information with its global teams. Our Brand Guidelines saved the company a significant amount of time and improved its brand consistency.
Reason #2: Your Asset Storage Doesn't Make Sense
The majority of organizations say their in-house creative team is in charge of managing their brand – including their assets. But with the workloads of creative teams increasing, there is no time to focus on organizing digital assets, which leads to folders full of images and creative files with confusing names and no context.
With poor asset management, internal assets end up on external sites and old images with expired creative licenses pop up in current branding projects. It's not that people are intentionally choosing the wrong assets. They just don't know what's what.
Solution: Get a Digital Asset Management (DAM) Solution
An IDC report found companies that invested in a DAM saw a significant return on their investment. Eighty-six percent said they'd reduced their risk of using an unlicensed or unapproved brand assets, 97% said they'd increased their productivity because they cut time searching for assets, and 76% said a DAM had eliminated time spent recreating assets that already existed because they were easier to find.
Because a DAM is the next step in ensuring brand consistency, we created our own Digital Asset Management. With it, brands can store all of their assets – photos, videos, iconography, and documents – online, with meta tags to make them easy to search. And we've included download requests to prevent off-brand use.
The perks of our DAM include the following:
Employees can find on-brand assets anytime, from anywhere. Since all your assets are saved in the cloud, internal and external teammates can access brand media anywhere. No server access is required.
It's quick and easy to search for and find assets. With metadata and custom tags, use keywords to search for assets in your library instead of scrolling endlessly through folders.
It eliminates off-brand usage. Ensure assets are correctly used with download request functionality. You can grant permissions or reject download requests from a centralized dashboard.
You can stop unlicensed assets. Stop worrying about unlicensed assets, because now you can add expiration dates to prevent old media from accidentally getting dropped into new creative.
BAC Credomatic Used DAM to Prevent Off-Brand Assets
BAC Credomatic is a leading bank in several Central American countries. But with multiple markets and numerous designers, the brand struggled with off-brand assets like different brand logo variations and brand colors. The brand turned to Frontify to help solve its consistency problems.
Starting off, BAC Credomatic assigned one brand leader per market to approve and upload their assets into their DAM in accordance with their Brand Guidelines. They've seen amazing results. Their new regionally streamlined creative processes allow smooth design iterations and considerably stronger brand experiences.
Reason 3: There Is a Lack of Collaborative Process
One of the top reasons projects fail to meet specifications and customer expectations is that collaboration breaks down. And when it comes to branding and marketing projects, there is a lot of collaboration involved between your creative team, brand team, marketing team, developers, external agencies, and more.
If all stakeholders don't have visibility in projects, and you don't have a consistent feedback and approval process in place, projects are going to fall through the cracks. And you're going to end up with off-brand materials.
Solution: Get an Online Collaboration Space
Stop collaborating the old-school way, sharing PDFs and waiting for emailed feedback. Move your projects and feedback online instead. When all your design projects are based in an online workspace, it's easier for all stakeholders to see designs in real time and provide feedback instead of waiting until the end, when designs are complete.
This is why we created Creative Collaboration, our online collaboration platform that helps teams manage, discuss, and work better together on design iterations.
Here are some of the best features of Frontify's Creative Collaboration:
You can see the status of all projects in one spot. A system based on Kanban boards keeps everyone up to date about where projects are in the design and review process.
Feedback and approvals are easy to get. You can stop chasing and waiting on feedback and approvals on creative projects. Notify stakeholders within the Frontify environment when its time for their input or final sign-off.
You can finally keep track of creative versions. Stop the madness of trying to figure out which version is the correct version. You're able to see every change made to a project throughout its life cycle.
It streamlines design-to-developer handovers. When it's time to hand the web design project over to developers, ensure consistency with Inspect Mode and Audit functionality. ** With Inspect Mode, developers can pull design specs to transform design ideas into code without ever leaving the Frontify environment. And Audit functionality checks designs to ensure that they're using the correct brand colors and fonts.
Lufthansa Improved Brand Consistency with Creative Collaboration
Lufthansa is one of the world's largest airlines, with more than 120,000 employees. When the brand began using Frontify's Creative Collaboration, they were able to improve their design process and ensure brand consistency by bringing their internal and external teams together.
Before, Lufthansa was using an old brand platform that was hard to access and lacked sharing capabilities. That meant some teams were out of the loop, and that caused inconsistent branding. With Frontify's Creative Collaboration, Lufthansa's 1,000 users can monitor more than 300 active projects and provide feedback and approvals to ensure brand consistency across the organization.
With one dashboard for all brand projects, teammates work together, simplifying feedback and heightening transparency.
Reason #4: Production Deadlines Vary Across the Company
With most in-house creative teams saying it takes them from two to three days up to two weeks to fulfill a design request, some projects can't wait that long. Your social team is creating daily content. Your PR department has a media kit that needs to get done ASAP for an event, and the new members of your sales team need business cards.
To keep from missing deadlines, these departments often decide to do it themselves. But with outdated assets, mediocre design skills, and the wrong guidelines, you end up with a lot of off-brand content. When workflows are an issue for in-house teams, how do you take the burden off your design team and still create on-brand materials on deadline?
Solution: Create Templates to Deliver On-Brand Materials On Time
Based on info from Celtra Data Insights, templatizing creative assets can save 75–80% of production time. With templates, design teams can focus on higher-value brand needs and other departments can control their own projects.
Enter Frontify's Digital & Print Templates tool. Now, your design team can take control of your brand's visual identity by creating templates for repeat projects, like social media ads or business cards, and drop them in your template library for users to update and download as needed.
The benefits of using our tool to create and store your templates:
It's diverse. Use InDesign or Sketch to create templates for online or print projects. Make editable templates for social media graphics (like Instagram or LinkedIn), website banners, brochures, business cards, and much more.
Designers control access. Your design team can decide how much or how little of the template is editable. And they can see who uses the templates, and how often, to make sure templates are used properly.
It's easy to maintain consistency. Designers can tie templates to your brand guidelines, so you don't end up with off-brand elements, such as a rogue color palette.
Templates are easy to find. With a central template library, its easy for other departments to find and create their own on-brand materials tied to your set of brand guidelines.
Improve Your Brand Consistency with Frontify
It isn't that people ignore your brand guidelines. Your brand consistency issues are because people can't find your brand manual, they don't know which assets are the correct assets, you don't have a consistent feedback and review process, or other departments are having to create their own assets. And since brand consistency impacts your bottom line, brands of all sizes could benefit from boosting your brand management, whether you're Nike or a small business.
With Frontify's brand management software, you could quickly fix all these consistency issues. Our platform gives you cloud-based Brand Guidelines, digital asset management solution, online Creative Collaboration, and the ability to create and share templates throughout your company.
With better consistency, you can make more money. And with better processes, you could save even more. Learn how building your brand with Frontify can save more than $700,000 a year.
Ready to build a more consistent brand and boost your bottom line?
Johannes Waibel
Product Ambassador