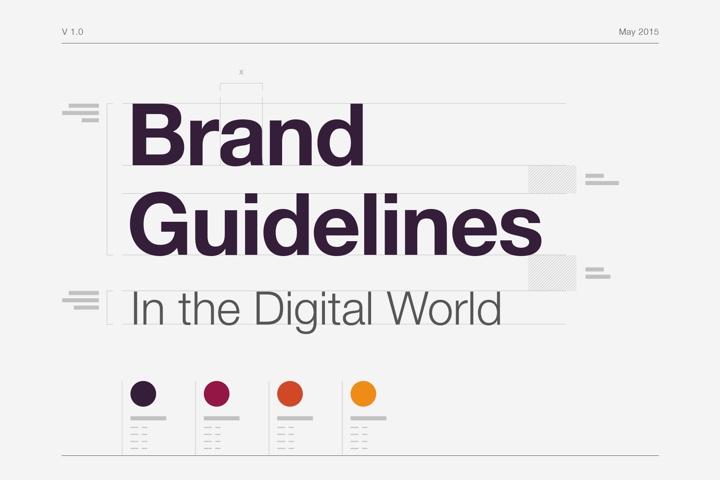 Brand Guidelines in the Digital World
A brand guideline can range from a few to a few hundred pages and is a complete representation of how a company acts, what it sounds and looks like.
The document (or style guide, brand book, brand manual) is essentially a set of standards that should be followed in order to properly and efficiently represent the brand in question. It is the easiest and most effective way to ensure consistency across touch points when working with several teams and partners, which ultimately translates into friendly and familiar customer experiences.
When creating Brand Guidelines,, it's important to introduce the brand essence before diving into the visual components. A great introduction is the brand mission statement, personality and promise. These help the reader gain a thorough understanding of what the company stands for, and create context for the visuals that follow.
The visual components outlined in a basic guideline document usually consist of:
The logo with an explanation of what it represents, possible compositions, sizing, mandatory white space and both correct as well as incorrect usage examples (what to do and what not to do).
Typography may consist of different typefaces for web and print and is frequently composed of more than one typeface, usually differentiating headlines from body text.
Brand colours are sometimes broken down into primary and secondary palettes, together with their technical characteristics (Pantone, RGB, CMYK values).
Applications that show how all these components work together. A few examples of the brand out in the real world are usually enough - stationery, advertising, web use, etc.
These components are a great start for creating a solid foundation for a brand's visual language. More in-depth guidelines also showcase additional communication vehicles such as patterns, iconography, illustrations or other devices as well as imagery and video that helps convey the brand's messaging. And in order to enforce the brand's visual presence even further, the brand guideline should be styled according to the principles outlined in the document.
Some good examples of Brand Guidelines include Skype, Medium, Google and Mozilla among many others that are available online.
So what's next for brand guidelines? Should they stay as pdf documents and heaps of archived folders? How about if we had a live, updated version of the brand guideline accessible from anywhere, optimised for every device as well as for print? What if based on our location, we could get just the information we need, in our native language? Doesn't that sound great.
Well, maybe in the near future, software such as Frontify will allow us to easily have all these benefits of online Brand Guidelines. Maybe we will be able to download anything from the file index with just a click without having to search through tens or hundreds of folders with brand assets. Maybe brands will start being a bit more open about their values and make these documents (or at least parts of them) public, before their expiration date. The future of brand books is right around the corner, and I'm expecting designers', marketers' and developers' lives will get much, much easier.

Max Pirsky
Creative Director at Kickflip