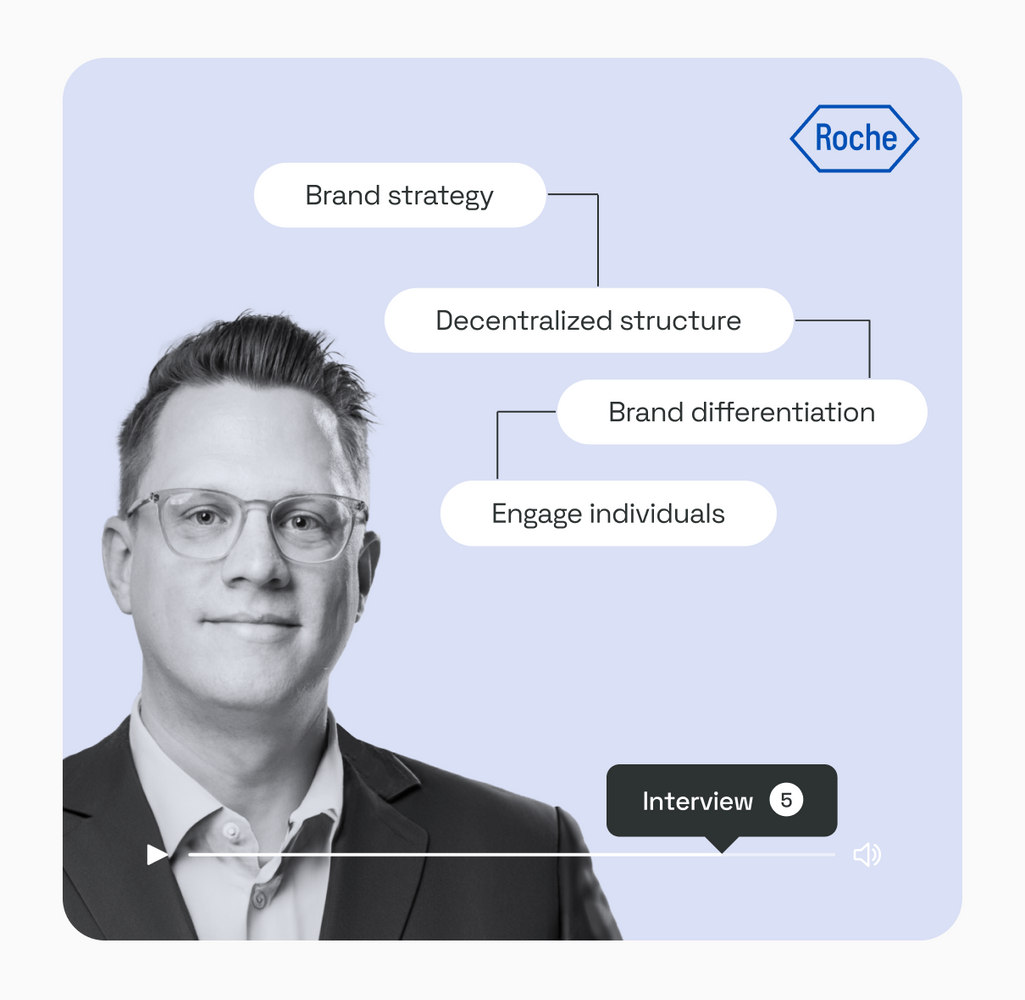 Maintaining a healthy brand like Roche
Damian Amherd, the Senior Brand Program Manager at Roche — a global healthcare company based in Basel, Switzerland — has over 15 years of expertise at the crossroads of business and technology, and specializes in digital strategy, brand management, and digital communications, with industry knowledge in pharmaceuticals, healthcare, and consumer goods.
In this interview, Damian shares insights into the importance of brand infrastructure and the role of technology in future-proofing a brand. He discusses collaboration with other departments, the organization of the brand globally and locally, and the strategies employed to educate employees and transform them into brand ambassadors. Damian also emphasizes the interdependence of a strong brand experience and a functional brand portal, highlighting the need for activation and engagement, a global and inclusive mindset, and an emphasis on ease of use for efficient brand management while strengthening brand equity.
What does brand infrastructure mean for you, and is it central for a strong brand?
Given that Roche is not as consumer-oriented as some other companies, primarily due to the nature of our business, our brand infrastructure revolves around our brand portal. This serves as a centralized resource for all our employees and colleagues, providing them with brand-related assets and guidelines. Our aim is to transform it into a central hub where all necessary brand information can be accessed. Currently, we are about 40 to 50% of the way there.
What role does technology play in future-proofing a brand's infrastructure? And can you tell us more about your own tech stack?
Technology undoubtedly plays a central role in our brand's infrastructure, and I believe it would be nearly impossible to exclude it. I estimate that around 70% of our interactions with target audiences occur digitally, given our international presence across almost a hundred countries. Technology becomes the essential enabler for delivering a consistent end-to-end experience. As for what lies ahead, there are opportunities and challenges, such as safeguarding assets and preventing copyright infringements.
Regarding our MarTech stack, I'm afraid I can't provide extensive details. In the pharmaceutical industry, advertising prescription drugs directly to patients is generally prohibited, except in the US and New Zealand markets. At Roche, we focus on the corporate brand at the group level, rather than product-specific marketing. However, our product teams manage their own brands, such as the dedicated MarTech team for our leading multiple sclerosis drug, which handles stakeholder interactions.
Tool-wise, more than Frontify, our toolset primarily consists of common applications like Gmail, Google Slides, and the Adobe Creative Suite used by our designers. However, we as the corporate branding team don't have a significant business need for tools like CRM or newsletter solutions, as those are handled in other areas of the company.
How do you collaborate with other departments to maintain a cohesive, efficient brand infrastructure?
Collaboration with other departments is one of the significant challenges we currently face and are actively working on. Roche, as a company, has a decentralized structure ingrained in its DNA, which has contributed to our success in research and development. However, when it comes to brand management, this decentralization poses certain difficulties. In the past few decades, there hasn't been a strong centralized brand team that reached out to different countries and divisions to compile a cohesive brand. We are currently on a journey to change that and build networks, getting to know people, understanding how things work across the business on various levels. It's an ongoing process.
One powerful tool we use is what we call the Brand Ambassador Network, which consists of over a thousand individuals working in communications and marketing — we even have a firefighter at one of our German sites. These volunteers become brand ambassadors, learning about the brand and sharing it within their local workplaces. Through their feedback, we also gain insights and establish relationships with other departments.
How is your brand organized both globally and locally? Elaborate a bit more on your glocal setup.
In terms of corporate brands, we mainly focus on a global approach as a team. There are no specific local flavors of the brand, except for translations of assets, for example. We strive for a consistent brand appearance and experience worldwide. However, the distinction arises between corporate brands and product brands. This is an area we are currently addressing through a new brand architecture that clarifies the boundaries between the two levels. One challenging aspect is that due to restrictions on advertising prescription drugs, product brands must look distinct from the core brand — if they'd look similar, it could come off as advertising. So they have different fonts, color schemes, and often need the logo to indicate their association with Roche, otherwise you might not even know it's the same company. We are in the process of defining how much similarity and differentiation are required. So, it's not so much about global versus local, but rather the differentiation between corporate and product brands.
How do you educate employees about your brand? And how do you turn them into true brand ambassadors?
We have two main approaches for educating employees about our brands and fostering their role as brand ambassadors.
Firstly, we have the Brand Ambassador Network, which I mentioned earlier. It consists of over a thousand individuals and growing, and it's an organic and decentralized initiative. Anyone can join, and we hold monthly sessions to keep them informed about brand updates before major communications are sent out.
Secondly, we have a traditional change management and engagement plan in place. This approach is more strategic and top-down, ensuring that the right people are engaged and equipped to disseminate the necessary information.
Recently, we also launched a mandatory online training for all employees working in communications at Roche. This training, 30-40 minutes, focuses on the importance of branding, emphasizing the conceptual and strategic aspects rather than just specific design elements.
How do you assess the strength of a brand's infrastructure? And what metrics do you use to measure long-term success?
Assessing the strength of our brand infrastructure is a significant challenge for us, as we are building it up from a relatively blank slate. We have started by conducting high-level reputational studies in select markets, involving representatives from our target audiences. These studies examine brand awareness, recognition, tone of voice, and other key aspects. However, this process is relatively subjective and time-consuming, typically conducted once a year, if not less frequently.
Internally, we also conduct surveys among the employees who work with the brands to gather their feedback. Nevertheless, the nature of our business, which involves diverse stakeholders such as healthcare providers, insurers, and government representatives, makes it challenging to establish concrete metrics for measuring the strength of our brand infrastructure.
What's your view on the perfect mix between a strong brand experience and a functional brand portal? Is a perfect mix even possible?
I don't view it as a simple mix between the two. It's not a matter of choosing one or the other or finding a 50-50 balance. In my opinion, they both go hand in hand. Without a functional brand portal, it becomes nearly impossible to effectively disseminate a strong brand experience across the organization. When we started our brand evolution program, we had three separate technological solutions: a media library, a template engine, and a content-only brand site with guidelines. However, they were not user-friendly or integrated. Even if the brand was strong conceptually, it couldn't be effectively utilized. Therefore, it's not about mixing the two, but rather recognizing that they depend on each other. Having a perfect solution without a solid brand strategy is also ineffective.
What are your three best practice tips for enabling efficient brand management, strengthening brand equity?
It's crucial to activate and engage the individuals who will eventually use and become ambassadors of the brand. It cannot be imposed from the top down; involvement and collaboration are essential.
Considering our global context, a broad and inclusive mindset is necessary. This includes addressing different languages, whether that's European and right-to-left languages, and in the media library you need to have people that actually represent the workforce across the globe.
The brand and its assets must be easy to use. If the application of the brand is challenging or the brand platform is difficult to navigate and create assets with, it will hinder success. Therefore, prioritizing ease of use is crucial.