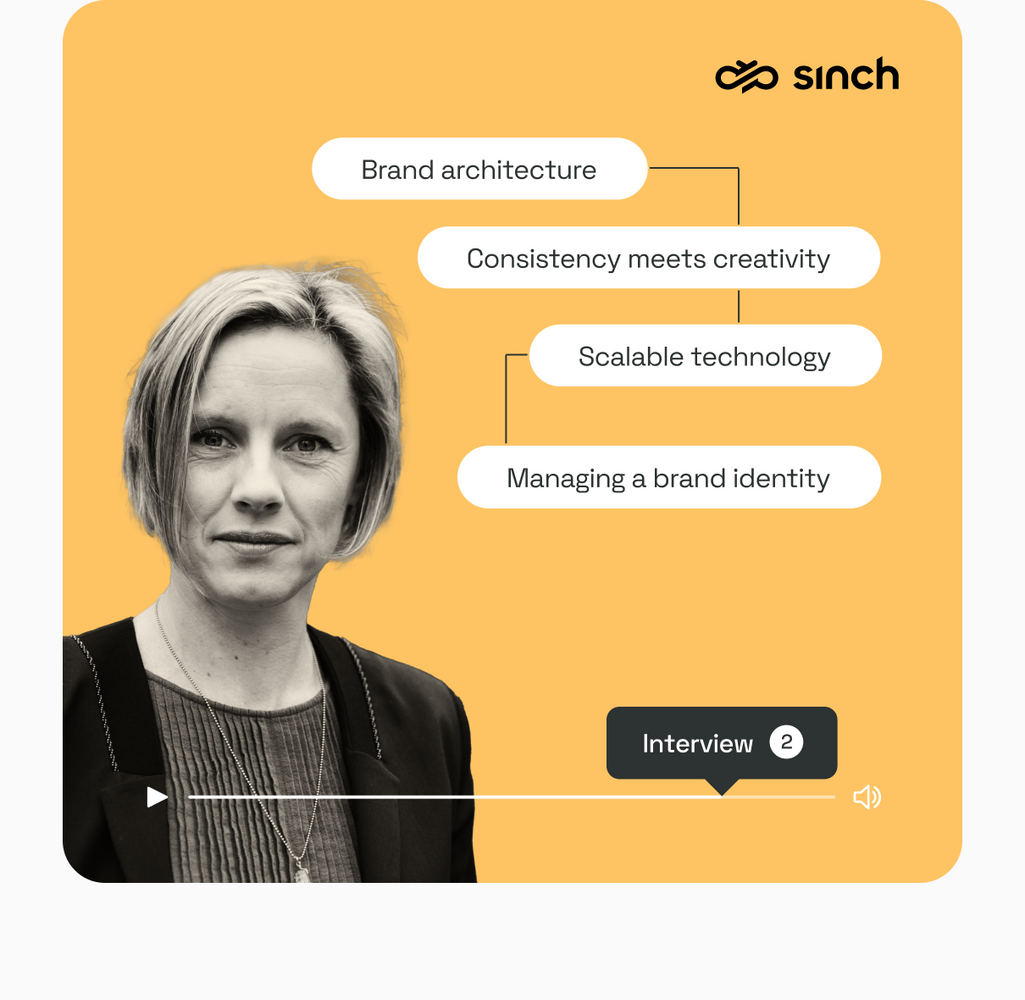 Sinch's Gwen Lafage on balancing consistency and creativity
Gwen Lafage is the VP of Brand and Content at Sinch, a company specializing in customer communications cloud solutions. As the VP, Gwen's responsibilities encompass the management of all Sinch brands, ensuring harmonious visual identities across corporate, brand architecture, and product domains. Gwen collaborates closely with the marketing team, leveraging her expertise to deliver exceptional web design and compelling content marketing strategies.
Join Gwen in an exciting interview to learn more about how Sinch builds a strong brand infrastructure by leveraging design principles and scalable technology like Figma and Asana. Achieving global brand consistency through best practices, Sinch empowers employees to become brand ambassadors. Balancing consistency and creativity is a challenge, but adaptable guidelines and prioritizing essential aspects drive success.
Gwen, what does brand infrastructure mean for you, and is it central for a strong brand?
Brand infrastructure, to me, means establishing the foundations of a brand. This includes the design perspective, visual identity, messaging, and positioning. It also involves creating rules and guidelines to build a structural framework that enables scale. By having a strong infrastructure, we can empower teams to stay on brand and maintain consistency, which is crucial for developing a strong brand.
What's technology's role in future-proofing a brand's infrastructure?
Technology plays a significant role in future-proofing a brand's infrastructure. It enables scalability, efficiency, and consistency across various brand touchpoints. By leveraging technology, brands can automate processes, streamline workflows, and ensure that their brand elements are easily accessible and consistently applied. This not only saves time and resources but also helps maintain brand integrity as the company grows and evolves.
We use Frontify as our brand hub to create brand guidelines and store creative assets in one accessible place. This ensures consistency as we rapidly scaled from 400 to 5,400 people in three years. The brand hub serves as a centralized platform where people worldwide can easily find and follow these guidelines. Having an online platform with organized elements and direct asset downloads is essential for our MarTech stack. It eliminates the limitations of sharing a large PDF file and enables easy search functionality.
Figma is also crucial for our design system, bridging the gap between web and development teams. It allows us to maintain templates and provide tools for both designers and non-designers. For video development, we use Story Kit, a Canva-like tool that empowers non-designers to create deliverables without design constraints. Our MarTech stack revolves around Frontify and Figma as the core tools, with Adobe Suite tools also used for design purposes. We have a range of other tools that extend beyond design functionalities, as we strive to balance consistency, quality, and team empowerment while addressing resource limitations.
How do you collaborate with other departments to maintain a cohesive, efficient brand infrastructure?
We use Asana as our project management tool for daily collaboration. It's a centralized platform where teams from different departments can submit requests and briefs to the design team. Asana facilitates communication, design project reviews, and streamlines collaboration. Instead of emailing PDFs and marking them up, we now share Frontify and/or Figma links, enabling direct access to collaborative features and eliminating multiple versions of PDFs.
How is your brand organized globally and locally?
We aim for a cohesive brand globally, promoting collaboration among local design teams and sharing best practices in cross-regional meetings. Consistency is maintained through aligned tech stack and tools like Sketch and Figma, with shared templates for potential design element reuse. Our focus now is on empowering non-designers and providing them with necessary resources. Figma is the primary tool for our designers, ensuring readily available and consistent components. Bridging the gap between our brand, corporate branding, and product branding is a current challenge we're actively addressing.
Managing multiple brands is complex, especially when unifying diverse visual identities under one overarching brand. Our objective is to maintain a multi-brand approach, considering variations and target audiences. We strive for slight product variations while maintaining a common foundation globally. We are currently consolidating and refining our brand portfolio.
When acquiring companies, brands may be retired or rebranded. For example, we're now transitioning Mailgun into the Sinch family, and managing this process involves preserving the visibility and preference of the Mailgun brand. Handling a larger brand portfolio is complex compared to managing a single brand.
How do you educate employees about your brand?
We are actively implementing strategies to turn our employees into brand ambassadors. In larger companies, this can be challenging due to the need to train a larger workforce with more defined roles. In smaller companies, employees often have more varied responsibilities and a stronger willingness to represent the brand. At Sinch, we use our brand hub as a central platform to share guidelines and assets, ensuring consistency in all aspects of representation.
Our brand hub provides templates for creating assets, and employees are kept informed about upcoming releases. For marketing and social media, we have a dedicated section called Campaigns where employees can find assets for new initiatives. We also provide training on personal branding using platforms like LinkedIn, fostering synergy among employees. Additionally, we collaborate with subject matter experts to leverage their expertise in building the brand.
Overall, we are in the early stages of this process, actively working to create a strong and cohesive brand image that resonates with our employees and customers.
How do you assess the strength of a brand's infrastructure?
The brand hub is relatively new, launched about a year and a half ago. Initially, we assessed usage metrics and gathered feedback to understand its impact on work. Unfortunately, we didn't receive much positive feedback from various teams, including sales and account management.
However, having easily accessible templates and resources did bring benefits. It reduced the need for manual logo requests and aimed to provide assets to all 4,000 employees. The brand hub has personally saved time and empowered others. We evaluate its effectiveness through usage measurement, qualitative feedback, and observing behavior on social media. While we're still in the early stages, quantifying its value is challenging, and a qualitative approach is necessary. But it has been a valuable time-saving tool for me, the brand team, and the users.
What's the perfect mix between a strong brand experience and a functional brand portal?
Consistency is crucial in brand building, ensuring that all elements fit seamlessly together and represent the company cohesively. Balancing consistency with creativity is an ongoing challenge. While maintaining a consistent core, designers and creatives can explore and push boundaries in certain product areas.
The ideal mix of consistency and creativity varies depending on the nature of the product. Strict adherence to the brand may be necessary in some aspects, while other areas allow for more experimentation. Events, podcasts, and brand campaigns provide opportunities for creative freedom as long as they align with the brand, elevating experiences to the next level.
What are your three best tips to enable efficient brand management?
Establish dynamic and adaptable online brand guidelines instead of relying on static versions. Recognize that the brand is alive and constantly evolving, and having flexible guidelines will save time and prevent delays in the long run.
Find a balance between consistency and creativity. Define a consistent core that sets the foundation for what is essential and what can be flexible. Imposing too many strict guidelines can stifle creativity, so give your creative team the freedom to explore and push boundaries while staying true to the brand.
Focus your energy on the areas that matter most to your brand. Identify the essential aspects that define your brand and ensure they are consistently represented. Allocate resources and efforts accordingly, while also allowing for creativity in other areas that can enhance the overall brand experience.
That way, you can establish a robust foundation for brand management that embraces both consistency and creativity, ultimately strengthening your brand's equity.