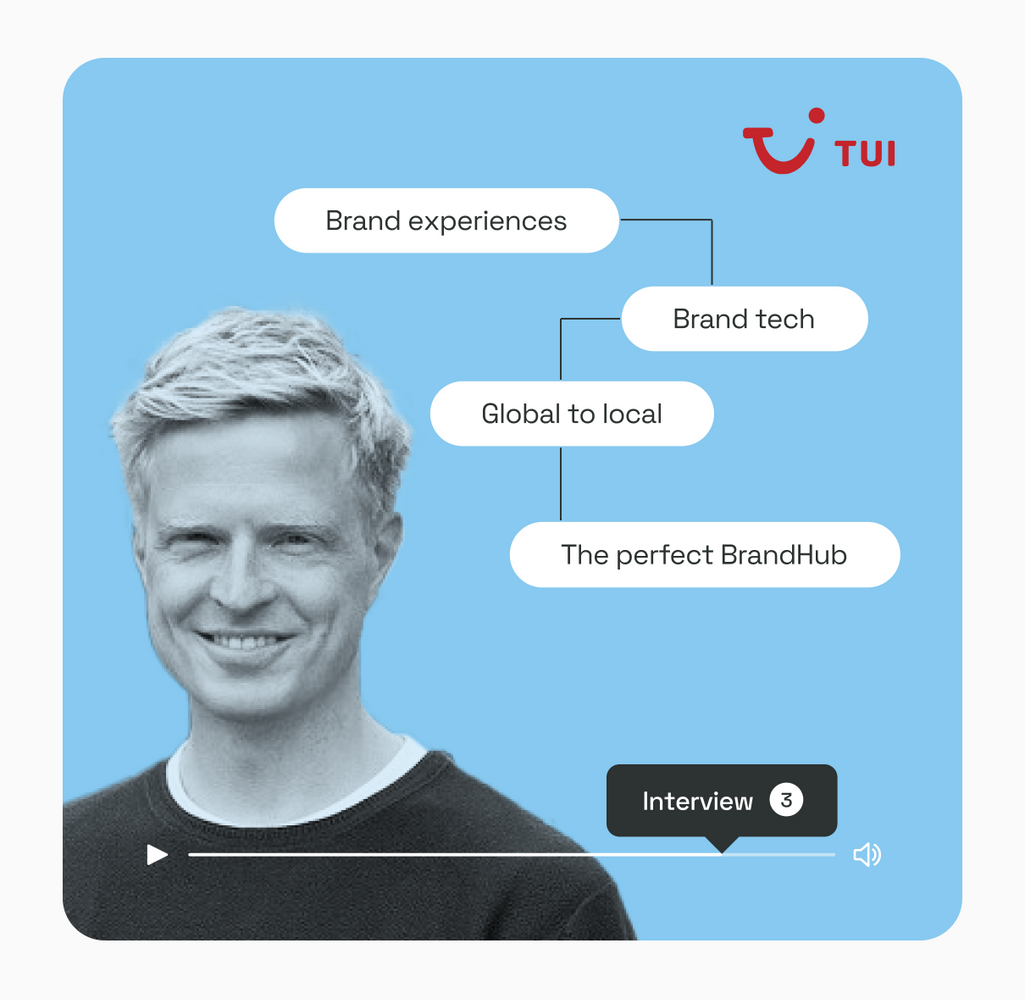 TUI's Philipp Michel on learning about branding from aircraft
Philipp Michel, the Brand Manager of TUI's global brand team, is taking on the crucial role of managing the brand identity of the TUI brand. Throughout his tenure, he's been responsible for defining the brand's appearance and experience across a multitude of customer touchpoints, spanning websites, apps, retail stores, aircraft deliveries, transfer buses, and customer service teams.
Discover why Philipp emphasizes the importance of a strong brand infrastructure for a consistent brand experience. Technology and collaboration play key roles in future-proofing the brand at TUI, utilizing tools like BrandHub and DAM system. Gain valuable insights from Philipp's 13 years of experience in combining brand experience with a functional brand portal. Don't miss this interview for insightful pointers.
Philipp, what does brand infrastructure mean for you, and is it central to a strong brand?

Brand infrastructure means giving access to everything needed to work with the brand. It includes information about the brand history, strategy, architecture, assets, and brand codes; colors, layouts, tone of voice. It is important to have a centralized repository where everyone, including internal and external stakeholders, can access this information. We want to ensure that everyone working with the TUI brand has a consistent basis and understands what they need to create a consistent and professional brand experience. We open up our brand hub to everyone we work with, because we want everyone to understand and work with our brand the way it's supposed to be. That's the cornerstone of implementing and developing a professional brand experience.
What's technology's role in future-proofing a brand's infrastructure?

For us in the brand management team, it's always a challenge to find the right balance between consistency and flexibility. Technology helps us provide exactly that. In the past we just sent out PDF guidelines, and everyone had to rebuild things based on that. Now, we have a digital platform that not only provides guidelines and assets but also offers self-service capabilities for colleagues to adapt materials to their local needs while maintaining control over brand standards. We can set up a template, but allow other people to localize it and work with the assets the best way possible, while still allowing us to stay in control of the brand.
Since TUI is a company that comes together from a lot of different places and markets, we focus on keeping our MarTech stack focused, primarily using the TUI BrandHub platform (Frontify), with different brands — a multi-brand setup with a master brand, cruise companies, hotel companies and so on. The only additional platform we use is the digital asset management system for storing imagery and video files.
How do you collaborate with other departments to maintain a cohesive, efficient brand infrastructure?

We have two core teams, the global brand team and the global content team, which maintain close collaboration with representatives from different markets and divisions. We have regular calls and personal interactions to align with the requirements and needs of each market and division. Collaboration is essential, and we put effort into keeping these networks alive.
How is your brand organized globally and locally?

We have a glocal setup. We have a global team that defines the brand framework, strategy, and identity — sitting in different sub-teams working together. Once the framework is defined, we work closely with local teams — and we have a lot of them — in each market and division to adapt the global framework to local needs. Because they understand our framework, but also how to adapt it on a local level with a unique touch. All teams; airlines, cruises, hotels, all use the global framework. We ensure alignment through regular communication, understanding market requirements, and allowing a level of flexibility within the overall brand vision depending on the individual case.
How do you educate employees about your brand?

Whenever we create something new, guidelines, projects, or what have you; we start with collaboration, involving colleagues in the development of new assets and campaigns. We try to have the right people involved from the get-go. That helps everyone understand how and why things are created. We also have a network of brand champions in each market who provide feedback and suggestions for improvement on a regular basis, based on problems they encounter or things that are missing which we can then tackle together. This ongoing exchange and collaboration help us educate employees and ensure they understand the brand and its development.
How do you assess the strength of a brand's infrastructure?

Sure! We assess the strength of the brand's infrastructure through three key pillars.
Auditing CX touchpoints: Conduct audits on destinations, airports, cruises, and other touchpoints to ensure alignment with brand standards.Perform real-world audits to assess the effectiveness and appropriateness of these touchpoints.
Testing and development: Conduct extensive testing when developing new elements, such as guidelines. Evaluate their effectiveness with customers, including through TV commercials and in different markets.
Continuous market research: Continuously assess the brand's performance and development. Track key metrics like brand awareness, brand consideration, and brand identification over time to measure improvement and success.
What's the perfect mix between a strong brand experience and a functional brand portal?

There's no either or. It goes hand in hand. In order to create a strong brand experience, it is important to combine a functional platform with a cohesive brand overlay. For instance, in the tourism industry, many airlines operate using the same type of airplane. However, to establish a consistent brand experience, we add elements such as TUI's brand colors, behavior, values, and more to create the desired standard. This principle applies to other contexts as well. It is crucial to have a reliable and functional foundation, similar to a well-working aircraft, but it is equally important to overlay it with a distinctive brand experience in a consistent and professional manner.
What are your three best tips to enable efficient brand management?

So we look at what we call the three Cs of brand management are collaboration, convenience, and consistency.
Collaboration: Collaboration is crucial in all aspects of brand development and improvement. It is essential to work closely with individuals who are involved with the brand on a daily basis.
Convenience: Brand resources and information should be easily accessible and user-friendly. The brand infrastructure should be designed to be convenient, allowing all stakeholders to access what they need effortlessly.
Consistency: Maintaining consistency is vital, particularly in a large company with multiple markets. Regardless of the location or touchpoint (e.g., aircraft, hotel), it is important to ensure a sense of unity within the brand "family." Consistency does not mean rigidity; it involves adapting appropriately to different markets while maintaining core brand elements.