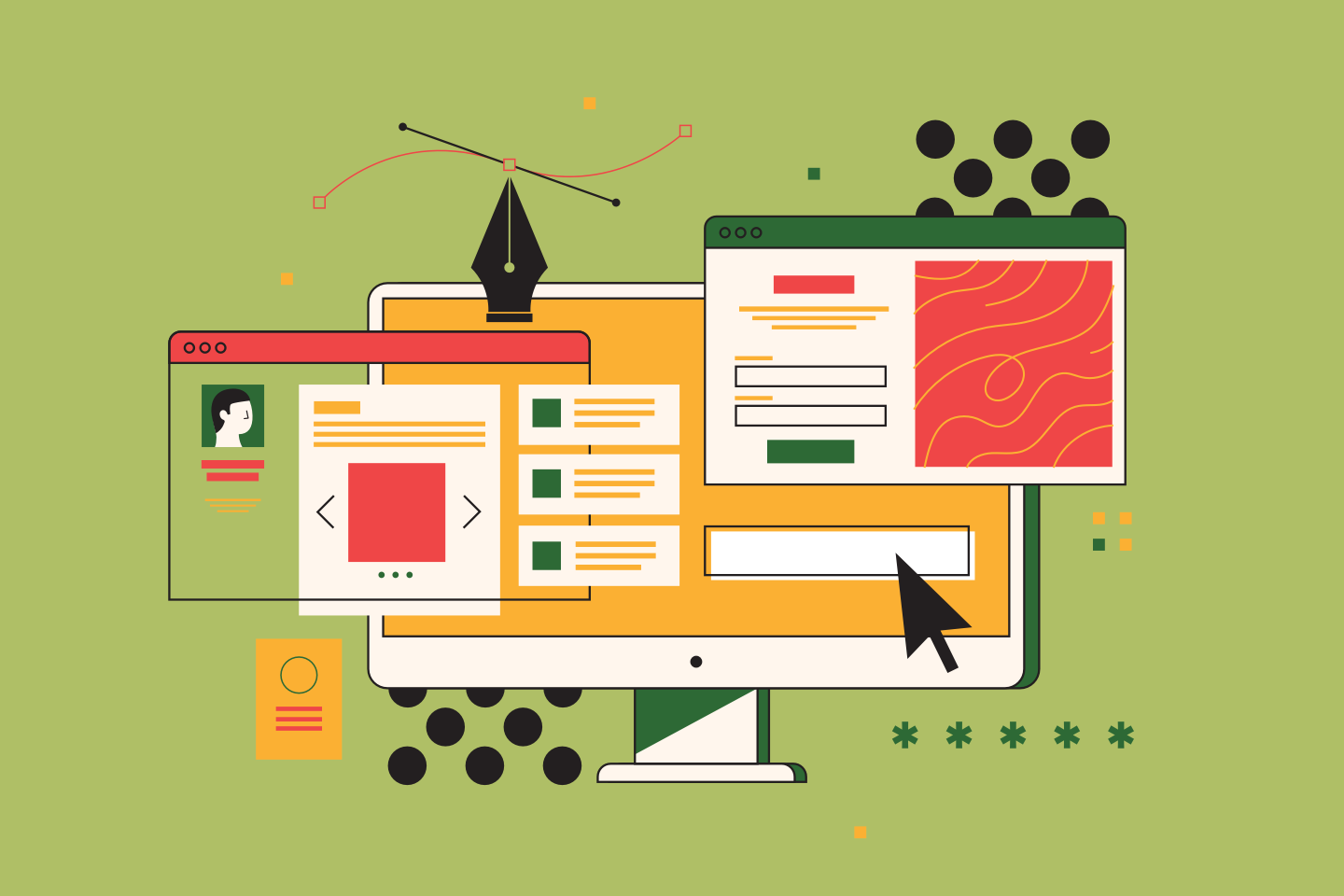 Brand Management Software: The #1 Tool for Business Growth
Brand management is key to lead generation, sales, and customer loyalty, but you need the right tools to do it well. Enter brand management software.
Download the Brand Management ROI Guide
Lately, you've been trying to figure out your branding – you've mapped out your colors (down to the Hex number), clarified your messaging, picked out your fonts, and collected approved images and assets (like logos). But you've run into a little roadblock.
Your current system for organizing your brand information and assets is a mess. Not to mention the process you're using to share assets is an absolute nightmare. In fact, one more email request for a PNG logo with a transparent background may just put you over the edge.
So now you're looking around for a solution – something that can keep you organized and simplify asset sharing without compromising the security of your brand.
Luckily for you (and for your similarly frustrated teams), that's exactly what brand management software is designed to do.
What Is Brand Management Software?
Brand management software is an online tool designed to help businesses create, store, and share their brand assets across the organization. As you might expect, their features enable businesses to better manage their brands, by helping the people in and around your business create marketing campaigns, build products, and have human interactions that are on-brand.
There are several different types of brand management tools out there. Most focus exclusively on managing digital assets or streamlining content creation (arguably asset management, and not brand management), while others offer complete end-to-end brand support.
Best described as Brand Asset Management solutions, these all-in-one solutions enable businesses to create their brand guidelines, collaborate on-brand assets and campaigns, communicate about brand projects, and give everyone in the organization the ability to manage the brand effectively.
This makes it easier for brand managers and brand teams to do their job, while making it possible for remote employee teams and external partners to keep all of their projects on-brand, regardless of how often they communicate, how collaborative their processes are, and the proximity of their workspaces.
4 Old-School Ways of Managing Your Brand (& Why They Don't Work)
Over the years, the method of managing your brand and sharing your guidelines and assets with your employees and external partners have evolved. Let's look at 4 of them in detail.
Brand Books
Brand books have remained a constant branding trend over the years. And if you've ever come across a well-designed brand book, it's no surprise why. They're a really fun and stylish way to share your brand with the people in and around your organization. They have a logical flow, they're clear and descriptive, and they're beautiful to look at.
Unfortunately, brand books aren't the most practical solution for managing and sharing your brand guidelines and assets. Why? There are a few reasons.
They aren't living documents, so they can't be edited or updated easily.
They're expensive to print (and you have to reprint them any time you make an update to your branding).
They can get lost, damaged, or stolen easily.
So even though businesses can use brand books to create a branded experience for their employees and partners, it can come at a major cost – of both money and security.
PDF Documents
Being the digital version of a brand book, PDFs have been used to share brand guidelines and assets for a while now. In many ways, PDFs are a lot cheaper and easier to manage, since they can be shared online.
But PDFs aren't without their issues or frustrations. Since they're static documents, they have to be sent out each time you make a small change or addition to your branding. And this leaves a lot of room for mistakes and time waste, as your employees are left digging through 247321 versions of your brand guidelines to find the right one or constantly deleting and replacing the PDF file in their designated folder.
So while PDF documents are a step up from brand books in terms of cost-efficiency and logistics, they do create a lot of confusion and time waste for the people who use them.
Intranet
As a great tool for communicating with internal teams and storing documents, intranets have also been used as a way to share brand guidelines and assets across organizations. With them, teams can keep PDF documents stored in a shared cloud, where anyone with access can view and download them.
In some cases, an intranet also includes version control, which allows you to see how a document has been edited or changed over time. And with built-in social networking features, there are also ways for asset approval and brand management training to take place.
However, using an intranet to store all of your brand guidelines and core assets doesn't guarantee easy access, minimal confusion, or a strategic organizational system. In fact, in many cases, the folders and search feature can create more confusion for employees – as the brand manager's system for naming, filing, and labeling assets may not be the most intuitive system for employees across the organization.
At the same time, documents are still uploaded in a static fashion, which means, you constantly have to upload new brand guideline PDFs and delete old ones, if you're looking to make small changes. And if all versions of your brand guidelines remain on the intranet, you run the risk of employees accidentally viewing and using outdated guidelines by mistake.
Custom-Built Solutions
With upsides and downsides to all standard brand management solutions, many businesses opt to develop custom solutions to manage their brand in-house. And in a lot of cases, the outcome is great, since businesses can make the brand management software whatever they want it to be.
But the problem with a custom-built solution is that it requires a lot of money and effort. Not only is there the upfront cost of building it, but there are ongoing expenses and work required to keep the system secure and running smoothly. And if you end up needing new features down the road, you'll have to invest even more time and money to develop it.
Ultimately, custom-built brand management software doesn't always offer the functionality and features you need to keep your brand organized anyway.
Boost Productivity & Save Up to $700K Yearly with a Modern Brand Management Solution
With so many outdated versions of brand management software out there, it's easy to feel frustrated with brand management in general. However, by investing in a cloud-based brand management solution like Frontify, you can easily tackle the creation, storing, and sharing of brand guidelines and assets. The reason? Everything is hosted in the cloud. That means your employees and external agencies can access all of your brand guidelines from a single dashboard and pull assets (like logos, images, and icons) from built-in folders. Meanwhile, your brand managers can update a single, living, digitized version of your brand guidelines and upload tagged assets to folders for easy searching and use.
And with a solution like Frontify, you can do even more. You can collaborate on brand projects cross-functionally or while working remotely. You can design branded templates for future projects. You can create feedback loops and streamline your approval processes for campaigns and projects. You can even simplify handoffs between teams for a more seamless project completion.
These features make it possible for the teams across your organization to work more productively. For example:
Marketers can save around 120 minutes per week each by using Frontify to simplify iteration, co-creation, and communication with internal teams and external parties.
Designers can save about 60 minutes per week each by using Frontify's templates and asset libraries to streamline design work and eliminate repetitive design requests.
And brand team members can save about 120 minutes per week each by using Frontify's asset libraries and main dashboard to create a self-serve, cloud-based space for employees and external parties to access brand guidelines and brand assets, on-demand.
Together, this adds up to a 17% increase in employee productivity. However, this efficiency isn't the only benefit businesses see from using Frontify's cloud-based brand management software. The time saved actually translates into massive cost savings as well. In fact, for a company with 1000 employees, this would add up to an annual cost-saving of $708,000.
Conclusion
The truth is: finding the right brand management software for your business is difficult. There are a lot of options out there, all with different features, price points, pros, and cons. For some, PDFs and intranet systems may still be the best option. But for businesses who are serious about brand management and want to increase their productivity and cost-efficiency, cloud-based brand management software really is the best way to go.
Oskar Duberg
Content Director
Hayley Campbell
Branding Expert & Content Writer