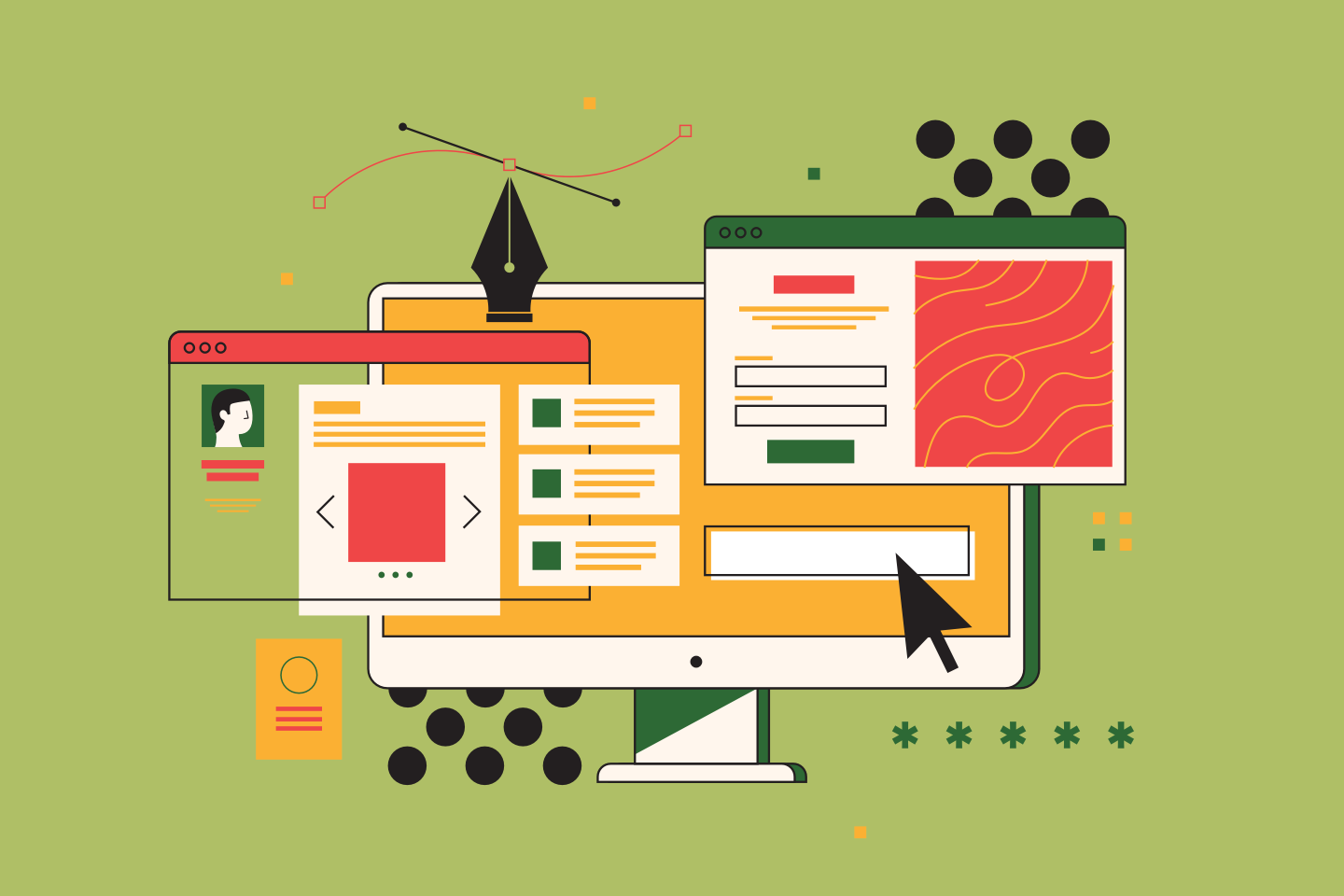 Brand Management Software: What Is It & Who Uses It?
Brand management software helps companies improve brand asset management and gives everyone access to the design elements, campaigns, and guidelines they need.
You've spent a long time refining and documenting your brand. Designers have created different logo versions for every imaginable use case, and copywriters have spent hours perfecting your tagline and messaging. And the marketing manager has spent days checking the finalized versions of your brand visuals in Google Drive.
There's just one problem. No one outside of the marketing team knows about it. So sales reps still send documents to prospects using old logos or messaging. And designers spend ages fixing some of their colleagues' more creative work, so it's on-brand.
Sound familiar?
The right tools can save your team from the headaches and challenges of trying to present a consistent brand identity to the market. Brand management software helps companies improve brand asset management across the business and gives everyone access to the brand elements, campaigns, and guidelines they need.
What Is Brand Management Software?
Brand management software is an online tool designed to help businesses create, store, and share their brand assets across the organization. It enables companies to document their brand guidelines, collaborate on creative campaigns, share brand updates, and give everyone in the organization the ability to manage the brand effectively.
This makes it easier for brand managers and brand teams to do their job while making it possible for remote employee teams and external partners to keep all of their projects on-brand, regardless of how often they communicate, how collaborative their processes are, and the proximity of their workspaces.
It also helps companies develop a shared culture of brand ownership within the business. It gives employees one centralized place to learn about the brand and find the brand materials they need – as well as the confidence to create their own. As a result, employees feel more connected to your brand because they better understand its meaning and why it's important to the company and your customers.
Old-School Alternatives to Brand Management Software
In the past, companies have tried different solutions for managing their brands. If you don't have a dedicated brand management solution, your company may be using one of these outdated brand management options instead.
PDF Brand Guidelines
Many companies create PDF documents that contain all your brand elements, such as logos, fonts, and color codes, and the guidelines for using them. They've long been the go-to option for documenting your brand guidelines, but they can cause companies a lot of frustration.
Since they're static documents, they have to be sent out each time you make a small change or addition to your branding. And this leaves a lot of room for mistakes and wasted time as it's hard to ensure everyone has the latest version of your brand guidelines. Your employees are left digging through dozens of versions of your brand guidelines to find the right one or are constantly deleting and replacing the PDF file in their designated folders.
Additionally, PDF brand guidelines only cover one part of the functionality offered by brand management software. They provide guidelines – nothing else. So you then need to add additional tools to give you all the tools and processes required to manage your brand effectively.
Project Management Tools
Companies often rely on project management tools (like Asana or Trello) to manage the collaborative process of creating new brand assets, including getting feedback, approvals, and sign-off.
While these tools enable collaboration across projects and teams, they don't integrate well with the rest of your brand toolkit, like guidelines and design software. So designers constantly go back and forth between the comments and tags in the project management tool, your brand guidelines, and their designs in their chosen design software.
Shared Drives
Companies set up shared online drives (like Google Drive or Dropbox) to upload everything related to their brand. Their shared drive is where they save all their finalized brand elements and creative assets, ready to use.
But if everyone in the business has access to that drive, it's challenging to keep it organized and ensure that only the finalized assets are available. So companies often work around that by giving their marketing team ownership over the brand's shared drive. Unfortunately, this means the marketing team becomes the default owners of your brand, and they have to spend time granting access to files on a case-by-case basis. This is incredibly time-consuming and takes your marketing team away from focusing on higher-value work for the business.
Custom-Built Solutions
Many businesses opt to develop custom solutions to manage their brand in-house.
But a custom-built solution requires a lot of money and effort. Not only is there the upfront cost of building it, but there are also the ongoing expenses and work required to keep the system secure and running smoothly. And if you end up needing new features down the road, you'll have to invest even more time and money into developing them.
Even worse, custom-built software doesn't always offer the functionality and features you need to keep your brand organized. Instead, you build it based on what you think you need and how you think teams will use it, so your established assumptions and work habits limit you.
Who Uses Brand Management Software?
Everyone in your company will need to use brand management software from time to time. But the following departments will use it more often than others:
7 Essential Features to Look for in Brand Management Software
Companies can look for individual tools for different elements of their brand management process or an all-in-one brand management platform. Here are seven things to look for, whether you're looking for multiple tools or a comprehensive solution.
1. Brand Guidelines
Brand guidelines are a centralized place to document your brand – from visual elements like logos and color palettes to your brand messaging and mission. The most effective brand guidelines combine written and visual guidelines with the ability to download the correct brand elements directly within your guidelines. That way, you can be confident everyone is accessing the latest version of your logos or other brand assets.
Whether you use individual tools or all-in-one brand management software, guidelines are a core part of your brand management toolkit. They enable everyone to access, reference, and use the correct brand elements to improve brand consistency across the business.
2. Digital Asset Management (DAM)
A DAM is a centralized location where you store and organize digital media such as brand videos, icons, images, and documents. The best DAMs have features like auto-tagging, filtering, and suggested search to improve content management and make it easier for users to find the assets they need. Additionally, when you update files in your DAM, those changes are automatically reflected across the web wherever that image or video is embedded.
These features make a DAM a more user-friendly option than keeping all of your brand assets in a shared drive – and a valuable part of all-in-one brand management software. It helps users from every department find and use brand images without requesting files from your designers or marketing team.
3. Design Templates
Design templates are editable templates for frequently used brand visuals, such as social media posts or banner ads. Your creative teams set up one-off templates that other employees can adapt to create their own brand content without needing your designers to do it for them.
They're an essential feature of brand management software because they empower anyone on the team to create branded visuals and give them the confidence to make the assets they need without compromising on brand consistency.
You can set up individual templates in different design tools, but if you create these in your brand management software, your templates integrate with your brand guidelines and DAM, so you can easily use existing brand elements in your designs. Additionally, your designers can set up the templates so users can only edit certain parts, so you maintain creative control and brand consistency without having to review each file.
4. Collaborative Workflows
Brand management software helps employees, freelancers, and external partners collaborate in real time when working on brand-related projects. Designers don't work in isolation when creating innovative campaigns. They need input from their colleagues, company leadership, and other departments throughout the creative process.
Look for brand management tools that enable you to set up collaborative workflows and a dedicated approval process for feedback and sign-off. These features streamline creative collaboration when teams work together to create different branded elements and assets.
5. Flexible Media Rights & Permissions
Brand management software should allow you to set usage rights and permissions to limit who has access to your brand files. This includes who can access your files or download them and the ability to grant access for a set time – for example, granting access to assets for a time-limited campaign that expires after the campaign ends, so people don't keep sharing those assets on social media indefinitely.
It's important that you can easily control who has access to your files on an individual and team basis. Different people will need different assets, and you want to make it as easy as possible to get that right. For example, you could have a public library of brand materials for press use or set up different asset libraries for other regions to help with the localization of your brand.
6. Integrations with Your Existing Tool Stack
The most effective brand management software should integrate with the apps and tools your teams already use:
Design tools like Figma, Sketch, or the Adobe Suite, so designers can easily access print templates for their next project.
Communication tools like Slack, so you can easily share brand updates, such as when the creative assets for your upcoming marketing campaign are done.
Marketing tools like HubSpot, so your marketing team can easily access brand assets when creating marketing content like email newsletters or landing pages.
The better your brand management system integrates with your existing tools, the easier it becomes for employees in all departments to build their awareness and ownership of your brand.
7. Multi-Brand Structures
Multi-brand structures enable companies to manage multiple brands or sub-brands within a single brand management solution. For big companies or businesses with ambitious expansion plans, this is an essential feature to look for when choosing brand management software because it needs to work for your business now and in the future.
A multi-brand setup means teams can manage, view, or share the guidelines, assets, and digital components for several owned brands all in one place. This makes it easy to collaborate on multiple brands while maintaining each brand's unique identity. Look for brand management tools that offer multi-brand structures and allow you to grant access permissions and usage on a brand-by-brand basis.
The Best Brand Management Software Is an All-in-One Solution, Not a Complex Tool Stack
The more tools you use to manage the different parts of your brand – like guidelines, collaboration, and permissions – the more difficult it is for team members to engage with your brand. It becomes difficult for them to know which tools to use and when. And it makes it more difficult for non-designers to create and use your brand materials. As a result, they leave brand-building to your marketing team, and you miss out on the authenticity and creativity that comes from having a brand that's co-created by your entire company.
A centralized brand portal makes it easier for everyone to engage with your brand. It gives them one space to find, create, and use your brand materials and the confidence to do so without compromising your brand's consistency or integrity.
Learn more about the quantifiable benefits that businesses get from using a comprehensive brand management platform like Frontify.
Oskar Duberg
Senior Brand Content Specialist