Transforming An Iconic Brand And The Way It's Managed
The National Academy of Television Arts and Sciences (NATAS) modernized both its Emmy® Awards brand and the way it managed it. Frontify played a key role in that success and with the help of Windrose Management helped transform the reach of iconic brand by bringing it closer to all of its key stakeholders including the regional NATAS chapters.
The Academy uses Frontify since 2019
Brand Guidelines
Digital Asset Management
Digital & Print Templates
The atom on the Emmys® award represents technology. The lightning-bolt wings represent creativity. Together, technology and creativity lift the figure off the heavy base that represents the 70-year history of The National Academy of Television Arts and Sciences (NATAS). This balance between aspiration and tradition was top of mind for the organization's recent rebrand. How could NATAS modernize the way it managed the iconic Emmys brand while maintaining the integrity of its legacy?
In the past, NATAS relied on static PDF guidelines, which are difficult to adapt and evolve to new use cases. As a result, Adam Sharp, President and CEO of NATAS, and his team weren't able to incorporate feedback from the field, which led to brand inconsistencies and "Franken-logos."
A more agile and flexible alternative was needed. With Frontify, NATAS was able to create its Brand Center. It's a one-stop shop with more than 60,000 assets, including tens of thousands of images from past award shows. In addition to brand assets, the Brand Center includes guidelines to educate stakeholders on how to engage with the brand and the assets. One of the reasons NATAS partnered with Frontify was to get a "living, breathing style book" that wasn't etched in stone.
When I think about Frontify, I think about its flexibility, scalability, and most important its supportiveness. We're not trying to shoe-horn our business case into someone else's textbook of how a brand should be built. Rather, the platform allows us to define what our use case is, what our needs are, and what our community looks like, and is flexible and scalable enough to support that.
To help with the implementation of the Brand Center, NATAS brought in Windrose Management, a North Carolina-based marketing agency co-founded by Amanda Lima and Caroline Lewis. Together, the agency — which is a Frontify partner — provides companies with versatile brand implementation and project management services.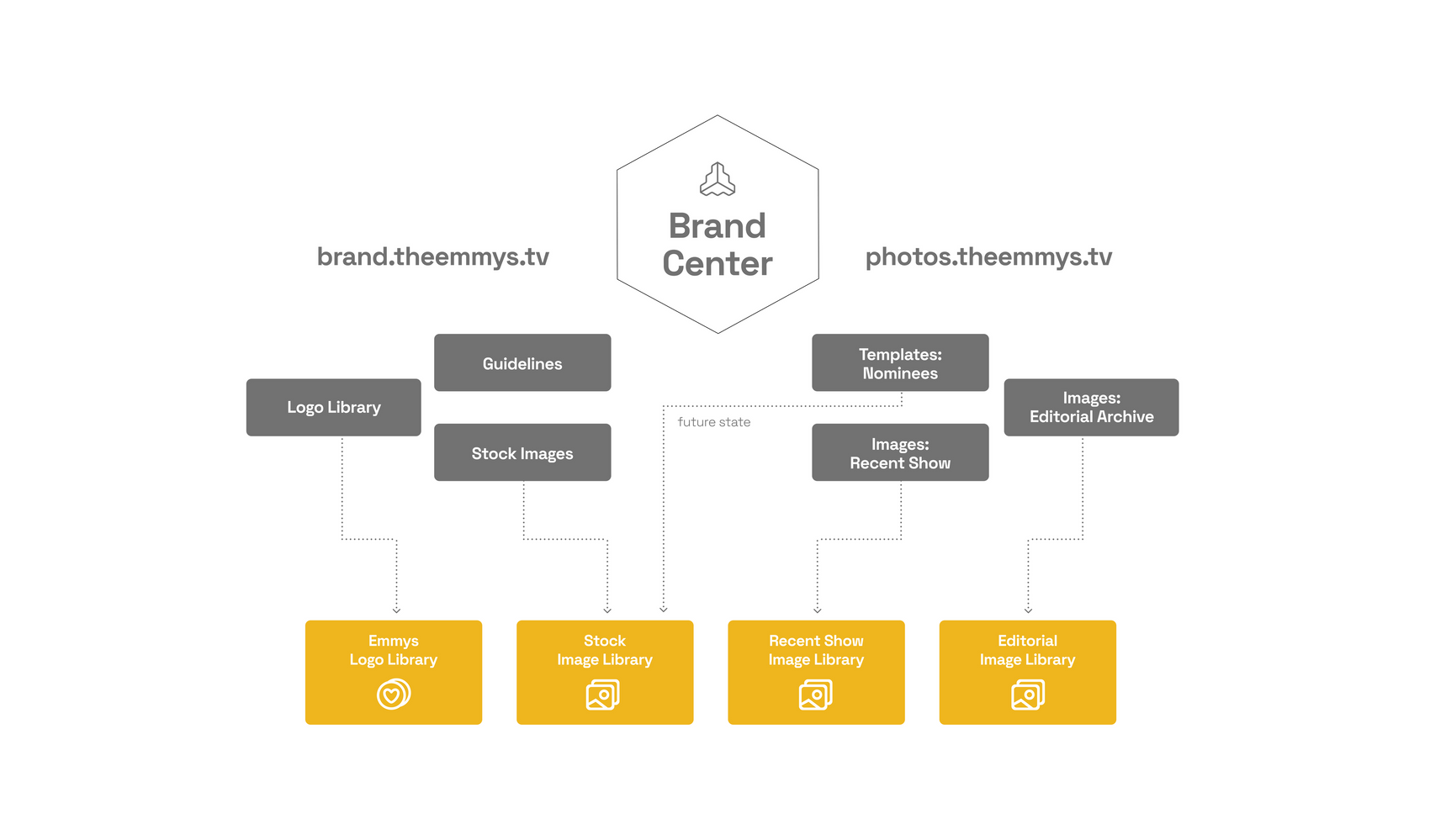 With Frontify, we're enabling these different subbrands and regional chapters to own the brand in their own ways.
Windrose Management's goal was clear: create a sound structure for the 60,000 assets and create the best user experience for the various stakeholders, including the 19 regional NATAS chapters. Working with Frontify's user access features, the Windrose Management team was able to deliver on this important goal.
In fact, throughout the implementation, NATAS introduced a new subbrand for the Children's & Family Emmy Awards — the organization's first awards franchise expansion since 1979. Because of Frontify's dynamic nature, Amanda and Caroline were able to instantly incorporate the relevant information into the Brand Center and enable easy communication of new brand elements to stakeholders — something that would have been impossible with rigid PDF guidelines.
With Frontify, we've become more agile than ever before.
Looking ahead, Adam and the team are excited about the future. In addition to their Brand Center, they're working with Windrose Management to use Frontify to create a standalone image platform to share images from past events with the public and press.
They also have plans for Frontify's templating tool. In the future, when someone is nominated for an Emmy Award, the nominee will be able to create their own on-brand image to share the nomination on social media. It's a win-win for the nominees who want to promote their nominations and for the Emmys brand.
The collaboration with Frontify has been incredibly fruitful in helping us maintain brand integrity and communicate our style guides across all of our business units and key stakeholders.