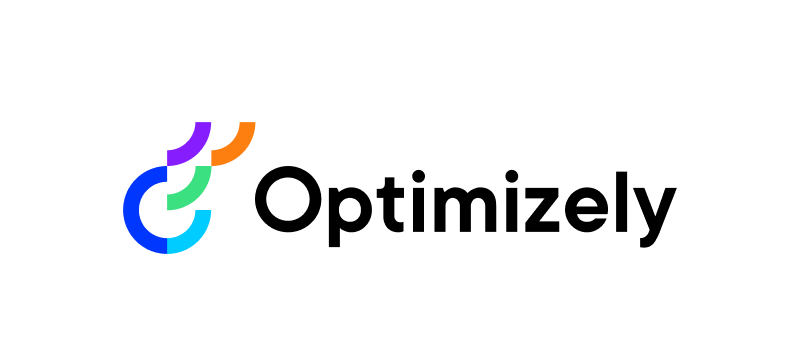 Optimizing brand for customers and employees alike
Optimizely is on a mission to unlock the digital potential of companies around the world. Through its leading data-driven digital experience platform (DXP), practitioners are creating digital experiences their customers love, and driving incredible outcomes for their businesses. Optimizely uses Frontify to manage its global brand, enable both internal and external brand stakeholders, and educate its employees. Frontify empowers Optimizely to reach its full brand potential, so the company can focus on reinventing how marketing and product teams work to create and optimize digital experiences across all channels.
Optimizely uses Frontify since 2019
Brand Guidelines
Digital Asset Management
Digital & Print Templates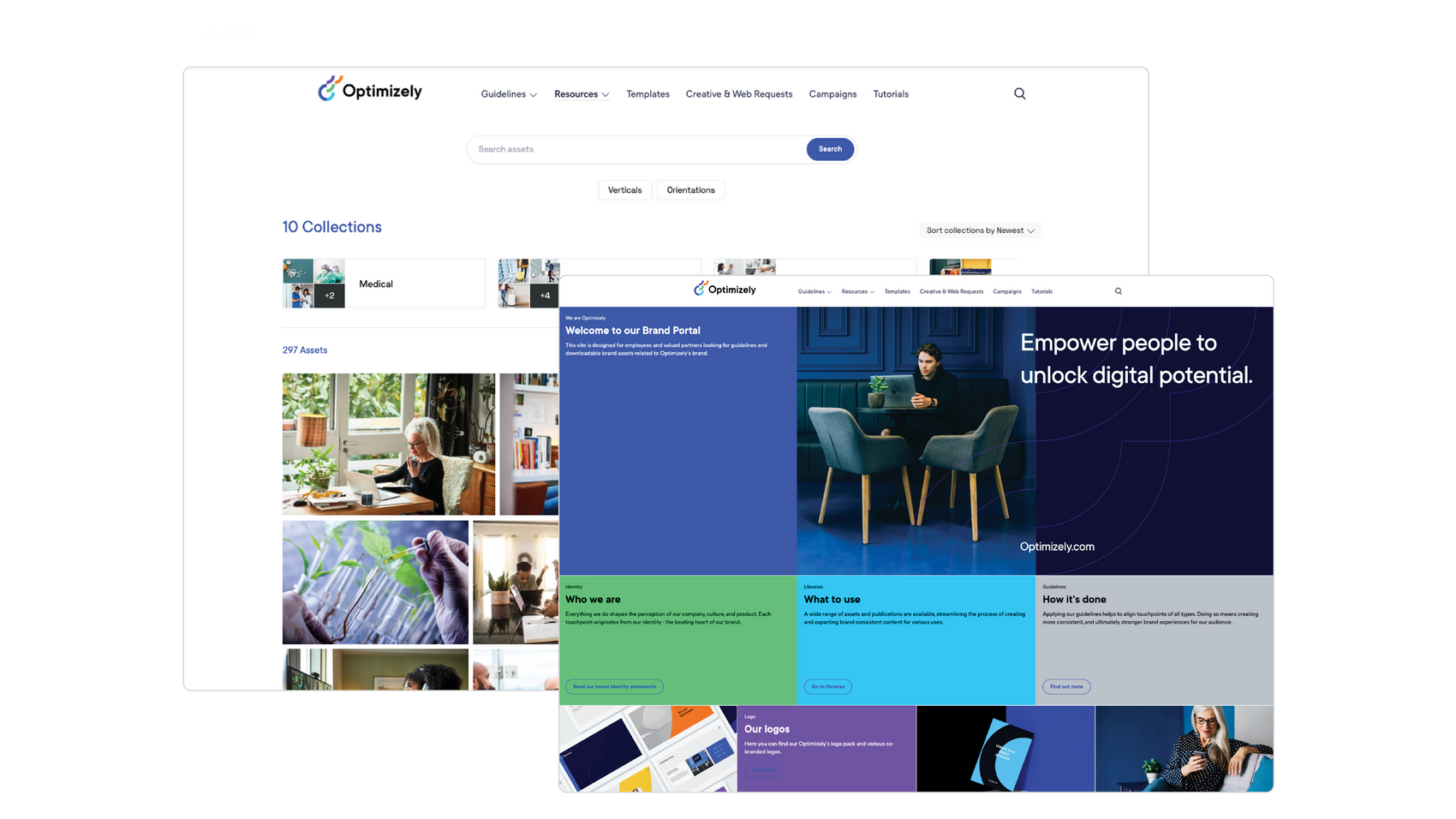 Trusted by over 700 partners, more than 10,000 brands, and millions of happy customers around the globe, Optimizely offers its users a complete DXP product suite – content management, content marketing and collaboration, digital commerce and experimentation – covering the entire customer experience journey.
Optimizely's background
A decade after its inception, the American SaaS start-up was acquired by Swedish technology heavyweight Episerver, and the combined business entity was branded as Optimizely. As a result, the product suite was expanded in a very short time and established itself quickly as a leader in its space. But with big moves come significant change: Over the last couple of years, Frontify has been helping the organization bring its brand together, merge it into one unique source, and facilitate the transition and access for its global audiences.
"
Through the Frontify platform, we were able to create a single source of brand truth for all our stakeholders – internal and external. This ensures our visual brand identity, tone of voice, core brand assets and templates are always current through each transition and phase of the company's growth. Frontify has been instrumental to ensuring consistent brand execution for Optimizely.
"
Alyssa Newman
Brand and Design Lead
Establishing a strong brand
Before Frontify was implemented at the start of 2021, all existing brand guidelines were scattered across static PDFs often stored decentrally. This structure led to a major challenge: inaccessible and outdated guidelines. Optimizely chose Frontify to fix both problems. The teams leveraged the newly implemented platform quickly and saw it as an opportunity to educate the whole company on the brand identity and host regular onboarding meetings around platform best practices. These processes resulted in a smooth brand-building experience early on and helped strengthen the brand from the core.
Main platform usage
Besides Brand Guidelines, Optimizely's portal is also the single source of truth for the most up-to-date and evergreen brand assets and resources, including its photography, iconography, illustrations, active campaign creatives and editorial content, design templates, and event assets. Soon, its DAM space will expand to include animation assets. Ultimately, numerous back-and-forths and countless exchanges, mainly around brand enablement, have been eliminated completely from everyday processes, which has been a significant efficiency gain for the company. But more importantly, the tool has proven to be a powerful ally in getting everyone to work together and use only the latest campaign content without delay or doubt.
Empowering users to be brand ambassadors
The Frontify platform has been a gamechanger not only for the brand team but the entire organization. The user-friendly and approachable interface and features have given many across the company the confidence to use the platform as a key resource for everyday work. Even people who are not content creators can now engage with the brand more regularly. As a result, processes such as communication and brand compliance feedback have been significantly streamlined and facilitated. Optimizely's project workflows can now be directly linked to the right guidelines for instant reference and consistency, leaving little room for error.
"
This has been a major company-wide effort in valuing and protecting the Optimizely brand and evolving it to where it is today and where we want it to go tomorrow.
"
Alyssa Newman
Brand and Design Lead
Templating made it easy for everyone
Optimizely's templating use case best highlights this increased ability to create and let create. The company has a handful of pre-designed and pre-approved social media templates for all its users to post on their own social channels. These posts range from podcasts and product promotions to recruiting and give all users the tools to easily create on-brand social media posts with flexibility and autonomy.
These templates have encouraged more content creation, especially concerning brand awareness efforts: Everyone can convey the brand voice locally and complement stronger, more consistent, and regular decentral brand content that's shared across Optimizely's global channels.
Building a winning platform for a winning brand
Optimizely has accomplished a lot over the last years. What's especially incredible is how the brand team has managed to not only make its creative teams become true brand advocates but empower the entire organization to embrace this change by emphasizing the brand and engaging with it more actively.
"
At Optimizely, we drink our own champagne every day. In other words, we use our own products and features daily. This also helps us better understand our own user experience and helps us come from a place of empathy when we interact with them.
"
Alyssa Newman
Brand and Design Lead
Leading by example from the start
The brand team optimized its approach to strong brand building by setting goals and focusing more on the "so what" of every action. In doing so, the team followed a results-driven mindset an approach positively impacting the company. This has paid off for the brand since the early days and set Optimizely on a winning journey that's been really inspiring to follow.
Harnessing your own platform is such a powerful thing to do, so knowing that Optimizely is using Optimizely to manage and deliver its own content is an absolute highlight to celebrate. This is something we at Frontify also share, as we use our platform to manage and scale our own brand every day. This isn't just a great testimony to what we preach to our customers, but it means that we can experience the platform and its functionalities firsthand from the other side as brand builders. As with Optimizely, this then helps shape how we communicate with our audiences and what content we share and how they consume it.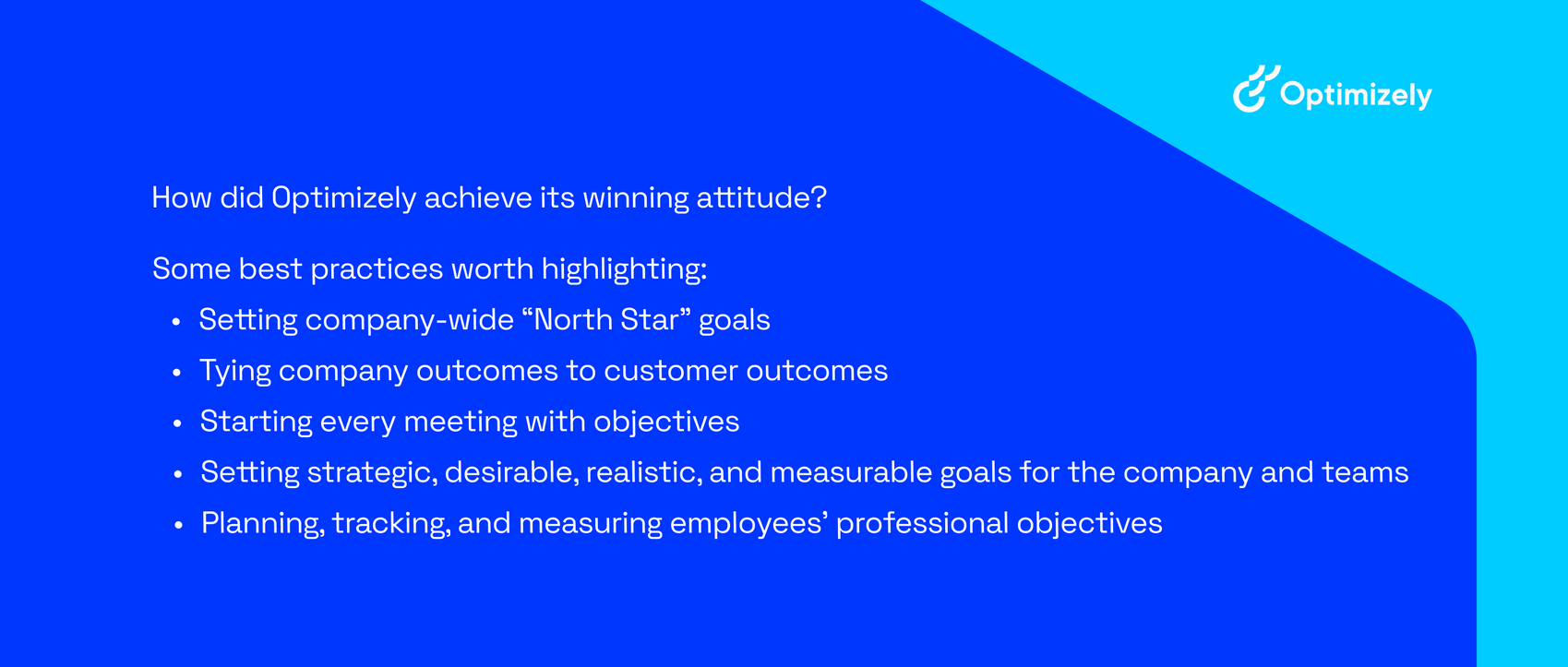 "
At the end of the day, it's all about the ongoing impact that we make, for customers and for ourselves.
"
Alyssa Newman
Brand and Design Lead
The journey continues
A brand should be ever-evolving, and Optimizely plans to do just that. With the foundation and processes now clearly laid down and streamlined, the company can build, expand, and experiment with the brand and easily communicate any updates with Frontify. The future looks bright for Optimizely, and we cannot wait to see how this journey evolves as the company continues to push the boundaries of its brand.