Shaping a strong brand sustainably
Pomerleau is a leader in Canada's construction industry and a proponent of sustainable development. Founded in 1966, the company has more than 4,000 employees across nine regional offices. Pomerleau's image of modernity, adaptability, and excellence is personified in the values it shares so closely with its brand. This connection can be observed in the company's desire to shape and build amazing infrastructure — something it has also done for its brand on Frontify.
Pomerleau uses Frontify since 2021
Brand Guidelines
Digital Asset Management
Pomerleau's journey stands out: Few major players in the construction industry place as much emphasis on branding as the French-Canadian construction giant. Pomerleau's brand and business have continuously evolved while remaining true to the five core company values: authenticity, excellence, adaptability, innovation, and love.
Frontify has played a key role in conveying Pomerleau's tone of voice and best practices. Centralizing all brand-related information in a single tool has provided the team with consistency, simplified access to visual resources, and enhanced control — something previously missing. And the levels of rigor, innovation, and professionalism have enabled Pomerleau to stand proudly behind the services and the communities it serves every day.
"
The redesign of our brand image, which was implemented two years ago, is intended to highlight these values on both the narrative and visual levels.
"
Catherine Malouin
Brand and Marketing Manager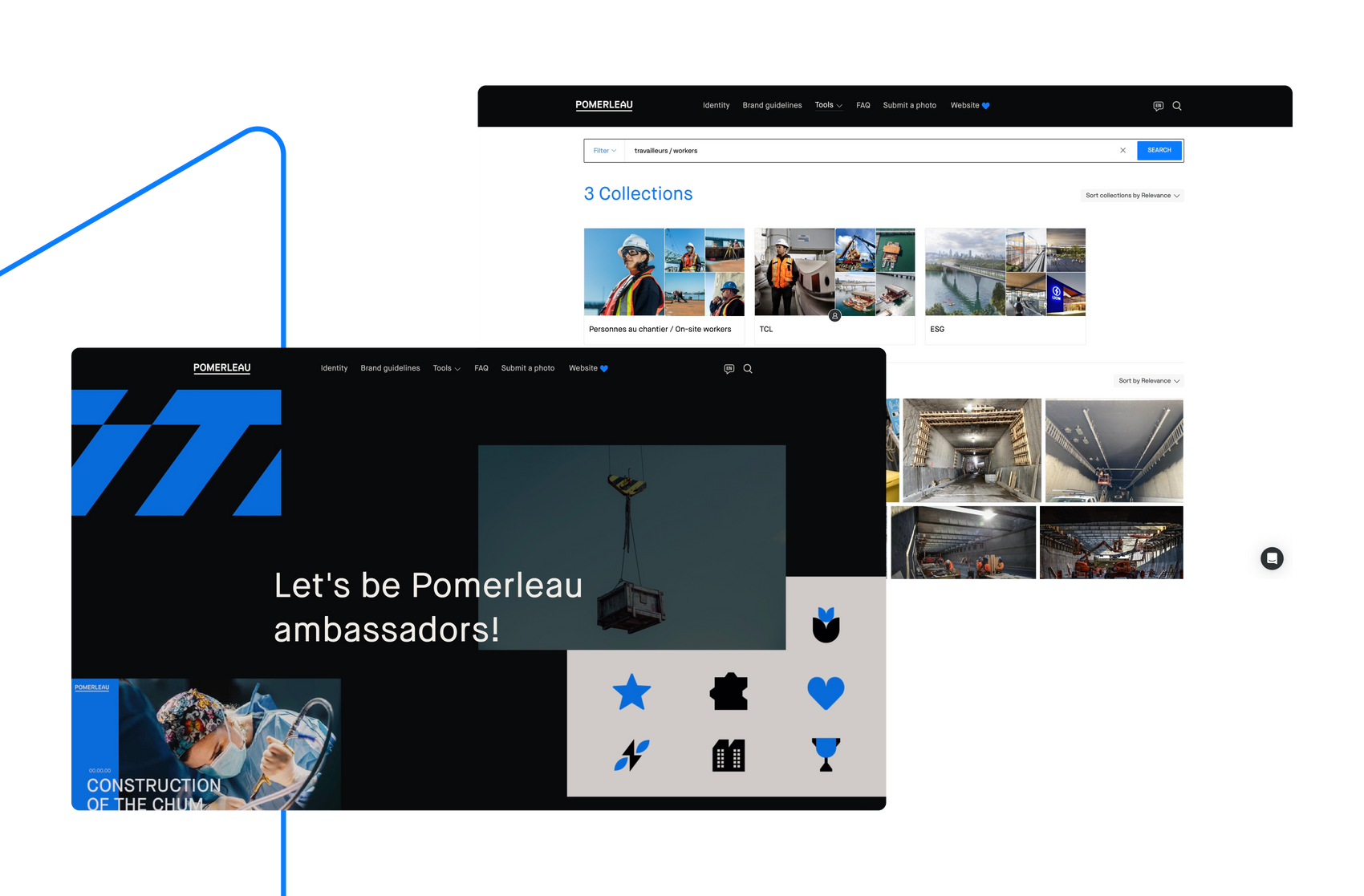 "
As a frequent user of Frontify, I feel empowered and my productivity is accelerated, which frees up time for value-added tasks. The platform also facilitates the onboarding of new employees on our growing team.
"
Julie Faucher
Advisor, Visual Content and Production – Qualifications and Proposals
Before using Frontify, Pomerleau had to process all brand and creative requests individually. As we've heard too often already, some old materials were still being used from local drives making it near impossible to update, let alone iterate and scale. The biggest challenge of all, though, was to gain a better sense of how the brand was performing as a whole. This was not possible previously, as there was no clear way of gathering and measuring usage data. With Frontify, Pomerleau has unified its brand management. The company can now provide everyone with up-to-date and consistent content while offering insightful data on usage, trends, and user behaviors. Analytics is key to improving and ensuring the platform is optimized and evolves in the right direction sustainably.
The implementation of the platform was successful because Pomerleau meticulously planned and launched the go-live in two phases, which presented the brand with a great opportunity to initiate change for the long term. Phase 1 consisted of building and rolling out the brand portal and guidelines; phase 2 built on this by extending the functionality to the DAM by making all assets easily available for its users. A rigorous approval process in the backend now complements the platform and ensures compliance upon download.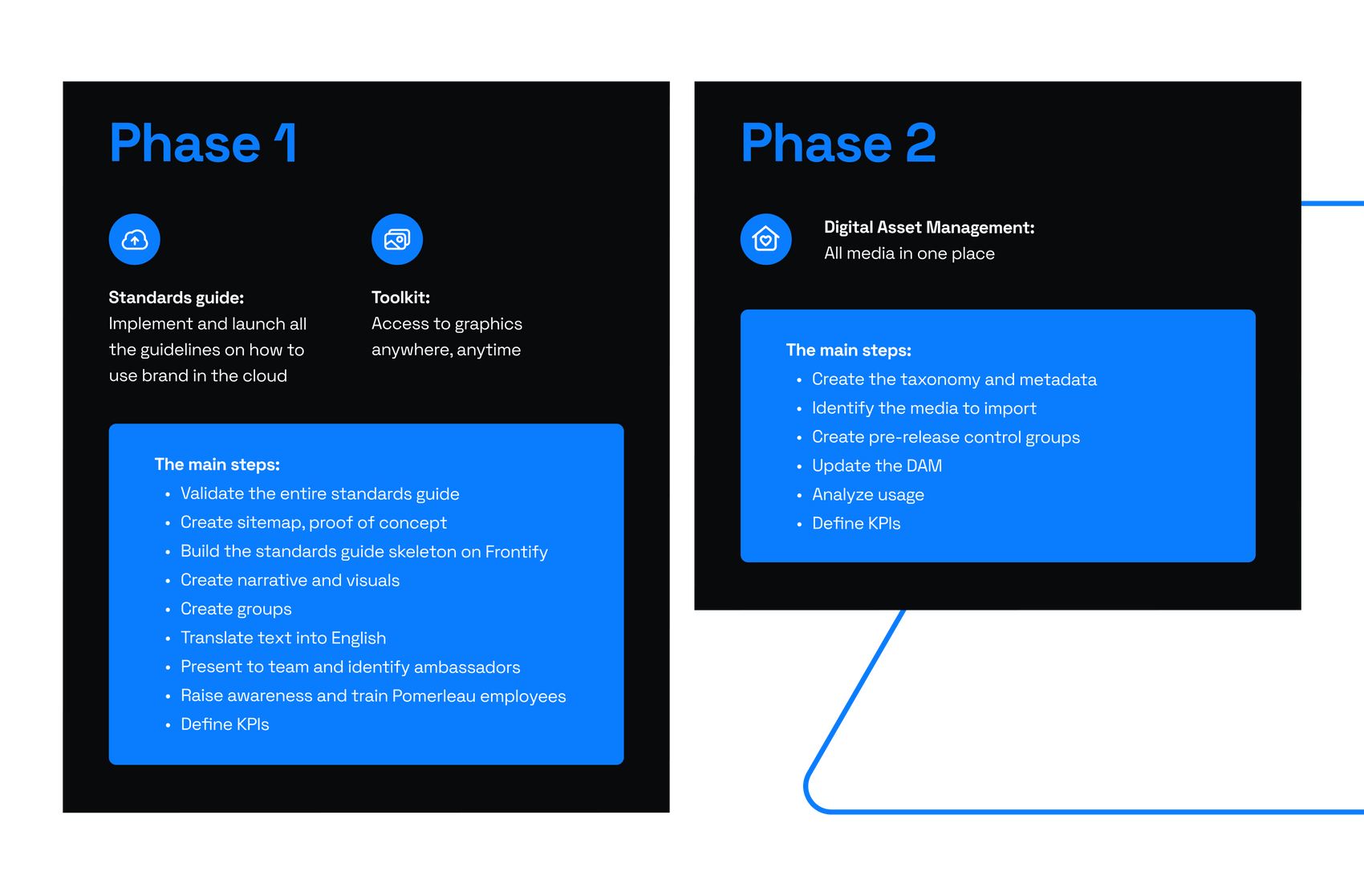 The importance of good planning is instrumental when introducing change on a company-wide level. Pomerleau's communications and marketing team could smoothen the process by interacting closely with various teams and departments before implementation. Removing silos and setting up a coherent structure helped accommodate most departmental needs in one central place.
"
Membership so far is more than satisfactory, and users find the platform helpful in their daily lives.
"
Maxime Canton
Project Lead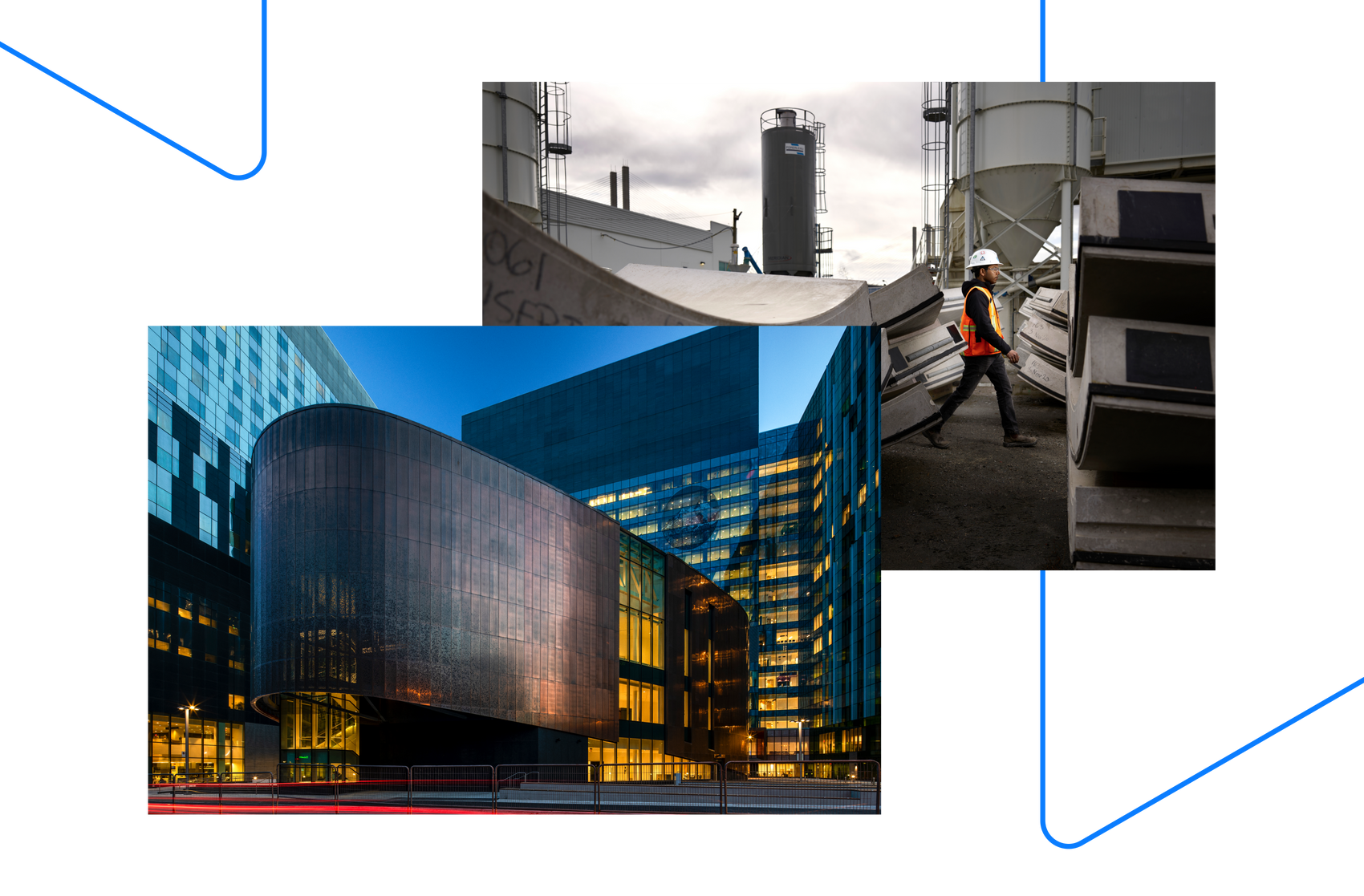 Since the launch in Q3 2021, over 2,000 individual users have already logged into the Pomerleau brand portal, which represents an average of 483 users per day for a company of just over 4,000 employees. This is an incredibly high engagement number that is expected to increase even more as the company continues to grow while it looks to reduce its overall tool stacks gradually.
Pomerleau's goal to promote the brand through the voices of its employees seems to be paying off. The team carried out an internal survey recently: Some of the findings are a great testimony to all the work that has gone into the brand and the impact that the tool has had on the company at large.
Over the next year, the plan is to further develop Pomerleau's DAM by adding more photos and videos and organize a phase 3 roll-out. The idea is to automate templates and create appropriate marketing materials more autonomously. This third phase would also include making part of the portal public and showing that Pomerleau is at the forefront of everything it does. Sharing guidelines would also illustrate the work that has been going into implementing a consistent brand image — and the opportunities that benefit the company.
"
Whether it's representing the organization at a conference or applying our graphic standards on our worksites, Frontify is the destination and reference point for everything related to our brand.
"
Maxime Canton
Project Lead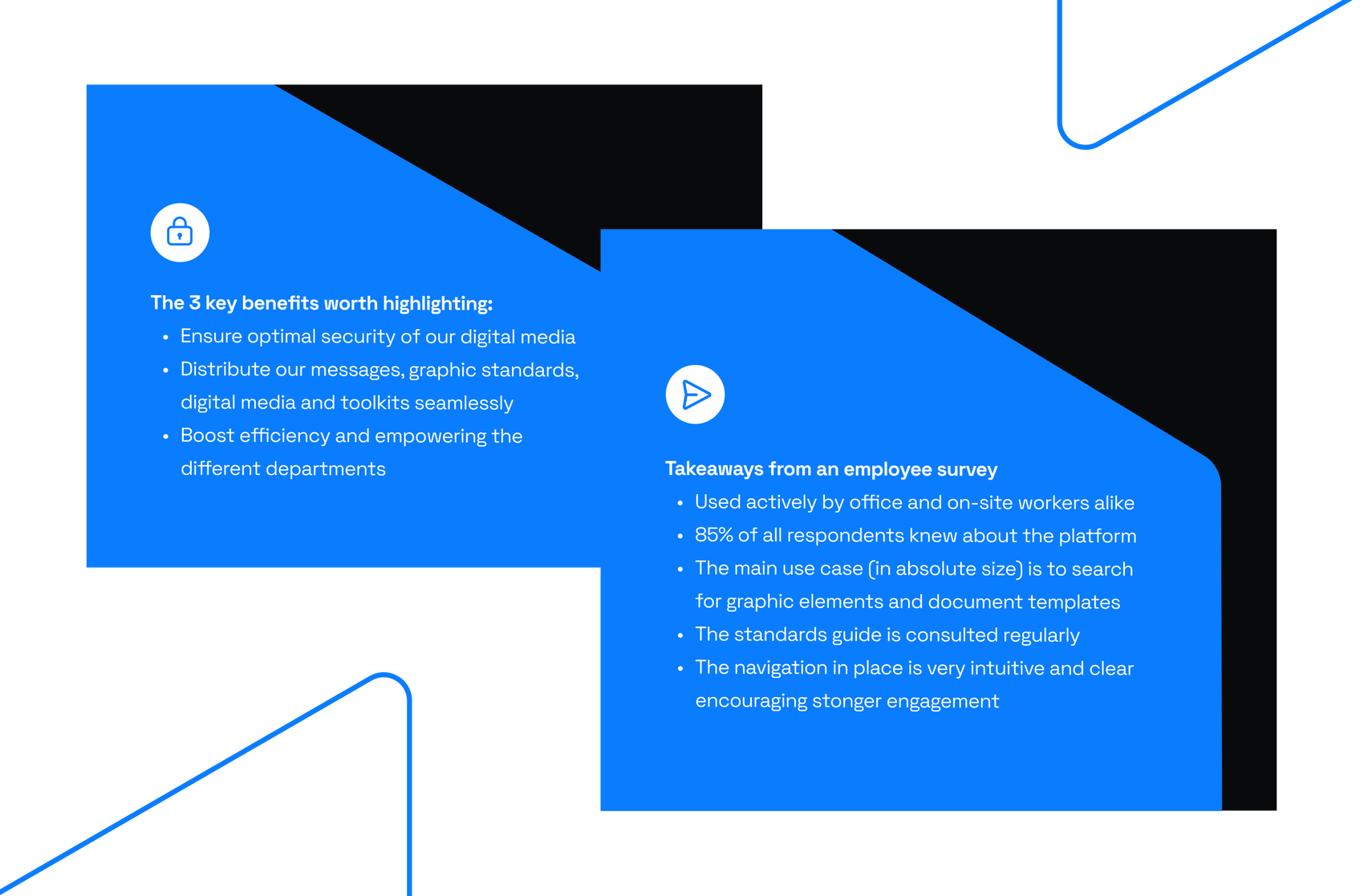 "
The key is to make sure that the platform is evolving and breathing every day. We must listen to our users to keep advancing and meet their expectations.
"
Julia Pigny
Special Project Manager and Practice Leader
Many of Pomerleau's departments manage different tasks so the challenge has been to ensure the platform's tools are easily accessible and offer the best experience possible regardless of requirement or use case. Being strategic and forward-thinking in its approach has seen the brand play a central role in making the right choices for the benefit of the marketing department and the company. This is something that we at Frontify also strive for every day. We will continue supporting Pomerleau on its inspiring journey — building a strong and setting it on sustainable foundations ready for the future.