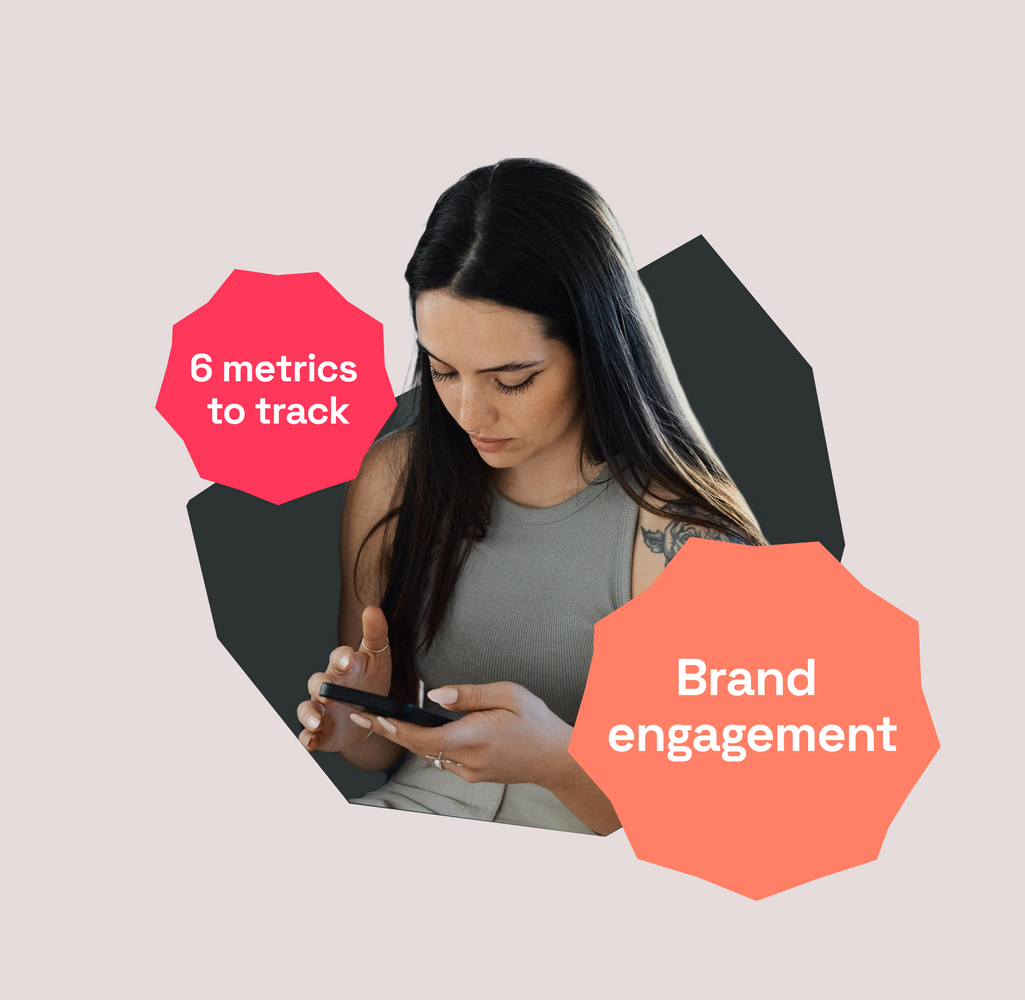 How to measure brand engagement: 6 Metrics to track
Discover six metrics for measuring brand engagement, so you can track changes over time and demonstrate your brand's value to others in the business.
6 Brand engagement metrics to track
For the cynics in any company, "brand" is little more than playing around with colors and making things look nice. They think of branding as something to keep the marketing department happy without understanding the value of a recognizable, consistent brand.
But we know just how valuable a strong brand is and how it contributes to the growth of the business. The challenge is how to help others in the company understand this.
If you can't measure brand engagement and its value to the company, it will be hard to convince others that it's worth investing in your brand. This means it'll be almost impossible to get buy-in from the rest of the company. These metrics will help you demonstrate the long-term value of brand building.
1. Social media engagement
Social media engagement is a good indicator of brand engagement. People who interact with your company on social media know your brand and feel connected to your business.
But social media engagement is quite a broad concept. Monitor different social media metrics to understand whether your audience is growing and how people feel about your brand. For example:
Number of followers: This shows how many people are familiar with your brand, so you can demonstrate increased brand awareness..

Post or advert engagements: Likes or shares of your posts demonstrate a higher level of brand engagement than number of followers. They show how many people are actively engaging with your brand messaging.

Comments on posts: Many social listening tools include sentiment analysis functionality, so you can easily track how people feel about your brand, products, and service. Analyze the comments on your posts to understand how people perceive your brand and how well your service reflects your brand values.
Brand mentions: Social media users will sometimes tag your brand in their posts or complaints. But if they don't, it won't appear in your mentions. Track mentions of your brand or product name that you're not tagged in, so you can monitor customer sentiment there, too.
Social media engagement is a great place to start for measuring customer brand engagement. It's valuable to your business because your brand's social media activity can help build brand awareness and drive revenue growth. According to Sprout Social, "78% of consumers are more willing to buy from a brand and 77% will choose a brand over a competitor" if they've had a positive experience with that brand on social media.
2. Branded keywords
Branded keywords show the number of people searching for things directly related to your company or brand online. If people are searching Google (or other search engines) for your company or products specifically, that indicates a high level of brand awareness.
Tracking the number of branded keywords you rank for and the search volume for each helps you see the level of brand engagement outside of social media. You should track:
Brand keywords: Track the number of brand keywords you rank for and your position in search rankings. You want to maintain the top position for searches that include your brand name and not get outranked by your competitors. If people are searching for your brand directly, they're likely to be current customers or close to becoming customers. So you don't want to miss out on these highly engaged opportunities by ranking poorly for keywords related to your brand.
Product keywords: These demonstrate an even higher level of brand engagement and purchase intent than searches for your brand. Not only do people know your brand, but they also recognize and remember your particular products.
Adverts on branded keywords: These show how your competitors view your brand. Adverts on your brand name or product names demonstrate that competitors view your brand as a threat and that they're actively positioning their products against yours. Tracking the companies' advertising on your brand keywords helps you understand the level of awareness of your brand within your market.
According to Ahrefs, "ranking for branded keywords allows you to attract people who are specifically searching for information about your company." It demonstrates high levels of brand engagement within a wider market. People are familiar enough with your brand and products to search for your company directly rather than searching for product types or higher-level keywords – for example, "Frontify" rather than "brand management software".
3. Customer referrals and recommendations
Tracking customer referrals and recommendations helps you understand how engaged your existing customers are with your brand. High numbers of customer referrals indicate high levels of customer engagement and loyalty to your brand.
If your customers are engaged with your brand, they're likely to have higher than average levels of brand trust. This is essential for driving customer recommendations. Research shows that 90% of consumers are more likely to recommend brands they trust to their friends and family. Monitor customer referrals and recommendations by tracking:
Referral traffic: Which sites are driving visitors to your website? If you get a lot of traffic coming in from customer review sites like G2 or Capterra, that suggests you have some valuable reviews and recommendations from highly engaged customers who are helping to convince potential customers to learn more about your brand.
Referral scheme use: If you have a formal refer-a-friend scheme set up, you can directly track how many customers recommend your products or services to their network.
Where customers found out about your brand: If you don't have a referral scheme set up, ask new customers how they found out about your brand. If they say "word of mouth" or "recommended by a friend," that shows you have a highly engaged customer base.
By tracking customer referrals over time, you can see how customer engagement levels change. It also helps to demonstrate the value of a strong, trustworthy brand by tying your brand-building efforts directly to customer and revenue growth.
4. Repeat customers
Repeat customers indicate high levels of brand engagement: they like your products and remember your brand enough to return and buy from you again. So if you're looking to measure customer brand engagement, the number of repeat customers is a crucial metric to track over time.
Track the percentage of repeat customers to see how this changes over time. If you have a growing proportion of returning customers, that's a strong indicator of brand loyalty and engagement.
Engaged customers are more likely to be repeat or higher-value customers than the people who are less engaged with your brand. According to Accenture, 57% of customers spend more money with the companies and brands they feel loyal to.
5. Brand management platform users
Internal brand engagement is just as important as external brand engagement. Your employees communicate your brand and its values to your customers and the market, so you need to measure internal brand engagement as well as customer engagement. Track the number of people who use your brand management platform, as this is a good indicator of internal brand engagement levels within the company.
If you have more people using your brand management platform, it suggests they're engaged with your brand and actively using your brand materials, assets, and resources. You should track:
Number of brand management platform users: If you use a centralized brand platform like Frontify, you'll have a single home for all of your brand assets, resources like brand guidelines, and templates for people to use when creating their own branded materials. As more employees engage with your brand, you should see the number of people using your brand management platform increase.
Number of teams using your brand management platform: In most companies, you see different levels of brand engagement across each department. While marketing and leadership teams are often highly engaged, sales and support teams are less engaged, so your customers get an inconsistent experience when interacting with your brand. By monitoring the number of teams using your brand management platform, you can understand the growing levels of brand engagement within the business and focus on
engaging the departments that use the platform the least.
For example, we've seen that when companies start using Frontify, they see a steady increase in brand engagement within the business. They measure this in terms of the number of people using their brand management platform. In the first month, on average, our customers have just 12 monthly active users, but after six months, they have 67 active users. This user growth shows how quickly brand engagement can increase within a company if you give employees the tools to connect with and use your brand assets and materials.
6. Brand asset use
Brand asset usage is another way to track internal brand engagement. If employees are using your brand assets in their work, that signifies high levels of brand engagement. They feel empowered to use brand materials and know where to find them.
Measure internal brand engagement by tracking:
Number of brand asset downloads: See how this changes over time to understand how levels of brand engagement are changing within the company. If brand engagement levels are growing, you should see an increase in asset usage over time as more people and teams start using your brand assets in their work.
Which users or teams are downloading assets: This helps you understand how brand engagement levels vary across each department. You may have one "power user" on each team, or you may identify when different departments start or stop engaging with your brand.
For example, Telefónica has over 375,000 brand assets uploaded to its Brand Portal. The portal is used more than 10,000 times per month, and its brand guidelines are viewed 80,000 times a month. This shows a very high level of internal brand engagement. Not only are Telefónica employees accessing and using its brand assets, but they're also consulting the brand guidelines to ensure they're using the assets and messaging correctly to improve brand consistency across the business.
When measuring brand engagement, don't forget your employees
Companies normally focus on their customers when thinking about brand engagement. But your employees have an even bigger impact on your brand as they're the people communicating it to your customers.
So, in addition to measuring customer brand engagement, you should also track internal brand engagement as the two go hand-in-hand. Monitor internal brand engagement levels by tracking the number of people and teams who are using your brand materials, as this indicates how engaged your employees and internal team are with your brand.