Delivering an award-winning rebrand with Frontify
Cybersecurity leaders Thycotic and Centrify merged in 2021, and they needed a way to manage the development and implementation of their new combined brand, Delinea, which they launched in 2022. Frontify's platform was used to bring both entities together under one roof and create a new shared foundation on which the company could grow. Now, they have a single source of truth for the Delinea brand, enabling internal and external users to bring the brand to life.
Delinea uses Frontify since 2021
Brand Guidelines
Digital Asset Management
Digital & Print Templates

A post-merger problem
In 2021, two established cybersecurity leaders, Thycotic and Centrify, merged to form a new company and brand launched in 2022: Delinea. For the rebrand to work, they needed to combine two corporate cultures, preserve the popular elements from each legacy brand, and get internal teams and external stakeholders excited about the change.
They also wanted to minimize disruption to their customer base when shutting down the two long-established brands, which took immense care and precision.
At the same time, the teams had to create and roll out their new visual identity, bring campaigns to market, and start rebuilding an entirely new brand.
"
We were creating a new brand while running two established companies.
"
Lisa Garcia
Senior Director of Brand & Creative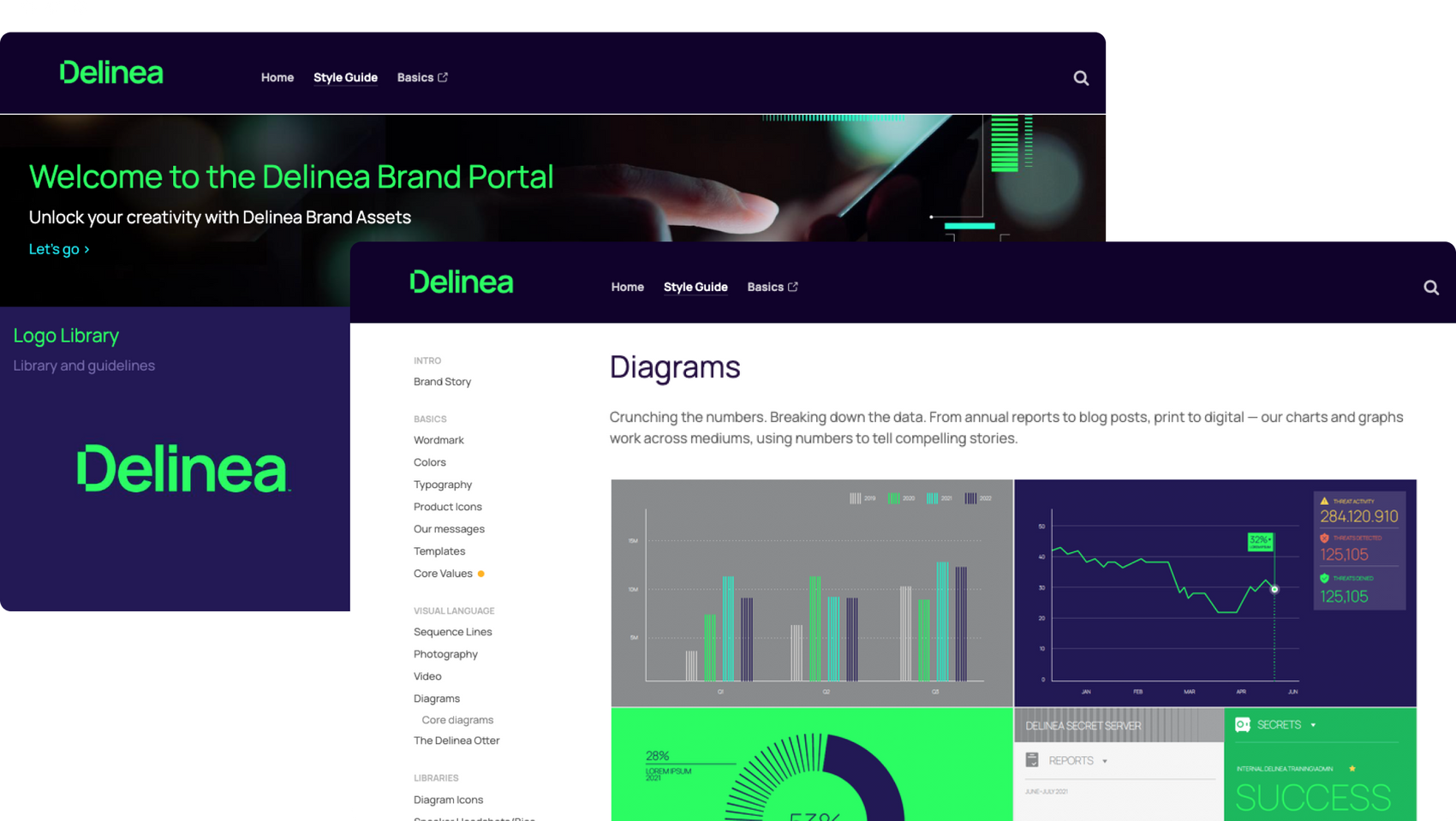 A unifying solution
Delinea used the Frontify platform to manage the two legacy brands while developing its new brand identity. All three brands were initially housed on the platform, making it easier to transition to a single, cohesive brand.
"
We wanted a single digital destination for our brand, style guide, and key assets that would support both internal and external stakeholders, globally.
"
Nate Otiker
SVP of Marketing
Delinea worked with global branding agency Interbrand on the design of their visual language, on which Delinea's creative teams could build their collateral templates, iconography, and visual approaches across hundreds of use cases.
Commercial teams, including vendors, partners, and analysts, could now all access Delinea brand components through Frontify's DAM. Thanks to Frontify's flexible user permissions, each category of user has access to brand elements tailored specifically for them. This has made it easy to roll out new campaigns and get employees engaged with the brand from the outset.
The Frontify platform gave Delinea's teams a single source of truth, becoming the primary destination for everything related to the new brand.
An award-winning result
Frontify's brand portal enabled Delinea to manage a smooth, unified rebrand. The cohesive approach and increased internal engagement delivered a real boost in brand awareness: just six months after the launch, awareness of the Delinea brand surpassed both legacy brands — and the team's expectations. An initial survey found that Delinea's aided awareness was 39.5%, while the industry standard for new brand introduction is typically around 20%.
"
We're extremely proud that the new brand was embraced so quickly and efficiently by our market and customers, as demonstrated by our first-wave brand survey, industry award-winning recognition, and utilization of our brand portal on Frontify.
"
Nate Otiker
SVP of Marketing
Frontify also had a huge impact on Delinea's internal teams. The platform enables content creators to work independently and more efficiently because they know where to find brand assets like logos and messaging. It also frees up their brand team from creating basic, repeatable graphics, week after week.
Frontify helped the Delinea brand achieve early success and recognition, navigating the difficult path of a full rebrand and relaunch:
The Delinea rebrand was so successful it won four 2022 North American Transform Awards.
Brand awareness surpassed both legacy brands within the first six months of activation.
Delinea content creators save 5 hours a week using the Frontify DAM to access the right brand elements without needing support from the brand team.
Frontify Digital and Print Templates save the brand team 4-5 hours a week on repeatable creative tasks.