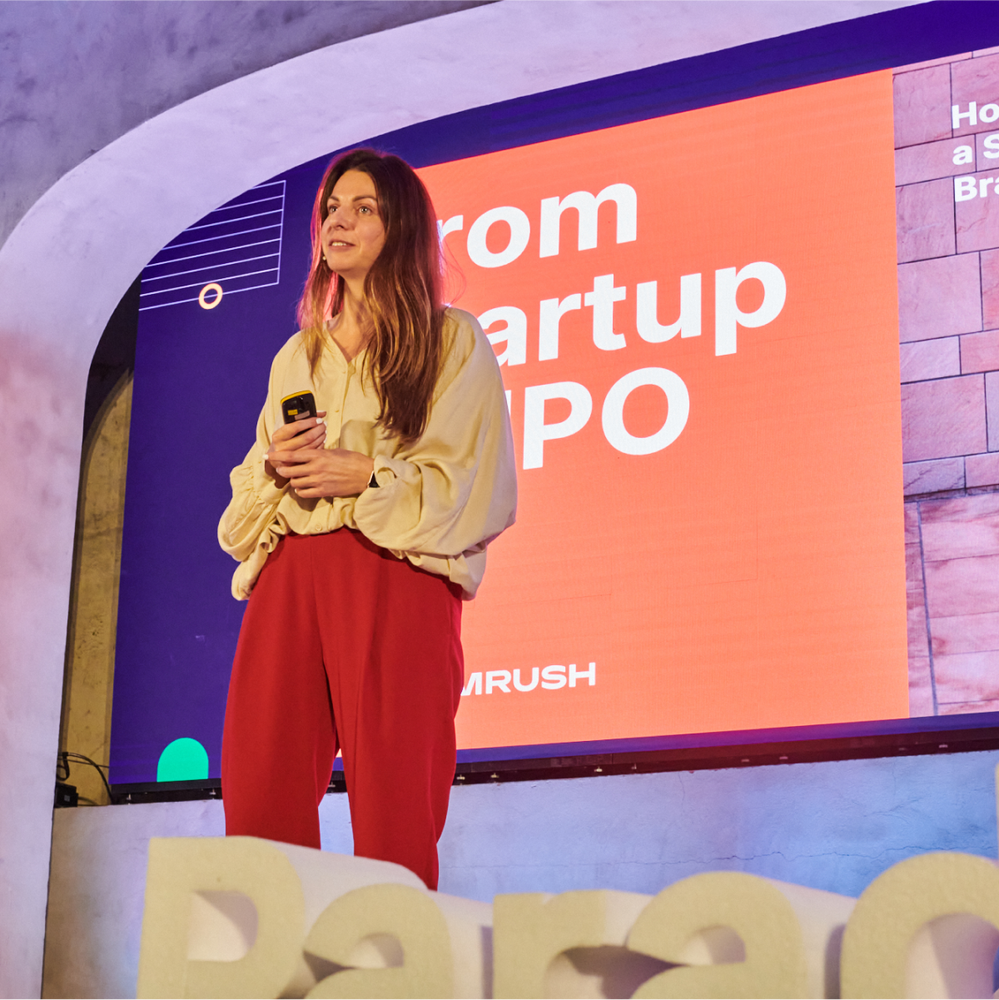 From startup to IPO: 7 steps to build a successful brand
Companies must overcome many challenges to grow their brand from an early-stage startup to a public company post-IPO. Semrush has done just that. The company launched in 2008 and went public in 2021, going from startup to IPO in 13 years. Today, they have 13 offices worldwide, and their platform has grown to include 50 tools to help companies manage their online visibility.
At Paradigms 2022, Olga Andrienko, VP of Brand Marketing at Semrush, shared seven key steps to help brands navigate their growth trajectory from startup to IPO.
1. Build a community around your brand
An engaged community of supportive customers and fans will help build awareness, recognition, and admiration for your brand. The people in your community will support and champion your brand, cheering on your growth and success. They'll also help to drive your growth through word-of-mouth by recommending your products and services to others.
A strong community also helps to protect your brand's reputation — especially online. "If somebody is disproportionately upset with us, what our community does is they jump right in, and they protect us," explained Olga. To build a community around your brand, Olga recommends four core steps:
Prioritize reputation management, and get your support team involved in social listening
Create guidelines to help respond to common questions and criticism fast
Respond to every comment and tagged mention online, so people feel seen and heard by the brand
Use humor to humanize your brand and connect with your audience about something that's not just your product
"
If someone really tagged you, if they had an opinion about you, please reply to them," she says. "Even if it's negative, it's an opportunity to interact. Anybody who's asking you to fix things actually believes and trusts that you could fix things.
"
2. Build strong relationships with influencers
Influencer marketing is a potent tool that brands should use in their marketing mix. There are two ways:
Invest big money to get the maximum coverage
Spend time and effort building long-standing relationships with the relevant influencers
Both ways are legitimate and bring results. Semrush took the second path and invested years of work in getting to know most digital marketing and SEO experts worldwide. Olga explained, "In marketing, the majority of people who are speaking [at conferences and events] are agency owners who aren't looking for any paid activities with brands. But a lot of platforms are reaching out to them to ensure that they get mentioned [in their talks]."
The key here is to find benefits for both parties. Experts have a strong ego, and they want to influence the market. What Semrush did is offer top-level professionals the opportunity to get involved in developing a tool that can help millions of marketers do their job. Of course, after gaining a certain user base, Semrush also started to offer a powerful platform for the experts' personal growth.
To successfully implement this long-term strategy, you need to pick experts wisely.
"
We were working with up-and-coming influencers to ensure that they had time for us. The people we think of as the 'marketing gods' — they didn't have time for us; everybody wanted their attention," said Olga. "So by working with somebody who is just building their reputation… we were really trying to build our brand together with theirs.
"
The brand grew together with well-known names in the industry, and now you can hear speakers recommending Semrush from the top digital marketing stages.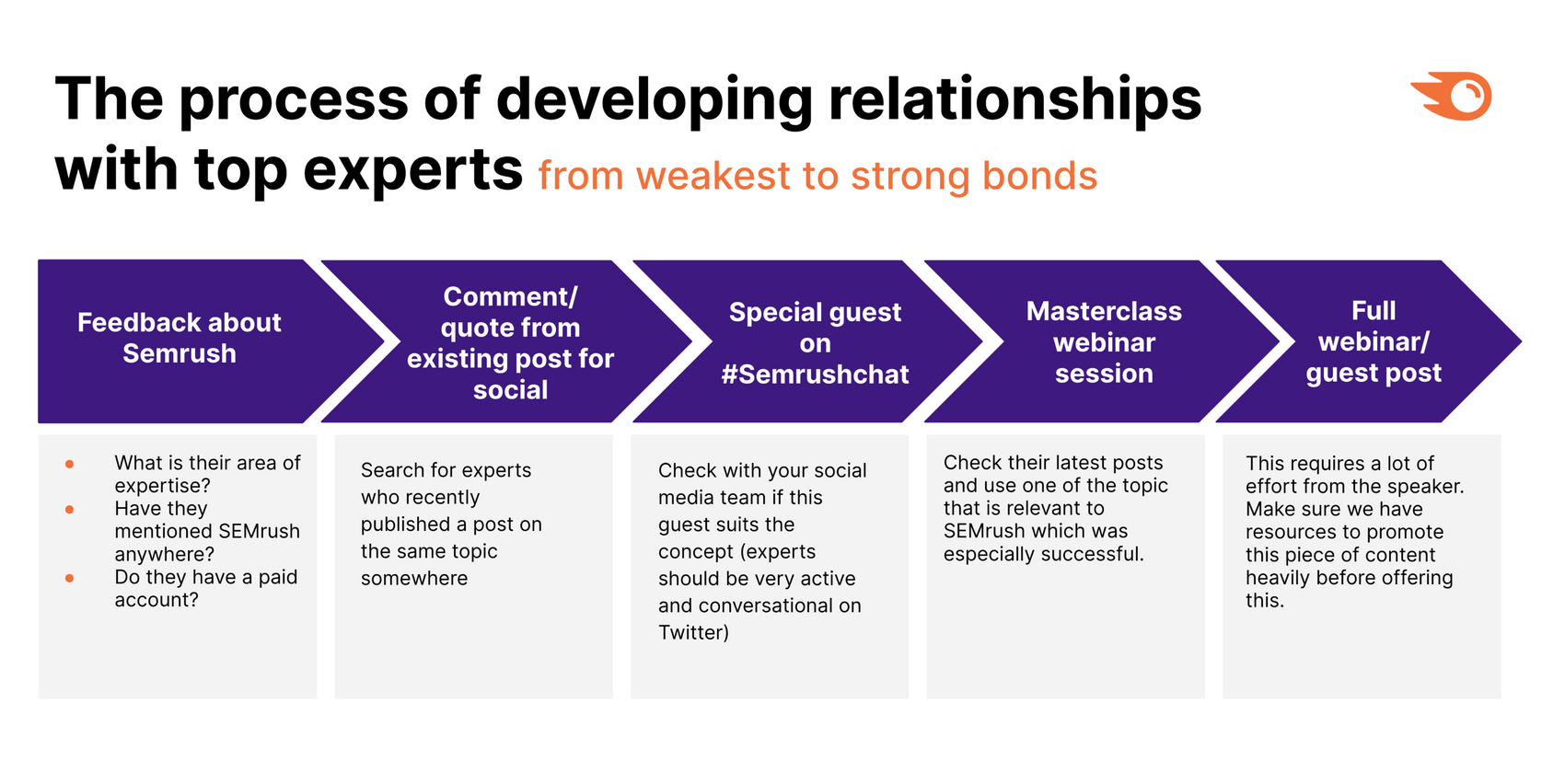 3. Establish your brand in new regions and markets
As startups mature into scale-up companies, entering new markets can unlock new avenues for growth. Establishing your brand in new markets often requires adaptation, translation, and localization of your core brand. Localized branding and marketing will help you build connections with your new audience and potential customers.
As Semrush grew, it expanded into more than 20 markets globally. "There were teams dedicated to certain markets, and then we hired a lot of international teams," said Olga.
Olga shared six tactics the Semrush team used to build recognition and brand awareness in new markets:
Test as many content formats and campaign types as possible in each region
Identify what works best for that region and scale it up
Give regional marketing teams a significant annual budget
Adapt and translate all core product updates, news, case studies, and software
Get as many local experts as possible involved into your marketing activities
Distribute promo codes to encourage word-of-mouth recommendations in the region
Olga believes that a high quantity of marketing activity helps establish a brand in a new region. She said, "We were tracking first payments and registrations, but we were also reporting on the number of activities we had in the region… We were given freedom and ownership of each market."
4. Grow media coverage to boost brand recognition
Media coverage helps increase brand recognition and positions you as a reputable company and expert in your field.
Most businesses focus on company stories, and it's challenging to make media outlets constantly talk about your brand. It's much easier to make your brand a part of someone's story — especially if you're sitting on a lot of data about search and social media. That's the path Semrush decided to take.
"
We realized we could also get this data on organic traffic and keywords [in Semrush]. So we built an internal PR team to pull this data and then signed up with PR agencies in our core markets.
"
They used data from Semrush relating to current events or trends and shared that data with the media to use as relevant supporting stats for their news articles. As a result, their media mentions significantly increased, which helped to drive brand awareness and recognition in their target markets.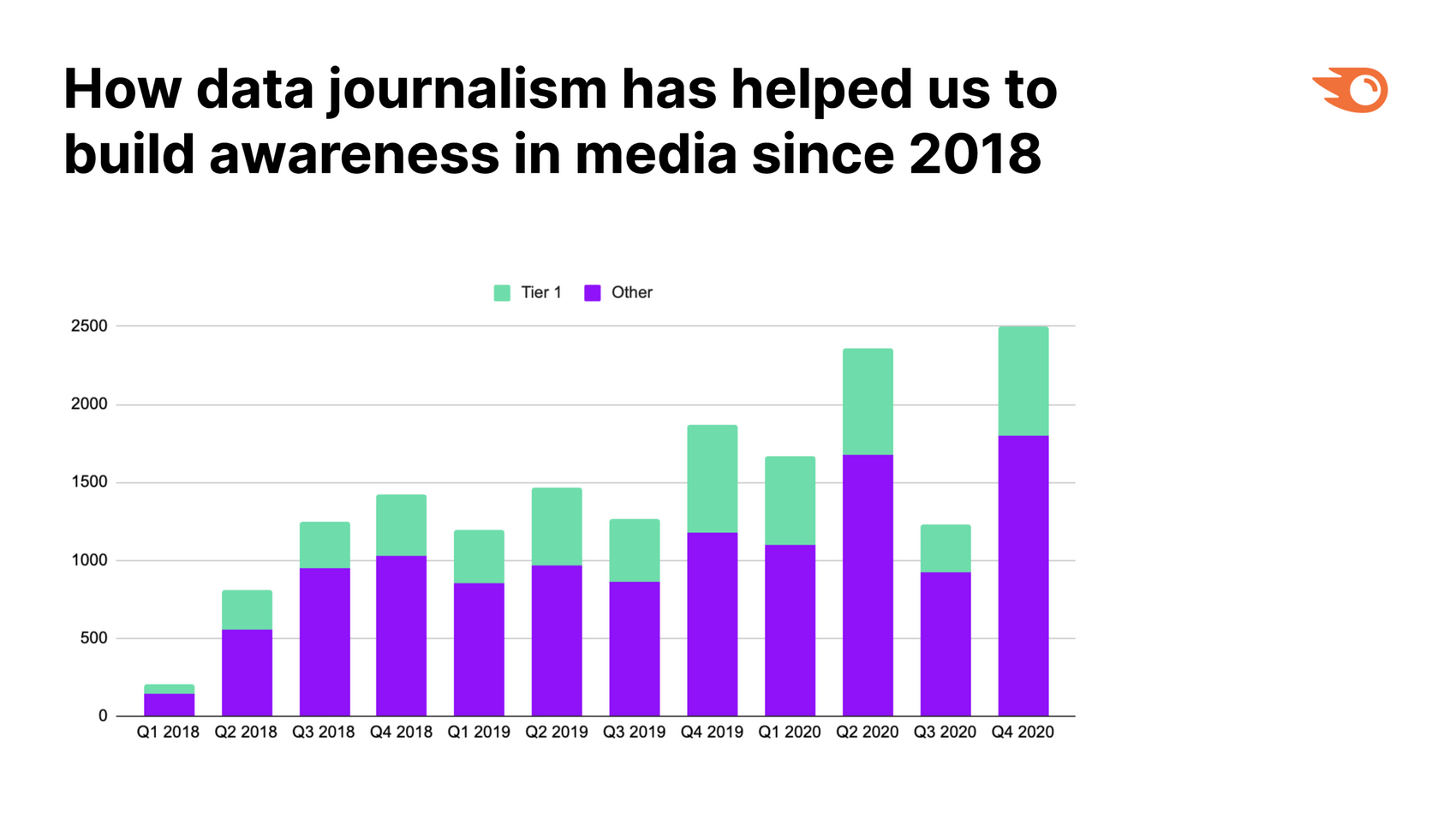 5. Strengthen brand reputation with customer reviews
Brand awareness and recognition are only helpful if your brand has a strong, positive reputation. If you have a negative reputation, that awareness will harm your growth rather than help it.
But brand reputation is important for startups too. It determines whether someone buys from you or looks to one of your competitors instead.
To strengthen its reputation, Semrush focused on increasing the number of reviews its product had on popular sites, including G2, Trustradius, and Capterra. "We were losing to our competitors on a few review platforms like TrustPilot," admitted Olga. "Once we spotted this, we put a dedicated person [to focus on generating reviews from our customers]… and really worked on building positive reviews."
One tactic that has helped Semrush increase the number of reviews they get from customers is to run quarterly incentives. They partner with charities and make small donations when someone leaves a review within a dedicated period.
This encourages customers to leave reviews and is a practical way for Semrush to demonstrate its brand values. The charities they partner with and the causes they support all align with their brand values.
6. Establish a consistent brand identity
A consistent brand identity helps to cement brand recognition and trust. If your company is preparing to go public, brand clarity is essential. So the bigger your company gets, the more important it is to present a consistent identity to the market.
As a startup, Semrush had a very loosely-defined brand identity. Olga explained, "We were very inconsistent, and when we started getting serious about going public, we realized that's where you need a consistent brand image."
For example, there were many variations on how they talked about the brand, what it looked like, and even how the company name was pronounced. The company initially adapted the pronunciation of its brand name for different regions, but as it looked to go public, that had to change. "It's not great when you don't really define how you name your brand," she said.
To establish a consistent brand identity, Semrush carried out a rebrand. As part of this, they defined their brand's visual style and brand voice and then documented those elements in their brand guidelines.
They also conducted detailed research to help them develop a new visual identity that retained core parts of their original brand and enabled them to stand out in the market. This involved analyzing their competitors' use of color so they could find a color palette that set them apart without losing too much of their original identity.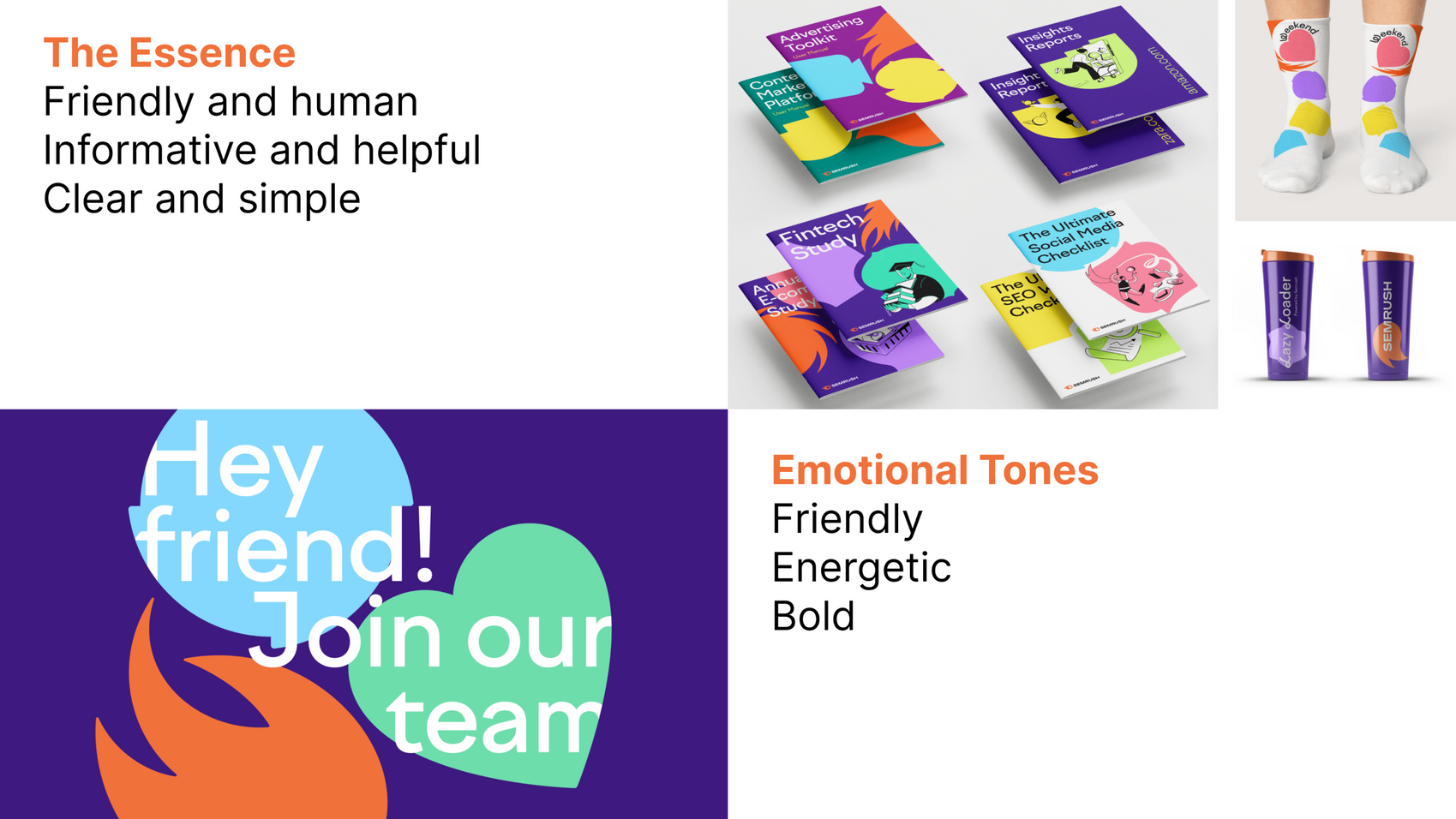 7. Launch unified, global brand campaigns
As a public company, you need to think bigger than individual markets and regions for your campaigns. It requires a different approach to brand-building and branded campaigns than a startup. Olga explained, "It was very difficult to transform my mindset to being part of a public company and leading a public brand… You need to run bigger campaigns."
In 2021, Semrush achieved over 9 billion impressions from more than 13,000 campaigns. Here's how it achieved these numbers:
Investing in new channels, such as TikTok, Reddit, Quora, and Spotify
Testing new geographies, including Canada, the Nordic countries, Africa, and Asia
Launching 100+ new experiments to increase registration rate
Part of this transition has involved rethinking the focus of their campaigns. Olga said, "What we've seen previously is that a lot of our pages scream 'me, me, me!' and talk a lot about our product. We shifted to value-based campaigns." Now, their campaigns put Semrush customers at the center — sharing customer success stories and examples much more frequently. This helps focus their campaigns and messaging on their values and audience rather than the product or company.
"
We aspire to be a lifestyle brand at some point in the future so there needs to be emotional values… something that's not connected to the product at all.
"
Use your strengths to scale your brand alongside the business
A strong brand can help drive real business growth, so remember to invest in your brand as the company grows. Olga ended her Paradigms talk by sharing four key takeaways for building a successful brand:
Understand where your audience is, and give all your attention to your brand mentions.
If you grow fast, you'll make mistakes. Focus on quantity over quality first and embrace those mistakes. They'll help you learn what works best, so you can build your strategy based on those learnings.
Inconsistency when you're growing is OK, but once you get bigger, you need to define your brand identity to improve consistency.
Your sense of brand ownership comes from having the freedom to make decisions, test, and explore what works. Don't restrict yourself or your teams in the early stages.
Whether you're an early-stage startup or heading towards IPO, give your team the resources, tools, and information, so they feel a sense of ownership over your brand. Help them communicate your brand values and message to their audience — this will help your employees feel part of your brand and engaged with your startup's journey.