DAM vs. cloud storage: Which is right for you?
Digital asset management (DAM) is the process of storing and organizing your brand's digital files, such as logos, sales decks, and product photos. As companies grow, they look to optimize how they manage and maintain their files. Two of the most popular asset management choices are DAM systems and cloud storage solutions.
Understanding digital asset management
Digital asset management is how you store and manage your company's digital assets. These files could include logos, color palettes, sales decks, and documents for marketing campaigns.
Many organizations use a dedicated DAM platform to simplify their digital asset management process and organize, share, and collaborate on their files within a single centralized location. It can be used by anyone in the company — from C-suite to sales teams.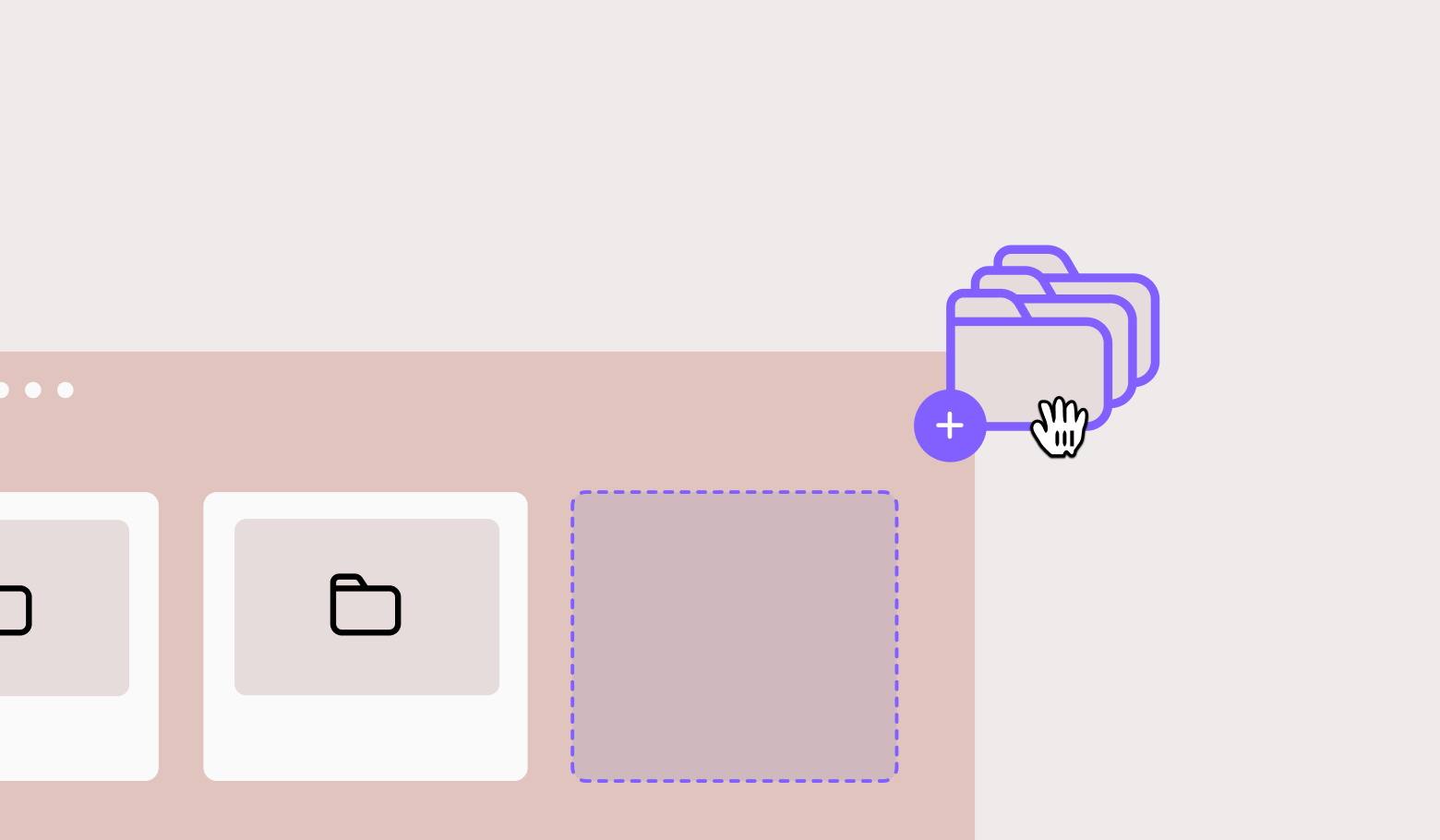 So, what are the differences between DAM systems and cloud storage such as OneDrive, Google Drive, and Dropbox?
At first glance, cloud storage and digital asset management software seem similar, as companies use both to store and organize their files and content.
Cloud storage is where you can save digital files online — the data is stored remotely rather than on your computers or servers. Cloud storage solutions can be for personal or business use. Many companies have shared online drives where they can keep relevant assets for multiple teams or individuals.
A DAM also lets users save digital files on the internet, making it easy for other people to access them. But DAMs are solely for business use. They offer much more robust and customizable options for asset organization, sharing, and access, making them better suited to the complex needs of growing businesses.
Let's take a closer look at some of the key features of each: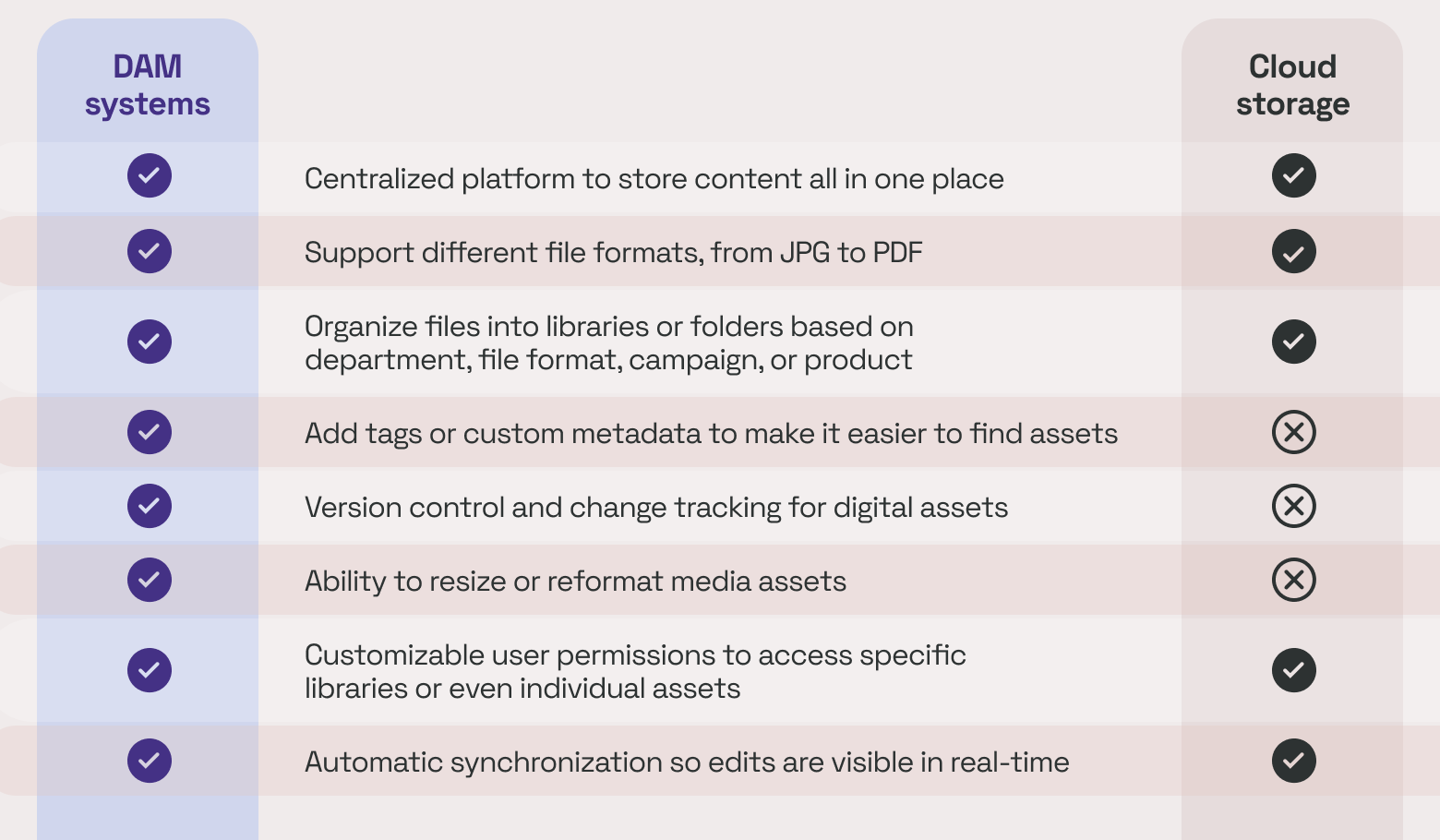 DAM vs. cloud storage: Pros and cons
As we've seen, DAM and cloud storage are different tools with different use cases. Many companies start with cloud storage to organize their brand assets, then progress to a DAM as their assets grow in volume and the organization grows in complexity.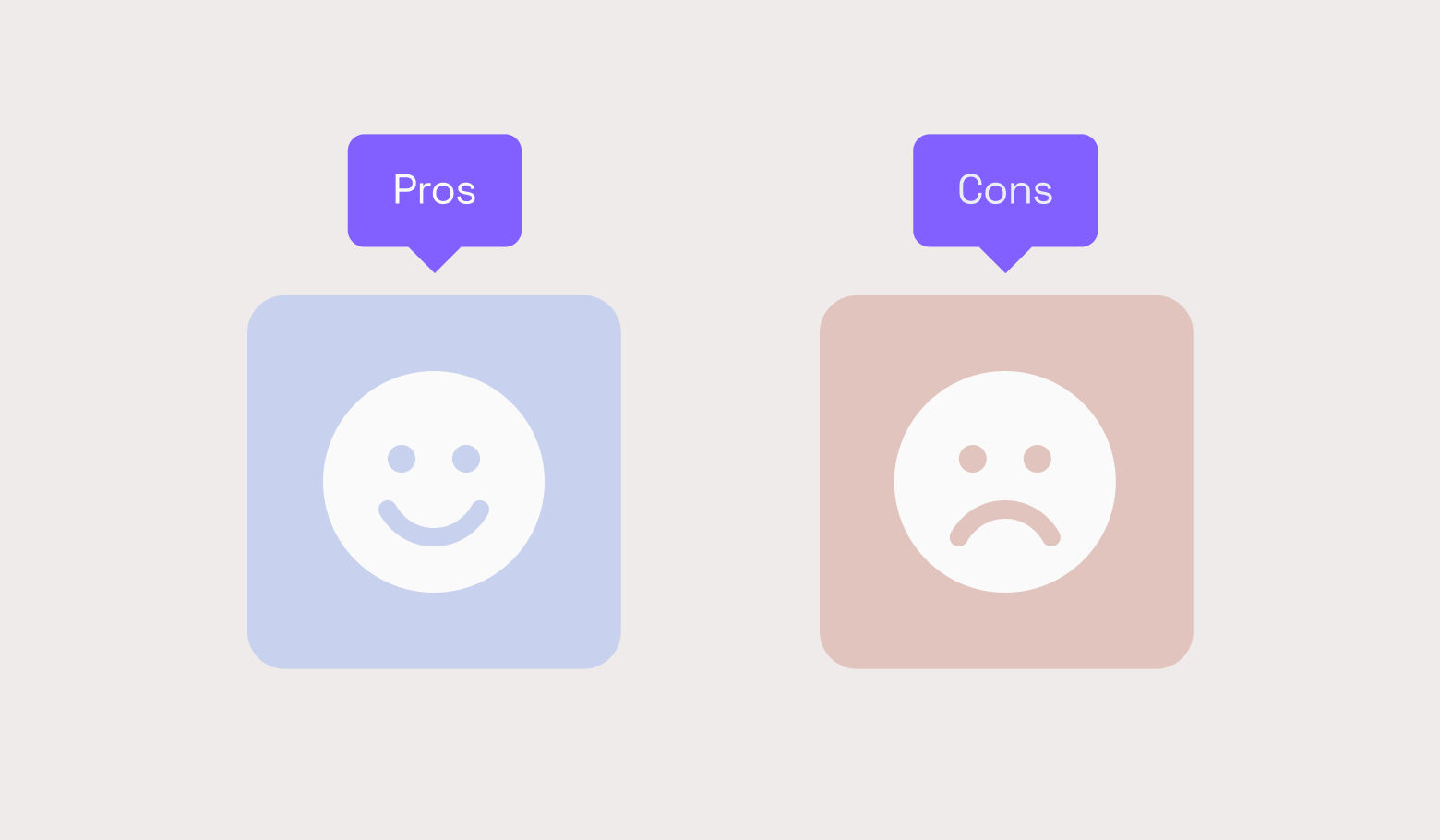 Using a DAM: Pros and cons
A DAM is best for companies that need a better way to produce, store, organize, and collaborate on large amounts of digital assets. Here's an overview of the pros and cons of using a DAM.
Pros of using a DAM
Structured organization: A DAM makes it easy to sort digital assets into libraries — for example, by department, file format, campaign, or product.
Enhanced collaboration tools: Automated feedback, review processes for new assets, or notifications to sign off on finalized designs make brand collaboration a breeze.
Advanced metadata and search capabilities: When you upload an asset, you can add detailed metadata and tags to boost the search functionality within your DAM. This flexible and customizable information simplifies organizing and finding files.
Cons of using a DAM
Higher costs: A DAM provides the backbone for comprehensive asset management. The increased functionality typically comes at a higher price than cloud storage solutions.
Steep learning curve for some platforms: A DAM offers more functionality and complexity than a cloud storage solution. So, some platforms have a steep learning curve and may be less intuitive for first-time users.
Using cloud storage: Pros and cons
Cloud storage is great for small businesses or startups that don't have many assets and files to manage internally. Here's an overview of some advantages and drawbacks of using cloud storage solutions.
Pros of using cloud storage solutions
Ease of use: Cloud storage solutions are straightforward. They offer only a few core features — storing and accessing files — so it's easy to get to grips with them quickly.
Integration with common tools: Many cloud storage solutions offer native integrations with popular workplace tools, so you can save files directly from those applications to your cloud storage, making it easy to adopt them into your workflow.
Flexibility in storage and sharing: Cloud storage solutions can store many different file types, making them very flexible for smaller companies. You can also set up different sharing options — for example, making certain folders available publicly and securing others for internal access only.
Cons of using cloud storage solutions
Limited advanced organizational tools: Cloud storage has far less functionality than a DAM — it's for asset storage rather than sophisticated tasks, such as organizing assets and managing their end-to-end lifecycle.
No collaboration functionality: Setting up approvals and asset feedback processes is generally impossible in cloud storage solutions. Instead, you need to take those conversations and collaborations outside the system, make changes, and then bring updated files back into the cloud.
Confidently choose the right solution for your needs
When choosing between a DAM and cloud storage solution, there are a few key factors to consider:
Volume of brand assets
Number of internal and external stakeholders who need access to files
Importance of robust brand governance to your organization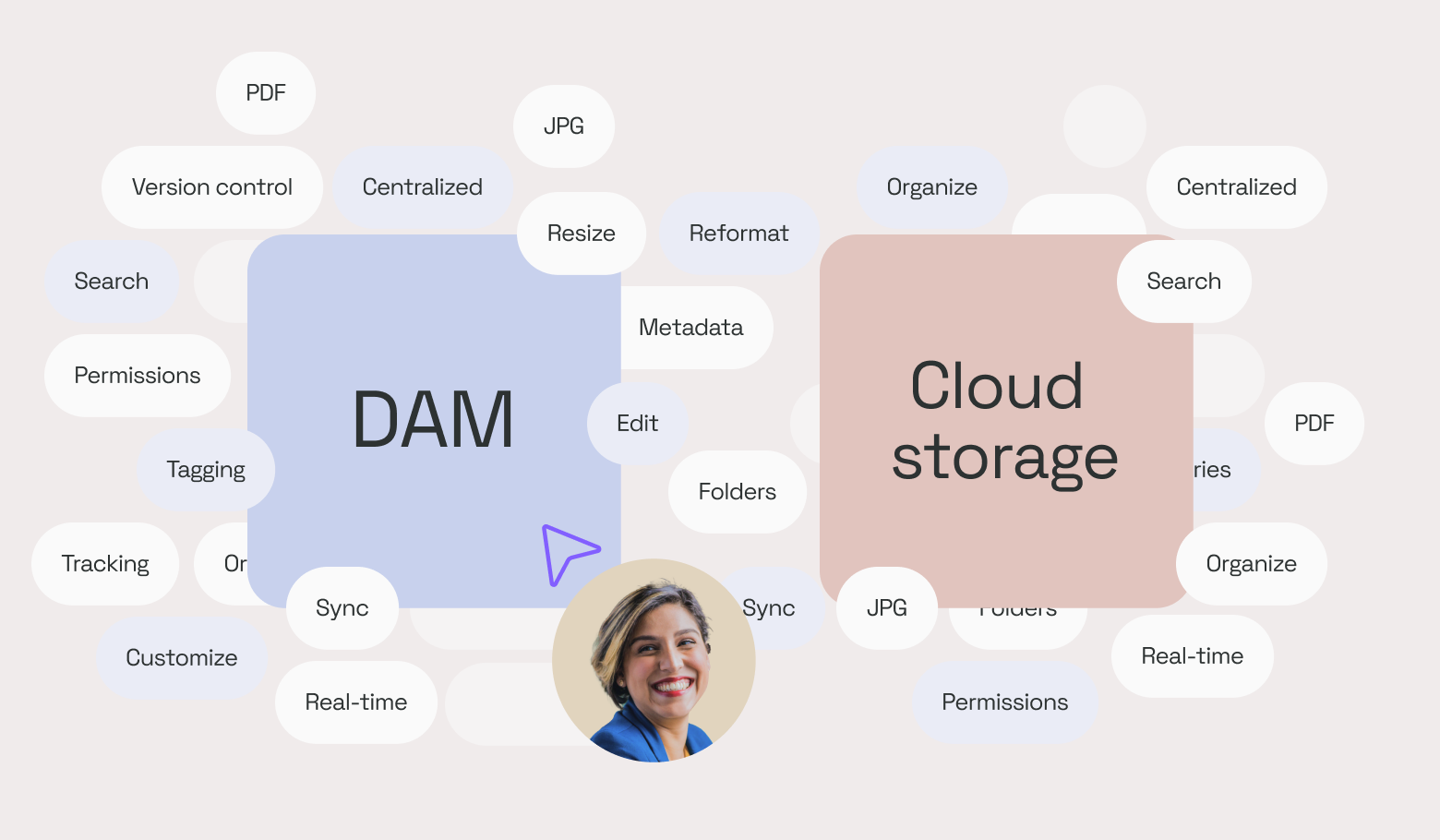 Put simply, as you have more people accessing more files, your asset management needs become more complex. Over time, cloud storage solutions become less suited to your organization's changing needs, and a DAM becomes the best option.
When you're comparing different solutions or trying to pick between a DAM and cloud storage, focus on the big goals you're working toward. Consider the wider needs of the organization to choose the right system based on what you need now — and in the future.