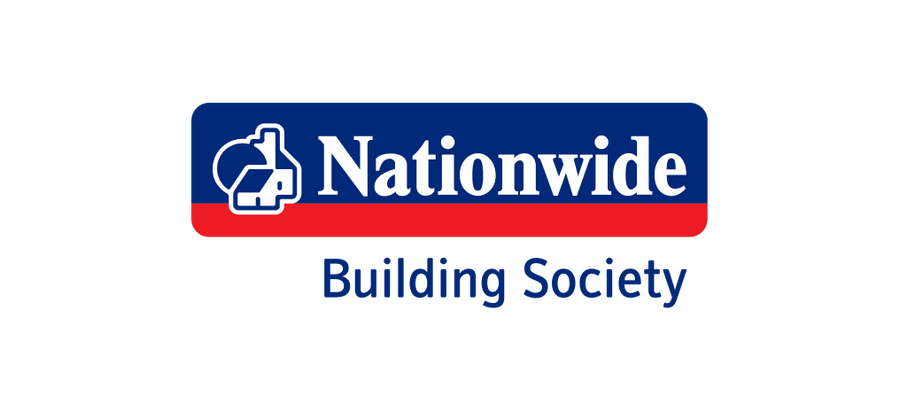 Building a Strong Brand For its Members
With over 15 million members, Nationwide Building Society is the world's largest building society. Its brand is at the very core of the company and represents a sense of community so central to its members. With Frontify, Nationwide has built a Brand Hub in which every element of the nation's most trusted financial brand can live and evolve and grow.
Nationwide Building Society uses Frontify since 2019
Brand Guidelines
Digital Asset Management
Creative Collaboration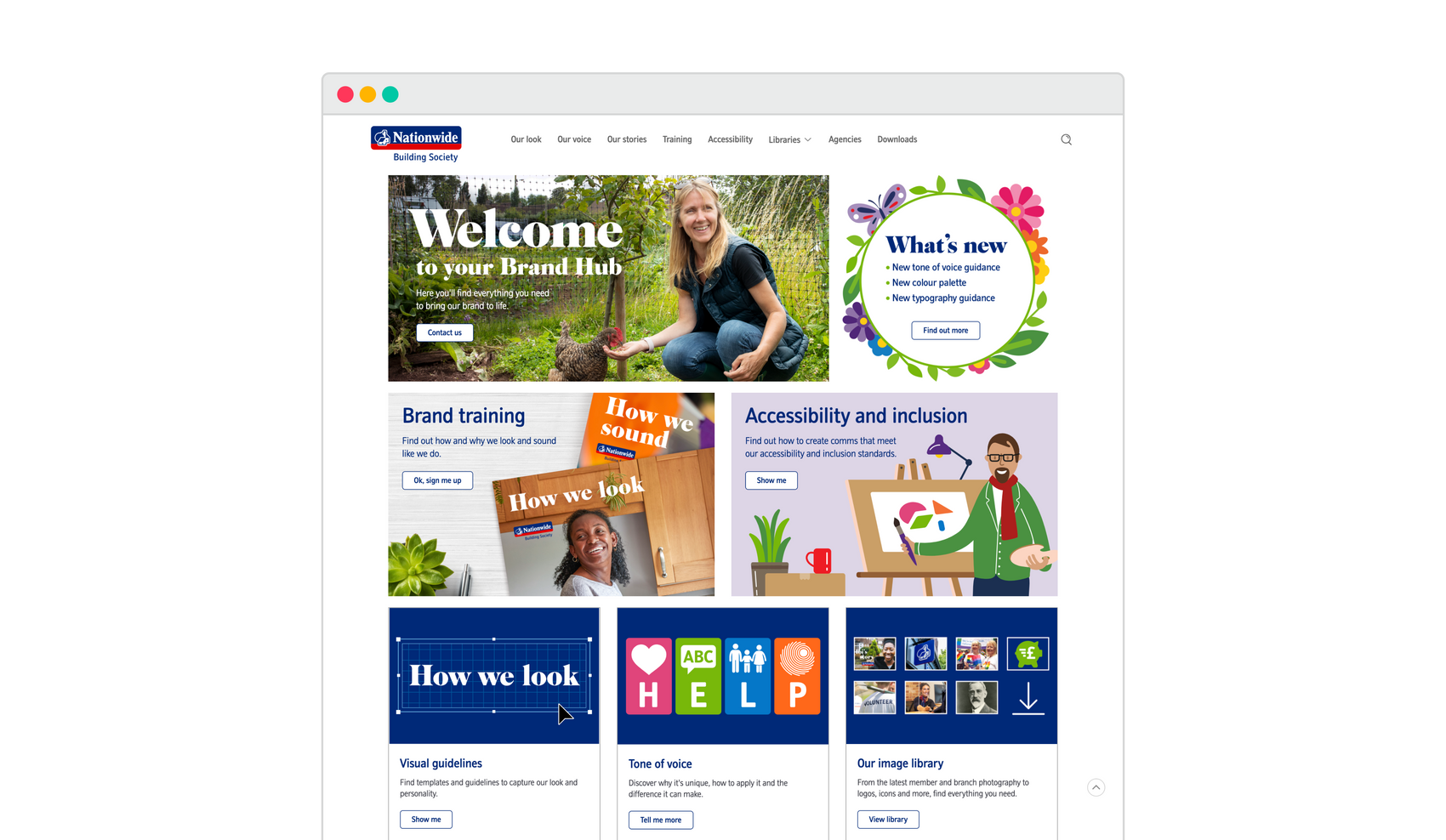 Working as a mutual, Nationwide is owned by its members and runs for their benefit. The large majority of its employees are also members, along with their families and friends. Together, they represent the collective of voices behind the brand with a shared aim to build society, nationwide. This is a fundamental differentiator for Nationwide Building Society among other financial institutions – leading with a community-first philosophy that fosters a strong bond with and deep trust among its members across all of the brand's touchpoints.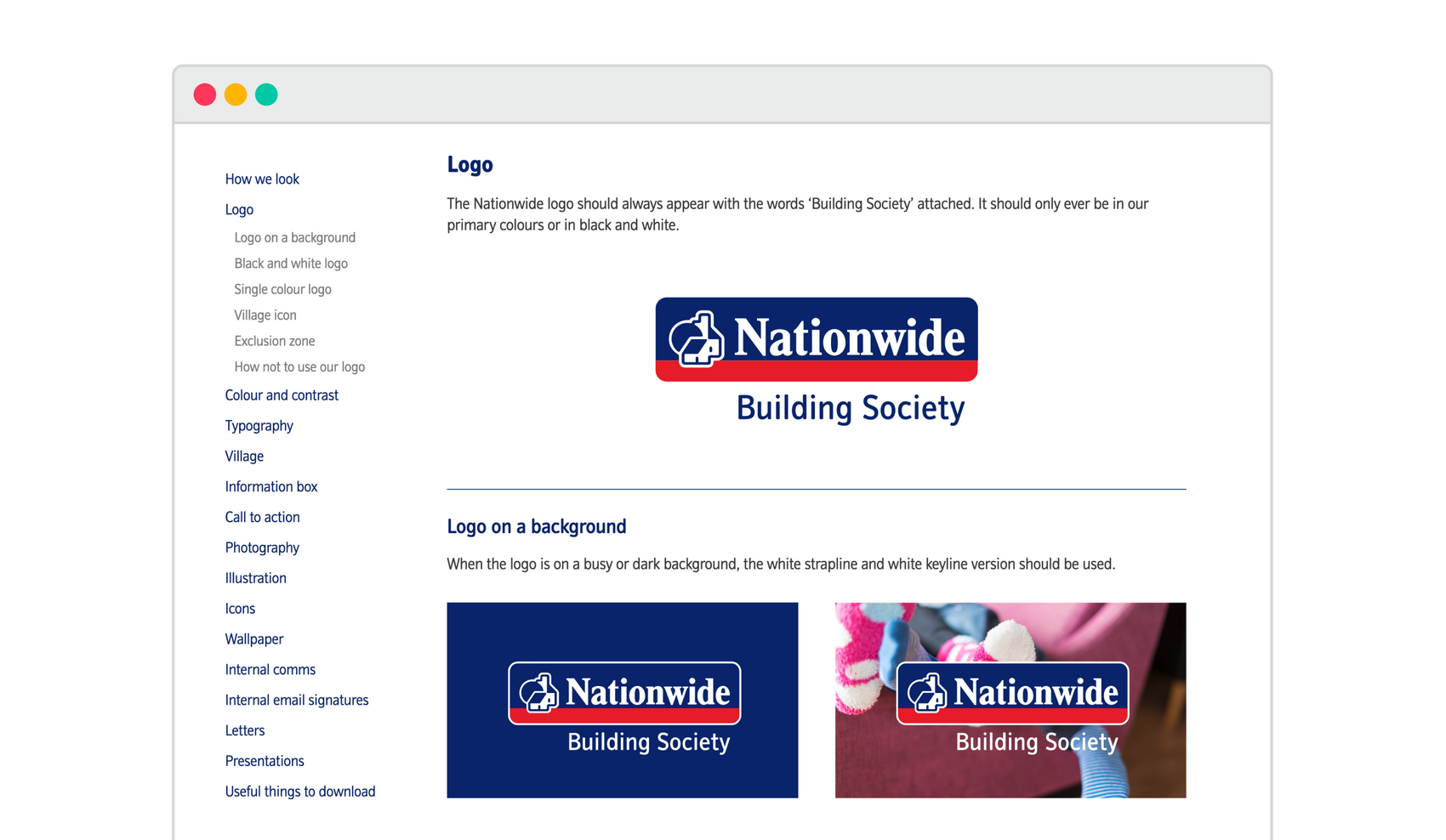 Nationwide began working with Frontify in the Summer of 2019 and from the get-go, this colla- boration has been one of success, and steady growth. Nationwide Building Society adopted Frontify as its "Brand Hub" – the place where all assets and brand guidelines are shared seamlessly with all employees and creative partners. This has enabled Nationwide Building Society to ensure more consistency and guidance around the brand via a centralized digital space.
Before implementing Frontify, brand guidance was available via Nationwide's intranet and images were managed on another tool altogether. The need for a solution to bring everything together under one roof, reflecting Nationwide Building Society's look and feel, was a key reason for adopting the platform. Now, its brand team can manage one easy-to-use central hub, given everyone hassle-free access to full brand information and content.
The Brand Hub is a fantastic resource for us, our colleagues and our creative suppliers. It allows us to provide Brand guidelines, assets, imagery, training and so much more all in one place. It's easy for colleagues and suppliers to use and it's easy for us to manage, making it an integral part of how we ensure Brand consistency.
At Nationwide Building Society, the Brand Hub is also vital for educational purposes and helps the brand team inform each user about brand compliance, including content about the brand's value and what it stands for. Regular brand training is also provided on the Brand Hub through a range of videos explaining key brand principles on how Nationwide looks and sounds in more detail. With so many unique users and user groups, each with varying needs and access requirements, it's important to manage these nuances with care. Complex asset and usage rights are simple with Frontify, where the brand team sets permissions, approvals, and other governance features to ensure every user has direct access to exactly what they need, when they need it.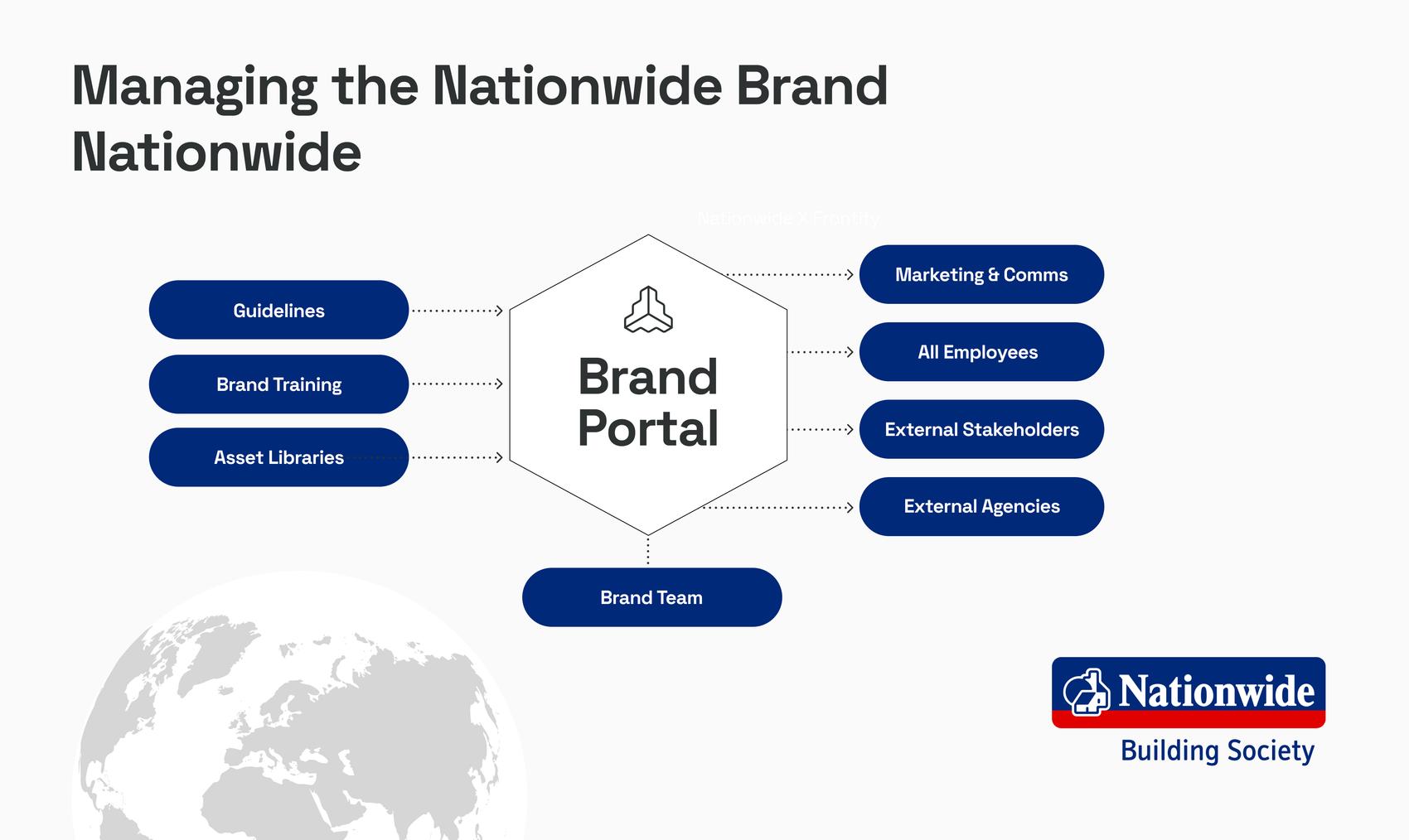 Frontify's intuitive solution has allowed the Nationwide Building Society brand team to build up a dynamic space that's always up-to-date, built upon sustainable foundations that are designed to let the brand grow and evolve. Since its launch, the Brand Hub has grown in both number of users and popularity. And as the brand team starts to understand more and more about its Hub's performance and how its visitors are using it, the brand team can continue to optimize and adapt for the highest brand engagement.
A key player in the ongoing story of Nationwide's brand journey, the Brand Hub has seen steady growth in users since its introduction, and signals that traffic and interactions will only continue to rise in tandem. It's a bridge-builder, information center, and source of empowerment for a wide range of employees to shape and live out the brand – with everything they need, anytime, wherever they are. And for the Brand team, a Hub synonymous with clearer guidance, more engagement and stronger consistency around its much-loved brand.