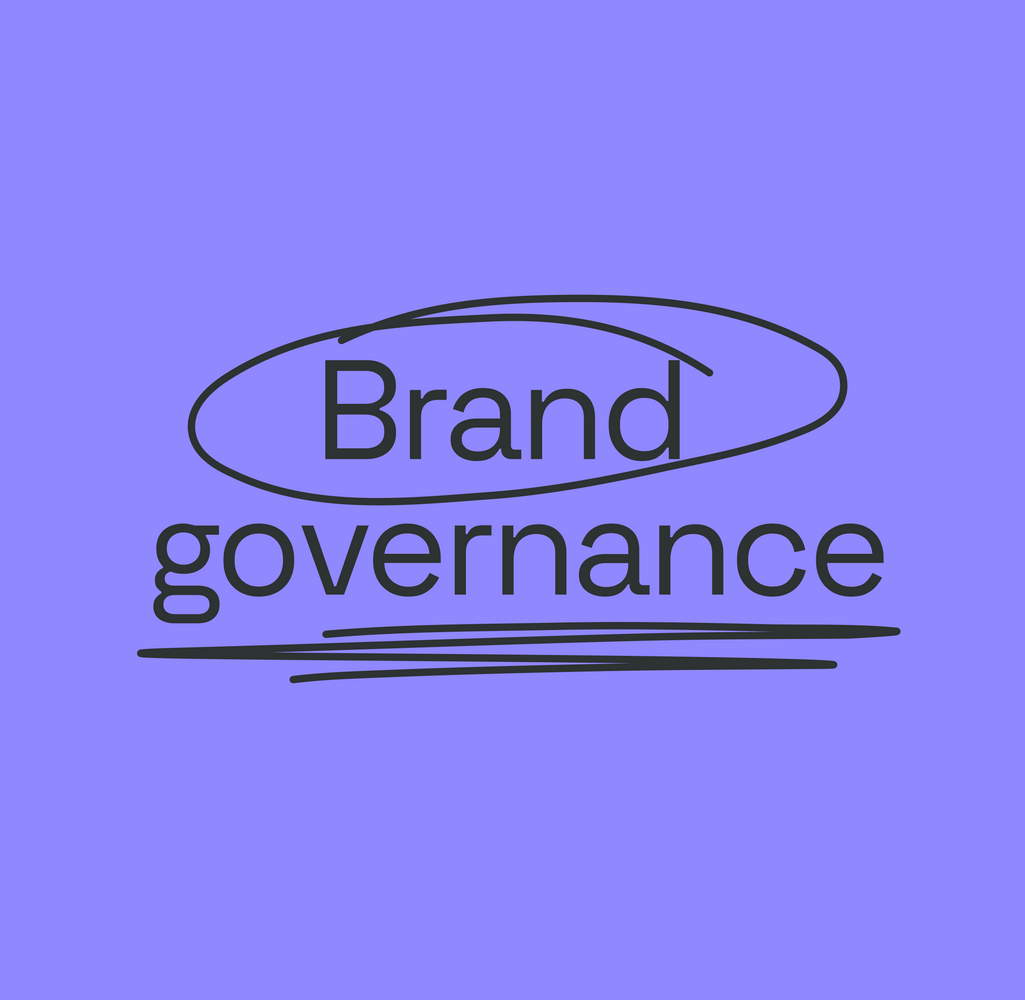 What is brand governance and why is it important?
Effective brand governance helps companies overcome the common challenges that make it difficult to increase brand recognition.
As your company grows, it becomes more challenging to manage your brand internally and externally. You have more employees using brand assets and creating branded materials, and you may also have multiple sub-brands to manage a presence in many regional markets.
The more complex your company gets, the more important it is to present a consistent brand identity so you can build and maintain brand recognition with your customers. Effective brand governance helps businesses of all sizes overcome the common challenges that make it difficult to increase brand recognition, like creative inefficiency and inconsistency.
What is brand governance?
Brand governance refers to all of the work done by a company to control the use and presentation of its brand internally (within the business) and externally (in public spaces, both online and offline). It covers how the brand looks and sounds, focusing both on branded visuals and company messaging.
Effective brand governance helps companies present a consistent visual identity to the market. This is more challenging in fully remote companies because it's harder to be confident that everyone has access to the correct brand assets and is aligned with your core messaging. With remote work more common since the pandemic, companies are still finding the best way to manage the flow of information, resources, and feedback across remote teams.
The same is true for global brands with a presence in multiple regions. They may use the same branding and message globally or make variations and adaptations to localize the brand for each market. For companies with localized brands, a brand governance strategy helps to ensure all stakeholders understand how to adapt the global brand for their market.
Without effective brand governance, it's hard to deliver a consistent customer experience. A survey of 250 senior professionals from medium and large-sized companies found that 59% of respondents felt their brand story was getting diluted before it reached the buyer. Even worse, 52% said brand dilution costs their companies more than $6MM in lost revenue each year, which shows just how important brand governance is to a business.
What are the benefits of effective brand governance?
Effective brand governance empowers everyone working on your brand — both employees and partners such as agencies or freelancers. It gives them the tools, processes, and resources to present the brand correctly and increase brand recognition.
Increased consistency strengthens the brand's reputation
Effective brand governance gives your employees the tools and resources to ensure brand consistency across all touchpoints, from marketing messaging to product packaging. It helps your brand develop a strong, recognizable identity because your whole team is consistent in their use of visuals, messages, and how they communicate and express your brand values so that they can stay on-brand.
Communicating consistent messages and brand values over time means that customers know what to expect when they buy from you or interact with your brand in other ways. For example:
Watching a brand advert online
Following your company's posts on social media
Contacting your customer support team
If you can provide a consistent message and customer experience every time someone interacts with your company, you start to build trust. And when customers trust you, they become advocates for your brand. Morning Consult found that "90% of consumers are more likely to recommend a brand they trust to friends and family" compared to other brands, increasing brand awareness and helping to build a loyal customer base within their network.
Additionally, the same study found that 82% of consumers are "more willing to forgive a brand trust if something goes wrong or they make a mistake." If you've built that foundation of trust by providing a consistently positive experience for your customers, mistakes do less damage to your brand reputation as customers recognize it as a one-off.
Brand governance simplifies localization for regional markets
Brand governance helps you agree and align on your localization and management strategy. A clearly-defined localization strategy is important because 65% of consumers "prefer content in their language" and 40% won't buy from companies if they're shopping in other languages.
Brand localization, including translating and adapting your marketing campaigns to stay relevant in each market, helps you strengthen customer relationships outside your home region.
If your regional teams are all aligned on how to localize your brand, it enables easier, more effective collaboration between your global and local teams. There are several common approaches to brand localization:
Light-touch: local brands keep their distinct identities rather than adopting the shared, global brand identity.
Centralized: a centralized team produces all your brand materials with minimal adaptations for local markets.
Glocalized: a hybrid approach where local brands share core assets with the global brand but can adapt the brand to suit local market preferences.
Effective brand governance ensures global and local teams understand if and how the central brand will be adapted for local markets. Companies use brand governance tools like brand guidelines or a brand management platform to ensure all their employees have the tools and resources to quickly and easily create the branded assets they need.
Teams can exert greater ownership and accountability over brand projects
Brand governance aims to empower employees and give them a shared sense of ownership for your brand. In turn, this means your marketing team doesn't have to be the "brand police" all the time.
Our research shows that's something that employees actively want. In our study of over 750 brand, marketing, UX, and design professionals, 69% said they wanted more ownership in the development and management of their brand, and 80% believed the company brand would be stronger if responsibilities and ownership were more clearly defined.
Effective brand governance helps everyone in the organization understand how their role or department contributes to the brand, so they develop a sense of ownership and responsibility for the brand. It helps them see how their department affects the perception of your brand, both internally and externally. By increasing employees' understanding of their impact on the brand, it encourages them to take greater responsibility for how they communicate and express the brand within their work.
One practical way companies encourage brand ownership is by creating a brand governance framework. Having a documented brand governance framework provides a guide for your brand's standards, processes, and resources, making it easier for everyone to use brand materials and assets.
Employees have a stronger connection to the brand and your company
Your brand is important to your employees. They want to feel proud of where they work and the company they represent. And if they don't, they vote with their feet. Research by CareerArc found that 53% of employees have left jobs because of a "poor or diminishing" employer brand and reputation.
But a strong brand can be an employee retention tool, turning employees into your brand ambassadors and advocates. If employees feel connected to your brand and its values, they have a connection with your company based on more than just their paycheck.
Brand governance improves internal awareness and education about the brand. It helps keep everyone engaged because employees understand the brand and feel part of something bigger than their job. Brand governance makes it easier for all employees — not just the brand team — to engage with brand-related projects by ensuring everyone knows how to use various brand elements and has access to the tools and templates they need.
Keep your team informed and engaged with a brand governance framework
It may sound daunting to implement effective brand governance across your company, but a framework can help you get started. A brand governance framework helps you document and define your brand's standards, processes, and resources, enabling your team to improve alignment and consistency across departments and projects. To help you get started and keep you on track, we've put together a brand governance framework template so you can create one to use in your own teams. Download a copy now.
Oskar Duberg
Senior Brand Content Specialist