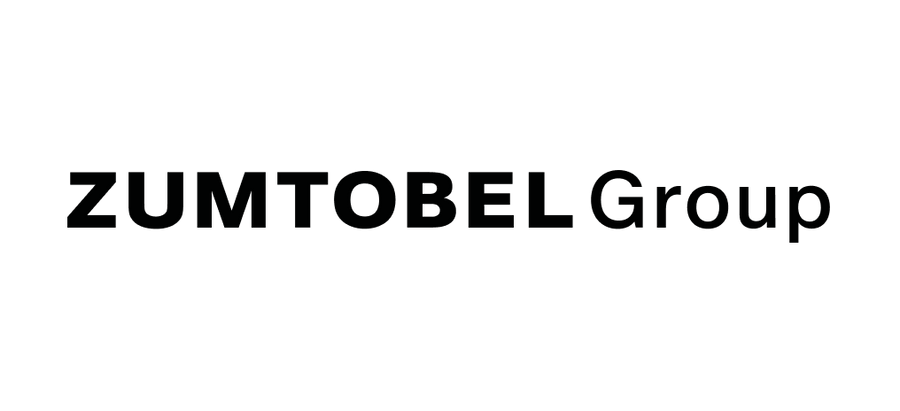 A Visual Brand With 90,000 Assets
A leading manufacturer of commercial lighting solutions, Zumtobel Group is a visual brand known for its photography. Before Frontify, their complicated tech stack discouraged the use of the images. On Frontify, they created their "Toolbox" to house all 90,000 assets, simplify collaboration, and increase access to 2,000 users per month.
Zumtobel Group uses Frontify since 2017
Brand Guidelines
Digital Asset Management
Creative Collaboration
Zumtobel Group is a billion-dollar manufacturer of commercial lighting solutions. Their portfolio includes solutions for offices, industrial spaces, stadiums, universities, museums, and landmark buildings like the Elbphilharmonie concert hall in Hamburg, just to name a few. To showcase their next-gen lighting solutions, Zumtobel Group invests in high-quality imagery from famous photographers around the world. The photographs can be found on the company's inspiration page, but they're most valuable to the company's sales pitches.
As Zumtobel Group Lighting Brands Division's, Director of Marketing Communications, Nikolaus Johannson, says:
We're a visual brand selling a visual product.
We spoke with Nikolaus to learn more about the challenges of being a visual brand, including managing more than 90,000 assets, removing barriers between marketing and sales, and increasing adoption of their Frontify brand portal, named the "Toolbox".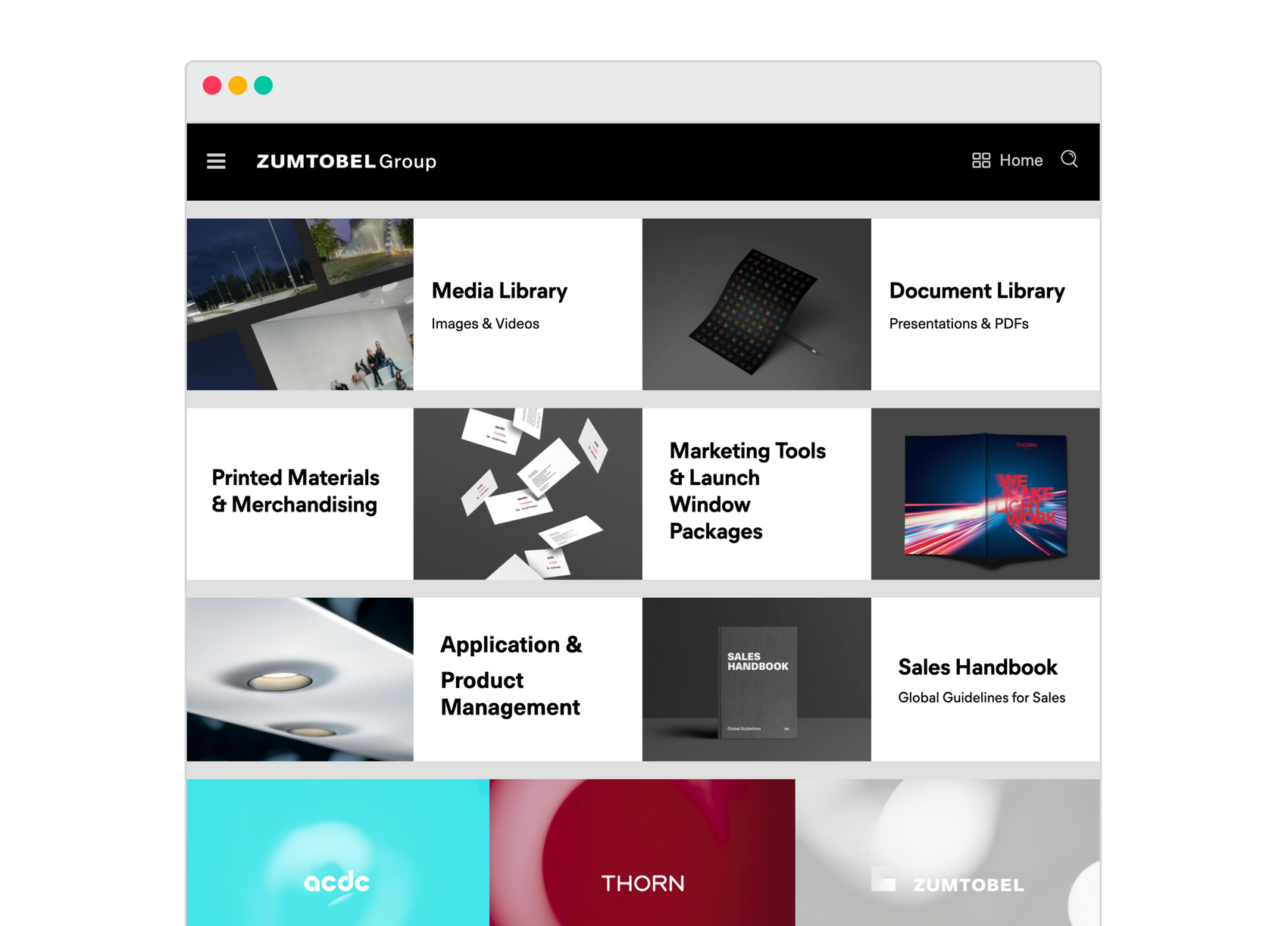 Zumtobel's rich history of photography has resulted in an expansive digital asset library. To be precise, Nikolaus and his team initially transferred more than 60,000 assets into their Toolbox. The assets included videos, PDFs, and PowerPoints, but the bulk was 20 years of Zumtobel photography. Today, the number of assets is nearly 90,000 – now, easily searchable and usable with the Toolbox.
As a major improvement, Zumtobel added custom filters to their Media Library. Now, the sales team can filter by different tags, including by brand, by application (i.e., "Art & Culture" vs. "Education"), and even by year (in case a user needed to access something from, say, a 1995 collection). But it's not just the end user who benefits; Nikolaus and his marketing team benefit, too.
That's a great thing with Frontify. Now we can actually track that people are using it. And not tracking it in a sense of making people accountable, but what we want to see is how it's actually used and how it's applied.
In addition to storing assets with the Media Library, Zumtobel has made full use of the Workspace functionality to streamline its post-production work. Zumtobel's remote photographers now upload assets directly to the Toolbox workflow. Then, the production team is notified to review, select, and retouch the photos. The final approved visuals get uploaded by the marketing team to the Toolbox's Media Library for everyone's use. The time savings for Nikolaus and his team have been substantial. Plus, Nikolaus and his team can monitor tracking in real time to prove the assets are adding value.
As a result, Nikolaus and his team have increased brand ownership across multiple teams, resulting in a more connected brand experience for their customers.
Zumtobel's Toolbox is now the first step everyone takes before they go to a customer or prep for a client meeting. But that wasn't always the case. As Nikolaus remembers, "We knew we had these great assets, but we knew nobody was really using them besides us."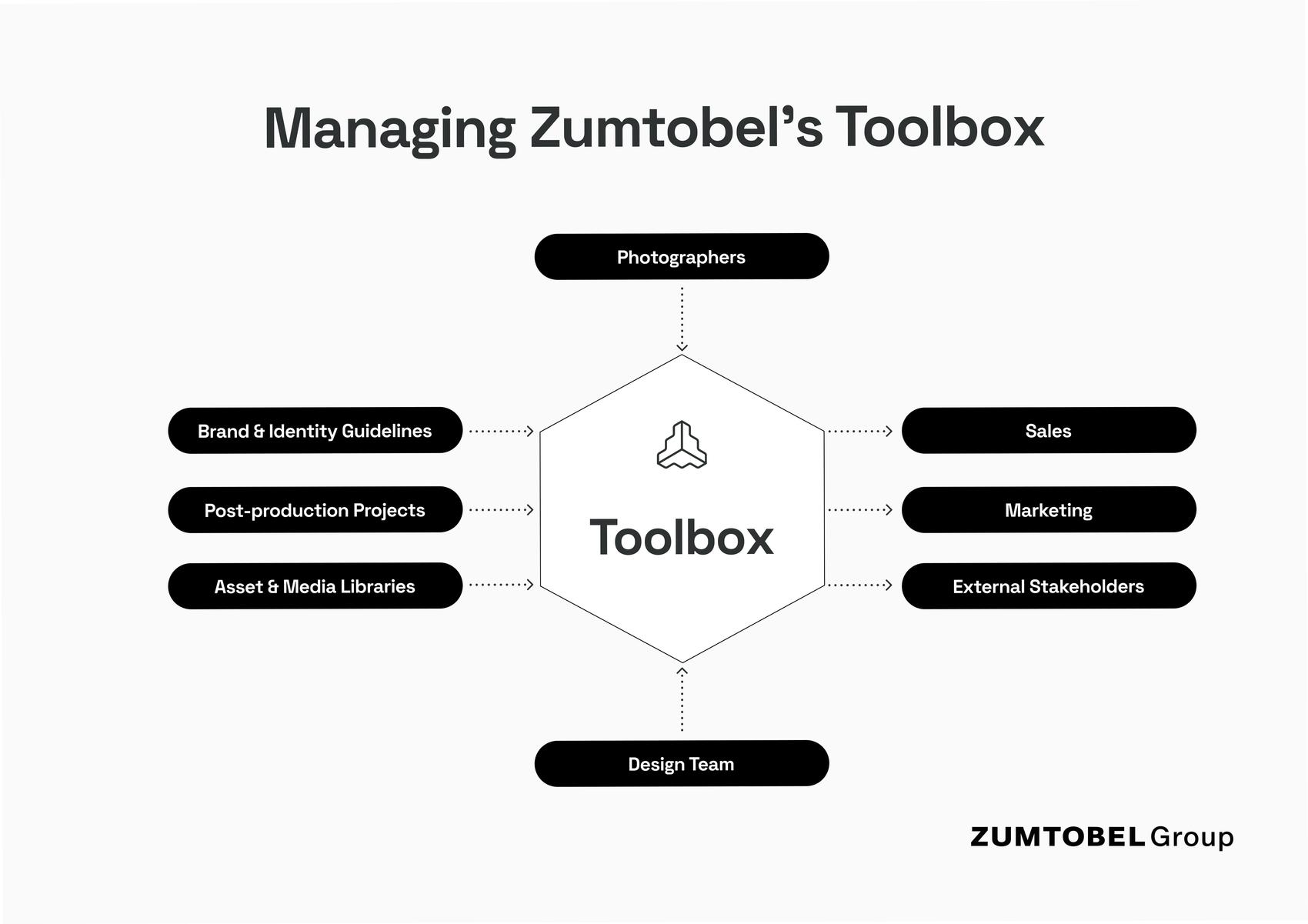 We had 20 different solutions, which worked fine for the individuals. But as a group, as a company, that's not the best way.
Before the Toolbox, Nikolaus says Zumtobel had too many tools. "The biggest challenge was that we didn't have a single process everybody understood. We had 20 different solutions, which worked fine for the individuals. But as a group, as a company, that's not the best way." As a result, their process involved a lot of manual labor and a lot of emails from the sales team asking for assets.
Worse, their internal solutions had complicated login barriers to make sure the high-value assets – like photos from famous photographers – were used in ways that didn't infringe on copyright. Although implemented with good intentions, the login barriers discouraged the sales team from using the assets at all.
The user numbers which are stable now for months on end are amazing. I think we had over the last 30 days more than 10,000 downloads and 20,000 views. If you consider that our sales force is around 1,500 people and add in product management and marketing, you're probably going to end up around 2,000 people. [...] all of them are using the system [...] and that's probably the biggest testimony for how well the system works.
The Toolbox helped eliminate the barriers while maintaining strict oversight. As Nikolaus notes, "we combined all the reasons why we had 20 different stacks of information into one single source of truth, which now services everybody."
In order to influence adoption of the Toolbox, Nikolaus and his team went "all in". They produced a combination of digital and non-digital assets, including email blasts, hats, posters, and even an internal video to excite and educate employees. The efforts have paid off. Today, Nikolaus is amazed by the usage, which underscores the holistic benefit. "The biggest value we gained from using Frontify is making it really easy to find information you need in your daily work."