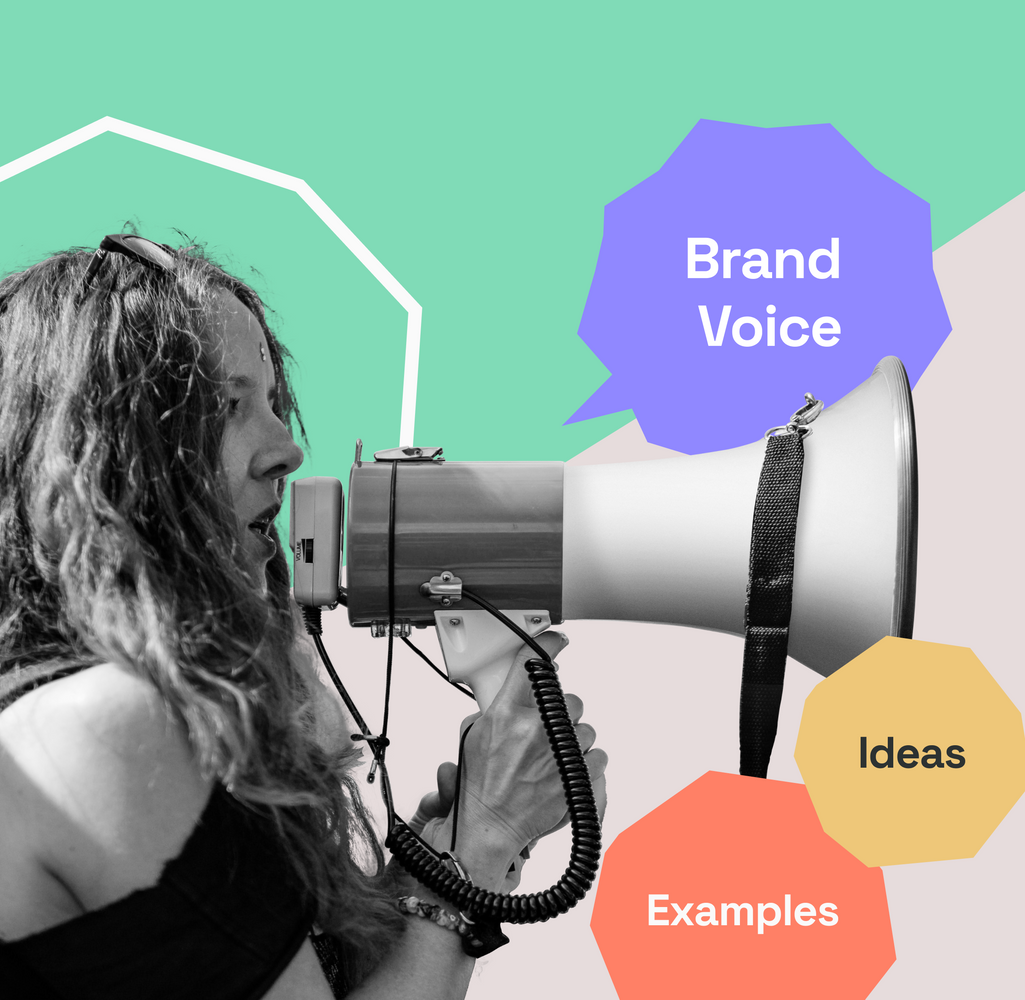 4 Recognizable Brand Voice Examples (& Ideas You Can Steal)
Some adverts you instinctively recognize before the product or company logo appears on the screen. That's the power of a recognizable brand voice.
You know which company they're for, even if you're not watching the ad and you're just listening to it while scrolling on your phone.
In this article, we'll share four examples of companies with exceptional, recognizable brand voices. While your brand voice should be an authentic expression of your brand personality rather than something replicated from other brands you admire, we'll share tips to help you use each example for inspiration when defining your own brand voice.
1. Apple's Brand Voice Is Confident & Simple
Apple is one of the most valuable brands globally, and when customers start using Apple products, they stick with the company for a long time. Its brand voice expresses the confidence that comes with a market-leading position and premium product offerings.
Apple's brand voice is confident, making frequent use of short sentences and bold statements. These make the company appear assured without being arrogant. The example images below come from the product page for the iPhone 13 and claim product improvements that "you'll notice every day" and "leaves the competition behind."

In addition to exuding confidence, Apple's brand voice is approachable and straightforward. Its copy is easy to understand, even when it describes the more technical elements of its products. This ensures its website content and marketing materials are easy for a large audience to understand. This helps Apple appeal to as wide an audience as possible rather than seeming exclusive or exclusionary (which could be a risk with products perceived as premium or luxury items).
Apple's brand voice remains consistent – even on its product pages and in product descriptions. Your company should also adopt your brand voice across all of its content. Your brand voice isn't just for use in content marketing or social media posts. To become a strong voice that builds brand recognition, it needs to flow through everything your company publishes – including your product pages and feature descriptions.
2. Mailchimp's Brand Voice Is Conversational & Compassionate
Mailchimp's brand voice aims to "speak like the experienced and compassionate business partner we wish we'd had way back when... We want to educate people without patronizing or confusing them."
Its brand voice is friendly and helpful, and you see those characteristics reflected across its online channels. For example, on its website home page, several headings position Mailchimp as a collaborative partner, stating, "We'll help you – reach the right people, create better content" and "We've got your back."
The idea of Mailchimp as your partner is also expressed on its Twitter profile, saying, "Helping you build your thing is our thing." Just like on its website, Mailchimp's brand voice is friendly, conversational, and supportive.

This voice aligns with the company's origins, making it feel like an authentic expression of Mailchimp's brand identity. In its early days as email software, Mailchimp "gave small business owners who lacked the high-end tools and resources of their larger competitors access to technology that empowered them and helped them grow." The company has a proven track record of supporting growing businesses, and its brand voice strengthens its position as a collaborative partner, not just a marketing tool.
Your voice and tone affect the way your target audience perceives your brand. So when you're developing your company's brand voice, remember to consider it from your customers' perspective. Consider how you want your customers to view your company and products. Do you want them to see you as an authority figure or a peer? And is your brand voice a good fit for that position? You may need to adapt your voice to better align with the type of relationship you want to build with your audience.
3. Slack's Brand Voice Is Clear, Concise, & Human
Slack's brand voice guidelines state that "The key to sounding like Slack is speaking directly to the user, in a voice that they can hear and recognize. We are humans, speaking to humans." The Slack team understands that you need to give employees clear guidelines, so you can achieve a consistent brand voice. It has created five copy principles that provide a "foundation of shared values and goals that guide us in creating copy to best represent our brand."
On its home page (and all across its website), Slack speaks directly to the reader: "Give yourself the flexibility to work when, where and how you work best." This is even seen in the main navigation menu on Slack's website with the "Your digital HQ" dropdown option. All of Slack's website copy puts its customers first, talking to the reader as much as possible.

Slack's mission is to "make work life simpler, more pleasant and more productive" by connecting people and making it easy for them to communicate and share information. A voice that speaks directly to the reader is a natural fit for a company focused on simple communication. It puts the customers' needs first and ensures that all of Slack's messaging is in an easy format for the reader to understand and connect with.
While Slack recognizes the importance of its team having a consistent brand voice, it also understands that teams need guidance and support to achieve that shared voice. So the Slack team ran dedicated training sessions for all 650 people in its marketing department to help them understand and use the brand voice.
You can't expect your team to learn your brand voice overnight. So even if you've developed comprehensive brand voice guidelines, consider other ways you can help your team adopt your brand voice. Training, education, and sharing real-life examples of your brand voice in different settings will help create a cohesive voice for your company.
4. Uber's Brand Voice Is Straightforward & Direct
When Uber rebranded in 2018, it included some updates and revisions to its brand voice. Its brand guidelines show before and after examples to illustrate how its voice has evolved to express the brand's identity better. Now, Uber's brand voice prioritizes "audience-first communication" and is "straightforward and easy to understand."
Its direct brand messaging style is evident in how it concisely describes the different trip options for customers: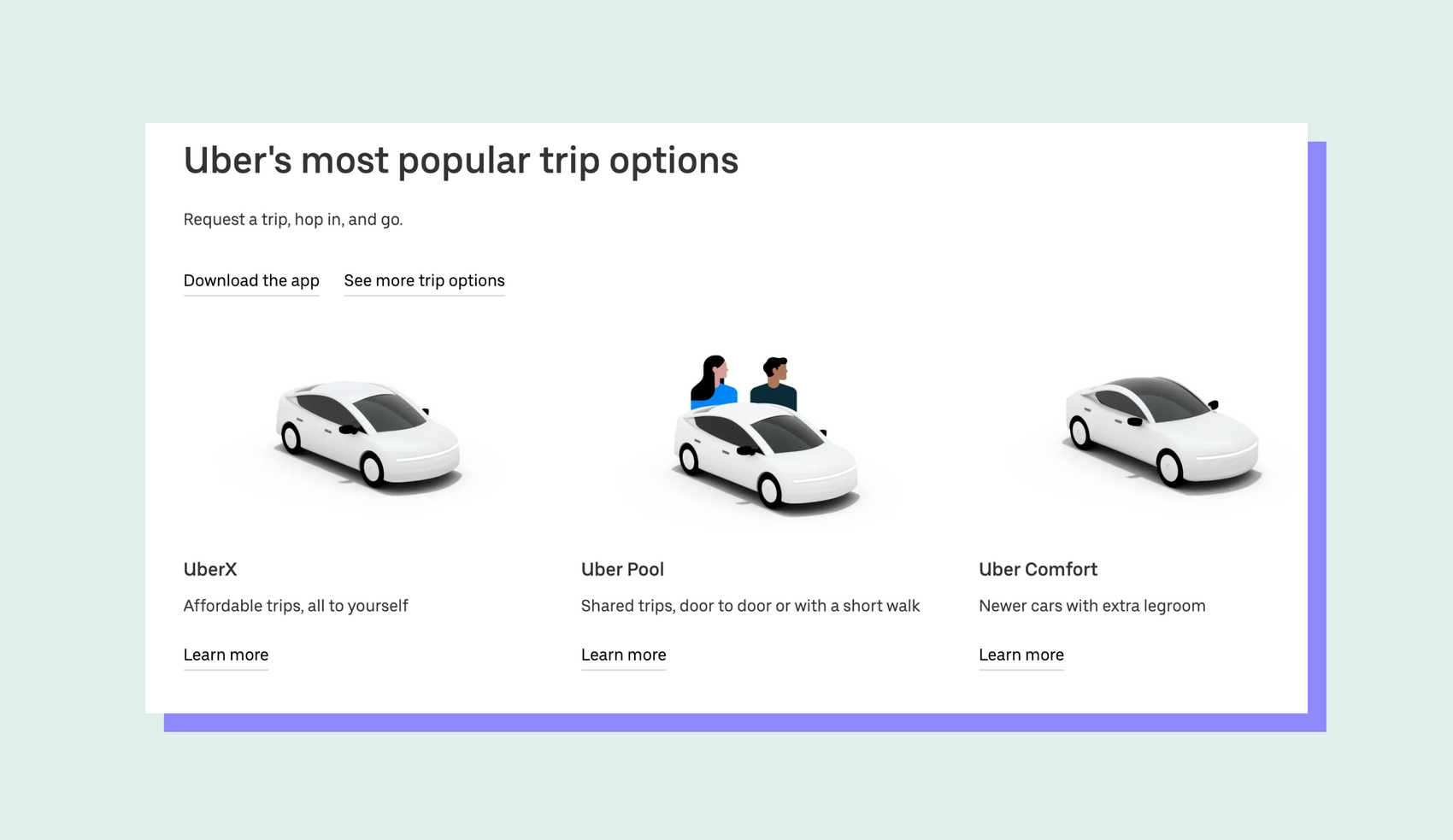 Uber's straightforward voice aligns with the company's aim to make travel as simple as possible. As a customer, you want to get from pick up to drop off as efficiently as possible. Uber's direct communication style brings that efficiency into its brand voice, ensuring its content is straightforward and to the point rather than hiding behind flowery language or unnecessarily long content.
Uber is a great example of a company that has developed and refined its brand voice over time to ensure that it remains an authentic expression of the brand's personality and identity. All aspects of your brand should evolve over time, including your brand voice. So when your company is planning a major rebrand, it's important to consider your brand voice as well as the visual elements of your brand, such as your logo, color palette, and fonts.
Use These Brand Voice Examples as Inspiration When Developing Your Own Voice & Tone
Strong brands all have a voice that is consistent across different types of content and communication channels. Your brand voice is how you express your brand's unique personality in all your content, but voice and tone can sometimes be forgotten when creating a company style guide or brand guidelines.
When you start to develop your own brand voice, make sure you document all of the different elements and styles that make your voice unique. The more detailed brand voice guidelines you create, the easier it will be for your entire team to adopt and use the appropriate voice and tone in their content and achieve a consistent brand voice.
Oskar Duberg
Senior Brand Content Specialist