Product Roundup: Summer 2021
This quarter delivered both a shiny new rebrand and improvements to the Frontify platform. In this roundup, learn about the introduction of Brand Newsletters, the refreshed Developer Platform, and new fascinating feature updates.
Introducing the Brand Newsletter Tool
This quarter, we introduced the long-awaited Newsletter tool to empower organizations to spread the news about their brand's latest updates from within Frontify, via email.
Keep Everyone in the Loop With Brand Platform Updates
The Newsletter tool enables brand advocates to take their brand to the next level while ensuring that everyone is a part of its growth and journey. By using the Newsletter tool to send eye-catching news, brands can now reach teams with inspiring and relevant information with the aim of engaging different teams in brand-building activities.
The Brand Newsletter tool is a dependable and straightforward approach to convey crucial updates or internal messaging to particular or wider teams. Team leads will be able to relax knowing that the brand is being actively communicated to employees and that it is connecting with them.
Create Engaging Updates With The Easy-to-use Email Builder
Using text and image blocks produced from your existing brand assets in Frontify, you can quickly build branded newsletters to engage and inspire others with information about your brand. Using the Asset Chooser, you can access your assets from your Libraries and Guidelines, as well as designs from your Projects.
Track The Performance of Your Brand
The Newsletter tool provides a handy set of performance insights for every newsletter sent, where you can discover your brand's impact through analytics on sent and open rates of the emails.
You can also start assessing the impact of your brand by creating periodic updates for your teams with continuous email series. To help you create these easily, you can duplicate previous versions of your brand update emails or quickly create new templates.
By consistently sending newsletter series, and by analyzing their performance on a regular basis, you'll be able to track and improve your newsletters and engagement with your brand as you go.
Get to know more about the newsletter here.
Introducing the Developer Platform
With the launch of our Developer Platform, you can now customize Frontify and build powerful integrations and apps that connect Frontify to the tools and workflows that your team uses every day.
Take Advantage of our New Developer Resources
The set of available developer resources currently includes: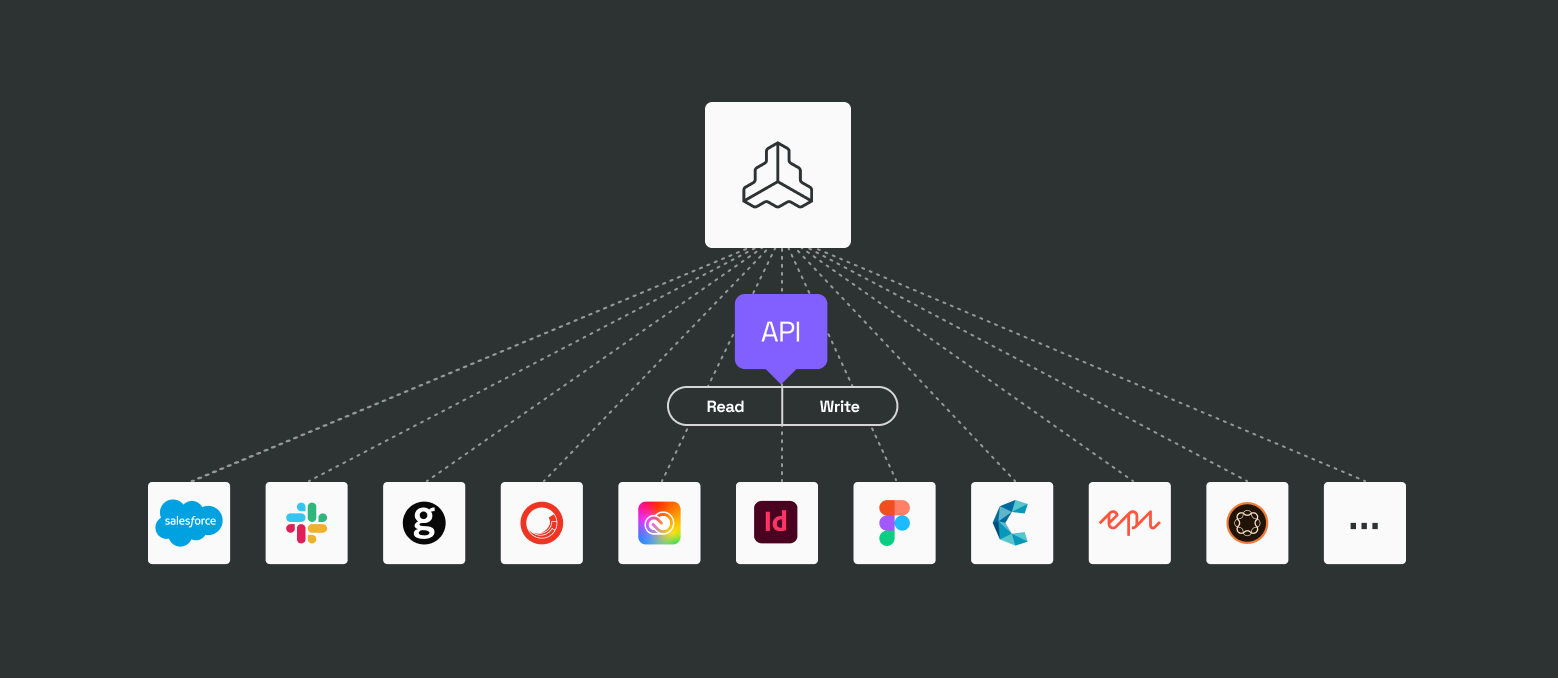 Easily use Frontify Assets in web-based third-party tools.
Secure authentication for public web-based applications.
Access Frontify data and pull it into any other system.
React to events happening in Frontify.
Frontify Image Worker (Coming Soon)
The Frontify Image Worker enables dynamic asset transformation to automate the resizing process of an asset – with no time-consuming manual alterations needed.
Enrich the power of Frontify Brand Guidelines by creating your own custom content blocks.
Find out more detailed information about the Developer Platform in this blog.
New Integrations
By extending the power for individuals to drive internal and external integrations with our open API, we also set a solid base for our ecosystem and could begin connecting more ready-made integrations for Frontify users.
Benefit From Connections To Your Daily Work Tools
This quarter, we have worked on bringing you some of the most widely used tools, including: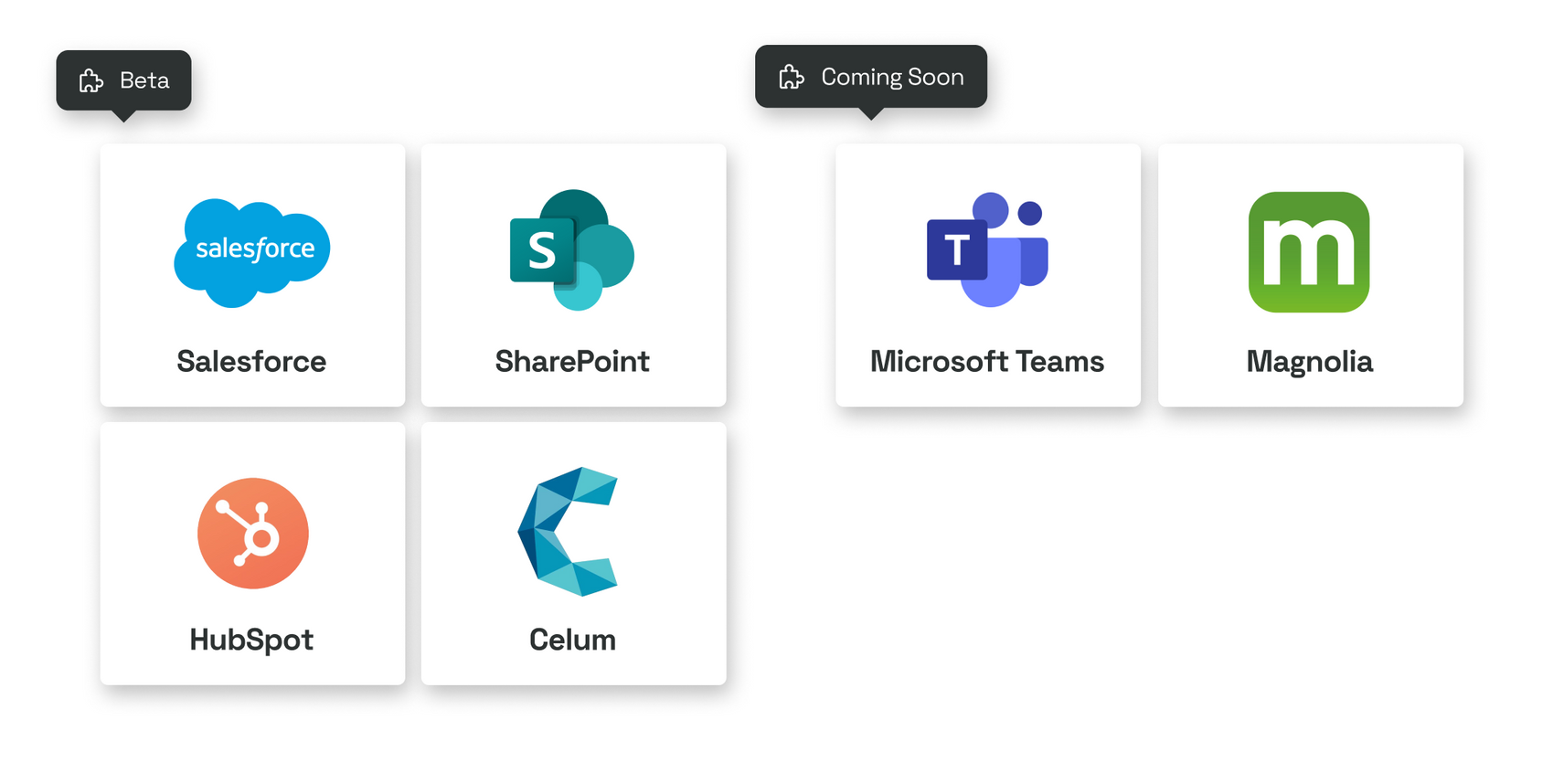 If you are interested in testing our early integrations, let us know, and we can add you to the testing rounds. Learn more about our integrations here.
Creative Collaboration – Figma App (Beta)
This quarter we focused on extending the power of Figma and developed a new Figma App that lives inside Frontify. The Figma App allows all stakeholders on Frontify to discover, contribute, and benefit from the great work of your designers.
The Figma App currently supports two primary use cases:
Streamline Daily Design Work & Collaboration
Create assets based on your design work and sync them into Frontify Projects within our Creative Collaboration tool. This can include app prototypes, new website designs, and everything else you are doing in Figma.
Drive Efficient Design System Documentation within Frontify
Make UI-Components that you create in Figma available in Frontify. By doing this, you can enrich your brand system with UI-Components in a collaborative environment where everyone can quickly gain access.
Digital & Print Templates – Improvements
Digital & Print Templates has been one of our most popular products since we released it. It became a staple tool for many of our current customers due to its versatility and ability to create ready-to-use visuals for online or offline brand promotion. This quarter's improvements to the tool are aimed at making your workflows more efficient.
Boost Your Efficiency With Faster Rendering
This quarter, we focused on developing a faster Rendering Performance at every stage in the creation of a new publication, from uploading to publication creation.
New features include:
The ability to add multiple downloads presets for templates.
The ability to download publications in their original file format to recreate designs from your templates or publications.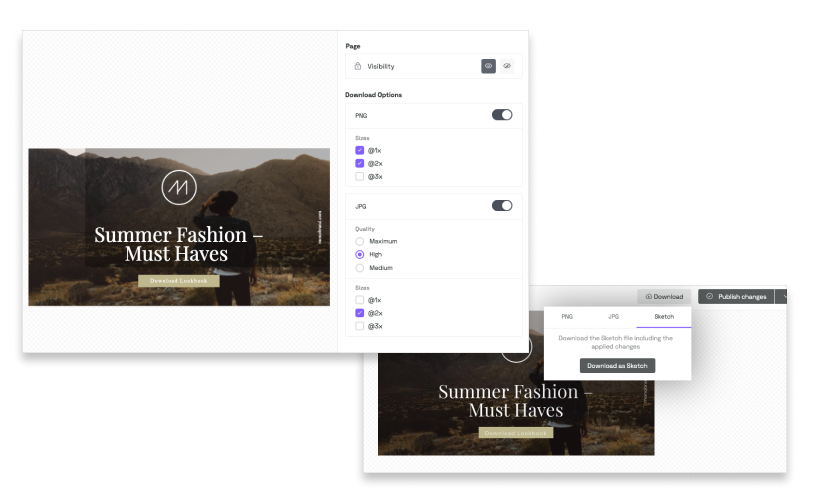 For more information on these changes, head over to our article on creating your own Template Library.
Get Ready For Dynamic Data To Increase Efficiency
We have also been working on introducing dynamic data sources. This would mean a faster, reliable, and more efficient way to create publications, as larger quantities of ready-to-use data would be easily accessible to fill in publications. This would mean:
Everyone can make sure of the information to fill in their publications;
Less margin for error, as the information will be already provided;
Improved time efficiency.
We would be happy and open to exploring this feature with any customer who would like to join the current beta trials. For more information, please let your Customer Success Manager know about your interest in your next scheduled meeting.
Digital Asset Management (DAM) – Improvements
This quarter we also made some key improvements to our DAM system to allow further personalization of libraries and improved protection of your icons and logos.
Enjoy Improved Protection of Your Logos and Icons
Our Logo and Icon Libraries received updates that might change how you now protect and share your assets. By introducing the usage settings into these Libraries, you now have better control of your assets and can ensure they are being used as intended. These settings allow you to configure the download protection, request form, and available download sizes.
This update includes the ability to:
Use download protection
Add watermarks
Add standard or auto-approval
Determine the length of permission validity
Configure request forms
Make changes which are also visible in the front end of libraries
Set up different download sizes for the Logo Library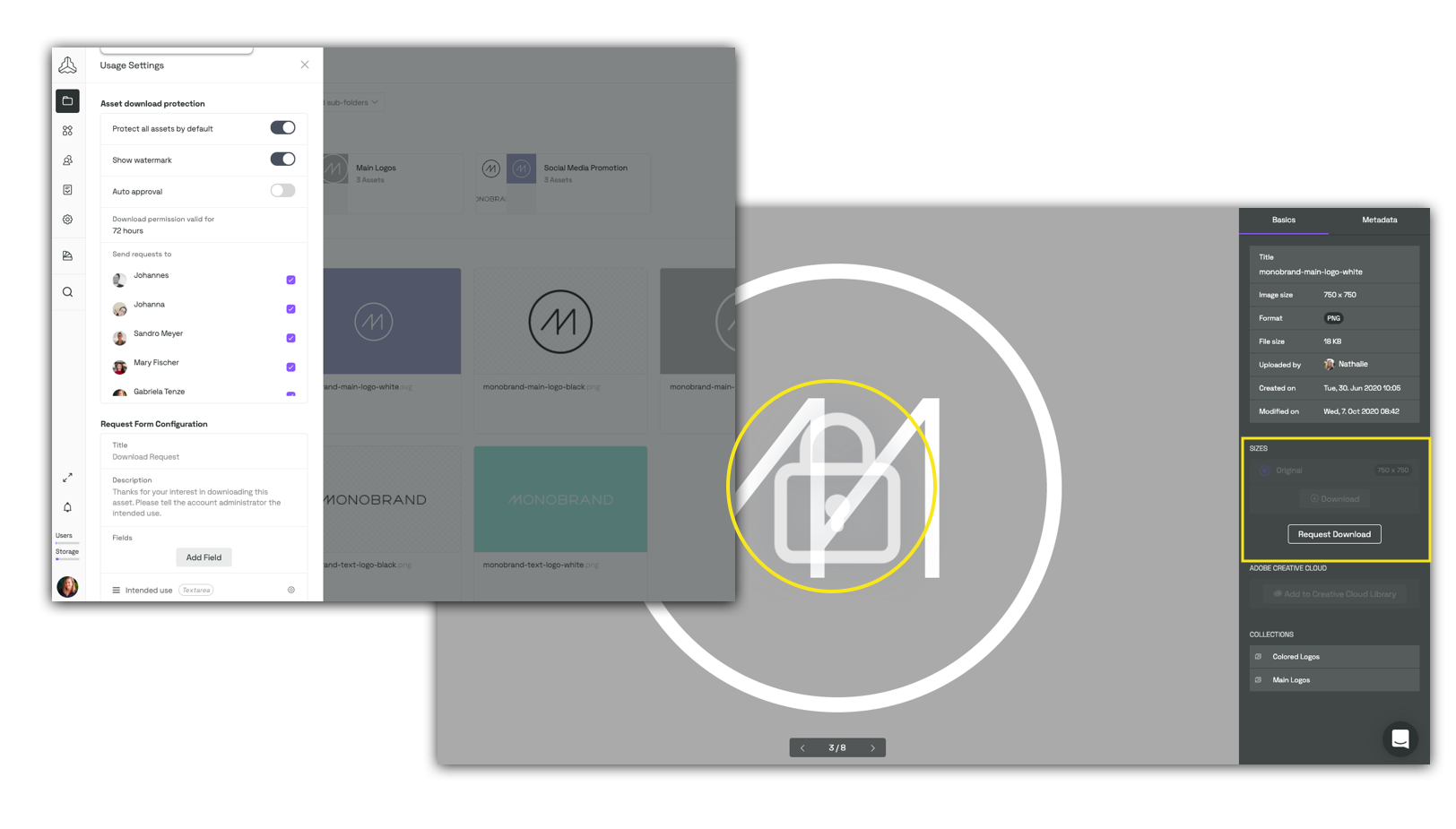 Further Personalize Your Media Libraries
In the Media Library, we have moved forward in the customization topic by allowing users to have greater choices in personalization of Media Libraries. These changes include:
Store larger text in the copyright field
Hide the search bar and filters in the Collections view
Display custom download names on your library's front-end view
Platform – Improvements
Leverage Increased User Management Governance
We have now given admins of Frontify full control over the management of Frontify users through Smart Groups. They are now able to:
Automatically add new and existing users to the right groups based on specific properties, such as email or login mode.
Make sure users have the right access to the right areas of your brand portal.
By giving admins more autonomy, they have full control over the different areas of their brand and can save time by doing it themselves rather than through our support team.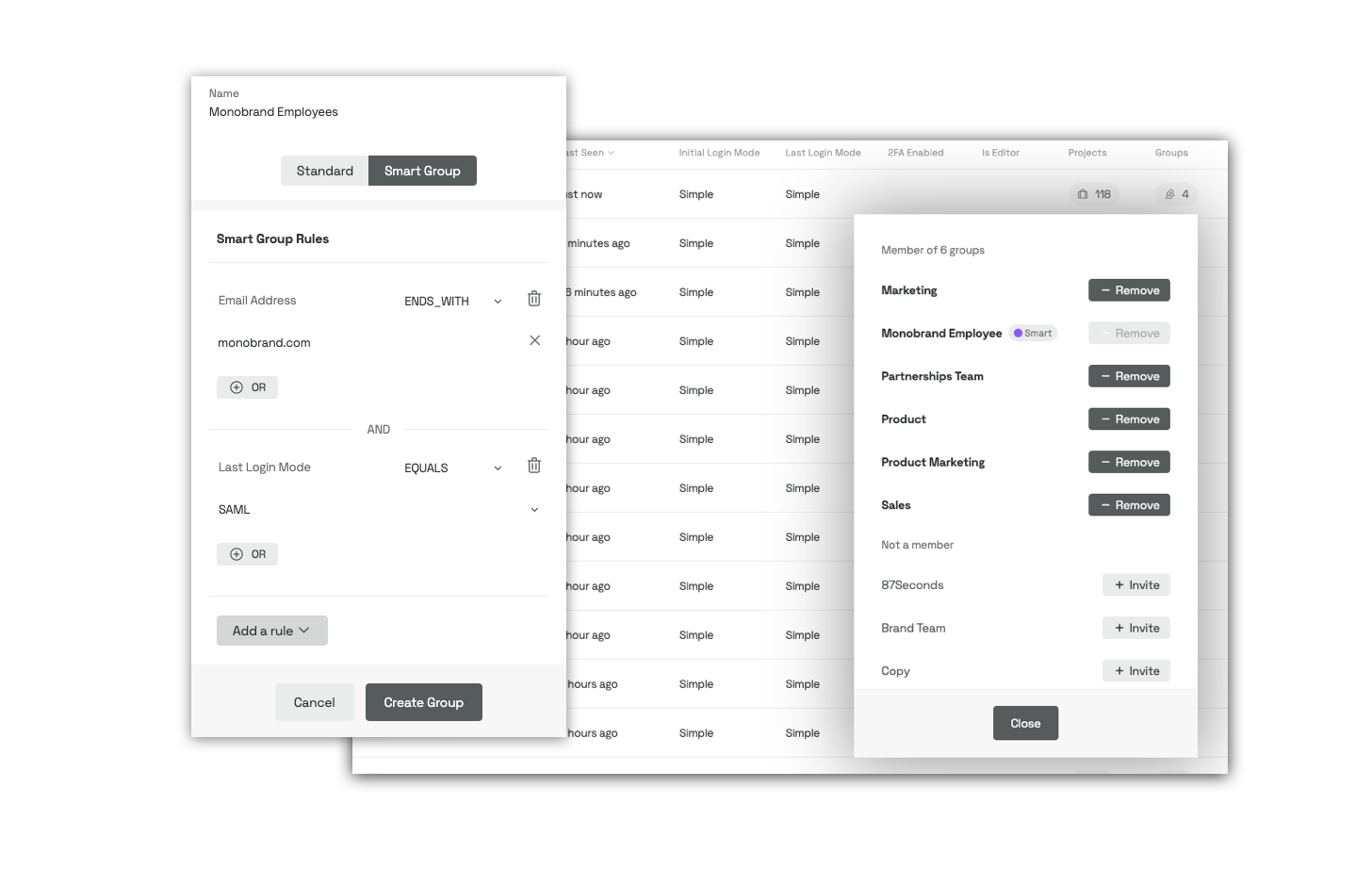 Find more information on Smart Groups in our help article.
With that, we wrap up our Product Roundup for the second quarter of this year, and we hope you found interesting changes that will boost the productivity of your team. Check out our release notes for weekly updates, where you can get a thorough look at what's new in the product.

Gabriela Tenze
Product Marketing Manager