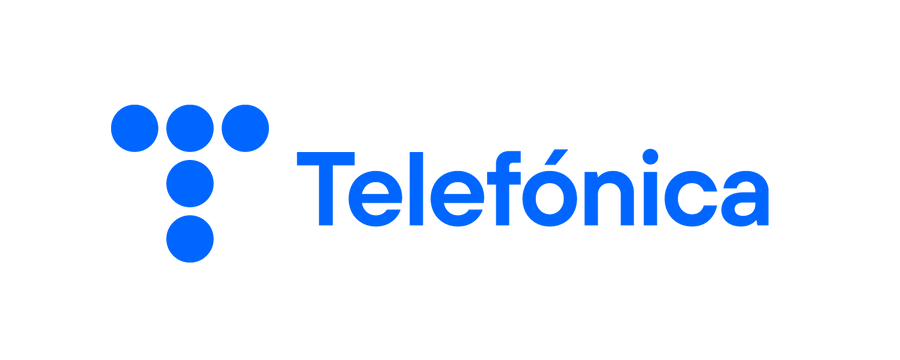 Better connections: How Telefónica built a centralized Brand Factory
Telefónica is one of the global largest telecommunications companies. While its mission is to connect people worldwide, its own brand world was disconnected and siloed. Frontify enabled them to manage all 16 sub-brands within a single, unified platform, helping Telefónica to maintain brand consistency across all touchpoints — and hundreds of thousands of assets.
Telefónica uses Frontify since 2019
Brand Guidelines
Digital Asset Management
Creative Collaboration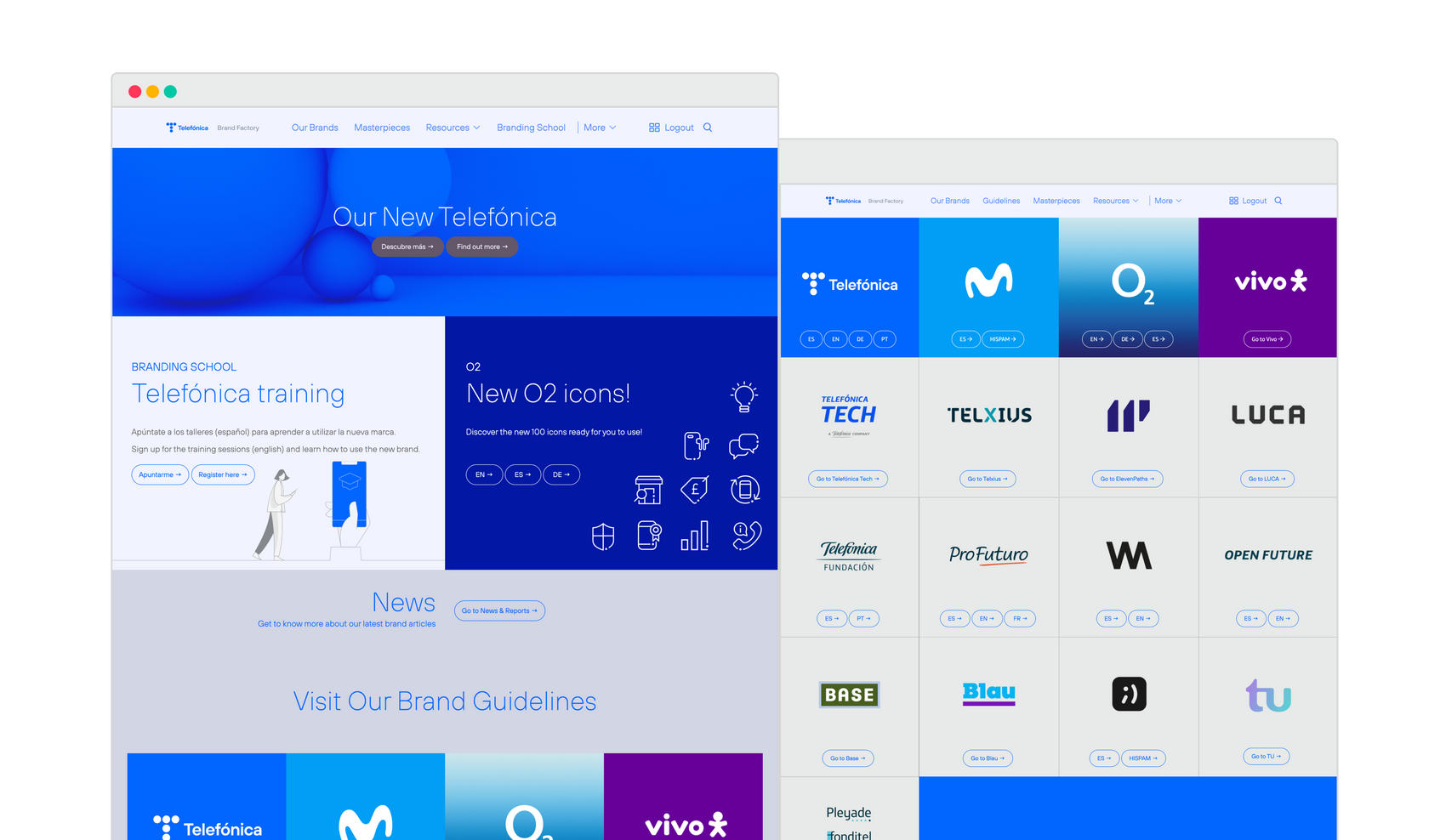 A connectivity challenge
Telecommunications giant Telefónica manages an extensive brand landscape that encompasses brands across 16 markets and multiple languages, and includes a vibrant network of companies such as Movistar, Vivo, and O2.
With such a large brand ecosystem, it was difficult for Telefónica to manage those companies together while giving each brand team the ownership and independence to grow within their markets. Group collaboration was an ongoing challenge, as well as maintaining consistency across all brands.
Each company had its own way of working, including its own tool stack for managing brand assets and information. Disconnected tools and processes created silos between the brands in Telefónica's ecosystem:
"
Previously, some of Telefónica's larger markets were using their own local platforms.
"
Cristina Terrón Moreno
Account Manager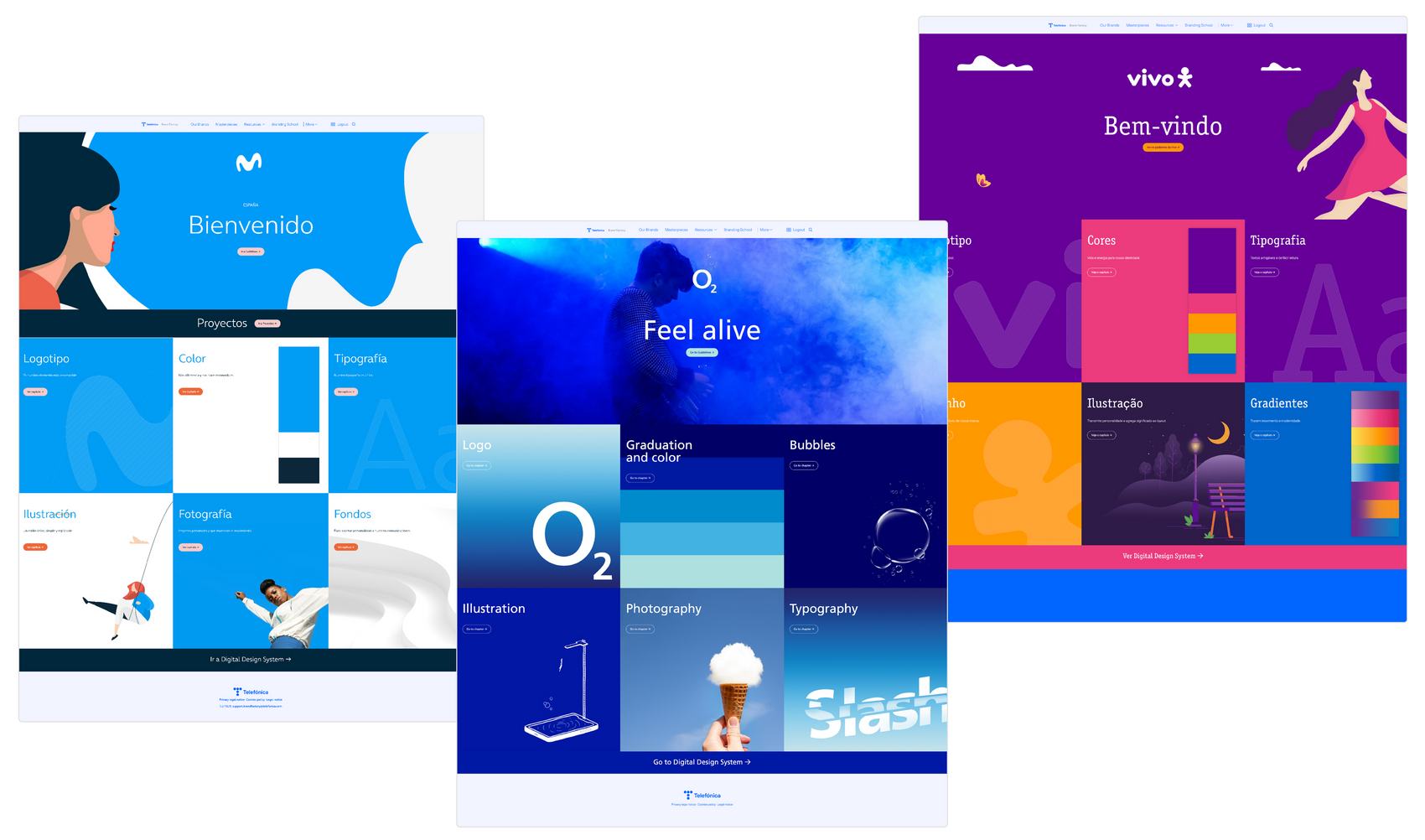 A centralized solution
For the first time, Frontify enabled Telefónica to manage all its brands within its Brand factory — a single, centralized portal home to brand guidelines, collaboration tools, and digital asset management. Frontify's platform provides easy access for all Telefónica employees, external partners, and agencies. This means that asset usage can grow far beyond the marketing teams for greater adoption across all brands in their ecosystem. And with Creative Collaboration, new project spaces have boomed across users, teams, and brands to facilitate the creation process and align better around it.
"
To be able to manage all brand materials and workflows at the same time in one unique space for all countries and brands is the main benefit and a milestone for Telefónica.
"
Cristina Terrón Moreno
Account Manager
Telefónica uses Frontify to create, share, and maintain brand guidelines, which underpins consistency and efficiency for the brands in all its markets. The Frontify platform also enables the company to share information about campaigns and best practices, as well as serving as an ever-present source of inspiration.
Additionally, Telefónica uses Frontify's DAM as a comprehensive library — much more than pure asset management. It's become the single source of truth and a global repository for all content. Over 717k assets have already been uploaded to the DAM across all its brands, but Frontify's libraries and permissions make it simple for users to find the correct assets and stay on-brand.
An optimal outcome
Frontify has become the go-to place for brand users to engage with all of Telefónica's managed brands. It integrates with their wider tool ecosystem, enabling brand consistency across all touchpoints. With Frontify, the telecom giant can count on a partner sharing the same vision for better brand enablement and execution, across its full range of commercial brands, markets, and groups.
Telefónica has used Frontify to build out a comprehensive Brand Factory and improve every aspect of its brand and digital asset management:
One centralized platform to manage its 16 sub-brands across 16 different global markets.
Used Frontify's DAM to store, organize, and manage 717K+ brand assets.
Implemented a highly effective automation process combining Frontify and Accenture, to optimize hyper-personalization for users across Telefónica's creative teams.
Facilitated more seamless cross-team collaboration across over 19K+ projects.
Scaled to 17K+ users across all brand teams, enabling employees to easily engage with their brands.
Frontify's Brand Guidelines helps Telefónica improve consistency, with 104K+ guideline page views each month.
Frontify's flexible user permissions mean internal teams and external partners can work together in the same platform — Telefónica has 3.5M+ asset views from external integrations.