How to Help Everyone in Your Organization Engage With Your Brand Identity
Here are four ways to help your team understand your brand identity – essential for creating an authentic and recognizable brand for your customers.
The latest Apple Event featured lots of their employees presenting updates and even more behind the scenes, scripting, filming, editing, and broadcasting the event. Everyone had a crystal-clear understanding of Apple's brand identity and how to bring it to life. Events like that are a shining example of what it looks like when your entire team is fully bought into your brand.
But if your internal team doesn't connect with your brand identity, individuals will all have slightly different ideas of what the brand means – and how it should be expressed through your design, messaging, and voice. Without internal alignment on your brand identity, it's difficult to present a consistent brand externally.
Everyone in your company needs to engage with your brand identity to create a consistent, authentic, and recognizable brand for your customers. Here are four ways to educate and update your teams on brand-related topics and engage them in your brand's evolution.
Prioritize Internal Marketing
Internal marketing helps familiarize all employees with your brand identity and make sure they're aware of changes to your brand. You need your team to recognize the core elements of your brand so they can improve brand consistency in their roles and departments.
Consistency helps to establish trust in your company, but inconsistent design and messaging erodes that trust. According to our State of Brand Ownership Report, "deviation from the core brand colors, typography, brand voice, general brand behavior, or logo sizing (even slight deviation) and the brand identity can quickly begin to diverge across channels and look unprofessional."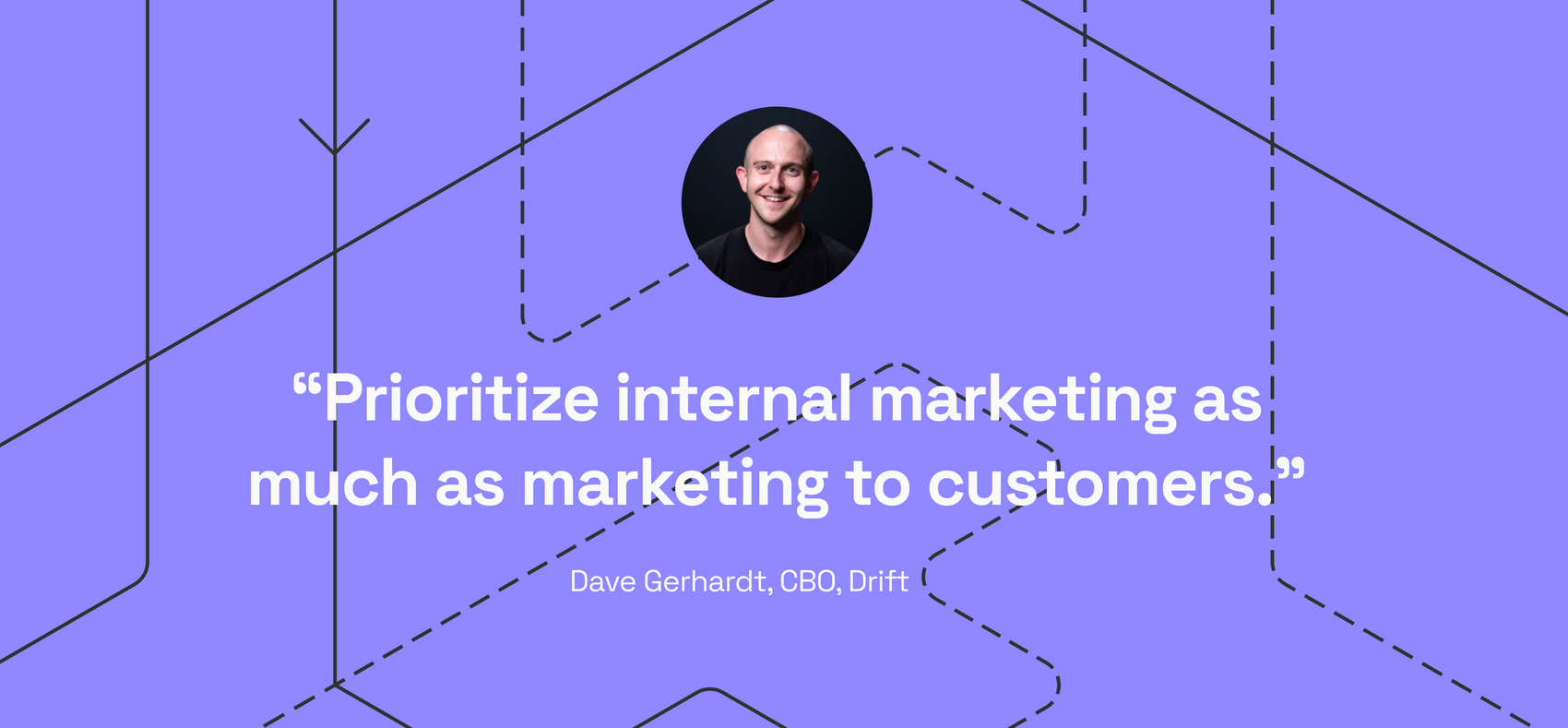 Drift's Chief Brand Officer, Dave Gerhardt, recommends "prioritizing internal marketing as much as marketing to customers." It's important to educate employees about your brand. "This means bringing people in and hosting in-house presentations to garner buy-in from leadership and make sure everyone is equipped to represent the brand," said Gerhardt.
Some ways to communicate and market your brand identity internally include:
Provide in-house training, including onboarding. Introduce and familiarize new and existing employees with your brand identity.
Share regular brand updates when you have new assets ready to use. Constant communication about your brand keeps it top of mind and makes it more 'real' for your employees.
Invite regular feedback from different departments about the brand. This allows all employees to continuously challenge the brand identity and gives them a way to engage with the development of your brand over time.
Once you've developed a process for training and updating your teams, focus on documenting your brand identity with comprehensive brand guidelines.
Create Centralized Brand Guidelines
Centralized brand guidelines show your team how to use different brand elements in their work. They also provide a single reference point for brand-related queries.
Our State of Brand Ownership Report found that 85% of respondents believe their company would benefit from having all their brand and creative guidelines in one place. But many companies use brand guideline PDFs, which are time-consuming to update and circulate to each department. This makes it difficult to be confident your whole team is working from your current guidelines and can result in employees working from different versions of your guidelines, creating a confusing, inconsistent brand identity.
Instead of offline docs like PDFs, you can create centralized brand guidelines in a cloud-based platform. This will become the single source of truth for your company brand guidelines. An online platform like Frontify is updated once, then that change becomes visible to all users. It means you don't need to worry about people referencing old versions of your guidelines, as only the latest version is visible to your team.
The most helpful brand guidelines include brand elements, such as logos, fonts, colors, icon sets, and key messaging such as taglines. They should also include comprehensive instructions that explain how to use each brand element. This will help employees understand how to stay on-brand when creating branded materials in their roles – whether it's graphics for social media or a slide deck for a sales call.
Have a Shared Space for Branded Assets & Materials
You might think only a handful of your employees need to use branded materials in their daily work. But 65% of respondents to our State of Brand Ownership Report stated that more than half of their company needs to use or create on-brand company materials every week.
A shared space to store and organize brand assets makes it easy for all employees to find the materials they need.
When your team can freely use brand materials in their daily work, it helps them develop a shared sense of ownership over the brand. Otherwise, they may think of your marketing team as your brand gatekeepers.
The best way to create a shared space for branded materials is to use a Digital Asset Management system (DAM). A DAM is designed to help your team find and use your brand assets and materials without constantly requesting copies from your marketing or branding teams.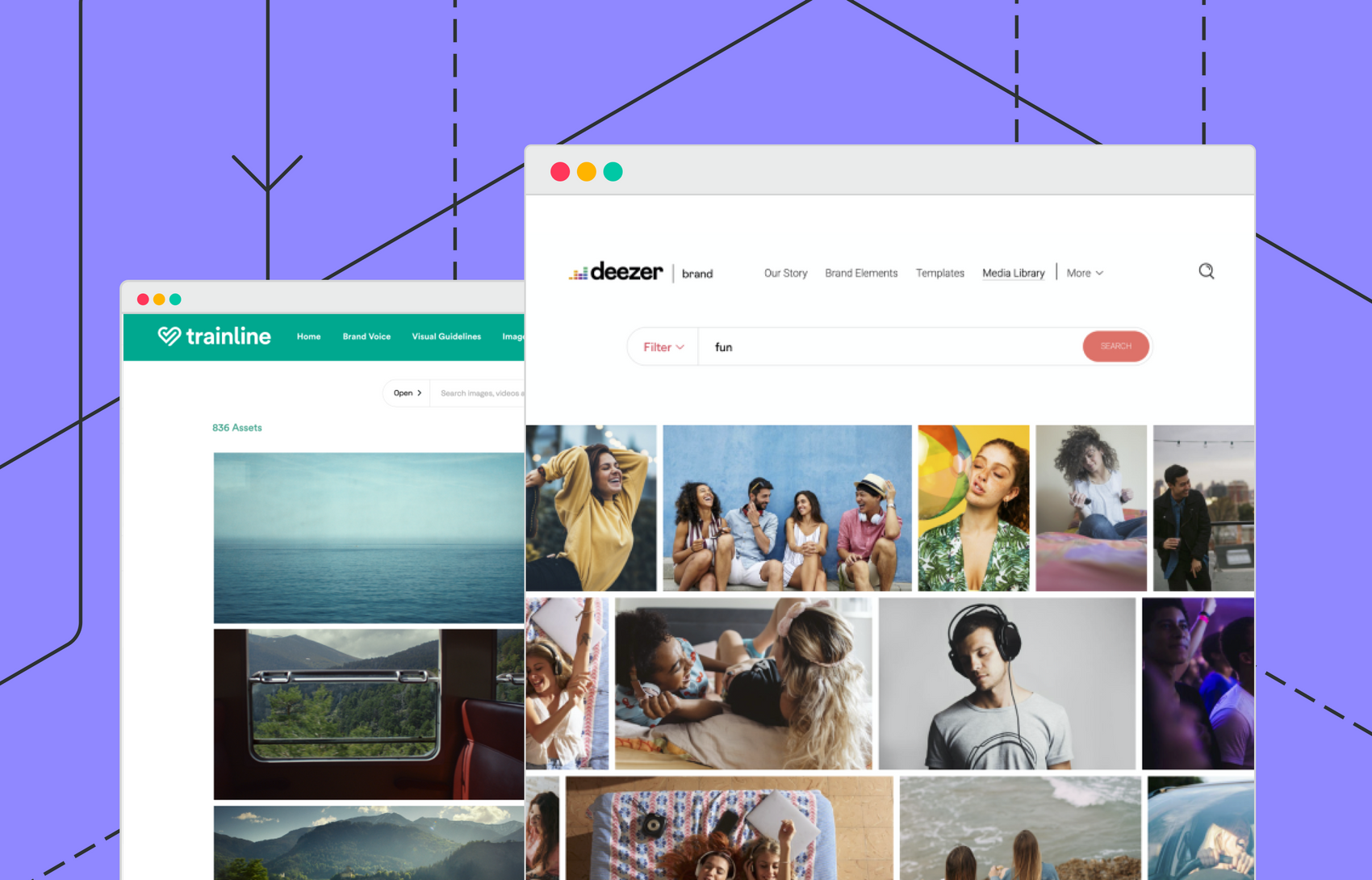 A DAM like the one in Frontify's platform can be the perfect place to store and share branded assets because you can:
Sort assets into libraries based on file type, campaign, or team.
Set permissions to limit access to assets based on team or geography – for example, if you use different branding in EMEA than in North America.
Give external partners access to brand assets – again, limited to specific libraries or on an asset-by-asset basis.
But using brand assets is just the first step in turning your team into brand owners. Empower employees to create their own on-brand materials, not just work with existing assets.
Encourage Everyone to Create Their Own Brand Assets
Enabling all departments to create their own brand assets helps increase brand co-creation. This is the best way to turn employees into brand owners who truly 'get' your brand identity.
For example, our State of Brand Ownership Report found sales teams are least involved in developing and managing the company's brand. But if your sales team isn't involved in building your brand, it's unlikely that they'll be aligned on your key messages and values.
However, if you give your sales department the tools to create branded docs to share with prospects, they can engage with and communicate your brand identity in a way that's relevant to their roles and responsibilities. It turns your brand identity from an abstract concept into something concrete and helps employees understand why your brand identity is relevant in their roles.
You can help employees to create their own brand assets by providing editable templates. Any team member can use templates to create branded assets independently without needing specialist design software, skills, or support from your designers.
Give Everyone the Tools They Need to Co-Create Your Brand
Your employees will be more engaged with your brand if they play a part in defining your brand identity and creating the materials they use in their work. A shared brand management platform like Frontify makes it easy for team members across the business to collaborate, create branded materials, and share them across departments. It's the home for everything related to your brand:
Brand Guidelines
Digital Asset Management
Creative Collaboration
Digital & Print Templates
Frontify brings all your brand materials and tools under one roof. Your team spends less time searching through shared drives or switching between applications. They can easily access the materials they need, when they need them.
Ready to learn more? Book a demo to get a live walkthrough of our platform and see how a shared brand platform can help everyone in your business engage with your brand identity.
Oskar Duberg
Senior Brand Content Specialist