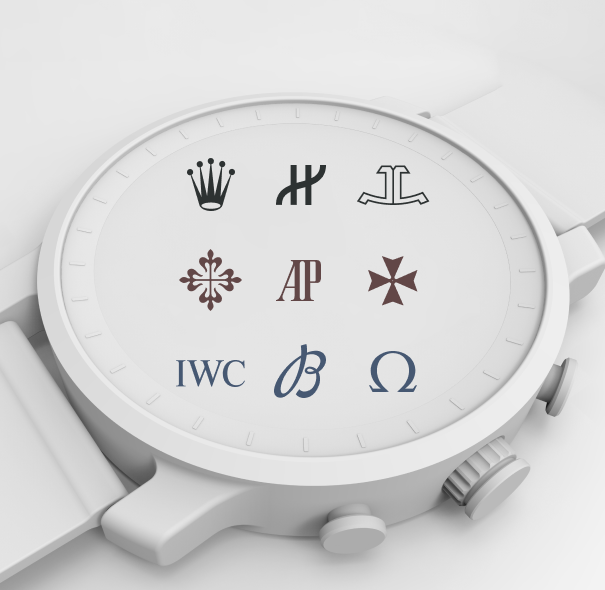 Once upon a time... How storytelling makes each watch brand unique
Storytelling is key in branding. The narrative that comes with the brand offering taps into its unique characteristics: A good storyline touches on the things you want the audience to remember. On top of this, telling stories triggers emotions, which can make a brand more appealing. One perfect example of a category in which storytelling is essential is that of watchmaking. Let's talk timepieces.

Willem Haen
Brand Engagement Lead
Brands excite me. Driven by curiosity, I dive into particularly exciting ones once in a while. With each article, I aim to highlight interesting aspects of a brand — be it its remarkable essence, unique identity, creative expression, or customer experience. Would you like to discuss this post or bring up another exciting brand to focus on next time? Just drop me a line on LinkedIn. I'm happy to hear from you.
---


Beyond its primary time-keeping function, a watch can have emotional value and mean many different things to people. Some feel good wearing one as a stylish accessory or a status symbol. Others got a watch as a gift on a special occasion, or they inherited the timepiece from a loved one. On an individual level, every watch has a story. But it all starts with the story the manufacturer tells.
Beyond its primary time-keeping function, a watch can have emotional value. It can mean many different things to people.
There are thousands of watch brands out there, so which ones should we look at? To me, it's obvious to focus on Swiss brands only, as watchmaking and Switzerland are inseparable. There are about 350 brands of Swiss descent. Even when applying a second filter, that of luxury products only, the list of brands is still remarkably long. Most of them have been out there for ages, and they all manage to coexist in the premium category. Each brand must be unique within this niche. How do these brands — all Swiss, all high-end, and all sophisticated — shape their reputation in the market through storytelling?


What's that something about Switzerland and watches?
When you hear the term "Swiss made," one product that probably comes to mind is a watch (besides an army knife and chocolate, of course). Switzerland has a long history in watchmaking. Interestingly, it all started with a ban. In the middle of the 16th century, the reformer Jean Calvin forbade the wearing of ornamental objects. This led to goldsmiths and jewelers shifting to the art of watchmaking instead. After a few decades, the timepiece business, mainly flourishing in Geneva, had a strong reputation for excellence. About a century later, the "watchmaker density" had turned so high that numerous workshops diverted to the close-by Jura mountains, where many manufacturers have been based ever since. In the centuries to follow, key inventions in watchmaking have come from Swiss soil, including the perpetual watch, the chronograph, and the pendant winding watch. At the turn of the 20th century, high efficiency and standardization made the industry fit for scaling up to higher production numbers. While manufacturing more, the Swiss kept advancing the products, leading to more innovations and complications. We can say that this story comes naturally with every Swiss watch. From a branding perspective, that's a nice bonus, I'd say. But we are still left with a huge number of brands that share that advantage.


Even the luxury league has gradations
I've narrowed down my scope to luxury watches only, as it's relatively easy to write an essay about how Swatch and Rolex differ. It's way more exciting to zoom into nuances of brands that are very similar. I have selected a tier division I found online: luxury, high-end luxury, and ultra-luxury class. For the luxury group, I look into Breitling, IWC Schaffhausen, and Omega. The second group, high-end luxury, is represented by Hublot, Jaeger-LeCoultre, and Rolex. For the ultra-luxury class, it's obvious to select the so-called "Holy Trinity of Watchmaking": Audemars Piguet, Patek Philippe, and Vacheron Constantin.
Well, you have my shortlist now, but would you be able to figure out which watch belongs to each brand?

Watch models of the selected luxury brands
Differences at first sight
Let's start with a quick check of what we typically notice first: the visual identity. Sure, appearance doesn't tell a full story, but it defines a certain mood. For each brand, I have collected the usual suspects: logo, color palette, typeface, and homepage. A few things are quite interesting.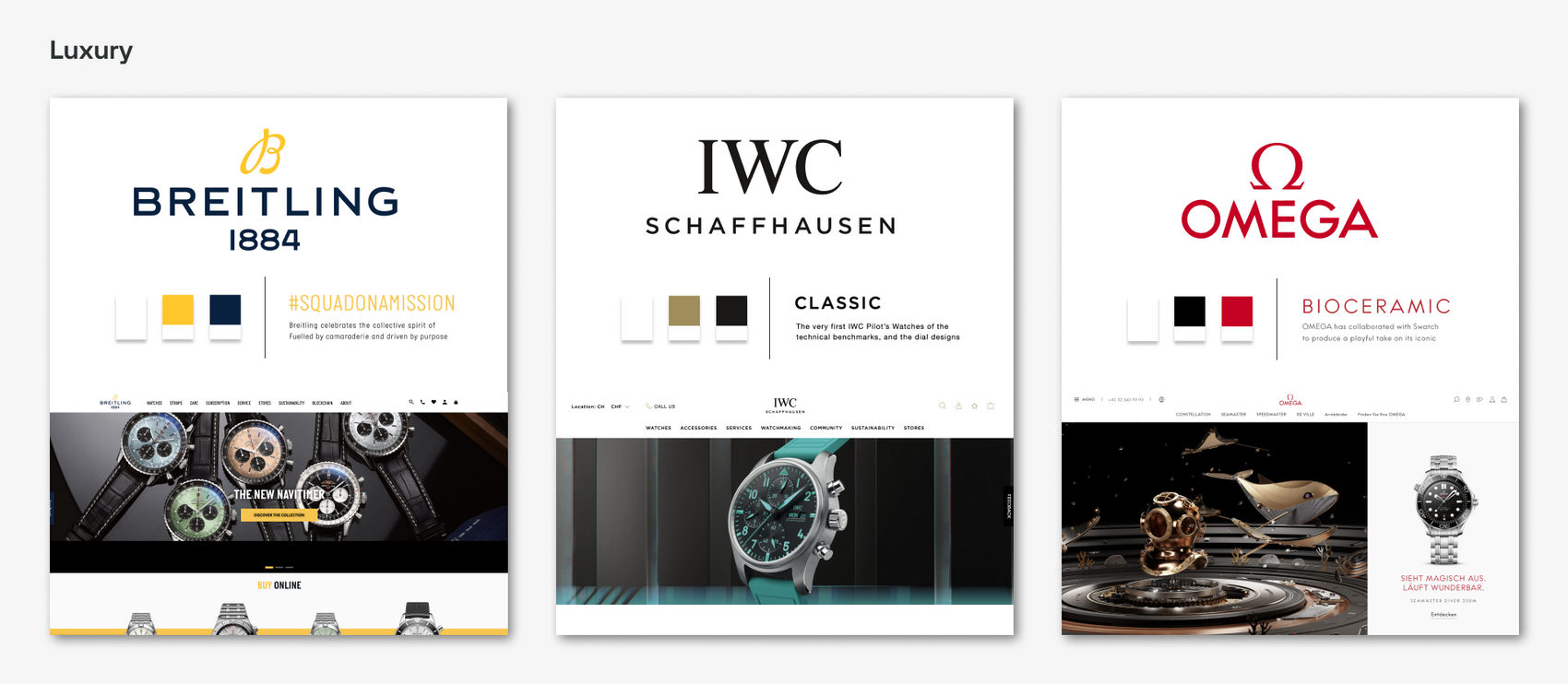 Of the luxury brands, Omega and Breitling have strong primary brand colors: red and yellow. Breitling and IWC apply color for more than just accents in some of their products. The latter even partners with PANTONE®. Above the fold, the brands' websites look pretty similar, with a strong focus on showing the actual product.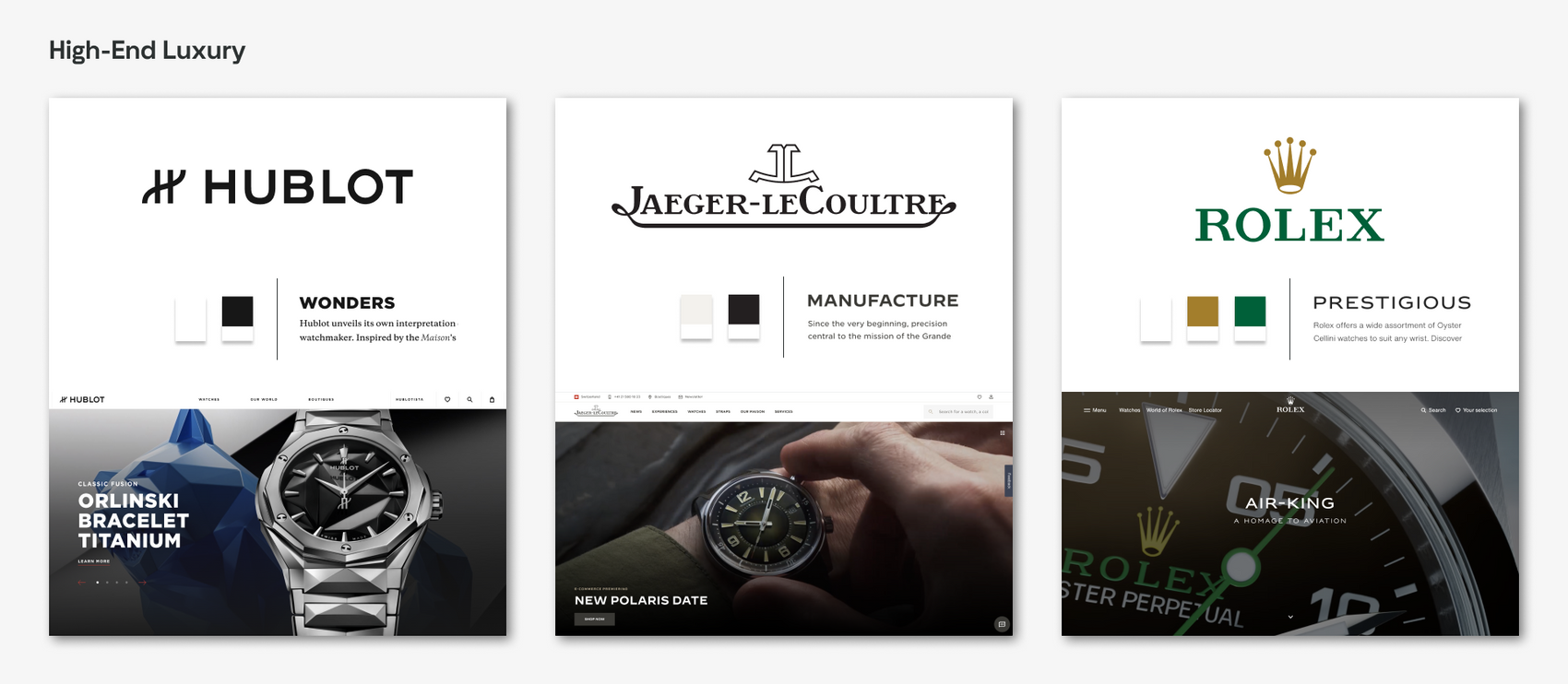 Rolex's choice of two brand colors is remarkable at the high end of luxury. One can say that green stands for the everyday, whereas the golden shade expresses luxury. The online appearance in this category is rather conservative, but for Hublot, at least the unconventional watch designs stand out. With its somewhat conservative visuals, Jaeger-LeCoultre sits at the other end.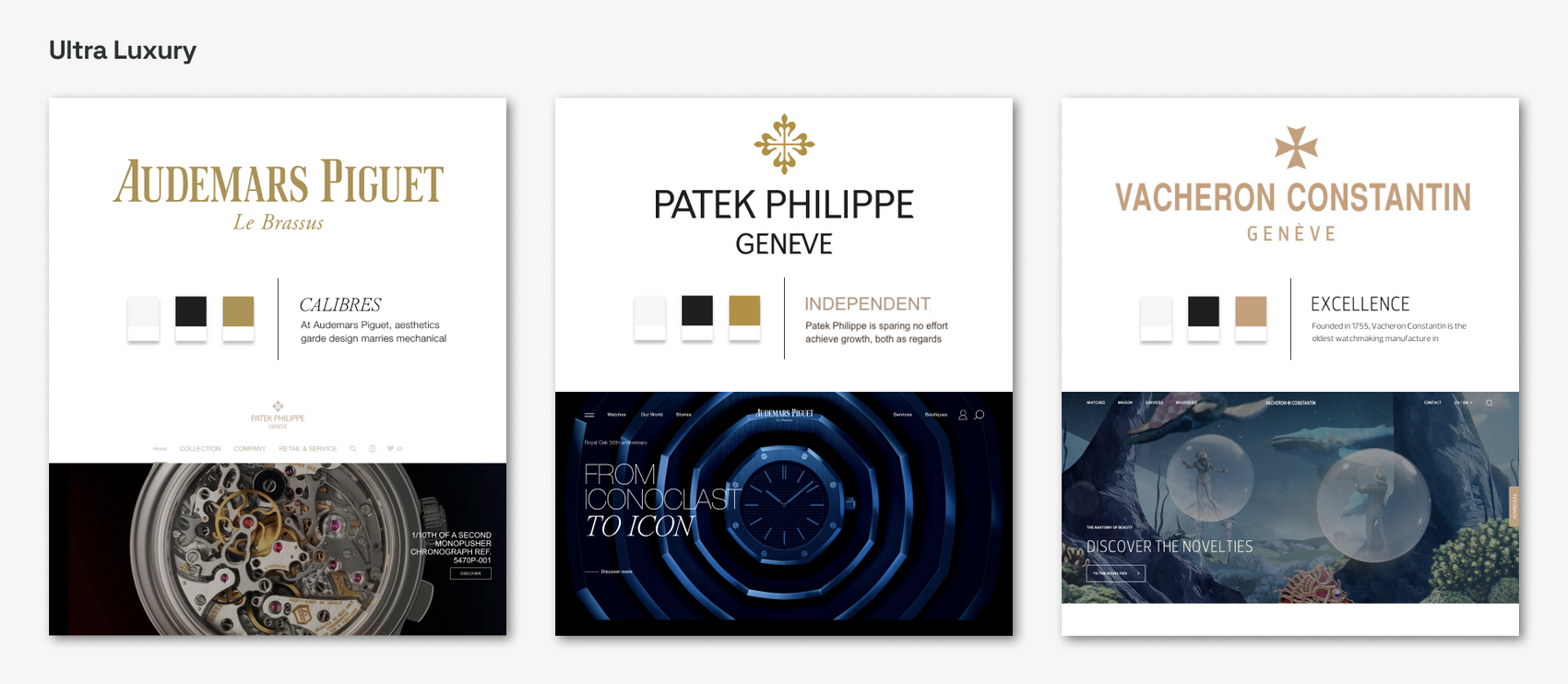 The top three brands all go for gold (or is it beige?) – in slightly different shades – as a brand color. The official logo includes the place of origin. In terms of imagery, it's remarkable to see the shift away from the actual product: On the homepage, the brands show art, patterns, and details. Watches come second.
Generally, it's interesting to see a lot of similarities, such as a homepage layout with one large header image, the use of large caps for titles, and limited application of color. The logo concepts deserve a special mention: The majority have an icon with a 1:1 width-to-height ratio, all have an all-caps wordmark, and most logo items are centered horizontally, which makes sense considering the placement on a watch dial.
Craftsmanship, heritage, and innovation as a standard
When shifting focus from visuals to messaging, the outcome of a quick first corporate website run-through doesn't reveal any radical differences between the nine brands. Despite considerable differences in company age, reaching from 42 to 267 years, each watch brand uses superlatives to highlight its rich heritage.


The founding years of the selected brands


In addition to referring to their long experience, all brands emphasize their extraordinary craftsmanship and sophistication in innovation. No major differences can be seen here at first sight, and it seems that every watch brand needs to tick those three boxes. Even the actual wording used in communications often is relatively interchangeable.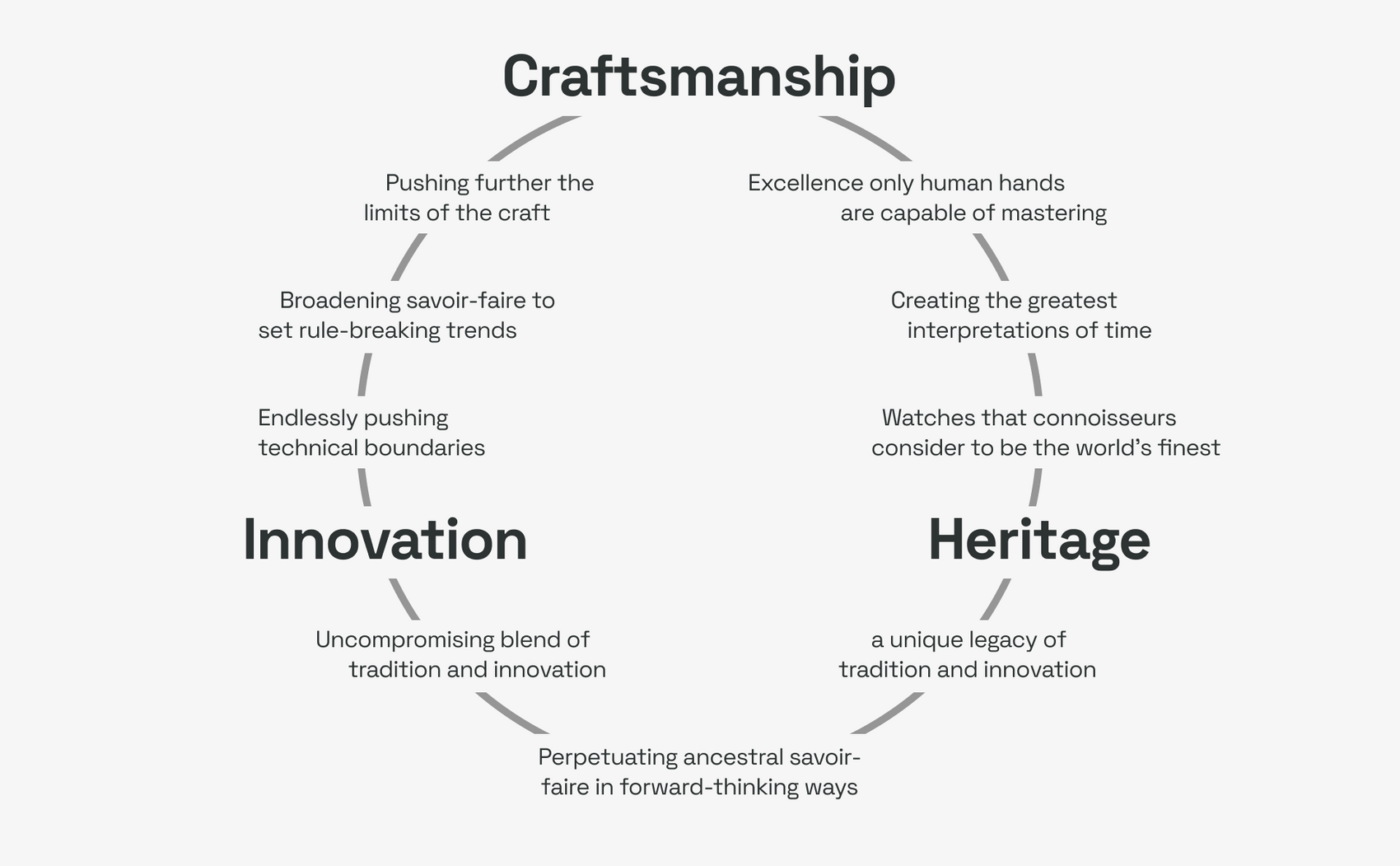 Random selection of statements from nine different watch brands, all being part of three main stories

These similarities don't help us further. The homogeneity isn't too surprising: The nine brands are in the high-end Swiss watchmaking niche, after all. Besides the physical differences, each brand's uniqueness in storytelling will need to be found in the finest detail, so let's try.


Setting the stage: Location is key
Every story needs a backdrop. Describing where something takes place is an important factor in storytelling. Though a silent witness, the scenery creates an atmosphere — a baseline for the actual message. The Swiss watchmaking industry has mastered setting the right stage from the very beginning, and most brands are (still) in the same area in western Switzerland, stretching from Geneva to Biel. This area, called "Watch Valley," features the highest density of watch brands in the world. Sure, things have developed this way historically, but the timepiece manufacturers decided to invest further in the area and use it as an integral part of their story. Most of them even go a step further today and showcase their location down to the level of their premises.
I traveled to Watch Valley to take a closer look at the brands' environments and headquarters. I felt that being there and experiencing the area could help me understand things better. Besides, I could visit flagship stores and exhibitions.
I started all in Plan-les-Ouates, a business area in the Geneva outbounds. The first buildings I couldn't miss were the new Patek Philippe headquarters, housing offices, and a production site. The huge 10-floor building stands out in the neighborhood like an oversized yet beautiful wedding cake. Despite its size, the home base has elegant shapes, warm colors, and fine details, just like the watches manufactured inside. With a price tag of nearly USD 0.7 billion — no, that's not a typo — it clearly is the most impressive office building I've ever seen. Surprisingly, Patek Philippe doesn't show off its premises online but launched a special watch model to celebrate the building's finalization. Literally in the shadow of this building are the Rolex headquarters. In the architecture, one can see the difference between high-end luxury and ultra-luxury. The large building looks like a relatively common multinational premise, but interestingly, it has a brand-compatible color scheme. The relatively new Vacheron Constantin headquarters are located just a few hundred meters away. With its organic shapes and surrounded by green space, the building has a beautiful yet somehow modest appearance. Actually, this brand shows its main building in its communications with its own webpage.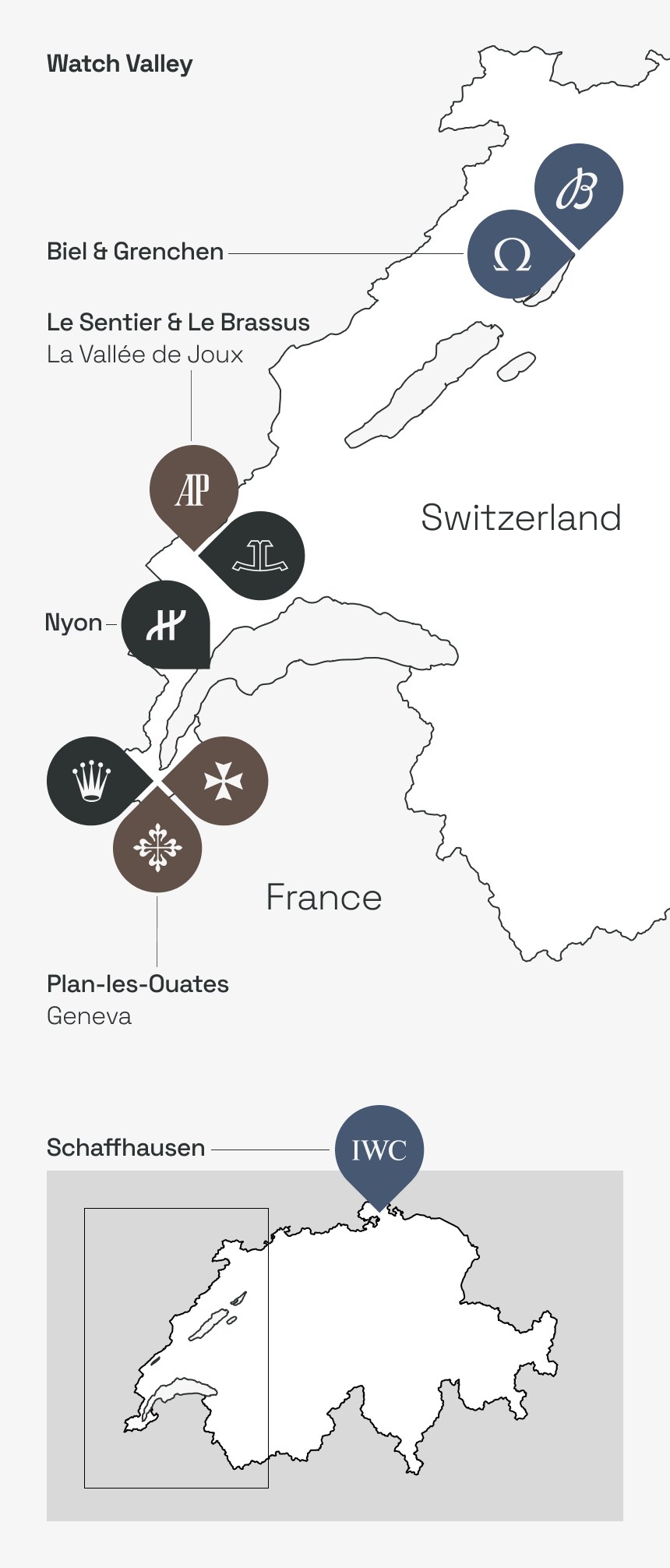 Traveling north, I decided to skip the Hublot headquarters on my way to the Vallée de Joux, the next watchmaking hotspot. In the picturesque village of Le Brassus stands the classy building of Audemars Piguet. However, the surrounding green fields and beautiful scenery draw more attention, and that's exactly what the brand aims for. It tells the origin story, highlighting the value of nature: "The region's natural resources — specifically the forests, water, ice, and rocks from which iron ore could be extracted — provided the means for the watch industry to evolve and thrive." Besides, Audemars Piguet has its own museum, whose architecture reminds of the circular shapes of timepieces. Note that a reservation is needed to visit the store. Down the street, a new site is being constructed: a campus that aims to bring together all the employees who are currently spread over several locations. A new brand landmark is in the making. Jaeger-LeCoultre is located a bit further up north, in the same municipality: not as special as the Audemars sites but certainly an impressive building in the otherwise rural area. Online, the brand shows where it comes from. Like Audemars, Jaeger-LeCoultre tries to ride the "inspired by nature" wave but moreover, craftsmanship is key in their messaging. From the outside, I could see experts assemble watches at their workstations, and the brand offers on-premise "Discovery Workshops". The last stop, the city of Biel, is the center of Omega. In front of the headquarters, a large spaceship replica draws attention. The classic architecture somehow felt like a good match with the timepieces being made there and next door. I visited the brand's museum: The stories told there were mostly about sports timekeeping, watches in outer space, and a long-term relationship with the James Bond franchise. I had no time left to visit Grenchen, another watchmaking hotspot and the home of Breitling, but I visited its Geneva flagship store instead. IWC is the stranger in our midst: The company is the only one based in the German-speaking part of Switzerland, far away from the valley. Maybe that's a unique characteristic by itself.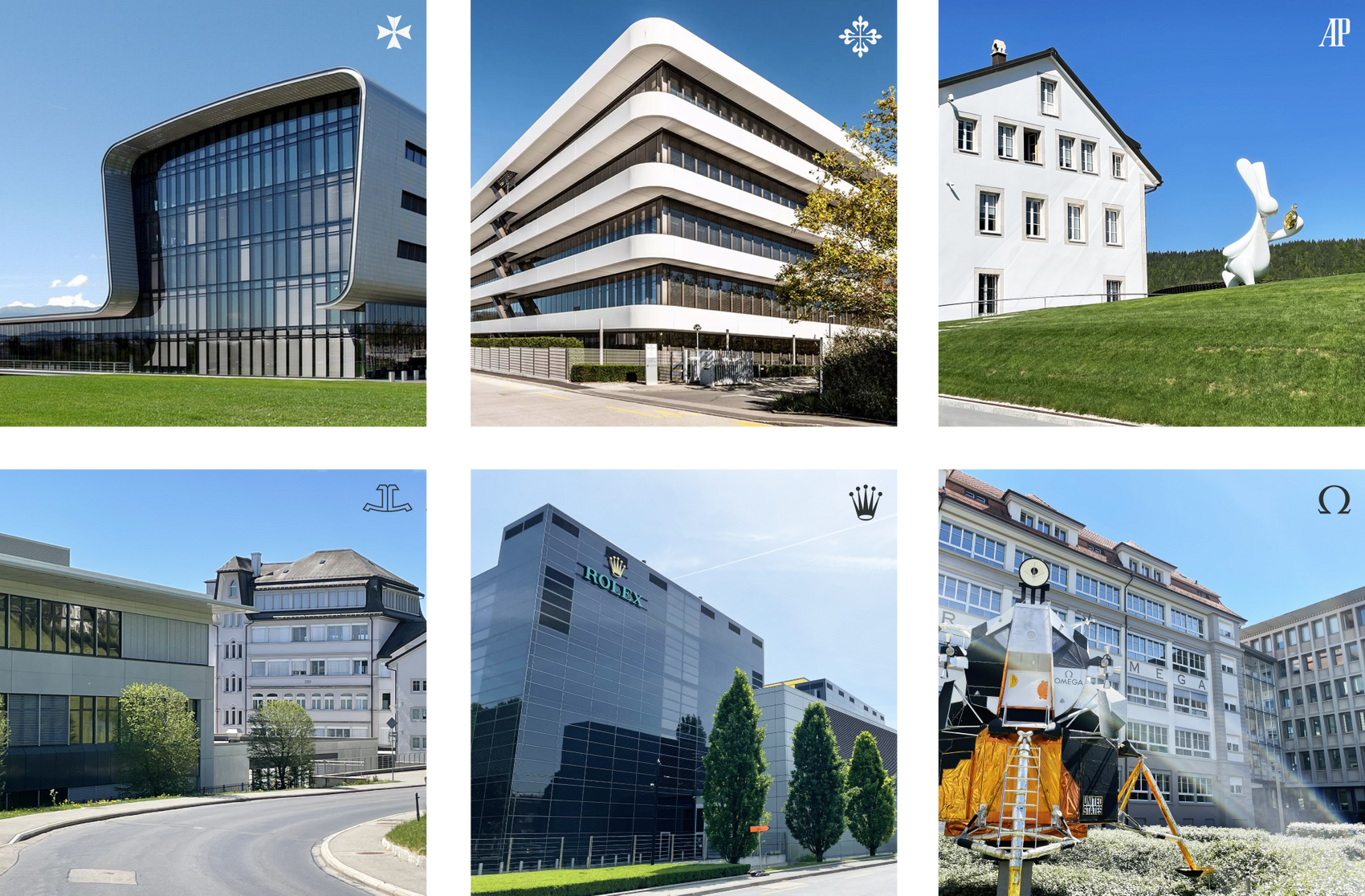 Six different headquarters
Defining the theme: Application and beyond
Now let's think about the product for a moment. Watches do not only show the time of the day, month, or year, but they can also measure a time span or help calculate time-related entities. That's where things get interesting, as there is a wide range of applications for these functionalities, and each can be the base of a storyline. Online and store communications show that there seem to be three theme categories: sports, exploration, and culture. However, not all of them represent a concept in which timekeeping is crucial, such as athletics and aviation. Some have little to do with clocks but just seem to have the right feel. I have explored each brand online and in stores and found the following narrative tendencies: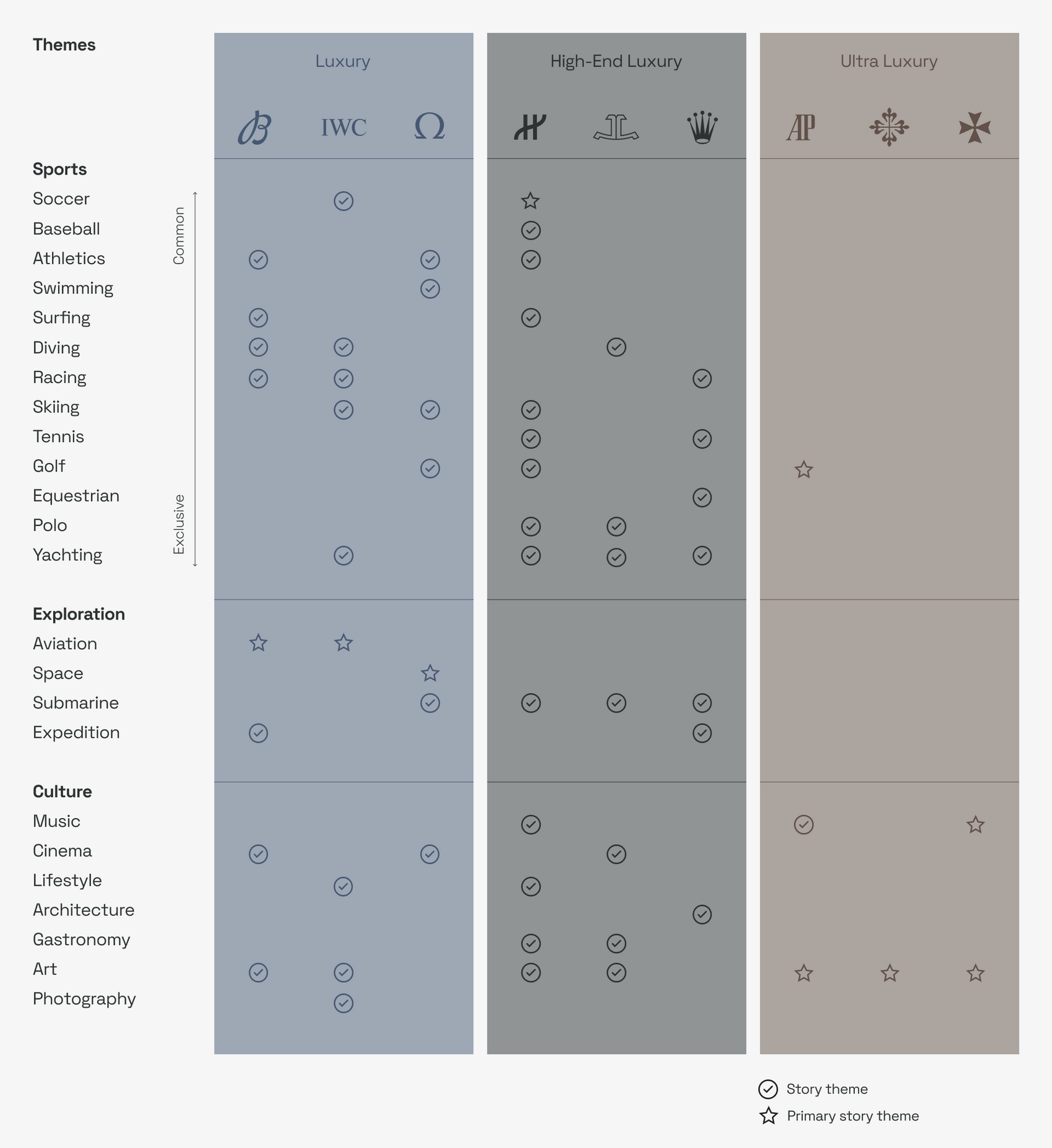 Story themes in different categories
Breitling is clearly presenting itself as the aviation watch and reminds people that it invented the chronograph. The Navitimer, developed for pilots, is their most promoted model, and much of the imagery shows planes and cockpits. Though less prominent, motorsports is another key theme that started in the early days, when Breitling patented the pocket-watch tachymeter for measuring a car's speed. This connection shows again in their partnership with Bentley, racing sponsorships, and the vehicles on display in their stores. The two themes are applied in a way that gives the brand a sports and lifestyle touch. Breitling's commitment to cinema and performing arts is remarkable. If you ask me, this attempt to appear a little more cultural only dilutes the brand story.
"WWII pilot's watches you can wear with a suit." That's how GQ Magazine refers to the IWC Schaffhausen brand. I think that's spot on. Again, it's all about aviation. Being in the German-speaking area of Switzerland, IWC Schaffhausen seems to be more affiliated with German technology than French art. The brand talks about precision engineering and advanced materials, showcased by their partnerships with the US Navy, a manufacturer reintroducing supersonic airplanes, and The Spitfire Academy. Racing is a second theme. However, other than on the website, it is not particularly present in communications or third-party content about the brand. In an online journal, IWC shares its affinity with cultural topics as well, but planes and cars are overrepresented. IWC clearly is a contemporary, design-driven brand and tells its story through shapes and colors. For instance, the new TOP GUN collection is available in five colors, each inspired by different areas of aviation.
Being in the German-speaking area of Switzerland, IWC Schaffhausen seems to be more affiliated with German technology than with French art.
Omega goes a little higher up the sky and highlights that its watch witnessed the first moon landing. Still today, the Speedmaster model is flight-qualified by NASA. Besides, it tells the story of being the number one timekeeper in athletic sports, also visible in their official Olympic Games presence for decades. These are two quite different stories, but of course, the sports coverage literally is more down-to-earth, and events like the Olympics have huge coverage. To add weight to the brand's somewhat supernatural, adventurous side, told through the outer space theme, Omega watches play a role in many Bond movies.
From sports for the large public to rather exclusive disciplines, Hublot is in the game. Soccer has a special meaning for the brand. (Ever noticed the Hublot logo on substitute displays?) It is remarkable that a brand with an exclusive audience has selected soccer — the universal sport. Hublot is also present in the cultural domain, but it's all a supportive narrative: The Hublot story is about the fusion of traditional watchmaking techniques and modern materials. It expresses that luxury doesn't have to have a conservative look and feel. Even Hublot's founding year, 1980, is unconventional. GQ Magazine: "Hublot was the first brand to put a solid gold watch on a rubber strap, which [...] was as revelatory and transgressive as wearing sneakers with a suit."
Even Hublot's founding year, 1980, is unconventional.
Jaeger-LeCoultre seems to be a rather conservative brand in terms of storytelling. It sticks to the craftsmanship theme and focuses on the relatively exclusive end of sports. Not in the last place, though, because its legendary Reverso watch was originally developed to withstand the rigors of polo matches. Diving is another application Jaeger-LeCoultre has been addressing, and today, the brand also liaises with cinema, gastronomy, and art. Undoubtedly, Jaeger-LeCoultre is a highly valued brand, but I somehow miss a clear focus. The brand sticks to the watches' sophistication level rather than having a clear storyline around where these products live.
Wherever you ask people to mention a luxury watch brand, Rolex will probably be the name you'll hear most. Watchtime Magazine: "If even a person who knows nothing about watches views one specific brand as 'number one,' the company is doing something right." Interestingly enough, the brand doesn't actually manufacture the finest timepieces. Consistency in design and robustness make Rolexes reliable luxury watches for the everyday. In this respect, water resistance plays a big role. The brand loves highlighting its submarine adventures. Besides, it has an established presence at the exclusive end of sports, highlighting tennis, followed by golf, equestrianism, and yachting. Architecture gets some attention, too, but this aspect loses some credibility when thinking of the rather uninspirational character of the brand's own offices.
Art, golf, and music. That's a clear shortlist of themes for Audemars Piguet, manufacturer of ultra-high-end dress watches. Starting with sports, the brand's CEO once said, "The parallels between golfing and watchmaking are clear: both are arts of precision and require dedication and a relentless drive for pushing boundaries." I think this is a bit far-fetched. But Audemars Piguet is where its customers are (or want to be): on the green. In terms of art, the brand "believes in the power of contemporary art to connect and be connected." Through a studio platform and a biennial competition, the brand supports international artists. By connecting people through emotion, music has been selected as the third storyline made visible through studio projects and festival sponsorship.
With models named "Nautilus" and "Aquanaut," one would expect some storytelling around submarine and space adventures, but Patek Philippe stays close to itself. As an ultra-luxury watchmaker that finishes every part by hand, it's no more than natural to highlight art in its storytelling. Remarkable here is that the brand doesn't seem to connect with artists or institutions but rather creates extensions of its own craftsmanship, for instance, through its self-curated "The Art of Watches Grand Exhibition" and exhibitions about handicrafts close to their own. They even have their own museum. Patek Philippe doesn't seem to need peripheral stories; its own might already be compelling enough.
Vacheron Constantin stands out due to its inconspicuousness. They have two partnerships with art institutions that tell stories beyond craftsmanship, innovation, and heritage. With the statement, "In the world of recording, timing is everything," the brand presents its partnership with the legendary Abbey Road Studios. In visual art, Vacheron Constantin has managed to be associated with the world's most prestigious institution — the Louvre. The brand doesn't only support the museum's collection but also created a new series of Métiers d'Art watches directly inspired by masterpieces of the Louvre. Some ultra-luxury brands are loud about their various cultural commitments. Vacheron Constantin hangs out silently with a top-notch studio and the world's most prestigious museum. That's sufficient, I'd say.
Some ultra-luxury brands are loud about their various cultural commitments. Vacheron Constantin hangs out silently with a top-notch studio and the world's most prestigious museum.
Selecting the cast: Brand ambassadorship
The nine reviewed brands tell their stories not only through imagery, messaging, sponsoring, and partnerships but also through people. After all, it's not just important what's being told but also by whom. Particularly in the timepiece business, putting faces to the brands is a common, powerful practice. Logically, each brand selects people who represent their main story themes. However, spontaneous ambassadors — such as pop stars, movie actors, and politicians — pop up. Let's take a look.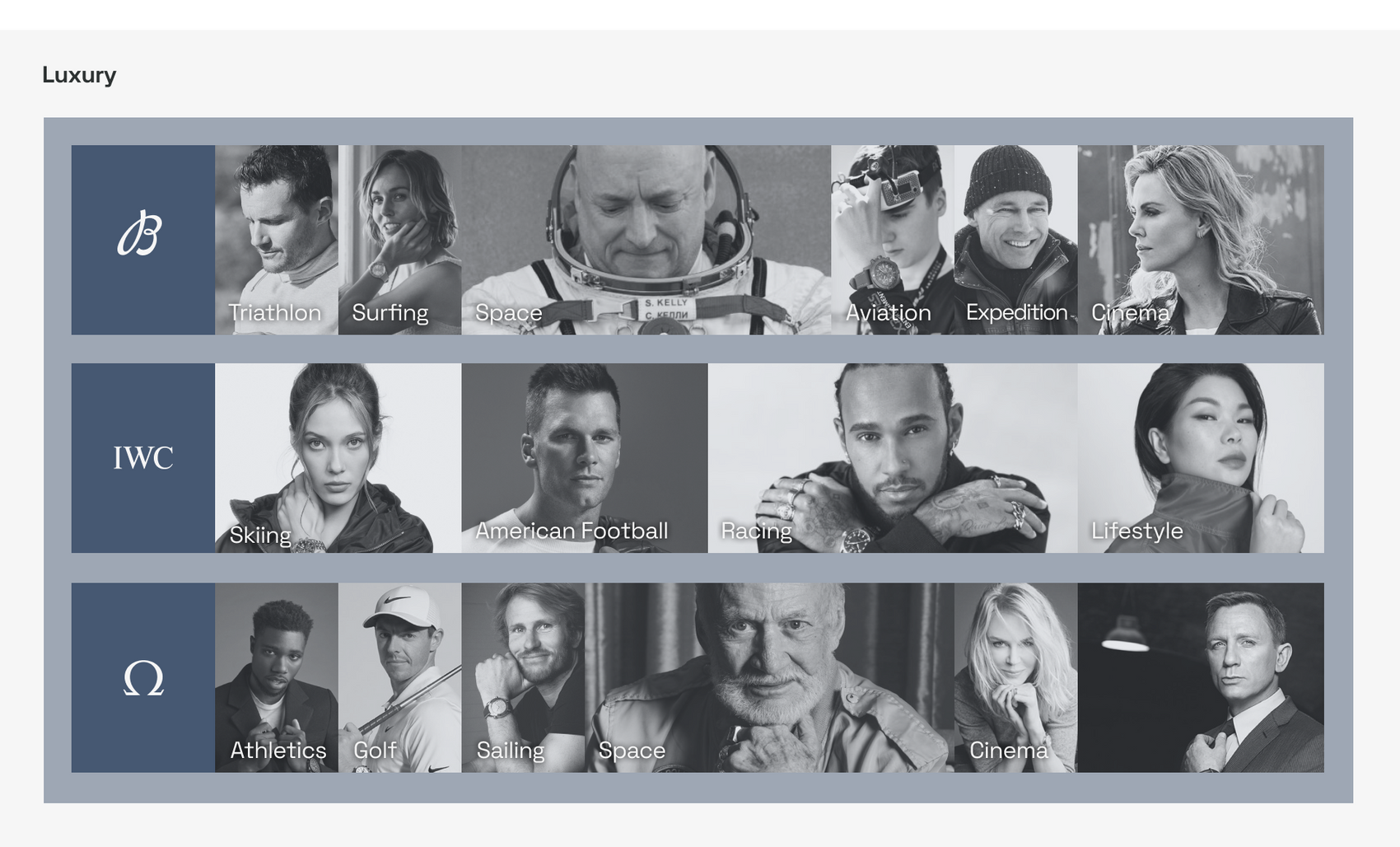 In the luxury category, Omega seems to have the most impressive lineup. Their primary theme, outer space, got the face of Buzz Aldrin, supported by George Clooney. Clooney is not an astronaut, but the brand profiles both of them as "Starmen": "George Clooney was just a boy when his hero Buzz Aldrin walked on the moon. Nearly 50 years later, the two legends of space and screen finally met." The more iconic movie star Omega got on its side is James Bond. (Yes, not the actor but the character.) Omega watches play a role in numerous 007 movies, adding action and adventure to the brand. In sports, less prominent names pop up.
Breitling uses aviation-style naming to describe its ambassador teams: squads. There's Spotlight, Cinema, Triathlon, Aviation Pioneer, Explorer, and Surfer Squads, with professionals covering most story themes. For outer space, the brand has ISS astronaut Scott Kelly. The brand's aviation ambassadors are less known but make strong statements: a female fighter jet pilot and a young drone world champion. Remarkably, there's no clear dedicated ambassador in the racing scene.
IWC seems to go for a few well-known names instead of long lists of lesser-known people. Its key theme of aviation doesn't have one powerful face. Still, with Lewis Hamilton, IWC certainly has a valuable ambassador in motorsports. (And, actually, a Formula 1 driver can be called a pilot.) Interesting is the prominent role of American football star Tom Brady, who seems to give the brand a face in the US, where F1 isn't as popular as in Europe. The other two ambassadors cover the skiing and lifestyle themes.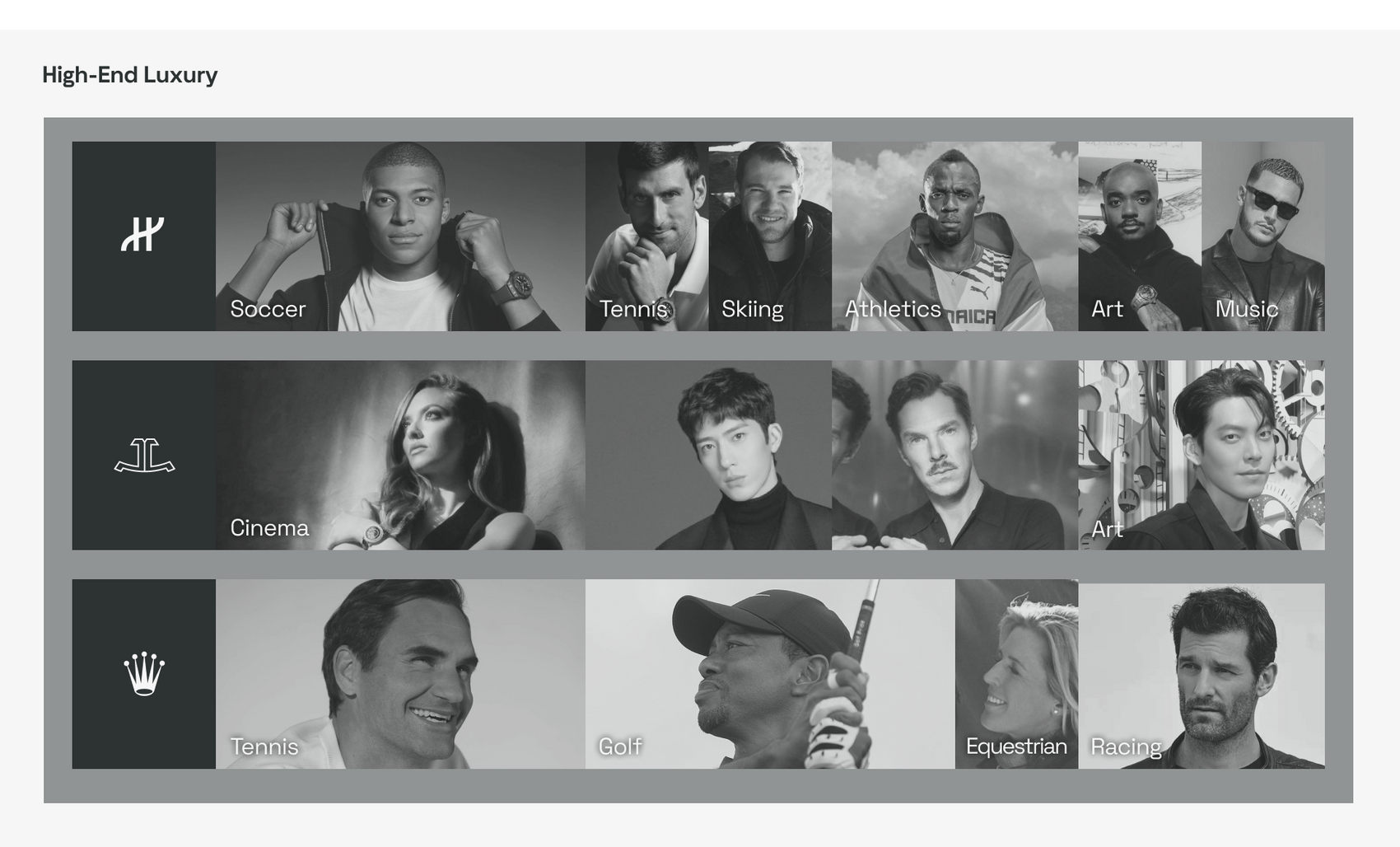 In the high-end luxury class, Rolex stands out with two legendary athletes: Roger Federer and Tiger Woods. The other exclusive sports themes — equestrian and yachting — are represented by lesser-known professionals. But with these two frontmen names, this doesn't seem to matter.
Hublot has a clear number-one brand face, emphasizing its presence in soccer with Kylian Mbappé. Soccer legend Pelé also seems to have some agreement with the company. In other areas, the unconventional brand has impressive ambassadors, such as Novak Djokovic and Usain Bolt.
It appears that Jaeger-LeCoultre has a weaker lineup (all in the realms of cinema and arts), at least in terms of recognizability. No highly prominent people can be spotted amongst their ambassadors. Not a surprise, as the brand has chosen to cover a wide variety of themes, losing some focus in its storytelling. Apparently, the brand doesn't put much weight on ambassadorship — or it can't get well-known names.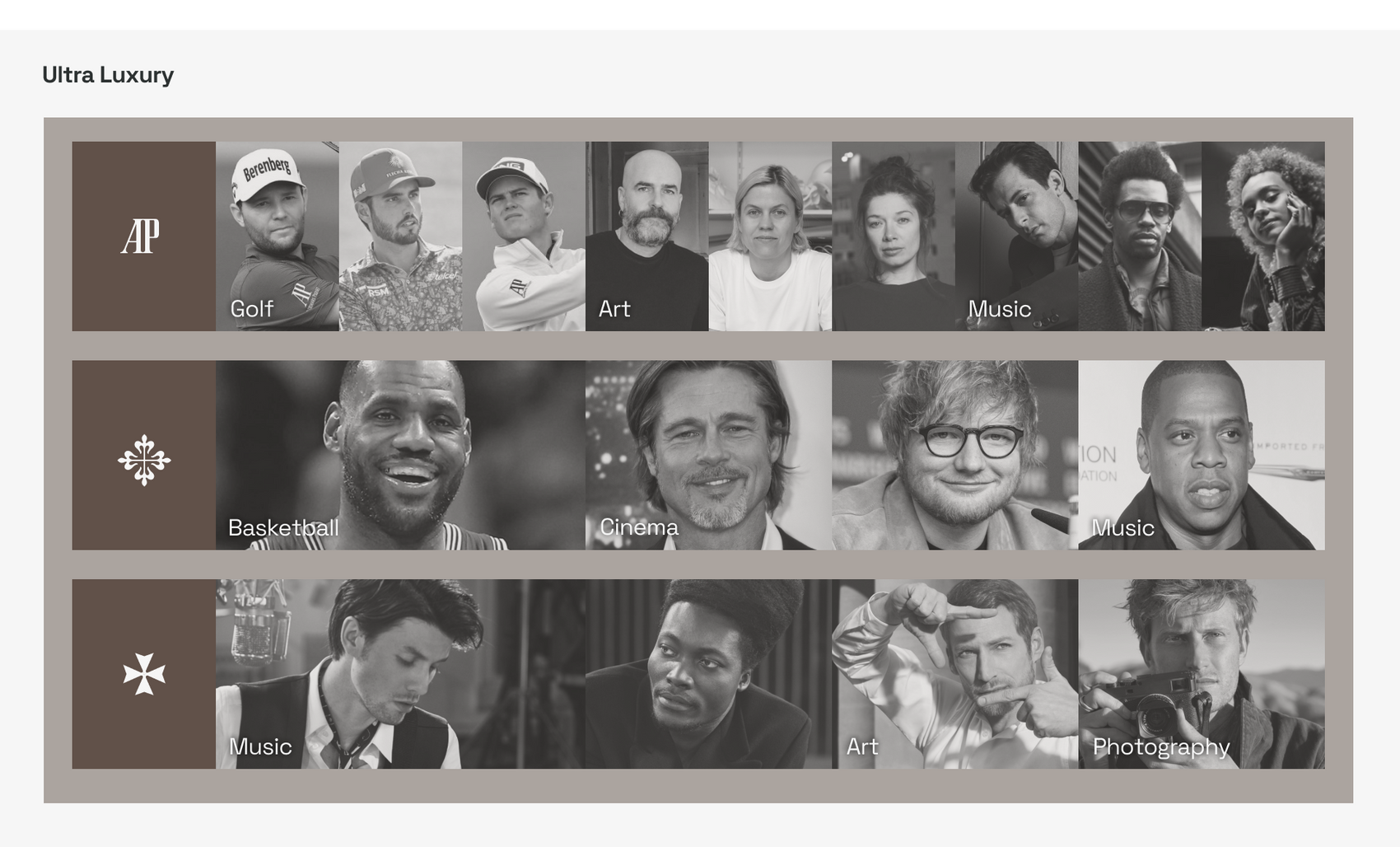 Patek Philippe has the most famous ambassadors in the ultra-luxury space. Brad Pitt, Eric Clapton, Ed Sheeran, LeBron James, and Jay-Z, to name a few. What's special about these people is that they have not been approached by the company but are more than satisfied customers who happen to be in the spotlight. Of course, this is the most desirable type of ambassadorship, as it can't get more authentic, and it's free. Besides, it demonstrates that the independency the brand loves to emphasize goes beyond company ownership.
Audemars Piguet simply ticks the boxes for each of its three themes – golf, art, and music – by showing a few professionals for each. Evenly divided over the three, stories are told around these relatively unknown individuals. The brand might feel like it doesn't need to contract any big names, as it already has one. Besides, stars like Lionel Messi, Sachin Tendulkar, and Serena Williams are known Audemars Piguet watch owners. Again, building a premium product seems to do the trick.
Not surprisingly, somewhat modest Vacheron Constantin comes with a lineup of exceptional talents who are not surrounded by glamour. Portraits reveal the beauty of these people's skills in music, art, and photography without emphasizing a single one. After what I have come to learn about this brand, I think this is a consistent approach.
Each brand has its own book
I started by stating that storytelling plays a crucial role in watch branding and confirmed that statement for a short list of premium Swiss brands. Let's use the book metaphor here for a general summary. For each watch brand, the preface of the storybook is about craftsmanship, heritage, and innovation. Then, the narrative diverges. Some succeed in setting up a unique stage, many referring to the history, location, and premises. Some brands need only a few chapters to tell their stories, whereas others aim for a thick book filled with as many stories as possible. Although this might attract more types of people, it dilutes the overall message of what the brand stands for, which can backfire. However, the theme of each story is often derived from the functional aspects of the watch, applied in various sports and expeditions. Nevertheless, weaker connections to timekeeping are brought up: Cultural topics, such as art and music, appear to be relevant in the storytelling of high-end brands. In each chapter, impressive influential people – some selected, some spontaneously – play the characters, so the narrative features a hero.
Classmates share storytelling patterns
Closing in on the stage, theme, and ambassadors, we start to see how the nine selected brands differ. A positioning overview would have too many axes, so I will present a visual story lineup.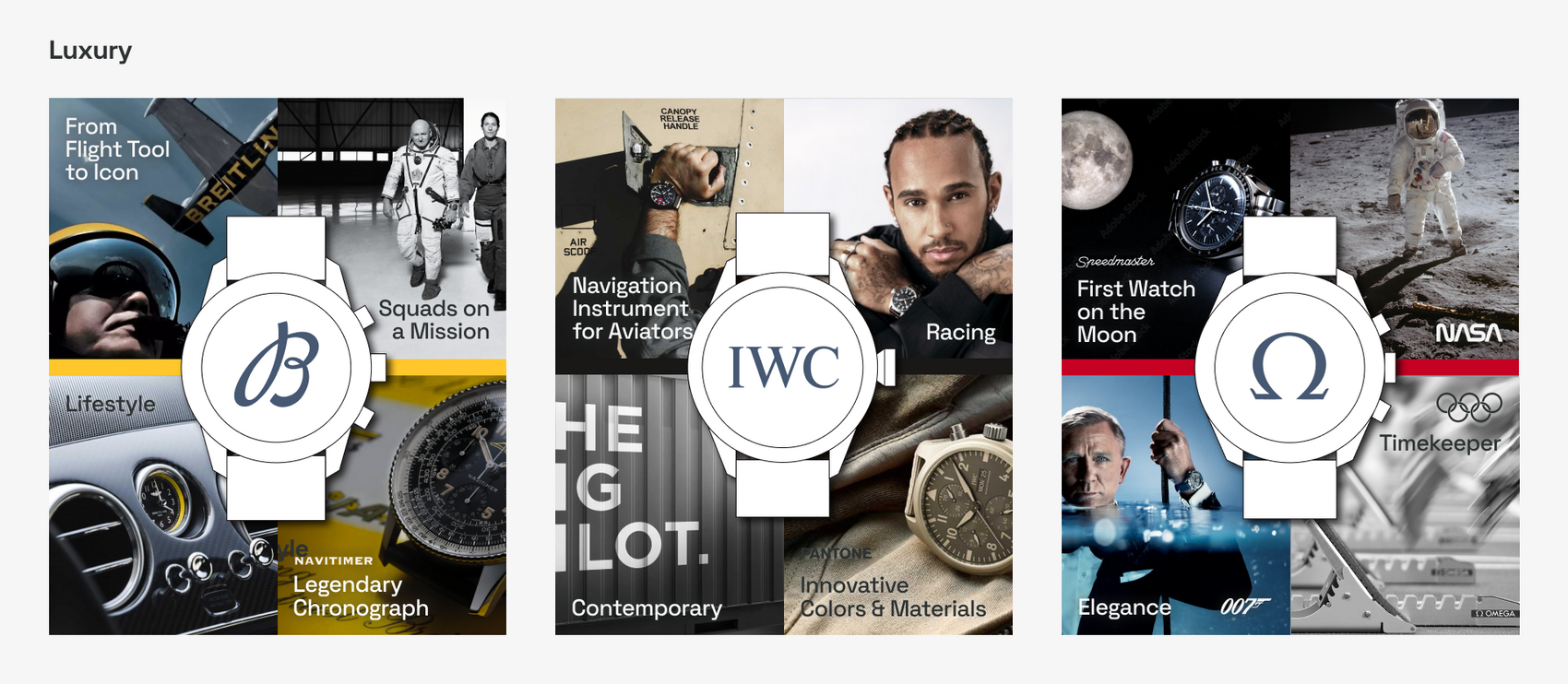 Breitling is the lifestyle brand inspired by aviation, IWC Schaffhausen is the pilot watch manufacturer that goes with its time, and Omega is legendary on both the running track and the moon. Generally, one can say that the luxury class doesn't pay much attention to company location and premises. Aviation is a key theme, but the brands tell many sports stories, too, stretching from mainstream to slightly exclusive disciplines. They try to step into the cultural domain, but this appears to be more of an aspirational move than showing who they really are. Typically, one or two star ambassadors give a face to each luxury brand, followed by teams of lesser-known professionals.




In the high-end luxury class, Hublot is the extravagant innovation brand, Jaeger-LeCoultre is the traditional manufacturer staying close to its craftsmanship, and robust and reliable Rolex is the brightest star. Conservative brands in this group tend to highlight their manufacturing sites and cover topics from exclusive sports to various cultural stories. Progressive players don't fit that scheme and bring bold stories around impactful themes. Some brands have contracted one or two legendary ambassadors, which is impressive regardless of the sports they represent.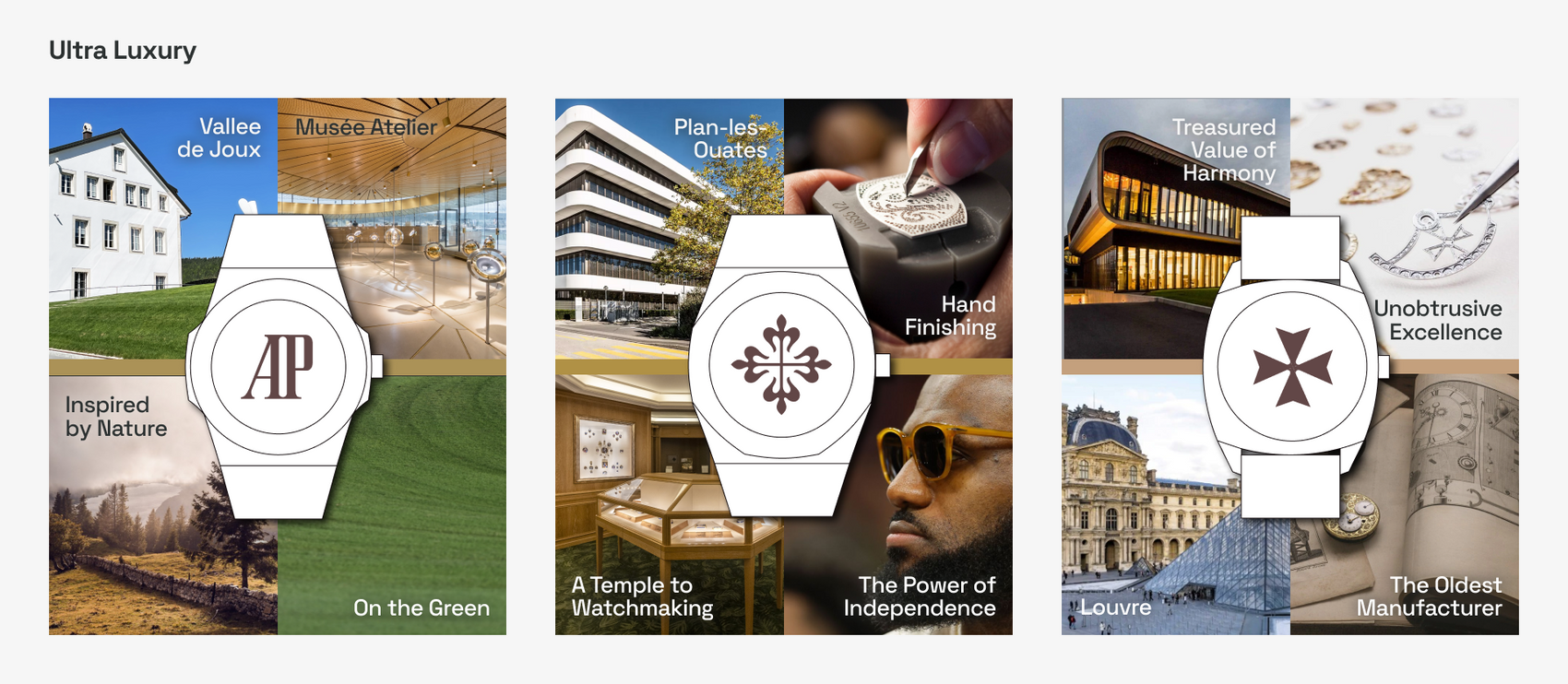 Audemars Piguet is the iconic golf, music, and art brand; Patek Philippe is the impressive master of handicraft; Vacheron Constantin is the hidden gem. Ultra-luxury brands stay close to the heritage theme: They don't seem to need much backing from other stories. This explains the excellence and visibility of their manufacturing sites and the presence of visitor centers and museums. The craftsmanship story extends to cultural commitments and partnerships in art. In terms of ambassadorship, these premium brands don't seem to need to reach out to the big names. The real stars come by themselves.
Now, which Swiss watch brand speaks to you most?

Willem Haen
Brand Engagement Lead