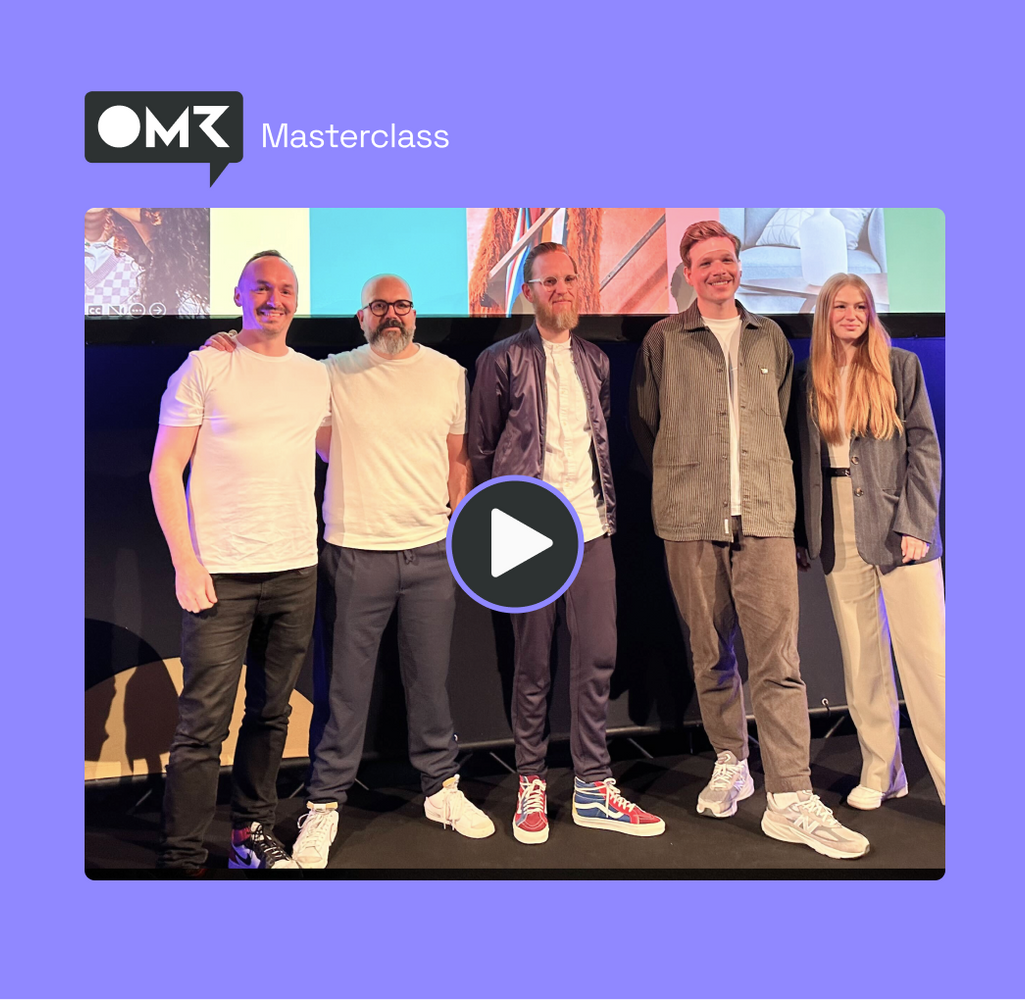 Design success formula: Top 5 insights into how OTTO makes branding success measurable
Check out the recap of our OMR Masterclass now, and discover all the insights!
With a bold design approach, OTTO shows how it has increased its brand value and achieved measurable results over the last three years. Check out the OMR Masterclass recap, and discover all the insights!
OTTO? In Germany, the brand is familiar yet new. Founded in 1949, OTTO is one of the world's biggest e-commerce companies today. The brand we've known and loved for decades has undergone an impressive rebranding. The result? A contemporary, fresh design that conquers the digital world without forgetting its roots.
Hardy and Lara from OTTO, Burkhard and Jonas from creative agency MUTABOR, which led the rebranding process, took the stage at OMR Festival 2023 – one of the leading marketing events in Germany. Their goal? To share their insights and experiences in a masterclass, led by Nicolas von Frontify, on how they achieved the process of brand metamorphosis and how they made the impact of their design measurable.
Top 5 insights and their impact
1. Trust the process
The OTTO journey begins with a profound realization: Design is not a subjective perception; it's a process. It's a constant journey, not a fixed destination. In the heart of Hamburg, in the offices of the MUTABOR agency, the OTTO brand was reshaped. It wasn't a quick or easy process — the team accepted challenges, tested opinions, and drafted ideas that were discarded and redesigned.
"We had the challenge of further developing such a well-known brand as OTTO. At the same time, the challenge was not to lose any users in the app by redoing everything and nobody finding their way around." - Burkhard Müller, Chief Digital Officer, MUTABOR
2. We make good design measurable
The question that guided OTTO and MUTABOR was, "How can we measure the success of our design?" "We want to create design that inspires and excites. It has to be beautiful but also measurable. We measure every creation, every design aspect that's created, against the brand values as a strategic foundation," said Jonas Möllenbeck, Creative Director Brand Experience at MUTABOR. The answer was key performance indicators (KPIs). KPIs from business, perception, and branding. An innovative concept that quantifies the impact of design on digital performance and makes design success measurable.
3. Design as a feeling
With OTTO's ever-growing digital presence came the challenge of creating a design that's not only appealing but also flexible; a design that adapts to all users and works at every touchpoint. The result? A brand that conveys a feeling, regardless of where or how it's experienced.
4. Always beta: Design is an iterative process
One thing became very clear during this rebranding process: design is never finished. It's always, ready for iteration and improvement. This philosophy of "always beta" allowed OTTO and MUTABOR to continuously move forward, learn, and optimize.
5. No more big bangs
The OTTO rebranding process was not a "big bang," a sudden change. Instead, it was a journey accompanied by MUTABOR, with the idea of thinking big but validating small. "We don't want any more big bangs. We want to bring design to the platform piece by piece. From loud to cautious — adapted to the different stages of the funnel and the (entry) motivations of the users," explained Lara Fiebig, Senior Strategic UX Manager at OTTO. Each step was carefully reviewed, tested, and validated to ensure that the design met the users' needs and OTTO's business objectives.
OTTO's rebranding process shows that it isn't "just" a design project but a profound transformation that strengthens the company in its digital journey.
With all this insight, OTTO also faced a daunting task internally: coordinating hundreds of team members and bringing them up to speed on the rebranding. This is where Frontify came in. The comprehensive brand management platform enabled OTTO to effectively communicate its new brand identity and ensure cohesive, company-wide alignment. As such, Frontify was a critical element in OTTO's successful rebranding, demonstrating how effective brand management can improve corporate communications and collaboration.
Do not underestimate the power of design
Design goes far beyond mere aesthetics — it can be a significant factor in business success. OTTO's rebranding and the lessons learned from it illustrate this impressively. Thanks to tools such as Frontify, they were able to manage the entire process and effectively integrate their teams into the collaborative brand development.
"For us, design is about solving problems for our users. So, every design needs significant value. A redesign project should not exclude anyone. We constantly learn to adapt the things we've learned." - Hardy Kühne, Creative Lead Apps- & User Experience, OTTO
The points above are just a sample of the extensive knowledge and experience shared in the Masterclass. Are you curious to learn more and dive deeper into the world of branding and design? Then check out the full Masterclass and discover the power behind a well-thought-out design. Your brand will thank you!
FAQ
Below is a selection of the many questions asked during the live Q&A.
What role did the various teams play in the company? Where were the responsibilities? A small team of researchers and designers inspired the product teams and management with a vision. They were then able to shape this into a clear annual goal.
Did you have all the necessary freedom right away, or did you have to convince management first? We responded to the need for a mobile shift and developed a solution for it. In doing so, we convinced management to move in this direction. It went without saying that we had the freedom to do so. It's our job to identify such issues and trends and to develop solutions.
How have you measured that users approve of the combination of new and old elements? We compare new elements in A/B tests. The KPIs of the surrounding elements must not deteriorate.
Is there a control authority for the corporate design? What happens when people in the company apply the design incorrectly? We have a special teams channel through which we discuss discrepancies and find company-wide solutions.
How strict are your guidelines for the new corporate identity, and how much leeway is there? Our guidelines are detailed and precisely explained. They serve as a safe harbor. Nevertheless, we encourage everyone involved to push the boundaries if they are willing to test the change specifically.
How high is the effort for quality assurance? We estimate that quality assurance accounts for about 15% of our effort, especially for the first iteration, which had about 400 live features.
How long does the "learning" process take, and how long do you test individual elements? That depends on the specific KPIs. If we find that some KPIs are stronger than others, we hypothesize ways to improve the weak KPIs. Ultimately, the specific feature team decides on the frequency of iterations or whether they take a completely different path.
How did Frontify help you with the roll-out? Frontify was very valuable as a single point of contact for all disciplines to ensure a consistent view.
Does the agency's brand manual or the user interface of the brand management tool serve as the basis for the design guidelines? As MUTABOR, we usually develop the manual or the guidelines. Frontify allows us to make them directly available digitally to all users and keep them updated without having to send PDFs every time.

Anneke Matsis
Field Marketing DACH