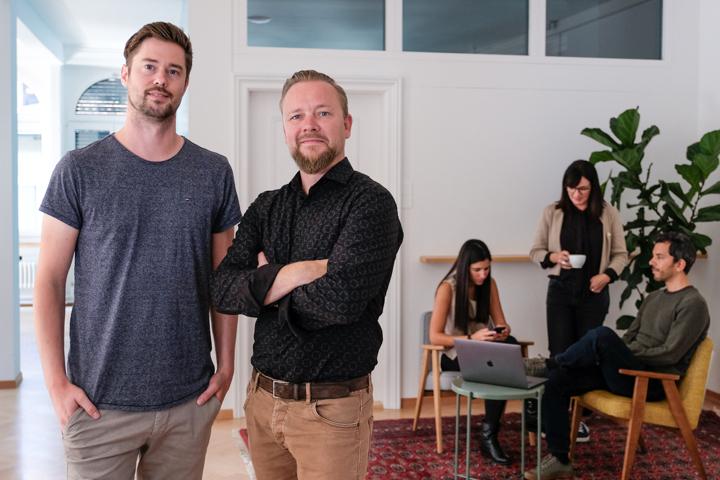 Leading The Next Phase of Frontify
A warm farewell to former CEO Andreas Fischler as Roger Dudler takes on the role with big ambitions for the future.
Following careful consideration and discussions, we have some bittersweet news to share. After five outstanding years as our company's CEO, Andreas Fischler will be parting ways with Frontify.
It goes without saying that contributions by Andreas have enriched Frontify in ways that the business will continue to benefit from for years to come. As a skilled leader and meaningful part of our story, he's helped shape a truly special culture for Frontify – one that will remain a focus for our team as we look ahead.
As we've cultivated the company from a handful to 100+ employees, we've celebrated some really exciting achievements including innovative product launches, a thriving global customer base, and significant funding to advance our successes. With further growth for Frontify on the horizon, and Andreas's passion for the start-up phase, this feels like the right time for him to reinvigorate that enthusiasm by exploring new projects.
"It's been one of the best experiences in my life to grow Frontify, together with Roger, to over 100 people in the last five years. I am deeply grateful for the opportunity to be part of this fantastic experience with a bunch of smart, humble and free-minded Frontifyers. I hope I'll be kept in mind as someone who really cared about making Frontify the best place it possibly can be to work." – Andi
With the support of the board, and a strong management team within Frontify, Roger Dudler, Founder and CTO, is a natural fit to assume the CEO position. The beauty of the relationship thus far between Roger and Andreas has been a leadership in tandem; with most responsibilities involving both.
"It's always been important to make key decisions as a team together with Andi – creating an environment that inspires creative freedom for self-motivated individuals – and work toward a common goal of building what Frontify has become today. Looking back, we couldn't be more proud of where we've landed, and the crucial role Andi had in it. I'm thankful that Andi has been part of this journey, and glad that his philosophy will live on in every employee. We'll miss him as a leader and a great person." – Roger
In continuing the company's growth trajectory and vision to empower all brands with Frontify, Roger's deep connection to product will remain – propelling the strategy and development of new and expanded offerings.
Ambitions for the company remain high, and maintaining a record of strong leadership is essential to reaching goals ahead. Roger is poised for whatever comes next, and thrilled to be leading Frontify into the future.

Roger Dudler
Founder & CEO

Andreas Fischler
Former CEO