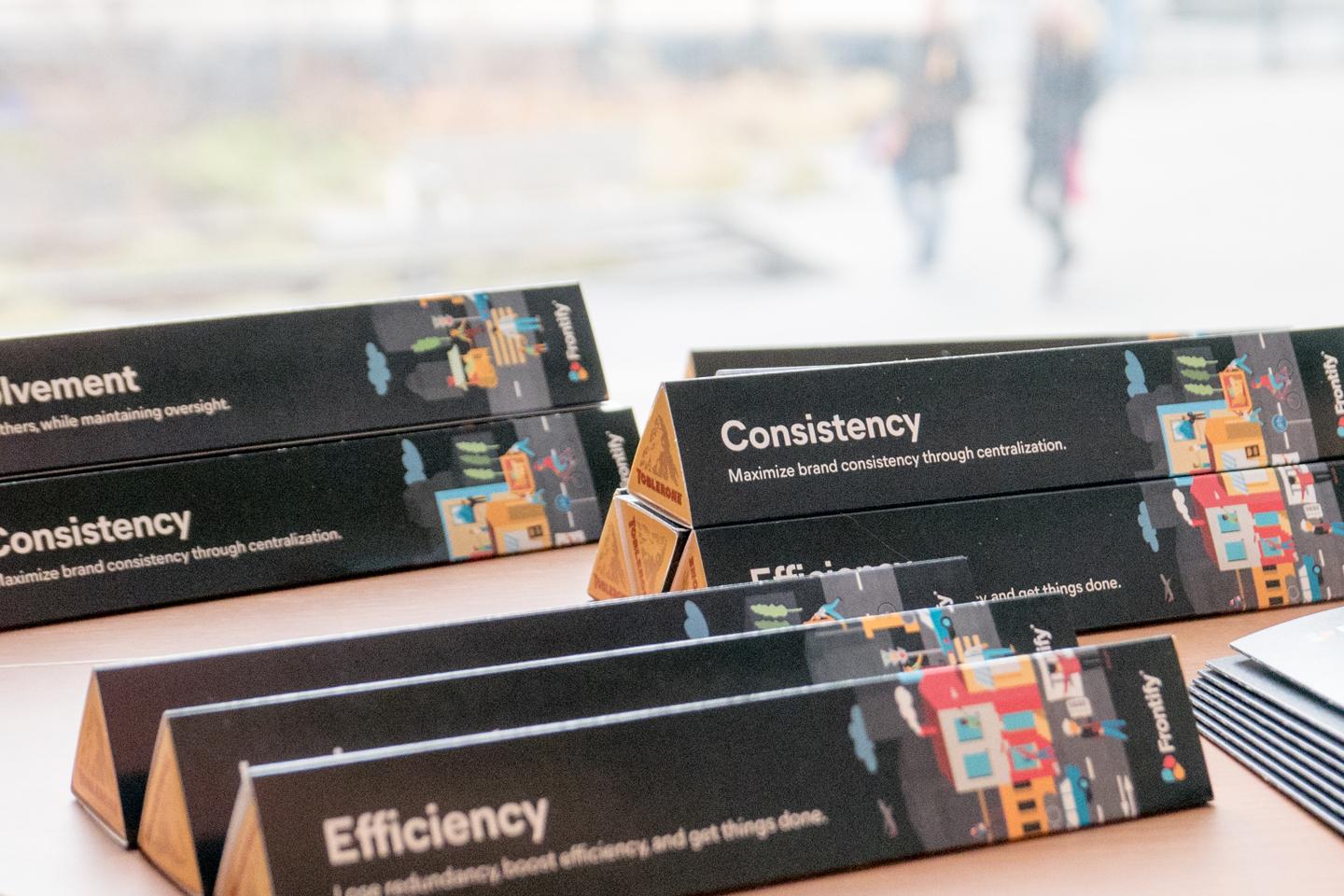 Breaking Down Silos at Brand Bites
At the recent Brand Bites NYC event, our expert speakers explored how internal empathy can improve collaboration across brand, marketing, and design teams.
Opening Communication Between Divided Teams
For the first time in New York City, key industry leaders across branding, marketing and design came together at our signature event series, Brand Bites. Previous editions debuted in Basel, Switzerland and Amsterdam, Netherlands, with this one drawing attendees to the heart of NYC for insights on ways to break down operational silos between their departments, developing more open communications through a shared understanding across internal teams and communities.
Kyle Lacy, CMO of Lessonly; Katherine Mok, Global Director of Marketing and Communications; Interbrand; and Steven Meyer, Design System Expert at Keap; shared their unique expertise on the state of internal collaboration – what really works – and how morale and productivity can skyrocket with clear processes.
An Internal Common Ground is Key
Several common themes popped up throughout the talks, most notably with concepts around hiring employees with internal empathy and internal curiosity; first mentioned by Katherine Mok from Interbrand, as the key to building a company culture that encourages understanding and smoother collaboration across disciplines.
Also, it was agreed that a one-on-one meetings approach is an often forgotten – but vital – first step toward better understanding roles, goals, and challenges faced by coworkers on other internal teams. It seems the truth to finally becoming more connected is simply being more human.
Your Company, Your Brand, Your Responsibility
Lessonly's Kyle Lacy attributed the success of his recent brand campaign around building internal buy-in, focusing on company-wide narratives and digital touchpoints. In scenarios that lead to success, the common denominator is that everyone's involved and responsible – with each person having a voice and role in driving the ball forward.
The Dynamic Trio: Advice for Marketing, Design, and Devs
Regarding the state of marketing, there were no questions around whether marketing is currently in a static state or not, but rather about how to fix things and become more dynamic (also across teams). These days, almost everyone needs to work with code in some shape or form, and a company's brand needs to be living, breathing, and always up to date. The big question: what's the best way to make modern, on-brand content creation happen across marketing, design, and development? How do you realistically translate static brand guidelines or marketing briefs, into something a video producer, UX designer, or even product designer can use?
DesignOps is a fundamental element in the process of helping fuse together teams across various lines of business. It allows for creating effective workflows that add value beyond your design-specific needs, but also offer very practical, everyday applications, too. This can be seen in Keap's holistic use of Frontify.
Additional ways to remove the barriers: sharing common tools across teams, and using the same language and terminology can have a big, positive effect on collaboration. According to Steven Meyer, creating plans together within teams – no matter how big or small the decision – can have a massive effect on the rollout of a strategic initiative, new tool, or process, rather than top-down decision making.
Speak the Same Language – Offline & Online
Jaclyn Kalb, the General Manager for Frontify US, and host of the New York event, put it best when talking about about internal productivity and prioritization:
"It's textbook: think people first, then processes and tools. The foundation of internal teamwork is understanding the roles and challenges of others outside your own direct team. To become more productive, we need to be empathetic to internal connections, then align on the processes and tools to help execute on a shared vision. Brand advocates are built internally during this collaboration."

Jennifer Harvey
US Marketing Manager