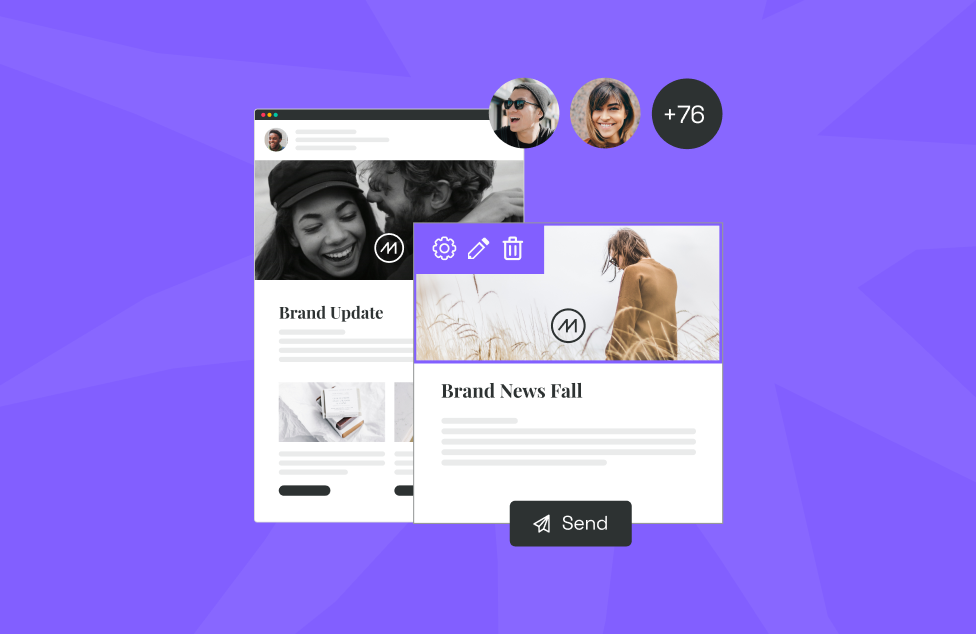 Introducing Brand Newsletter: A Better Way to Send Engaging Brand Updates
Take your brand-related updates to the next level and grab employees' attention with striking brand newsletters.
In today's noisy, digital world, the increasing number of communication channels has made getting the message across the organization a formidable task. To be successful, brands need an effective way to bring clarity and context to all teams. If these are lacking, frustration, confusion and gaps will grow between different departments — diluting the brand identity despite all the efforts made to prevent that.
That's why we're excited to announce the Brand Newsletter. By extending the power of the Frontify Brand Management Platform to the distribution of brand assets and updates, you can get employees engaged and teams aligned with brand newsletters, delivered directly to their inboxes.
Scroll on to learn more about how the brand newsletter is a game changer for boosting your brand operations, internal communication, customer perception, and revenue.
Keep Everyone In Sync
The biggest challenge most brands face is building engaging internal communications that keep everyone informed and moving towards the same goal. In light of the data we collected in our Brand Ownership Report, poor internal communication manifests itself in ineffective collaboration and a weakened brand ownership especially in critical customer-facing teams.
Now, with the Brand Newsletter, brand leaders can build powerful brand experiences at every employee touchpoint. This will help them improve internal communication and expand brand ownership with a push of a button.
Using the Frontify Newsletter, we can very easily update employees across different departments on the latest changes to our brand.
Linda Oettli - Marketing and Communications Leader, Nobel Biocare.
Make Brand Updates More Expressive
Bringing brand updates to everyone's inbox is the most effective way to make sure employees notice brand updates and act on them. With the depth of information that an email allows for, a newsletter is arguably the most expressive communication channel that brand leaders can use to align everyone around the same business goals.
We know that sharing and curating relevant content in a newsletter, and making it visually appealing, is a daunting task. This is where having a newsletter within your brand management platform comes in handy. With a simple interface and an easy-to-use email builder, you'll send out striking emails that your employees will love to read. Here's how you can build your first brand newsletter.
Push the Brand Forward
With limited knowledge about brand goals and guidelines, employees' brand connectedness weakens. This goes hand in hand with growing gaps between teams, decreased productivity, and poor customer experience.
Besides minimizing confusion and boosting brand awareness, a curated newsletter that features departmental updates has the ability to build a stronger business and boost revenue. Marketing teams can inform relevant teams on new available assets, expired ones, and anything that is still in the works. New employees who have joined the organization can onboard quicker with extensive, scalable guidance.
Likewise, Sales and Customer Success teams who rely heavily on brand assets can be confident they're always using the latest product collateral needed to win customers and keep them happy.
It goes without saying that turning brand updates into a well heard brand voice translates into a healthy, productive business where teams are synchronized and marching towards the same goals.
This is Just the Start
There's no limit to the potential of brand updates when you can tap into the effectiveness of the email communication channel. If you're a brand leader looking for a platform to manage the full brand management cycle with ease and confidence, we'd love to talk. If you're a Frontify user and would like to see the Brand Newsletter in action, please let us know.
Walaa Wehbe
Product Marketing