A 90-Year-Old Brand Ready For The Future
Schwäbisch Hall is the largest building institution in Germany, offering construction financing to over 7 million customers. To keep the operations running smoothly, easy brand access is paramount for the over 3,100 sales representatives in the field and 3,500 staff in offices around the country. Over the last year, the financial institution has invested a lot of time ensuring its beloved brand lives up to expectations. With Frontify, Schwäbisch Hall can count on a partner that has made brand a tangible entity for all to enjoy.
Schwäbisch Hall uses Frontify since 2021
Brand Guidelines
Digital Asset Management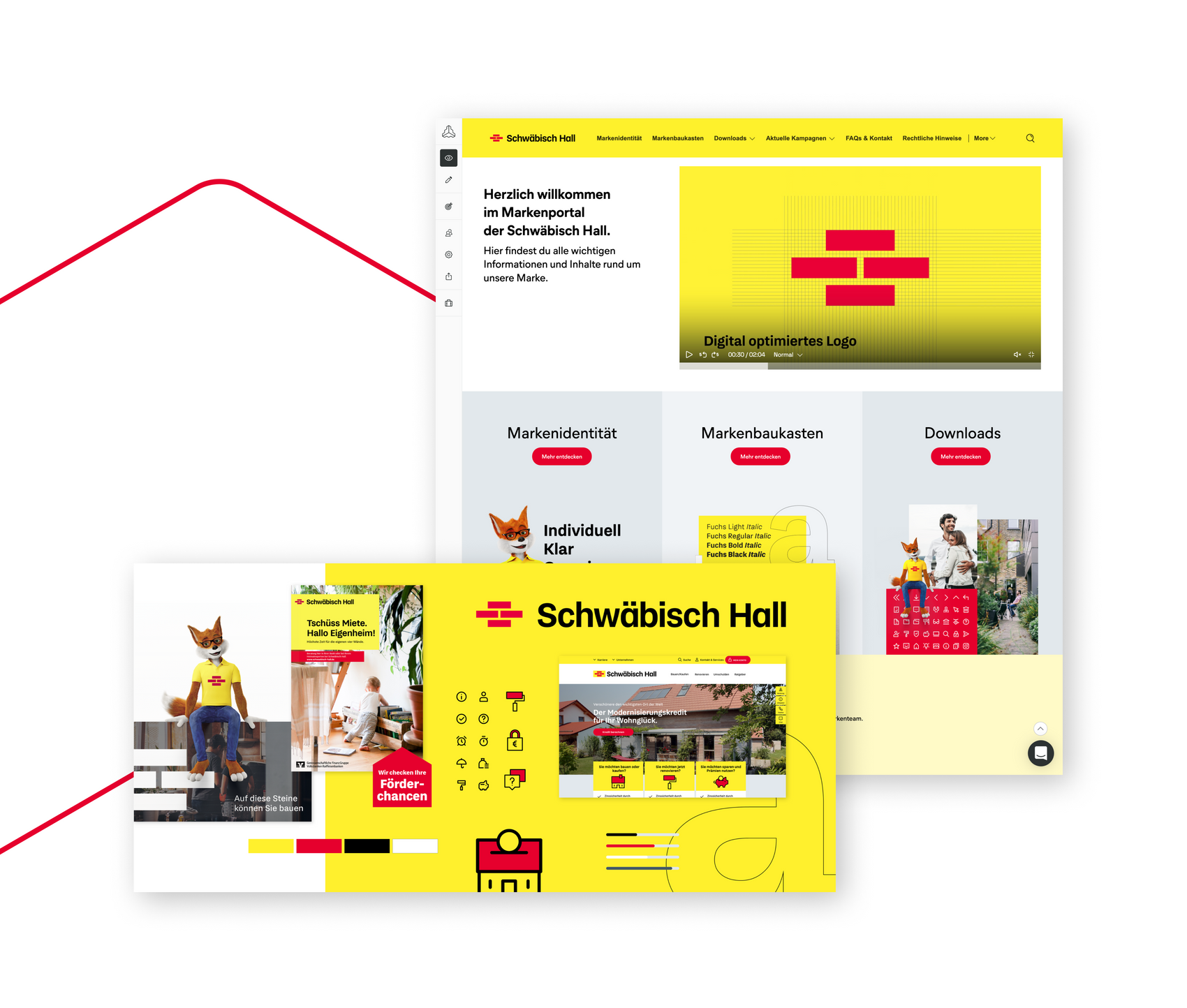 Since Schwäbisch Hall's foundation in 1931, the company has been firmly anchored in the cooperative banking sector. Today, Schwäbisch Hall works closely with over 800 cooperative banks in Germany forming one of the densest banking service networks in the country. Schwäbisch Hall's main motto of creating and maintaining a home means that it stands for safety, security, community, regionality, sustainability, and happiness – ensuring these values remain a tangible reality for its customers. With over 30% market share, it is making a difference for millions of people who can count on a partner to build and finance their dream home. Its brand must thus live up to this promise and convey confidence and consistency.
Since the early days, the brand has continued to evolve while maintaining a consistent message connecting its values to its customers. And the company's much-loved brand elements such as the logo bricks, the jingle, the claim, and the "Bausparfuchs" (its famous fox mascot) have made it more than just a brand, but a timeless institution in Germany.
For our sales representatives and agencies, our brand portal has become the central platform and basic tool for our brand. It gives everyone instant access to brand and design information and instructions on how to use it correctly.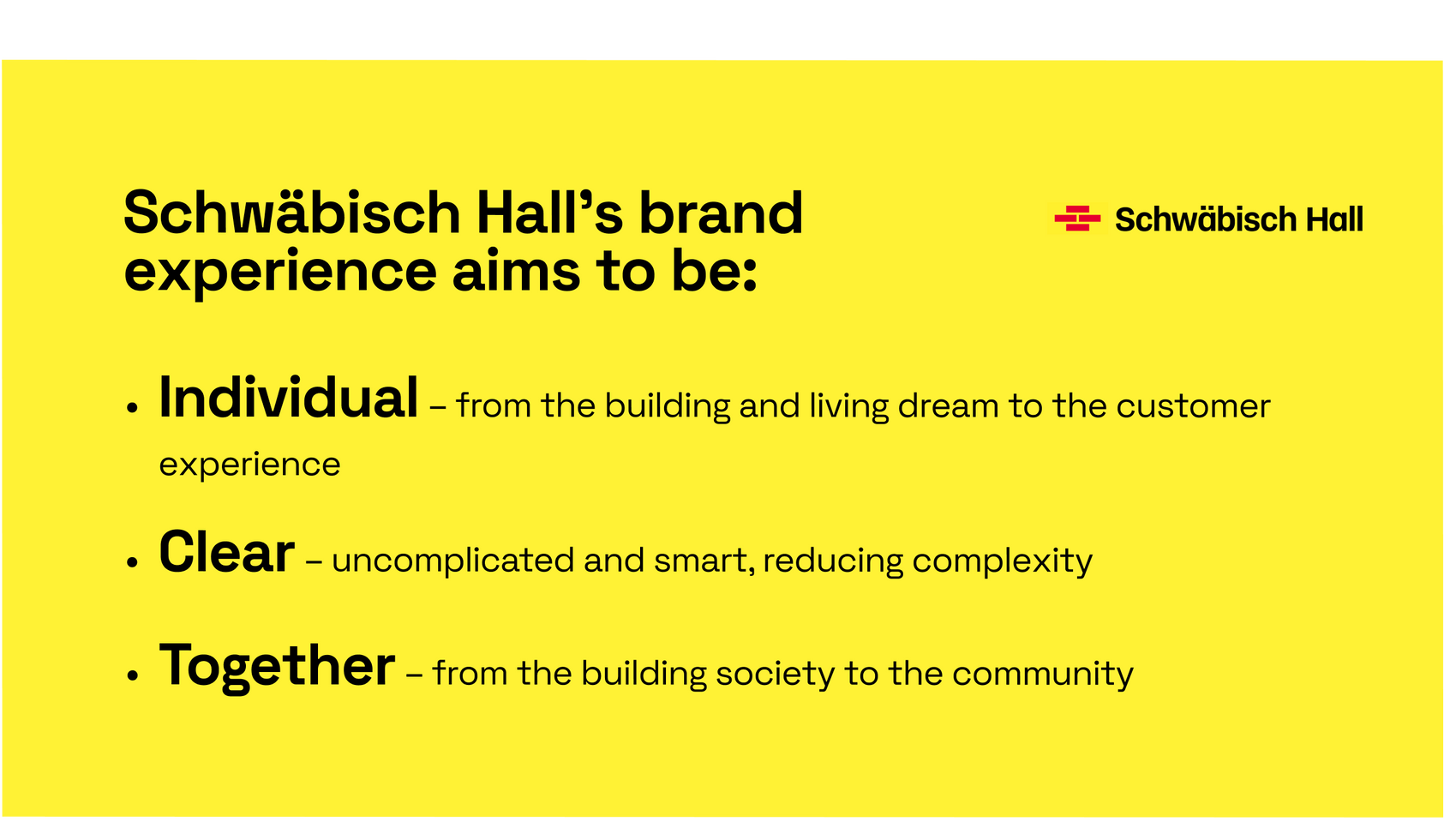 In 2011, Schwäbisch Hall started to develop its brand strategy, which in 2021 saw the corporate design maturing to the next level with more sustainability in mind. For the first time in its history, a digital platform was used in the process. Frontify was implemented to communicate and utilize the new corporate design and implement the company's brand strategy.
Before this transition, all information was documented in PowerPoint presentations and PDFs, distributed and stored decentrally. An update of the guidelines always required a decentralised update or manual distribution of the latest version – with the entailed disadvantages we, at Frontify, know all too well. Today, the brand portal enables easy and central maintenance and a single source of truth for all users who can access the latest content of its living brand anywhere.
When it comes to product adoption, Schwäbisch Hall's goal is to keep the brand portal attractive and informative through continuous development, offering added value for both internal users and external agencies. An expansion of usage is also planned as the company continues to grow and adopt new applications such as the ability to empower content creation through templating which is currently being tested for the wider Sales team. Currently, the company counts over 1,300 regular users, a number which has seen steady growth on the platform since the early days, with scalable content creation a top priority on the agenda.
Now we have the possibility to react flexibly to changes and be more proactive in how we share information and communicate it.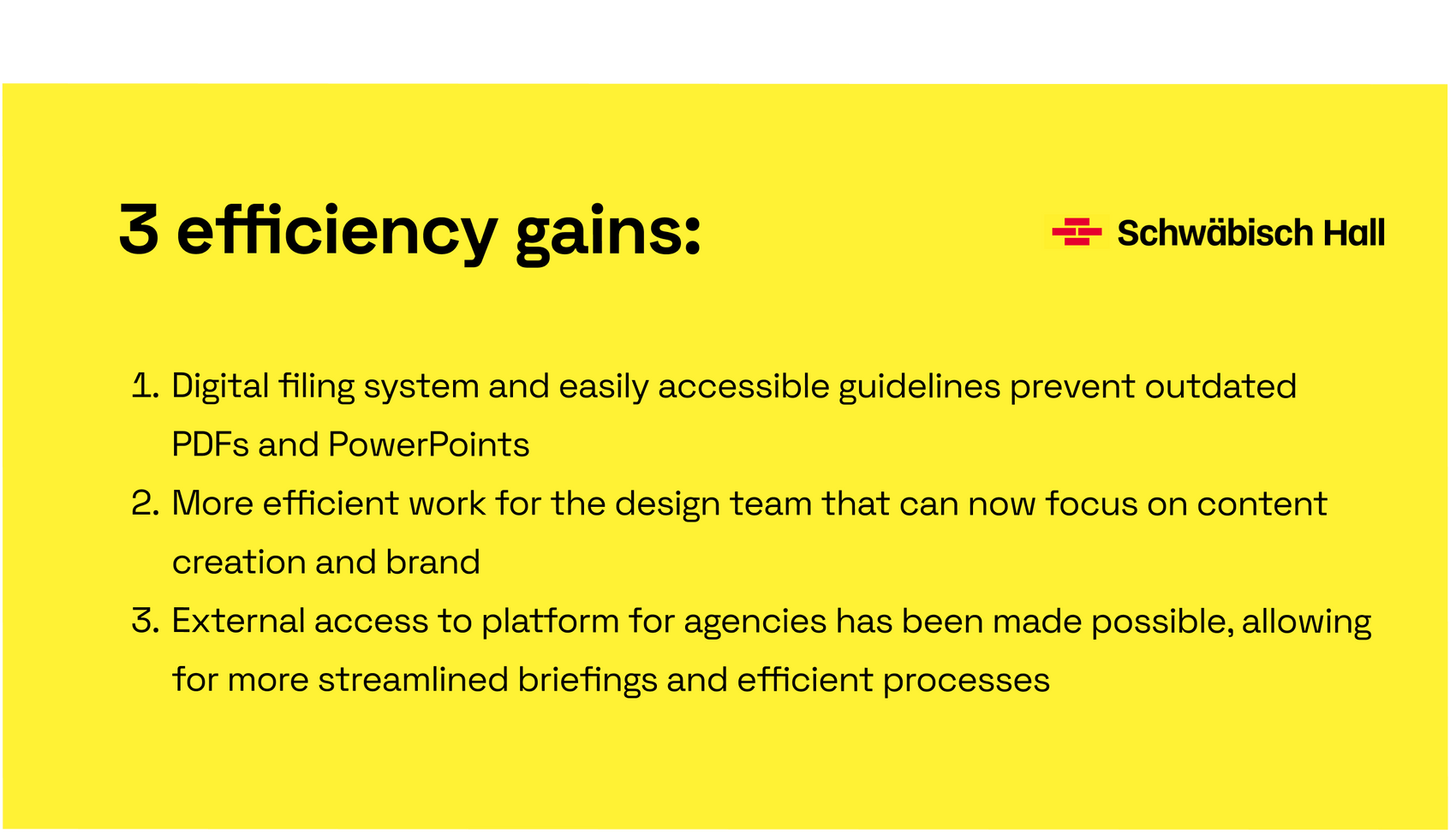 Our office and field staff are now very happy to be able to download and use our brand elements autonomously at any time with quick access to the information they need. And because the brand portal is easy to understand and intuitive, no extra training is required for the end user.
A major success that has already been observed is with sales presentations. These have become more brand-compliant and visually appealing, as images are now available for decentralised access at all times. And across the group, this should result in significant efficiency gains in the long term. As highlighted in our recently published TEI study, Frontify users can reduce cost by saving precious time as Brand teams can focus more time on pressing topics and allocate less resources on making sure new content is on brand. Now, the team can simply share a link rather than brief and support every individual need. And over time, this increases brand culture and adoption with more users implicitly aligned with brand when talking with externally-facing audiences.
We are excited to see what other possibilities Frontify has in store in the future to further expand the experience and offer of their solution to continue supporting us on our very own brand journey and marketing processes.
Last year, Schwäbisch Hall celebrated its 90th birthday and its strong brand legacy is on the best path to continue its exciting and inspiring journey across the ages with its brand proudly sitting on solid foundations that will support continued growth – brick by brick – for many more years to come.