The evolution of a brand icon
In over 80 years, Hilti has never had the need to rebrand, but the brand has certainly evolved over time. This is the story of an iconic construction industry brand's journey, from the introduction of its signature toolbox to the multi-faceted business of today.
Hilti uses Frontify since 2018
Brand Guidelines
Digital Asset Management
Creative Collaboration
Hilti is recognized worldwide, with its unmistakable red and white visuals, a longstanding tradition of quality and care, and dedication to upholding brand values that impact every aspect of the business. Told through the lens of employees across the company – charged with guiding, shaping, and fueling the brand in its many forms – this video is a tribute to the progression and principles of the Hilti brand.
We're no longer the hero in the story, we're the guide who helps our hero – our customer – through their journey.
The big picture
Hilti is a leading provider of professional hardware, system solutions, software, and services for the construction industry - championing over 280k individual customer contacts each day, with 32k employees worldwide.
Driven by a culture of strong innovation and ensuring deep customer relationships, highest attention is given to a focused 360 approach. Be it the design, build, and manufacture process of tools, the customer-centric direct sales network, on-site meetups with customers, digital resources or knowledge transfers, or well-tailored sales exchanges, each interaction contributes to the premium brand experience – the drive to make a difference in its customers' lives – from professionals, for professionals.
Hilti values
Operating on a solid foundation of its value system, the Hilti team aligns its actions and initiatives for wide buy-in and consistent adherence, at every possible level. It's a foundation that impacts not only the inner workings of the business, but intrinsically lifts outside perception of the brand as well.
These pillars include Commitment, Teamwork, Courage, and Integrity. With the aim for transparency and we-win-as-a-team attitude, this authenticity shines through in front line interactions, but is further emboldened via various levels of corporate reporting and communications.
A brief history
Origins of Hilti begin in 1941, led by Martin and Eugen Hilti in Liechtenstein, starting with simple appliance products, like the Ello Mixer, a stylish countertop blender. This manufacturing trajectory took a turn in 1957 when the attention was turned to the opportunities within the construction industry.
This new focus, led by the technological breakthrough of the 'DX' (the first powder-actuated fastener in the world), was then all about developing power tools for the construction site, like rotary hammers and a range of other innovative tools, which ended up having a profound effect on Hilti's future.
In the end, this was a brilliant move to create products for the construction industry that were truly innovative. Back in the day, to already have that kind of insight to be so close to the customer, to truly understand what's needed to get the job done – that really made it possible for Hilti as a brand to grow in such tremendous ways, laying the foundation for the strong brand equity that we enjoy today.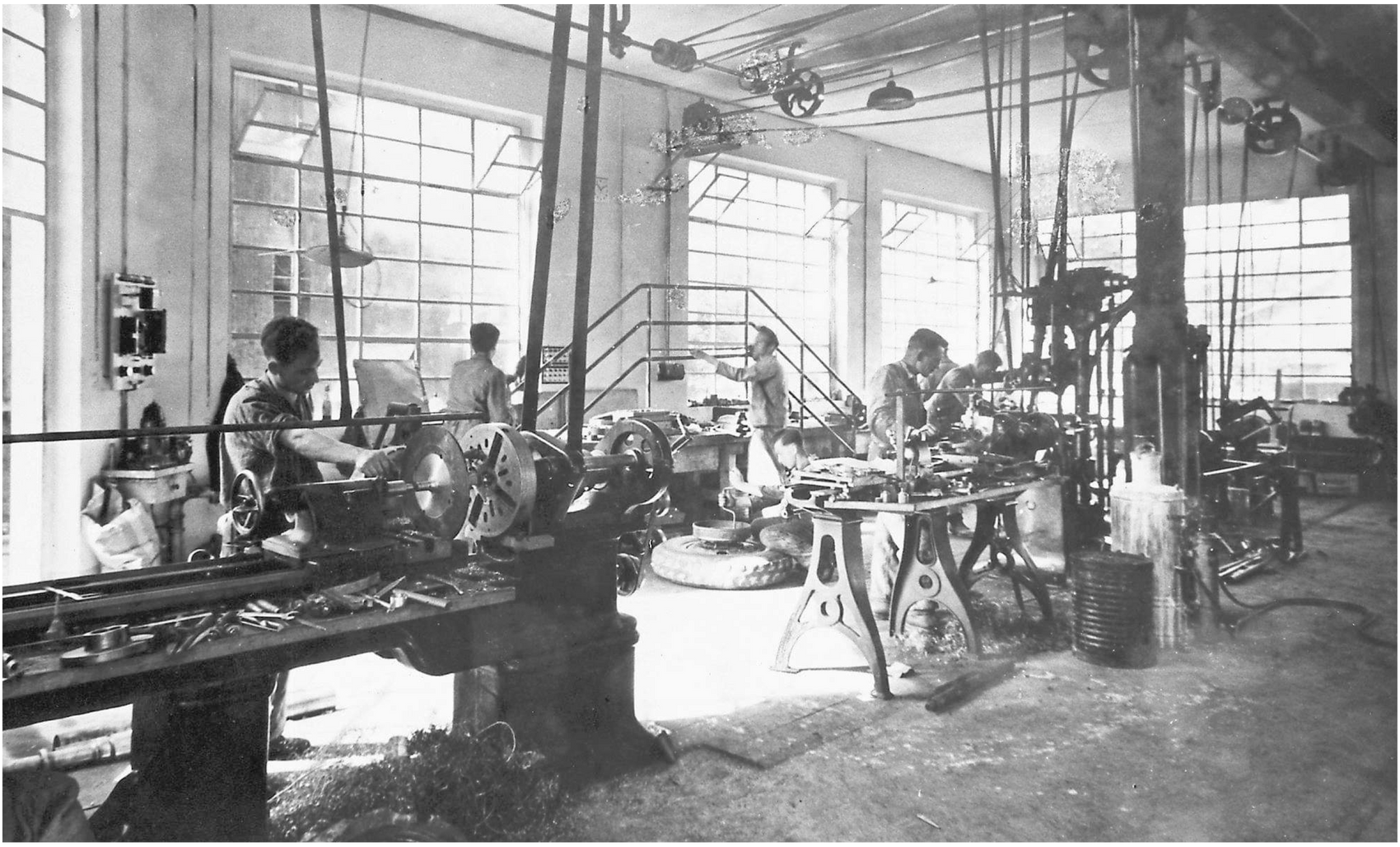 In 2016, the brand refresh was a deliberate step for Hilti to embrace the needs of the digital age. Shifting its focus from traditional marketing and print, to extending and evolving those design expressions into the areas of new media, digital tools, and augmented tech were leveraged as an integral part of updating the Hilti brand experience.
Brand identity and icons
Visual execution and tone of voice share equal importance in the overall identity of the Hilti brand. The six foundational components of the brand comprise of: logo, colors, typography, brand voice and tone of voice, visual language, and the basic design system.
Hilti Red highlights the Hilti difference. It is one of the most iconic assets within the Hilti identity, being instantly recognizable and linked to the brand, particularly out on a jobsite. From the tools to the vehicles, jackets or stores, its implementation in digital touchpoints and more, it's one of those key signals that say, "Hilti will support, guide, enable and empower you." Hilti's color palette is inspired by the world of construction - it is where the brand presence has always been prominent, where Hilti stays highly relatable to their customers and where they strive to make a difference - the same spirit goes to the Hilti color palette.
Creating an authentic brand expression that is focused on inviting, inclusive, aesthetically pleasing design executions, emphasis was placed on subtleties across all design components and visuals, connecting it all with stories of customer centricity, relatability, and relevancy with timely momentum. Real world color photos and videos of people at work or a reappearing 30-degree angle backdrop as a graphic element across all marketing collateral, are just a few examples where this shines through.
Perhaps the most iconic asset is Hilti's toolbox. It being one of the first items a customer or prospect will likely have with the brand, makes it a powerful hallmark for the brand. Similar to aforementioned points of evolution, this iconic item, too, has evolved over time – always with care for the tool inside, its inherent value of functionality as well as durability, to the level of excitement it entices for its users and fans.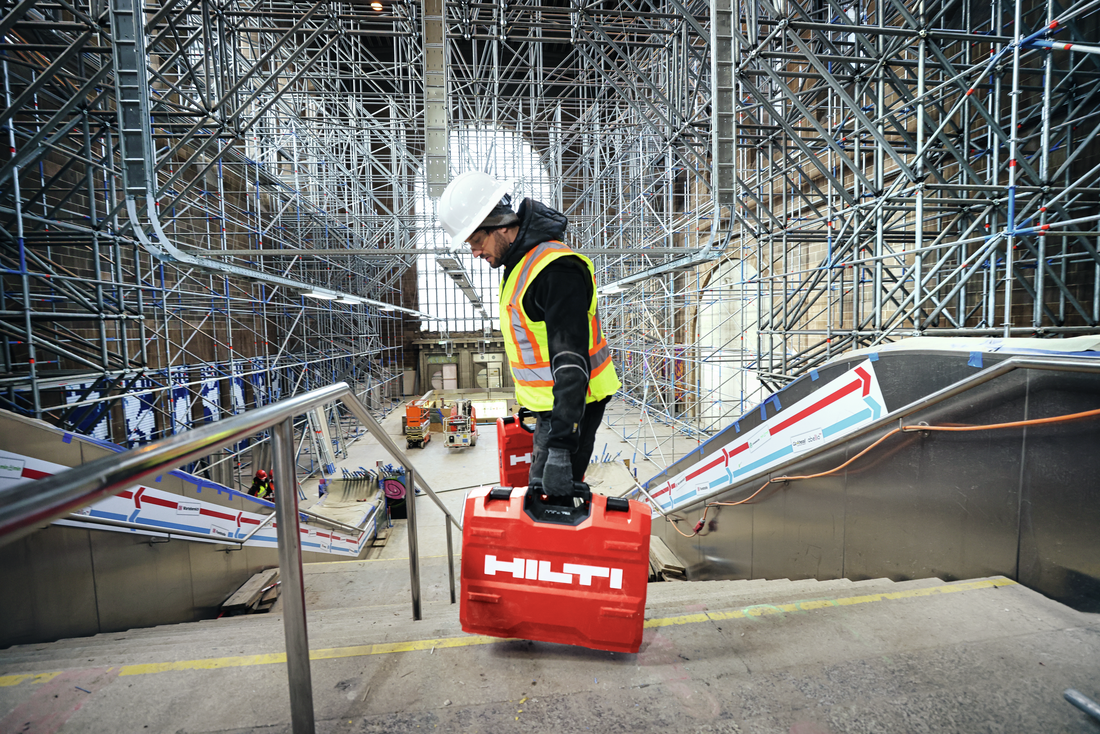 Customers at the core
Understanding the onsite needs of customers is paramount to Hilti. For the team, the customer is not seen as a client but rather a partner. Building that relationship comes with personalization, through effective 1 to 1 communication that goes beyond just selling hardware solutions. Everyone at the company is focused on customer centricity, with nurturing the 'happy customer' as an end goal.
The more I can activate a person not only on an intellectual and solution-based level, but on a connecting, heart-based level, the more I move into the direction of creating this brand tribe, fueled by brand trust and brand love which we're fortunate to have on such a tremendous scale with Hilti.
Today, digital spaces are just as critical to Hilti's customer success as the in-person moments. With Hilti Live, the opportunity to showcase what 'real' looks like to a wider audience via the power of social media is capturing where true-to-life helps bridge many gaps.
Storytelling and contextually relevant content are both used to enrich social connections and provide up to date information to customers and prospects alike. It's a considerate move to appeal to the needs of the modern age, where people are consuming content differently and more rapidly than ever before, providing ample opportunities to keep up with this new form of connecting and anticipating unspoken needs.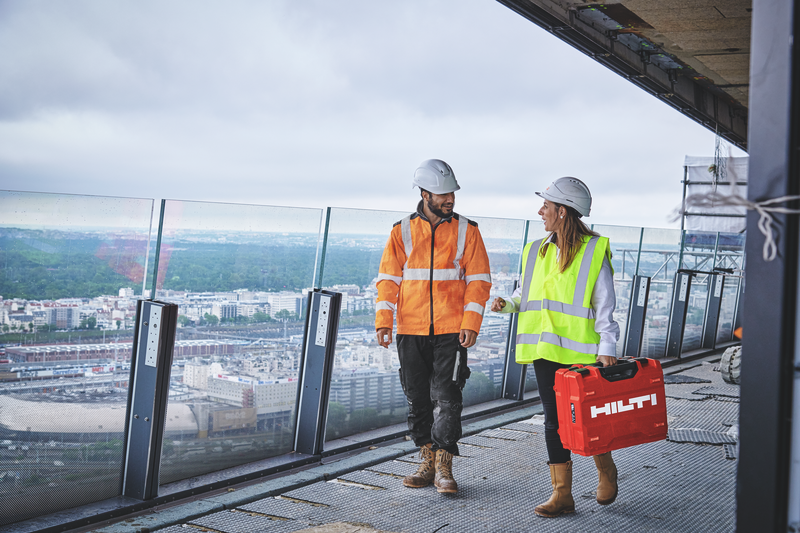 Coherence and UX design
Continuing the process of constant innovation, up-and-coming communication channels and emerging new formats in digital interaction are continually being evaluated and explored. Where in prior years consistency may have been the north star, a matured view of promoting a coherent brand experience has taken root.
We can now be a bit more emotional on specific topics or channels. While the past years have been all about making everything 'look' the same, we can now shift into everything 'feeling' the same - for the customers to have a coherent brand experience.
User experience is especially important when it comes to being sensible about localization, where visual and contextual journeys are crafted in alignment with that specific local audience. Cultural affinity plays a very powerful role in bringing today's modern brand to life and continuously building upon its equity. With their recently introduced cordless platform, [Nuron], this presented a powerful chance to build upon its existing brand foundation and level up on customer-centric messaging, brand guidance, and knowledge throughout all existing touchpoints and UI/UX platforms.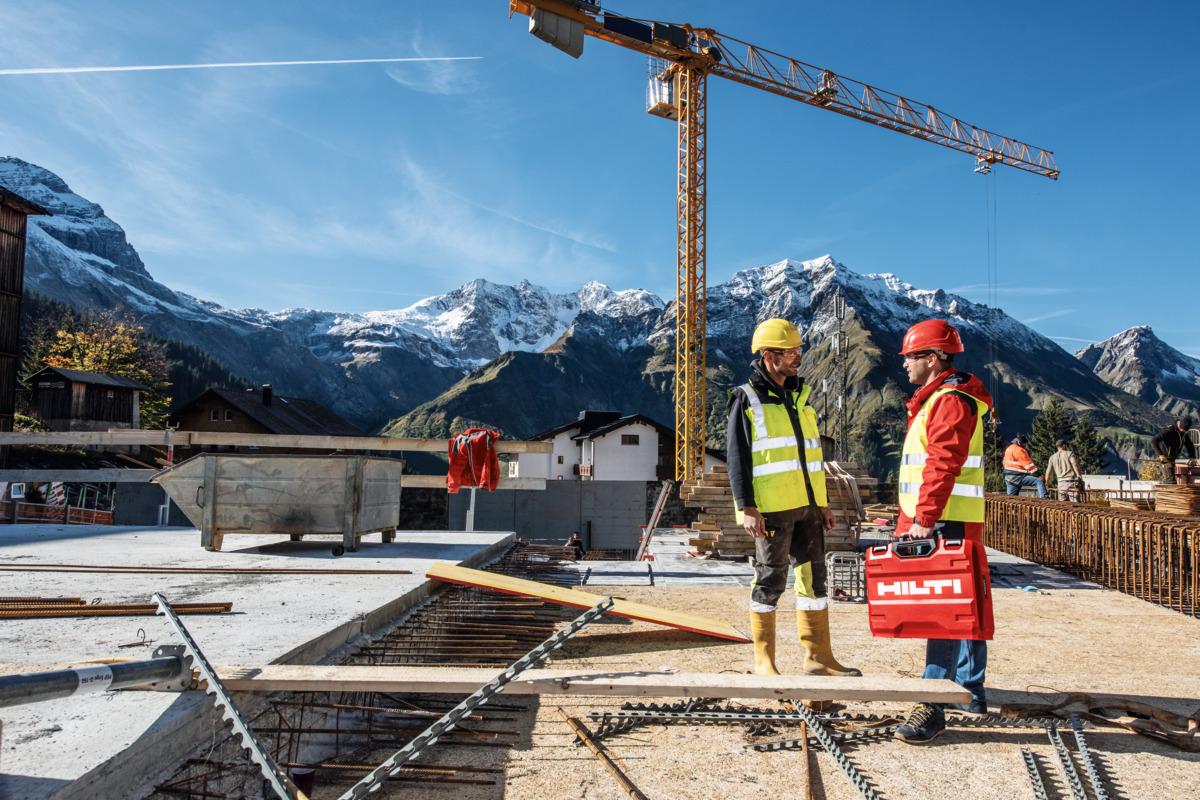 Into the future
Aside from being a brand with lasting power and having achieved the status of being one of the strongest industry players, the brand's horizon has also set its goals on reaching carbon neutrality, fueling its curiosity and evaluating the potential of integrating augmented or virtual reality into the customer experience. Stay tuned for what's to come, as their unrelenting ambition to overdeliver on value, service and industry leading innovation will never fade.
Every decision that's ever made really does affect what the final product will be, look or feel like - which is ultimately at its core a happy customer.