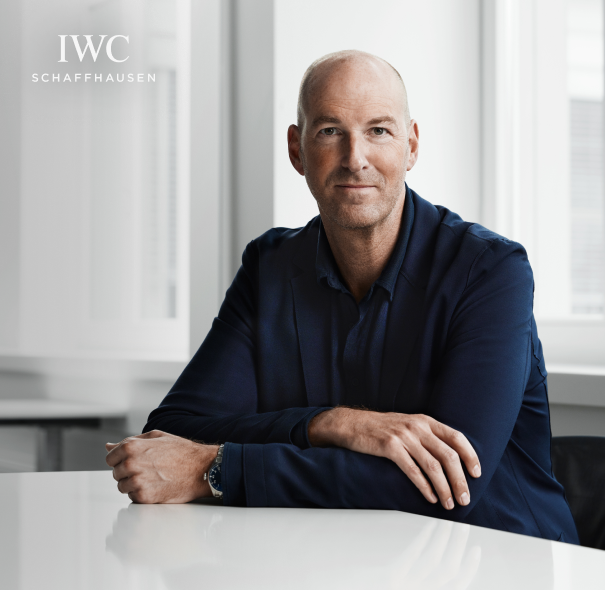 IWC Schaffhausen: Being unique and staying relevant among luxury watch brands
The density of watch manufacturers in Switzerland is extremely high. In this crowded space, each brand needs to find its narrative sweet spot to survive. An interview with Christian Knoop, Chief Design Officer at IWC Schaffhausen, helps us better understand how seemingly subtle differences in storytelling can make a luxury watch brand unique.

Willem Haen
Brand Engagement Lead
Brands excite me. Driven by curiosity, I dive into particularly exciting ones once in a while. Whenever the opportunity occurs, I meet with brand professionals to discuss interesting aspects of a brand. Would you like to react to this interview or bring up another exciting brand to focus on next time? Just drop me a line on LinkedIn. I'm happy to hear from you.
---
Very nice to meet you, Mr. Christian Knoop. You are Chief Design Officer at IWC Schaffhausen, a watch company here in Schaffhausen. It is really great that I can meet you here. I am very excited about this talk because I think it will touch on a few topics that might interest not just me, but a lot of people in the brand space.
Success through an outstanding brand identity
I would like to start with a few general questions, or actually one general question. I have been diving into the world of watch brands recently and only in Switzerland, I have seen that there are over 350 — maybe you have to correct me here — different brands which all claim to be luxurious to some extent, or premium at least. And I am wondering: How could all of these brands coexist? I know this is a difficult question, but what would be your take on this?

Good morning, Willem. Thanks for having me. Yes, that is actually the crucial question we ask ourselves every day. I think it is a crowded market space. There are so many interesting and exciting brands out there. But in the end, it is really about identity and differentiation, which is essential for everything we do on the product and the brand level.
Especially when we look at product releases, there are beautiful watches coming to the market every day and every week, in incredible numbers. So what, in the end, makes the difference between just another beautiful watch and a successful product, is exactly that brand identity as a product character and product identity that is strong, that is standing out, and that is also visible and recognizable for the customer.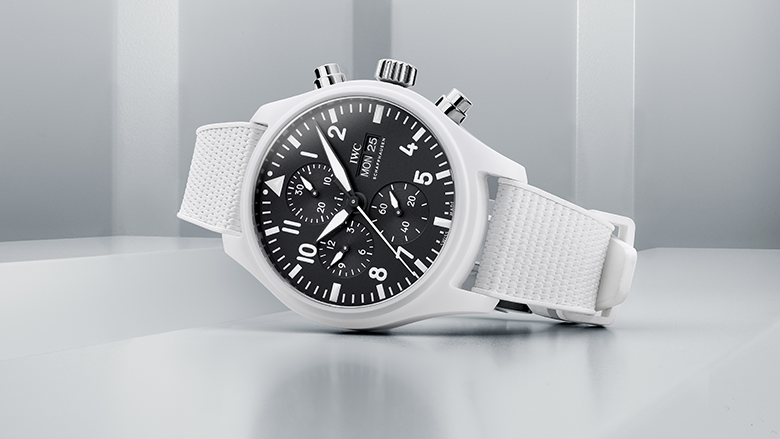 Brand heritage that adds value for the customer
Interesting. I think in general, of course, we both know — and we all know — that every brand has a different story. And particularly in the watch industry, we know that storytelling is a very big thing. Maybe it is a necessary thing as well. We will get to that. I am a bit curious to hear, of course, about the story of IWC. I would have a few questions about that, to start with heritage. Could you, to start with your brand, the brand you stand for, tell a little bit about the history of IWC Schaffhausen? How did it all start? Do you have certain milestones over the years, maybe also the early days? — before we really get to the meaning of heritage.

I think the heritage is an important point, but just the age of the company is not a differentiating factor in the watch industry. So you find a lot of very old brands that are a couple of hundred years old. This is quite common in our industry. While in other industries, this would be a differentiating element; in our industry, it is not. So looking at IWC's history as such, we stand out because we have a very particular way the company was set up. We were founded by an American watchmaker and engineer Florentine Ariosto Jones in the year 1868. His special formula was — he was coming from Boston, from the US — that he introduced the American system of watchmaking to Switzerland. The American system of watchmaking back at the time was very industrialized. So they had serial production, they had quality control, they had standardized components, and so on. Whereas in Switzerland, back in the 19th century, watchmaking was very artisanal.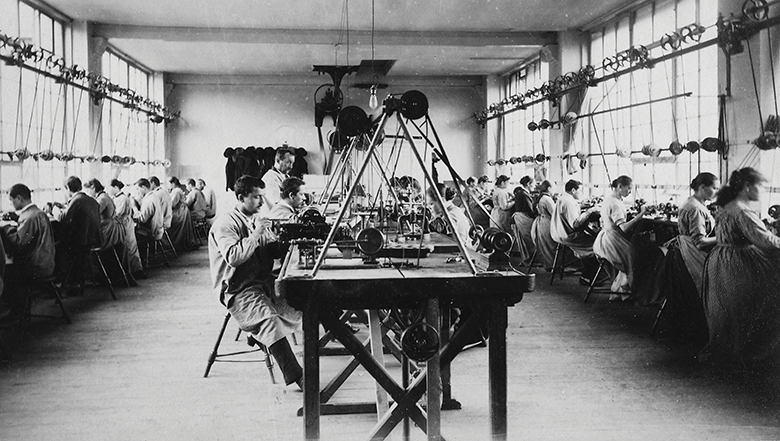 The idea of Florentine Ariosto Jones was, really, to have a centralized production with the example of the US and set this up in Switzerland. And, obviously, he was struggling in the western part of Switzerland where people didn't believe in these new and modern ideas. He arrived in Schaffhausen, where he found co-investors that really saw the future of watchmaking in this approach.
So this was a radical new approach. When you see old pictures of this building, actually the front part of the building, situated next to the River Rhine, this was designed as a factory: There was a big chimney, there were conveyor belts reaching to a water wheel in the river Rhine. We have been on water power since then. So we are still on water power with the power plant. But introducing modern energy, like water power, to watchmaking and then having serial and centralized production, with quality control, with established processes, and so on, was very, very modern at the time. And he was only 27 years old, so everything was funded by investors. So if you want, this started as a start-up; this is what you would call a start-up nowadays.
So he had a very bold vision. And after he set up the company, the company went through different hands, of also local investors and owners. The Rauschenbach family took over, later the families of Homberger, and especially in the 20th century, IWC built a strong reputation with very precise and robust pocket watches. This idea of engineering, higher quality standard serial production was radically different than what you would find in the western part of Switzerland, where you had more of this artisanal, individual, decorated, more playful approach on watch aesthetics and complications. IWC was never a really big complications brand because our focus was always: Precision, robustness — very functional watches in professional instruments.
The idea of Florentine Ariosto Jones was, really, to have a centralized production. And, obviously, he was struggling in the western part of Switzerland, where people didn't believe in these new and modern ideas.
This was a bit the red thread in the company, and this also continued in the fifties, when IWC introduced the first automatic movements with Albert Pellaton, also using technology coming from military watches, like pilot's watches, to have soft iron inner cases against magnetic fields to introduce this to civil, to leisure watches, to sports watches. We were to work with famous designers, like Gerald Genta, also was most part of that, really, to have super technical, everyday sports watches, steel on steel. Later on, we took a pioneering role in ceramics and in titanium. The first watch brand to introduce ceramic watches, colored ceramic watches. The first watch brand to introduce titanium watches back then, with the collaboration with Ferdinard Alexander Porsche, which encouraged IWC to go a very radical, modern way to build on that engineering history, and also have very modern and reduced aesthetics, combined with high tech materials like titanium.
So this is very much part of the typical IWC approach, which is unique in the industry, if you want.



Are you also actually telling this to the customer? In which way do you communicate this, like telling what things are happening today in terms of what kind of products are you building or what are the qualities you have today, compared to — or next to — the things that have been there already from the very start?

Absolutely. I think that is our focus, really, to make history relevant for the company nowadays. So what we can learn from this history, where we see our positioning, also, against the competition, where we see a clear differentiation. This is really this engineering approach, this pure design, this material competence, and so on. We find this inspiration in the past, but we also continue this, because this is part of our focus area in research and development. We say: We were not only pioneers in titanium, but we master titanium with new titanium alloys, more performance materials over the last years and decades. And we say: There is always a titanium product in the portfolio of IWC, but we don't use the same material of the past; we have constantly improved that. Or ceramics, where we say: Pioneering role in ceramics, but we master ceramics. We introduced ceramic components to the watch movement in several critical parts. We have used other ceramic materials, more performance ceramics, like silicon nitride or boron carbide — other ceramic types. But we also have continued the story of colored ceramics. We are pioneers in colored ceramics. We now have a big story campaign this year, Colors of TOP GUN, where we have a range of new ceramic colors we are presenting. Very much in our history, but always trying to push the boundaries and surprise our customers with a new take on that DNA.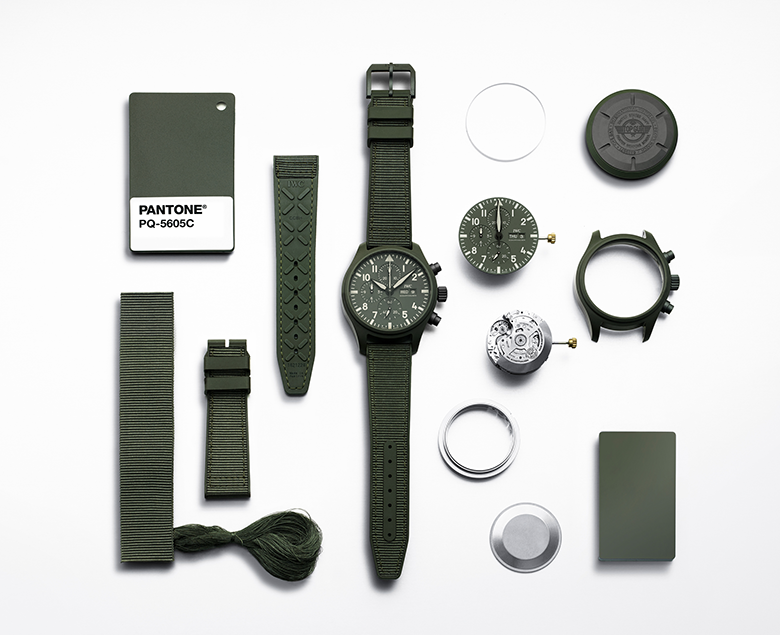 Interesting. Very nice. You talk a lot about the history of the company, how you do things today, and how they are related. So what is the direct advantage for a customer, for an IWC customer? For instance, color — maybe it is easy to explain; maybe it just fits a certain fashion better or someone's taste. But then in terms of materials, for instance, what would be the advantage for a customer?

Yes, I think here the historical approach of creating watches with a purpose, with a functional purpose, with a purposeful complication, with a purposeful use of technology to make a better, more robust, more precise, more convenient watch is a red thread through the history. We introduced the first perpetual calendar back in the eighties with Kurt Klaus, which didn't need any adjuster pushers; all functions were synchronized and could be operated via the crown. So this is a clear customer advantage, and it is still one of the signatures of IWC perpetual calendars. We really try to think not just for the sake of being innovative or being new, but really have this tradition of doing professional functional watches. It has to be a purpose. It has to be a use case. Ceramics is not just beautiful to tell the story about, but it is a very hard material which leaves a watch without any scratches. That is a fantastic material to work with. Titanium is very strong, it is very lightweight, and it has incredible hardness. So these are all advantages that are in the benefit of our customers. To have a soft-iron protection inner case, protecting against magnetic fields, is not just for the reason we can do it, but it really brings value to our customers.
And we also obviously present to people how we make it. We educate ourselves; we have our own watchmaker school. We bring together latest technology wherever this makes sense — in the quality control, in the machining, together with skilled people that build and manufacture our watches. I think that is very important for people to see. We do a lot of factory tours for visitors, so that they understand that everything happens here in Schaffhausen, for 150 years. With the same attention to detail, the same passion for the product, with many employees that work for us in the second, third generation.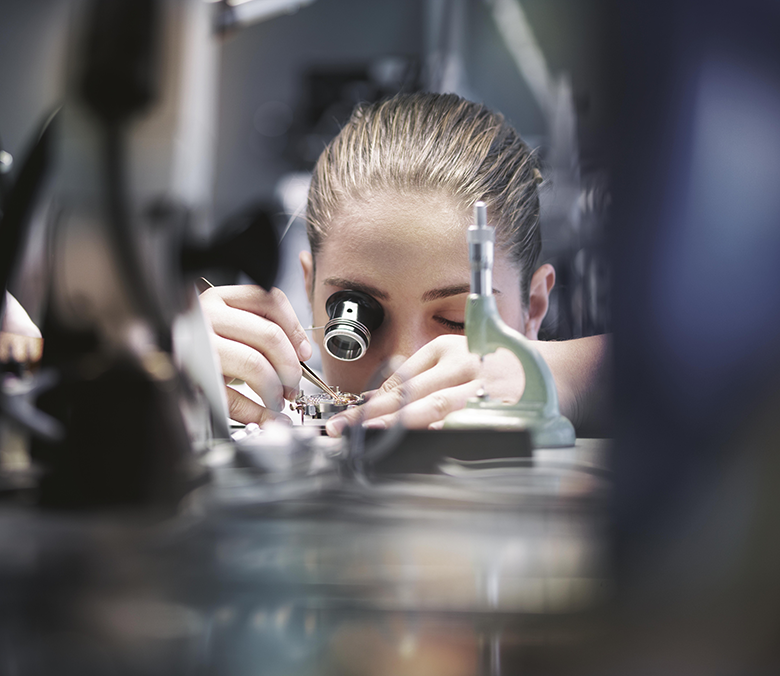 We are surrounded by many products that are actually set up by companies that have facilities all around the world, which means a complete disconnect. Everything here, from the first idea to the manufacturing, happens in Schaffhausen.


And this gives the connection to the product, which is very rare nowadays. We are surrounded by many products that are actually set up by companies that have facilities all around the world, sometimes very remote, and it is a complete disconnect. Everything here, from the first idea to the research and development, to marketing and sales, and manufacturing — even quality control, even customer service — happens in Schaffhausen. This is a unique formula, and this is an eye-opener for many of the visitors that come here to see it.



Schaffhausen as a unique location
Great. And it is also great to be here in Schaffhausen to hear that story directly from the core. We are talking about storytelling and every story needs a backdrop. You talked about Schaffhausen already. The first thing that catches my attention — and of probably many — is that you have "Schaffhausen" in the brand name. Maybe a first small question there: Is that really correct or do you sometimes just skip the name Schaffhausen?

I think the original name was International Watch Company, IWC. And from this, like many companies, we went through several renamings and rebrandings over the decades, and the logo and the name have been slightly adjusted to become more readable, more understandable, and also fitting the times. In the beginning, we wanted to strengthen the international aspect because IWC was also selling watches to the US — not only in Switzerland — when the founders set it up. But over time, we learned that International Watch Co is very generic and is not so easy to associate with watches. Within the watch industry, it had become a very generic name, and then Schaffhausen, the place where everything happens, was more important because it would give some differentiation. So now, our brand is called IWC Schaffhausen.


Great. Your brand is in the northeast of the country. The rest of the brands, if you will, or at least the bigger ones — also some of them being competitors — are in the west, in the so-called Watch Valley. I think that is extremely remarkable. But you already covered that in the very beginning, of course. The company started here. The brand is growing here, still. Things are being developed here. And it seems to also be very focused, and not just in different areas all over the place. That is very interesting. Do you really include the "Schaffhausen", let's say, as a city, as a location, in your story as well? Or is it more about the history you told about, like it is just the place where we started to have that production, having those sites, growing the industry, and so on?
Schaffhausen is important to us because we are part of the cultural identity of this city. If you are in the city and you are one of the biggest employers, you see how much interwoven the history of Schaffhausen and the history of IWC is. On a global level, I fully agree. For many people, it is difficult to pronounce. In certain countries, even the "Schaffhausen" is stronger than the "IWC". Also in eastern European countries, they see this as a strong link and recognition element. But for the rest of the world, it is important to strengthen that it is actually made in Switzerland and on the second read, it gives the differentiation. We don't talk about Schaffhausen as such too much in our brand communication, except for the fact that this is the location of the company, this is where all the production happens.
And that is very important to claim that our products are Swiss made, to claim, actually, now recently also in the context of sustainability, that everything happens here in one spot. We are very well aware of sustainability. Not only do we have a very sustainable product, but all our facilities are on renewable energy. The whole idea of water power is stronger than ever, we have made our buildings to the latest standards of energy saving, and so on. This, again, becomes a very important point in the storytelling at our own to sustainability. That we are located here, and everything. So in close proximity, without any big bigger shipments and transport costs.


All right. I think you said already in the beginning, you explained why you are in Schaffhausen and not in the west. Once again, I am not claiming here that the west is the better place; it is just the one that is widely known because there are so many companies there in the Watch Valley, stretching from Geneva to Basel, if I say that correctly. Is there any disadvantage — maybe just a practical one — of not being there?
Definitely. I mean, it is challenging to find trained people, to find experts in the watch industry. As said earlier, we educate our own watchmakers, have our own watchmaker school, we have many apprentices' disciplines, also in other categories. We nurture the talent of the future, but sometimes, to acquire experts in the watch world is more difficult than if you would sit in the middle of where it happens. Also globally, when we look at design, marketing and sales talent in the luxury industry, Schaffhausen is not the first place on the map.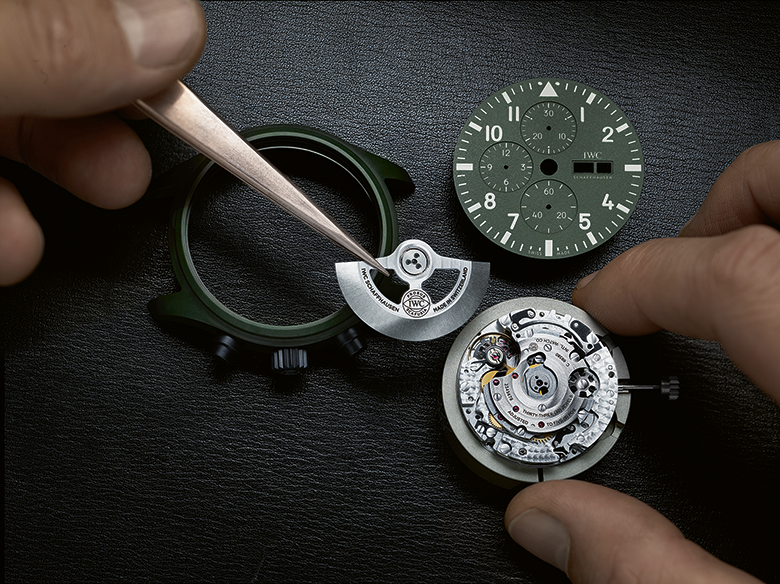 You have people that are used to work in Paris and London, New York, and Milan — this is where the watch or luxury brand experts typically sit — and then to get them over to Schaffhausen is partly a challenge.
We nurture the talent of the future, but sometimes, to acquire experts in the watch world is more difficult than if you would sit in the middle of where it happens.


Therefore, we invest heavily in employer branding, to present ourselves as a top employer. We have been recently awarded again with "A great place to work" in Switzerland and for workplace quality. We really attract people with all kinds of business fairs, we do a lot of speeches internationally. On the design side, we collaborate with our Richemont school in Milan, which is a special design master's program, where many of my designers come from or graduate from. So we have to be very active, really, to bring people here. And, yes, there are always people that love that special character, that love the brand, that stay; others move on after some years.



From pilot's tool to lifestyle item
Thank you. Now, we are actually moving to the core, I would say, of storytelling: The themes. In the watch industry, at least I have seen that, very often, those themes originate in the functionality of a watch; not just seeing what time it is, but also timekeeping in athletics or speed measurement in racing or being water resistant, and then combining that with a diving story — things like that. So my first impression of IWC Schaffhausen, so far at least, has been that you have been very strong in the aviation story. But of course, as we all know, you are not the only company that is focusing on — focusing is maybe already a bit too much — has that story as well. What would be your brand's twist here? How are you different within that space of, let's say, the cockpit?
Yes, you are right. The pilot's watches are a very good example of that. There are so many brands having a similar history in manufacturing military watches in the past, pilot's watches, which, also, many of them follow similar aesthetic codes. But we can claim for ourselves to be the leading brand of pilot's watches, because if you look closer at our collections, we are covering everything from 36 to 46 millimeters. We cover everything from a simple automatic watch, chronograph, double chronograph, annual calendar, perpetual calendar, monopushers, tourbillons — all kinds of watches, in a price level from 4000 to 230000 Swiss Francs. There is no other brand in the industry that has this offer and range of pilot's products. That is one thing.
On the other hand, we also have a rich foundation when it comes to pilot's watches on the wrists of real pilots. You might be aware of our partnership with the US Navy, the TOP GUN program, which is called the Strike Fighter Tactics Instructor Program today, based in Southern Nevada, and this is where the elite of fighter pilots is trained — not only US people but these go into different squadrons all around the world. We work with these squadrons on exclusive editions. We have a professional program established that is also open to other military organizations. We work with the British, we work with Aéronavale, we work with the Swiss Staffel 11, we work with German Eurofighter squadrons, and so on. So we are on the wrists of the elite of jet pilots.
But next to this, especially over the last two years, we have been broadening our storytelling towards realizing that actually, a pilot's watch is not only for pilots, but it is also a lifestyle product. People like the aesthetics. Not everyone buying a pilot's watch is interested in the history of pilot's watches, but they just like it for their beauty. And here, we have adjusted our storytelling: A, with a strong product design and engineering focus — telling how these products are made, what makes an IWC pilot's watch so unique — but also broadening the communication, really, coming from this pure pilot's functional military angle to something which is much more lifestyle related.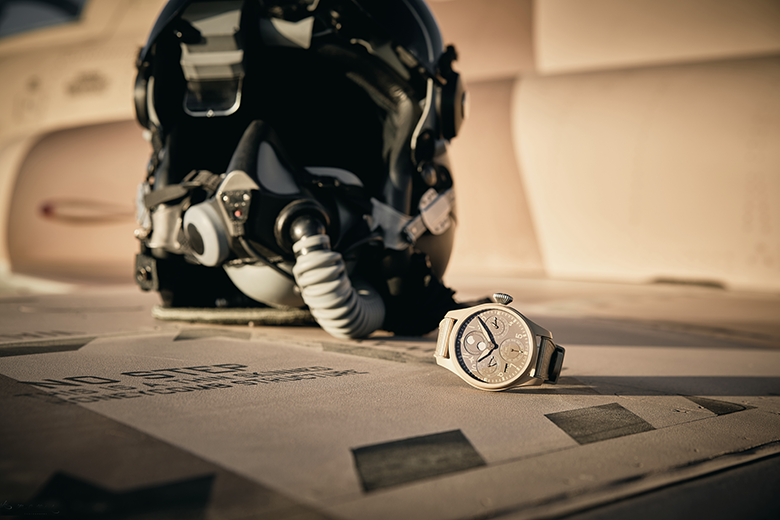 We are making our way from purely functional pilot's storytelling into a much broader world of lifestyle and fashion, speaking to a broader audience.


Innovation with a clear scope and purpose
Very interesting. Innovation is another thing you mentioned in the very beginning. I think it seems to be — or we can all see — it is embedded in your brand. Luxury brands tend to be all about heritage, craftsmanship, but also — as said — innovation. People mention that a lot, customers see that. Sometimes — it depends a bit on how you see innovation — it is really true. Sometimes it is just some talk around innovation. I think innovation really seems to be very high on the list here in Schaffhausen for your brand. You mentioned already what innovation means for IWC Schaffhausen. And I would like to take this to the flip side: Who is the typical IWC customer, also in terms of innovation? Is that related? Why is there a certain type of customer and is there this kind of customer profile — as far as you are able to tell about it — and is that really related to this innovation?
Yes, I think so. We have customers, both men and women, that are very much into contemporary design, into technology. We have a very high affinity in our customer base with the latest technology, also adapting digital spaces very quickly. We have a big customer community, also, in Silicon Valley, and in related technology companies. So this doesn't say: If you are interested in mechanical watches, you are old and you are only interested in old stuff. This goes along very, very well. These customers typically see the value of a mechanical watch when it comes to product quality, to aesthetics, to engineering inside. And they are very, very interested, also, in the innovation that is going on inside the watch. For us, it is important to say that we don't want to do innovation for the sake of innovation — finding another rare material and just putting it in the watch — but, always, for us, it needs to be innovation with a purpose. Be it on the functional level, be it on the technical performance level, be it on the aesthetic level — there needs to be something in for our customer. Many people say: But the mechanical watch has been already invented a couple of hundred years ago, so what is new in there? It is still a movement, it is still the escapement wheel, it is still a balance wheel, and so on. But you will be surprised how many things have been improved and changed over time. You can't compare the watch you buy today with the watch that is 20 or 50 or 100 years old — in terms of accuracy, in terms of robustness, in terms of reliability.
We don't want to do innovation for the sake of innovation, but it always needs to be innovation with a purpose. Be it on the functional level, be it on the technical performance level, be it on the aesthetic level — there needs to be something in for our customer.


It is very important to offer as a brand to not be all over the place when it comes to innovation, so we set ourselves clear innovation territories. We are in chronographs; we are among the brands that sell the most mechanical chronographs in the industry. So chronographs of all kinds are territory for us. We don't only have normal chronographs: We have double chronographs, we have tourbillon chronographs, we have perpetual calendars with chronographs, we have monopusher chronographs. We just, at the moment, have three in-house chronograph movements in our portfolio. That is quite unique in the industry.
The second territory is calendars. We are known for our perpetual calendar, as I described earlier, for the simplicity in convenience in operating this calendar. But we also see in the calendar the moon phases, the UTCs, the GMTs, the analog calendars. We have an IWC patented time zone watch wake and jump between time zone. That is with just twist of the bezel in a second. So this is strong territory where we are focusing and where we also map out our innovation pipeline.
And the last thing is, obviously, materials. We are known for ceramics and titanium, historically, and have been evolving over the last decades in these materials with new applications, with new alloys. We have recently introduced an IWC proprietary material that is Ceratanium®, which is a combination of titanium and ceramics, taking the toughness of titanium and combining this with the extreme surface hardness of ceramics, in one material. So this gives three very clear territories for our scientists, researchers, and engineers to work on, and we want to be leading in these territories. This funnels them also into the product development of the coming years.


For us, it is very important to offer as a brand to not be all over the place when it comes to innovation, so we set ourselves clear innovation territories.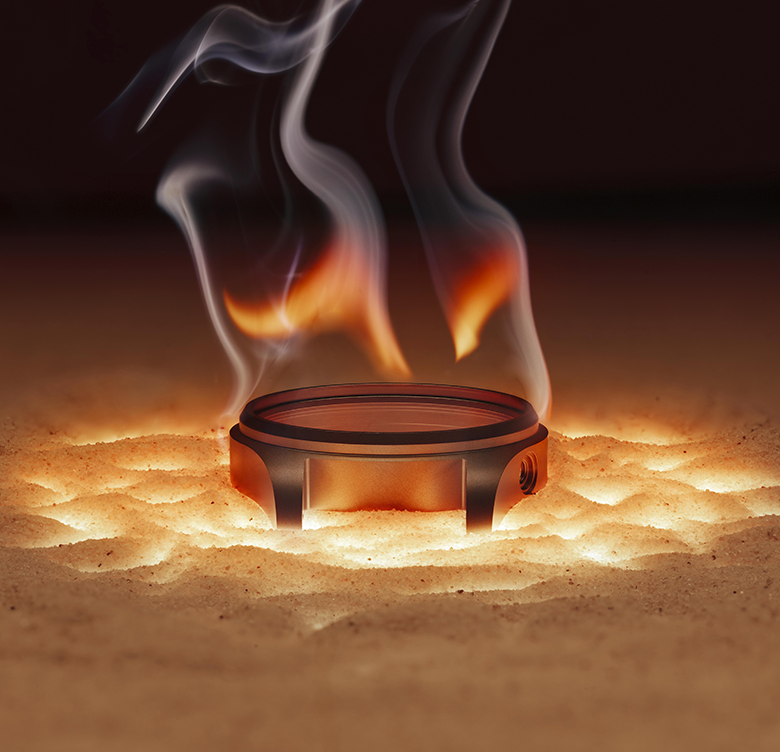 Balancing tradition and innovation continues
That sounds very unique. Very interesting. Thank you. Then, innovation has to do a lot with the future, right? We talked about it already in the very beginning about these many Swiss brands out there, in the space. So I think that is very relevant, of course. We have seen a lot of discussion around the metaverse, and this is something I didn't want to leave out today. I have also seen — if I am not wrong here — some activities there from your end, and maybe some cooperations or whatever have been going on. So can you tell a little bit about your take on this as a brand?

Yeah, I think that we have announced our activities in Web3, already beginning of this year. We have launched several NFT initiatives for our customers, that are, for the time being, not linked to the watch as such, but really open up access for customers to our Diamond Hand Club, to certain activities online and offline. And we are also going to continue this in the future. We have built a kind of metaverse presence, also with the help of the renowned architect Hani Rashid. We are at an early phase of rolling this out.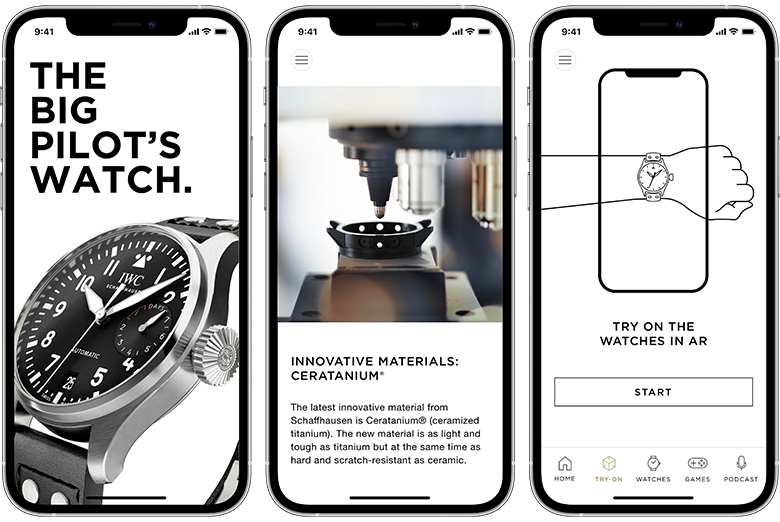 We have been always in a leading role when it comes to social media, when it comes to application of digital, so definitely also metaverse presence is part of that.



Interesting. Thank you. A very last question just to open this up, because the future is not just about the metaverse. There is so much more. What will be the next thing in watchmaking, do you think? Not necessarily for your brand — of course, you will have to react to this. What are the developments, what are the next things in watchmaking?

That is hard to say. I think that, looking at the industry, there is an interest in product innovation that is probably higher than ever. But at the same time, this goes along with this very crowded market. So there is an iconization, a focus on iconic products, happening at the same time. There is this combination of focusing the on the brand icons, on the very recognizable designs, and combining this with technical innovations for movements, for cases, for all kinds. That is a bit of the path that is visible to me at the moment.


Thank you very much. I think we have touched on different topics. You started with the location, how things have started over history and then we covered innovation of course at the end, and the topic of pilot watches, that it is so much more than just for pilots — you have a kind of a wider view on this — and then we touched on the outlook, the things that could be next. So I think you have given a very nice overview of what IWC Schaffhausen is doing, has been doing, and maybe also will be doing. Certainly, there are many more questions and things we would like to hear about. But I think you gave a brilliant, great overview and it helps us a lot to understand the business at large a bit better. So thank you very much.

It has been a pleasure. Thank you.



Photo credits: IWC Schaffhausen, Richemont International SA

Willem Haen
Brand Engagement Lead