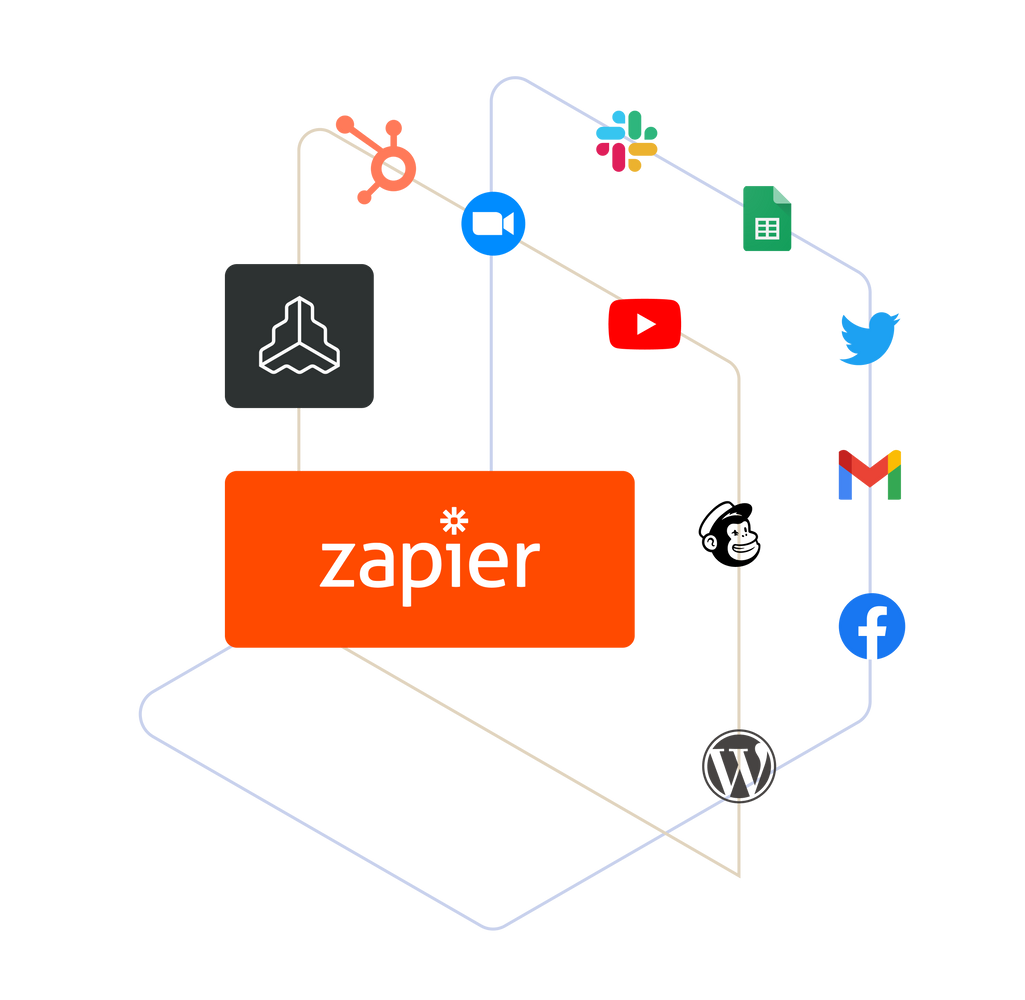 Introducing the Zapier Integration for Frontify
We're excited to launch the Frontify Integration with Zapier, an easy and powerful way to connect Frontify to your favorite apps (in fact, over 4,000 of them) and make sure the whole company benefits from the power of Frontify.
What are the benefits of connecting Frontify with Zapier?
Our integration with Zapier enables you to automate workflows that you might not have even considered about yet. What's more, you won't need a developer to create complex code snippets. Zapier follows a 'configuration first' approach: simply set up your 'Zaps' with minimal technical knowledge and get running within minutes instead of weeks (or even months – we know how it can be). If you need something more complex, Zapier, in connection with Frontify, allows you to prototype new use cases before you invest all that valuable time and money.
In summary, this integration automates your work, allows you to skip lengthy technical set-ups, and free up more time to do the important stuff.
We've prepared two exemplary ideas to get you thinking about how you could use the integration:
Automation Idea 1: Connect Frontify with Microsoft Teams
With this Zapier Integration, you can connect Frontify with the same with Microsoft Teams or any other supported chat app.
This "Zap" uses the Asset Trigger feature of our integration. With this, you can set up notifications for every asset created, updated, or deleted (or any combination of these events).
Maybe it's worth mentioning that, in this example, we're using the multi-step feature of Zapier to work around an image dimension restriction in Microsoft Teams. While this is not a necessity, it showcases the flexibility of Zapier.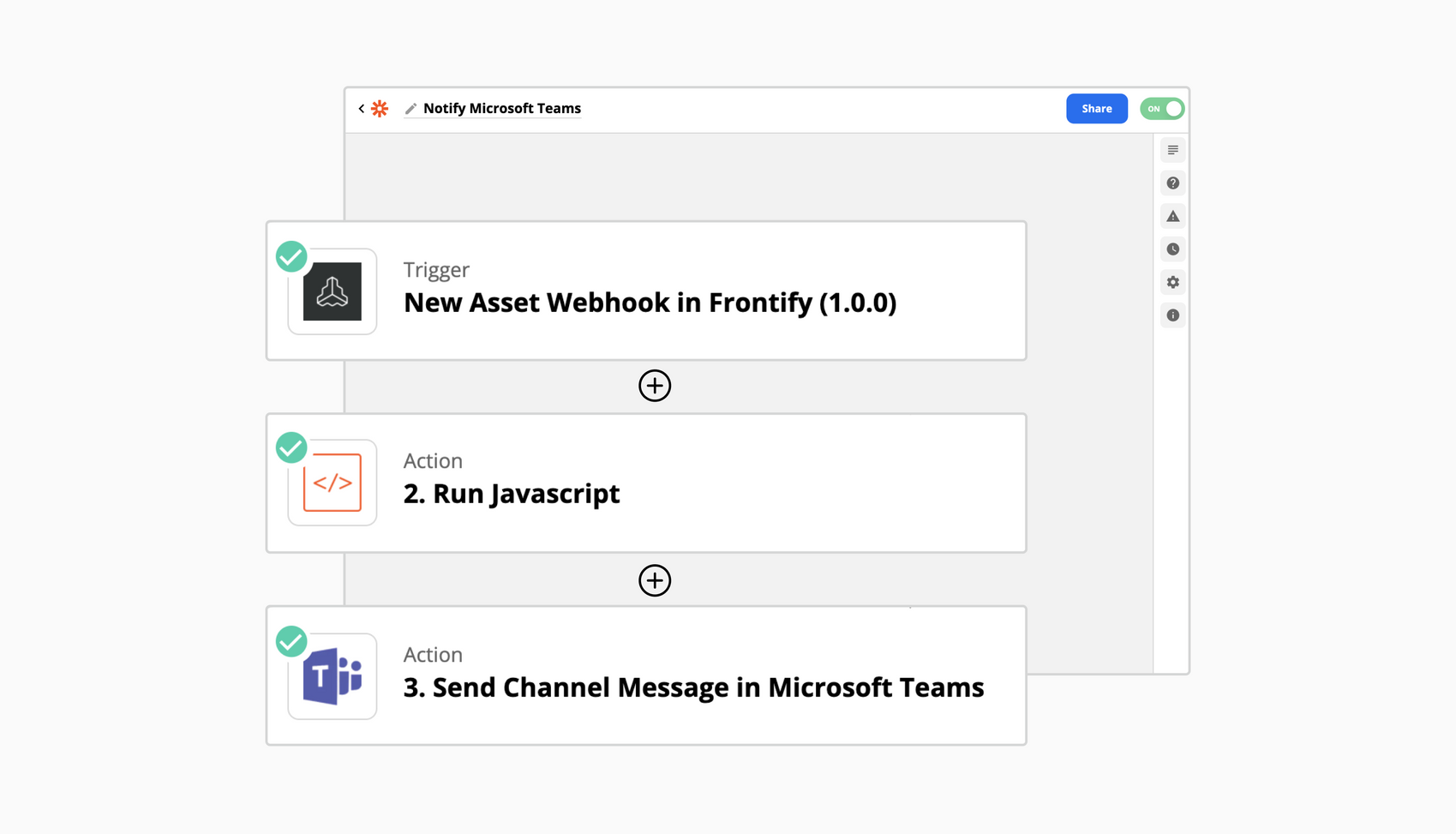 Automation Idea 2: Connect Frontify with Pinterest
As we saw with the Microsoft Teams example, notifying any app about a new asset or asset change is simple to set up. This integration also allows you to do the same the other way around; notify Frontify of new assets in an external app. In this example, we set up a "Zap" to automatically upload a newly pinned image from Pinterest to a Frontify Project of our choosing:
Here, we use Create File Based Asset. Besides uploading a new asset to Frontify, you could set up predefined and custom meta tags, set titles, and much more.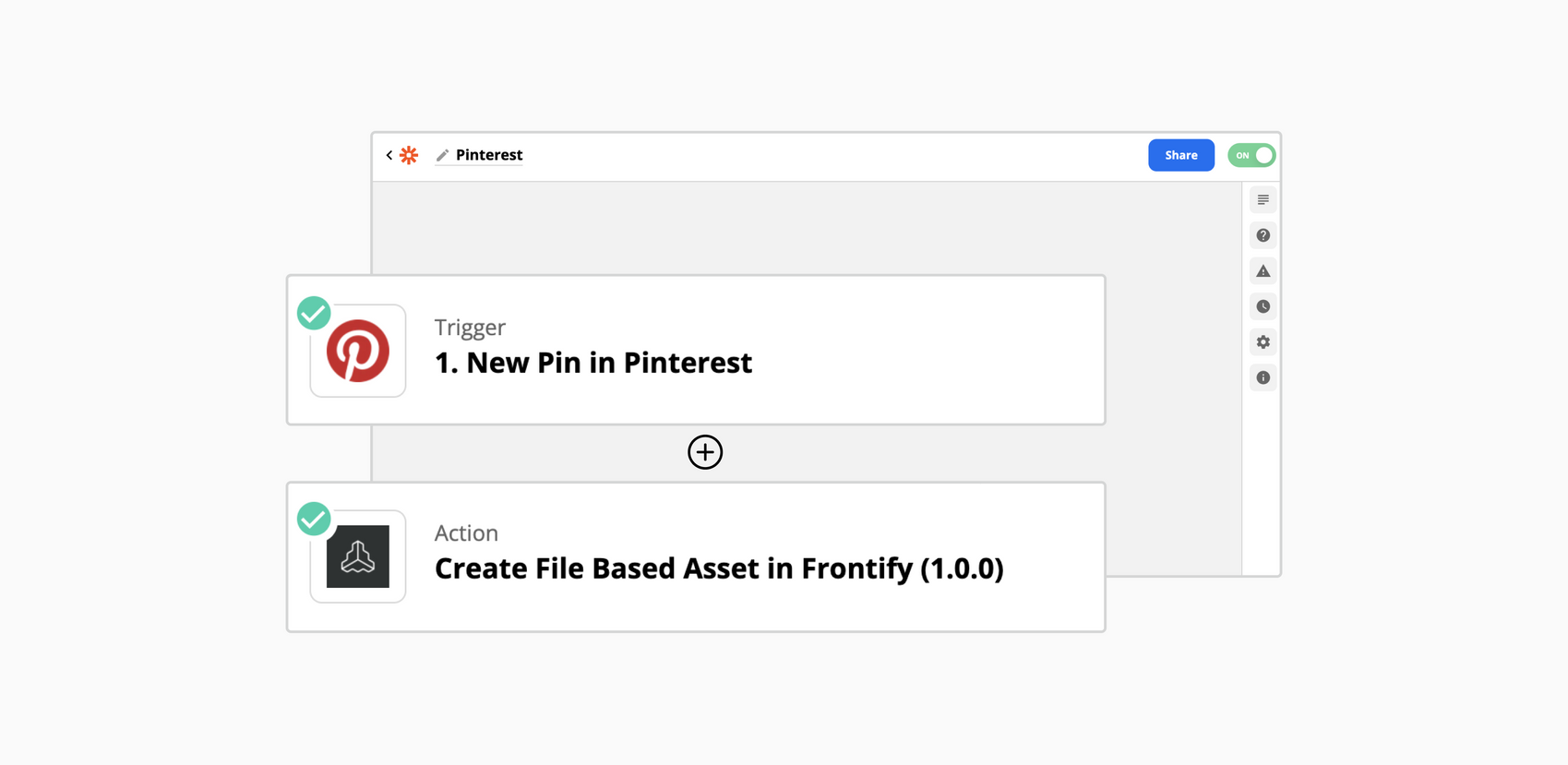 How to Get Started With Your Own Automations
Every successful integration starts with shaping and understanding the specific use case. We'd like to hear from you about your brand's needs to keep improving our integration's capabilities.
For now, we recommend setting up the integration to see it for yourself. Thanks to OAuth2, setting up the Zapier Integration with Frontify is easy and secure. There is no need for API keys or developer tokens, and you're provided with an overview of what information the integration can access.
To get started, simply visit our website to receive direct support for specific questions about the Frontify Integration for Zapier.
We're planning to update the Zapier Integration with new additional features in the future. We're excited to see what new applications you come up with; if you think there's something vital missing, make sure to let us know through Twitter or, directly, via email.

Florian Gächter
Developer Advocate