Introducing the Figma App
Keep everyone in the loop about the design process of your brand. Document your brand's design system by connecting Figma to Frontify.
We're excited to introduce the Figma App for Frontify. The gates are now open for all Frontify users to use this app and start building their design-to-brand workflow.
We Listened To You: Solving Challenges For Figma Users
During our discovery efforts, we gathered feedback from existing Figma users and Frontify customers. As a result, we found many opportunities to enhance the topic of design-to-brand workflows.
To give this some context, here are three central challenges that were top of mind for us.
Challenge #1 Designers commonly use Figma to create amazing visuals, but colleagues outside of their design team struggle to follow their work due to a lack of access to the native platform. How can we share designers' Figma work with the right level of access rights for non-designers?
Opportunity Bring Figma designs to Frontify to enhance stakeholder involvement – include marketing teams, brand teams, and many other stakeholders. Frontify is traditionally used by a wide range of teams and has built-in capabilities for streamlined invites, access control, sharing options, Kanban workflows, and much more.
Challenge #2 Figma offers many ways to build up UI component libraries, but misalignment can quickly become a problem during cross-team collaboration. How can we enable users to share their visions with everyone in one place?
Opportunity Bring Figma's UI components and style elements to Frontify. Let Frontify act as a single source of truth for all UI components, color schemes, text styles, and other design elements.
Challenge #3 Figma is excellent for creative work, but how can different teams start using real assets more confidently within all external touchpoints?
Opportunity Synchronize "real" (and actually usable) assets between Figma and Frontify, and make Frontify the central distribution hub for all asset types and teams (e.g. icons, logos, illustrations, etc.).
From this research, we identified that the first and second opportunities would be the most relevant and impactful for the first version of our Figma integration.
Meet the Main Features of Our Integration with Figma
Fortunately, we've got a super-talented team of product designers and engineers that were able to turn these integration opportunities into reality. Apart from creating a useful app, we also wanted the Figma integration to be secure and stable.
After a few weeks in beta, we've now made the Figma app for Frontify available to the whole Frontify community – and we're looking forward to releasing even more value with the integration further down the line. Now everyone can enable the app directly inside the Frontify platform.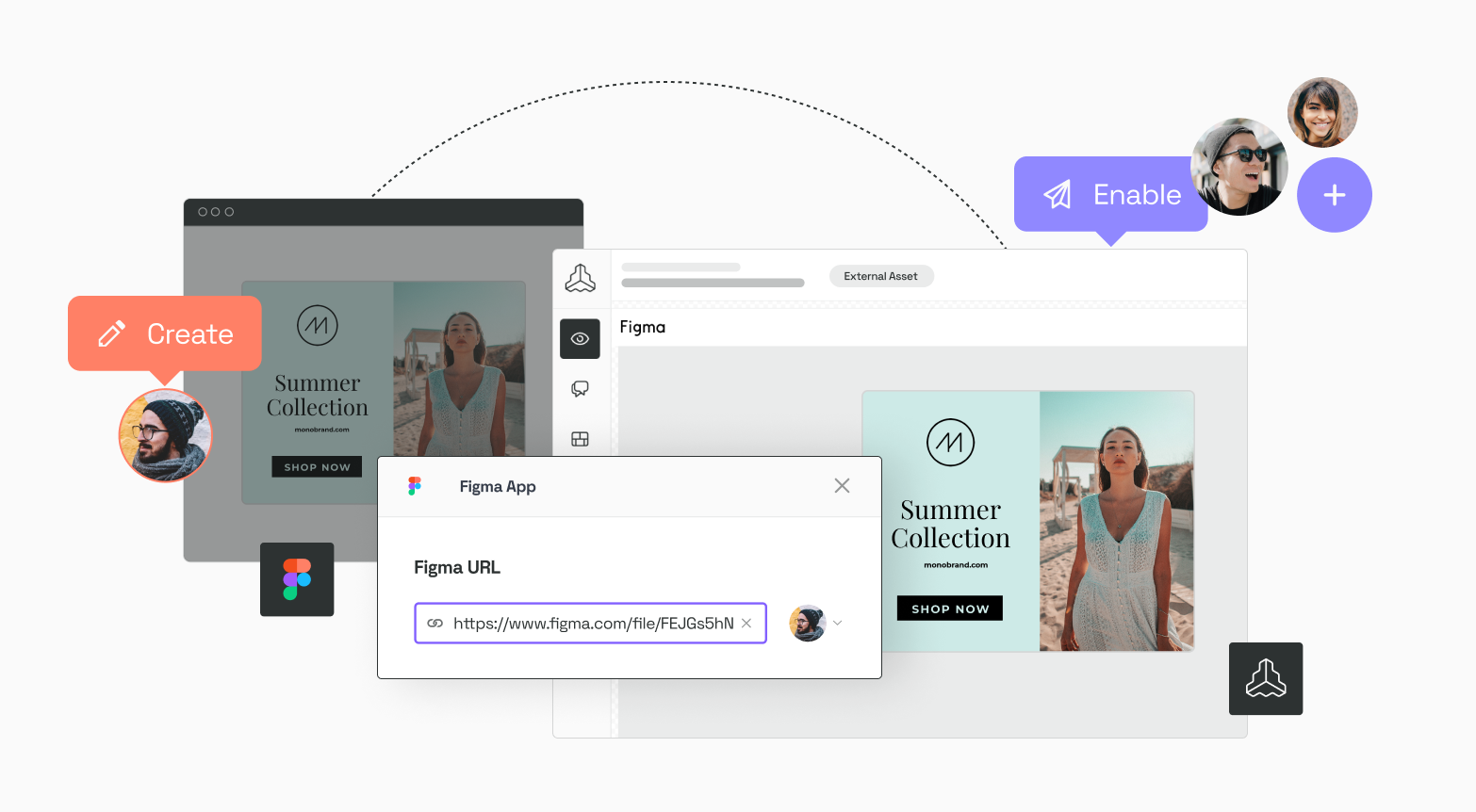 So, let's look a bit deeper into the key features, shall we? These will of course evolve and expand over time, but for now, it's a pretty sweet lineup to kick things off.
Streamline Daily Design Work & Collaboration
This powerful key feature generates a preview of a complete Figma file right in Frontify. From there, you can start to select the Figma elements you want to include in Frontify, such as:
Figma Pages
Figma Frames
Figma Components
Figma Prototypes
As a result, all stakeholders can discover and contribute to the great work designers have done while looking at new designs directly in Frontify – enabling creatives to collect feedback from everyone and organize their final designs in one place. Simple and powerful.
Keep in mind that users now have the full flexibility and freedom to work with Figma however it's best for them, without boundaries on how to set the structure of Figma files and workflows.
Document Your Brand's Design System Within Frontify
Design system components are always in flux; changes and adaptations happen often. For that reason, every team requires an open and flexible way to create a design system as part of their broader brand system. A comprehensive and easily accessible documentation of your design system will streamline onboarding efforts of new team members, reduce unnecessary back-and-forths with external partners, and make it a whole lot easier to work with everyone to build your brand overall. This design system should be discoverable for all brand builders – any time, anywhere. By using Figma together with Frontify, you'll be able to achieve exactly that in just a few simple steps:
Sync elements of your user interface from the Figma app into a Frontify Project
Organize designs right in Frontify (manage folders and access)
Start using our built-in asset management capabilities such as workflows, status, metadata, tags, and comments
Once the design system components are ready, add them to your Brand Guidelines to make them visible to everyone that needs to see them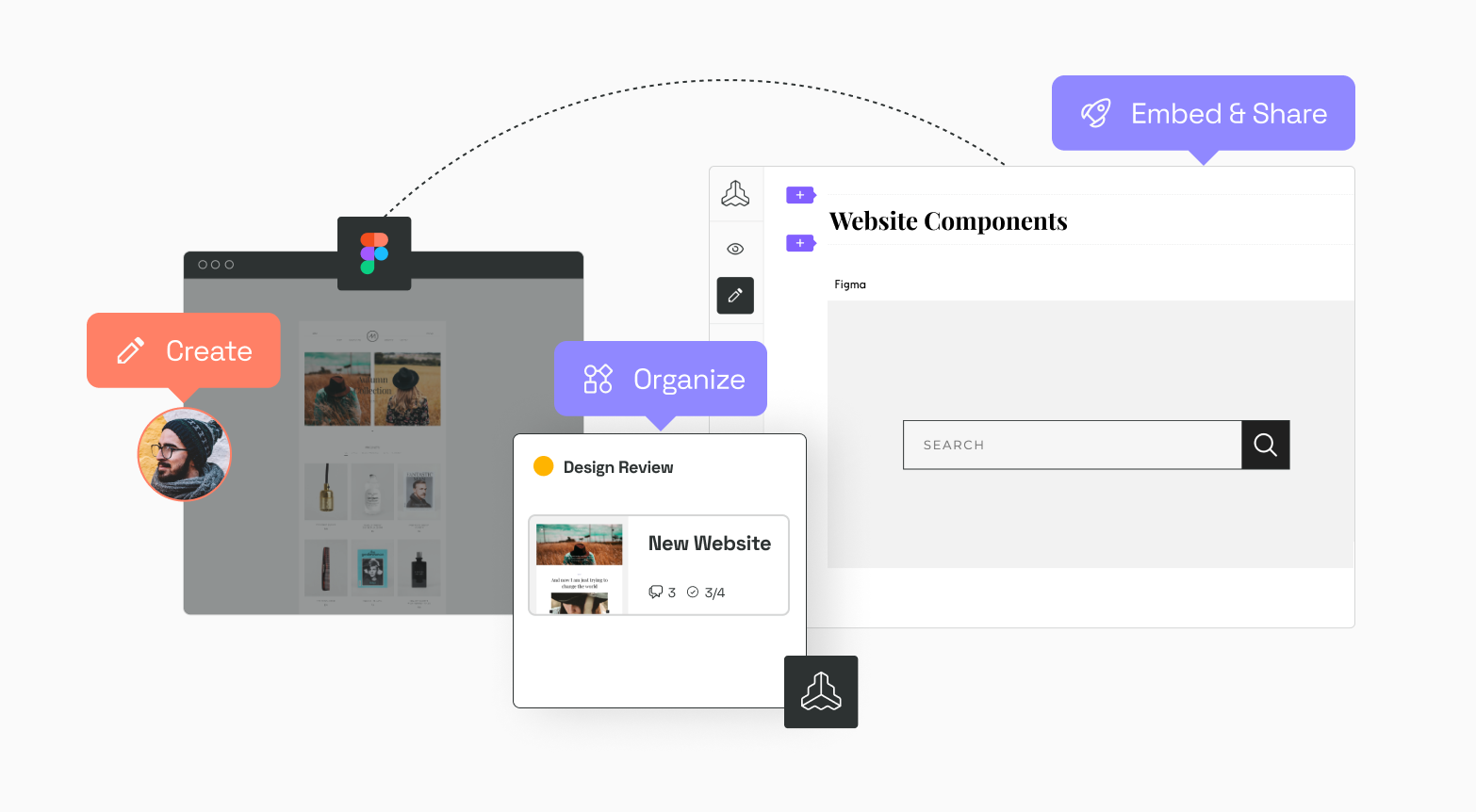 This is just the foundation of a broader initiative to create design systems within a much more comprehensive brand system. With this app, our aim was simple: provide early value to a wide range of users. Together with your input and feedback, we'll shape the future of the Figma App for everyone behind the brand.
Outlook of the Figma App for Frontify
Since the successful launch of the first version of our Figma App, we're happy that we have started to address some key challenges for our users.
However, we're aware of the complexity of the design discipline, and keep in mind that there are many challenges and opportunities within the whole design workflow just waiting for a proper solution.
For example, here are some more opportunities which have been identified but not yet implemented. In the future, we could look forward to the ability to:
Create a Figma asset in any static format such as '.png' or '.jpeg', on top of the current support of live embeds
Sync real-time feedback and comments between Figma and Frontify
Sync colors and text styles from Figma to Frontify
Connect templates created inside the Figma platform to our Digital & Print Templates tool
We're happy to have you along for the ride and look forward to sharing the latest and greatest with you. Stay tuned!
Johannes Waibel
Product Ambassador