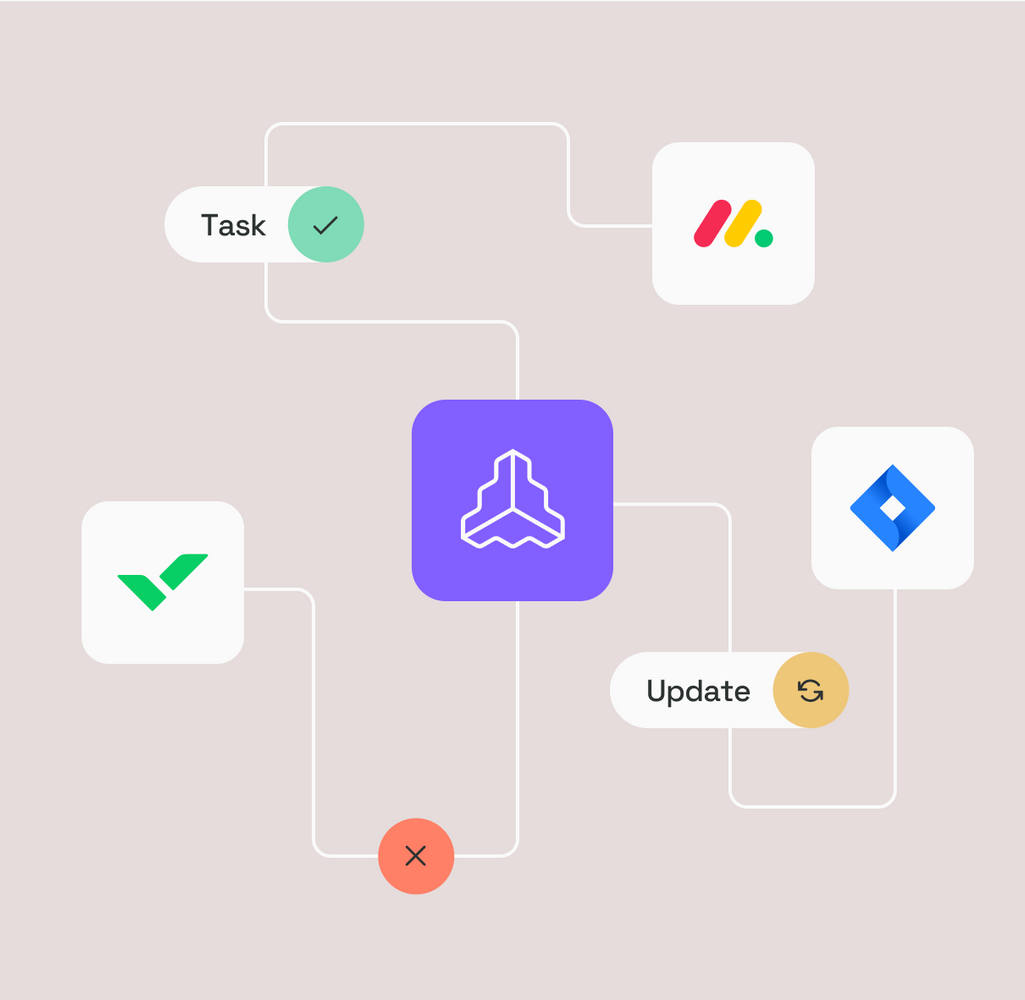 3 ways to connect Frontify with project management tools to boost branding processes
Discover the convenience of integrating your favorite project management tools into your brand management platform.
Juggling several tools to build and manage your brand can be frustrating: You waste time and increase the risk of costly mistakes. But it doesn't have to be this way. Let's explore how project management (PM) tools for brands can revolutionize how you approach brand management. From understanding the current market trends to discovering how these tools can make your life easier, this article is a must-read for any brand and content manager looking to streamline their workflow and boost productivity.
What are project management tools?
Productive collaboration can be challenging nowadays. Big projects often involve many people who take care of smaller tasks across different departments, locations, and even time zones.
Project management tools help identify tasks and responsibilities: They support teams in planning, executing, and tracking their work to ensure everyone works toward the same goals. The leading players in the PM tool market include Monday.com, Wrike, Jira, Asana, ClickUp, and Trello.
Why do you need PM tools to strengthen your brand?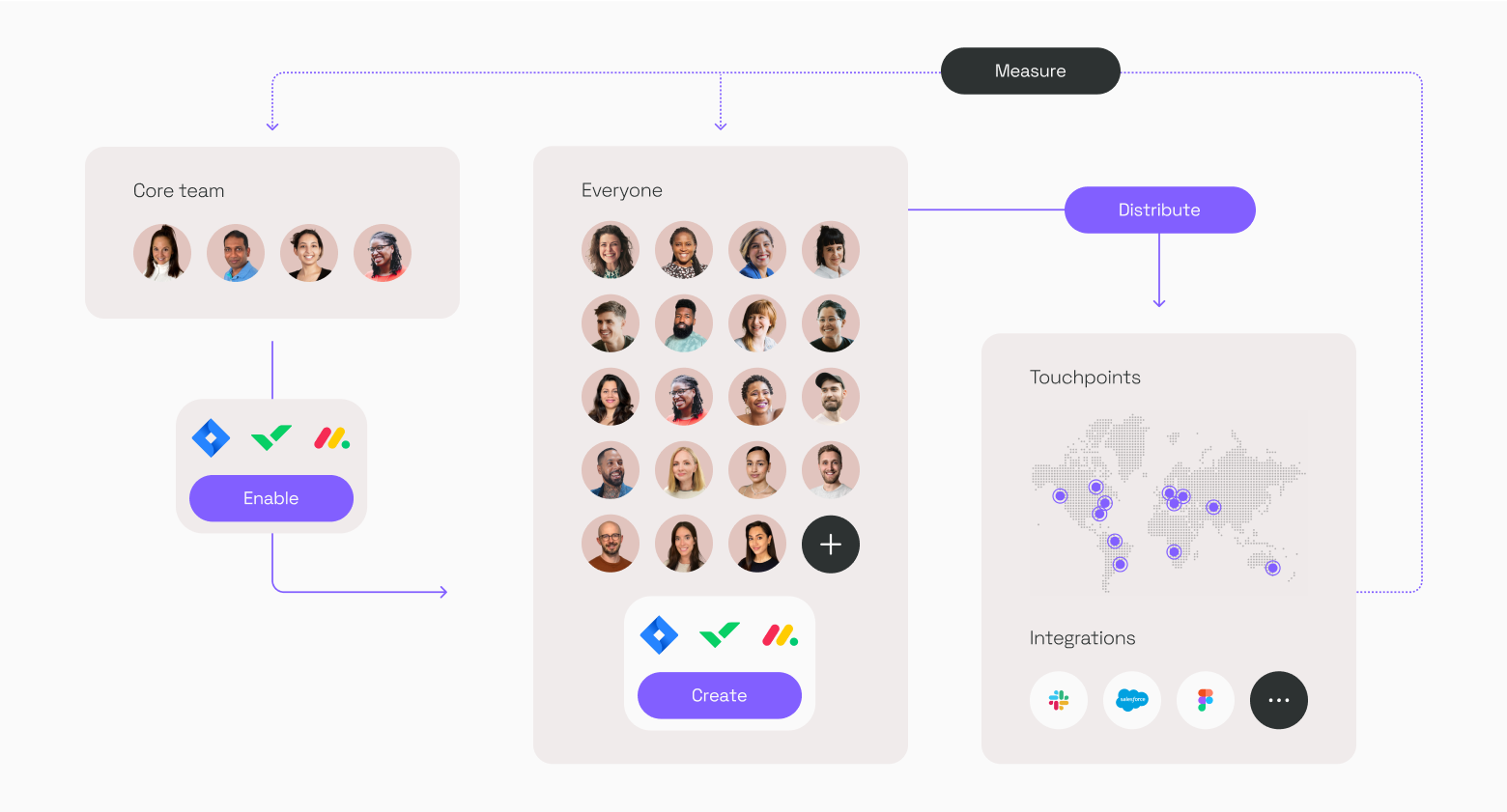 Usually, brand managers or brand owners enable employees and partners to stay on-brand through brand guidelines and templates. From this, internal and external stakeholders create consistent marketing material based on their brand guidelines. These stakeholders then distribute newly created marketing content to the world by leveraging a connected brand ecosystem. And finally, teams use analytics dashboards to measure how the content resonates with the public and refine their approach accordingly.
Effective coordination is essential for brand management success: With inefficient workflows and unintegrated systems that act like silos, you may end up in never-ending loops, sharing old visuals or modifying the wrong image. PM tools add the most value to the process, especially in the enablement and creation phases when assets get chosen and developed.
Frontify has its own project-related built-in section: Creative Collaboration. Users can comment, give feedback, and streamline workflows with templates and metadata. However, if using a PM tool is an established practice in your company, connecting Frontify with best-in-class PM tools can add value to your daily branding operations. And you get the best of both worlds.
How can you use PM tools to optimize the branding process?
Brand builders who enable and create can benefit the most from having an integrated environment where PM tools seamlessly communicate with their Frontify environment. In fact, during daily branding processes, PM tools can be handy in several ways:
Centralize brand assets: Having all project-related brand assets in Frontify streamlines your content creation lifecycle and ensures that every brand builder works on the same set of approved files.
Define and track tasks: Branding is a continuous process, and building and nurturing a brand involves the entire company. PM tools help you define tasks and assign them to team members, with everyone knowing what needs to be done.
Boost collaboration and communication: Team members can share ideas, give feedback, and work together on tasks in real time.
Manage timelines: With a PM tool, you can easily set deadlines and track the progress of brand-related tasks, ensuring projects stay on schedule and budget.
Let's look at three use cases that show how PM tools can simplify workflows.
Three PM tools use cases to level up your brand creation process
Use case 1: Modify brand guidelines
Jennifer is the brand manager of Monobrand, a fashion company catering to people who live in urban areas. When scrolling through the brand guidelines she created, Jennifer finds a picture with the wrong logo. Attention to detail is crucial for Monobrand, and Jennifer wants to ensure that her brand guidelines shine in every aspect.
Here's how Jennifer replaces the wrong visual:
Send ticket: Jennifer opens a ticket with the "Feedback" button. The ticket goes straight to her team's PM tools.
Set up workflow: The project manager who receives the ticket gets all the information they need to assign the task to a designer.
Approve changes: The designer makes the changes and sends Jennifer the updated visual for approval.
Upload new visual: Jennifer can replace the approved visual and inform her team.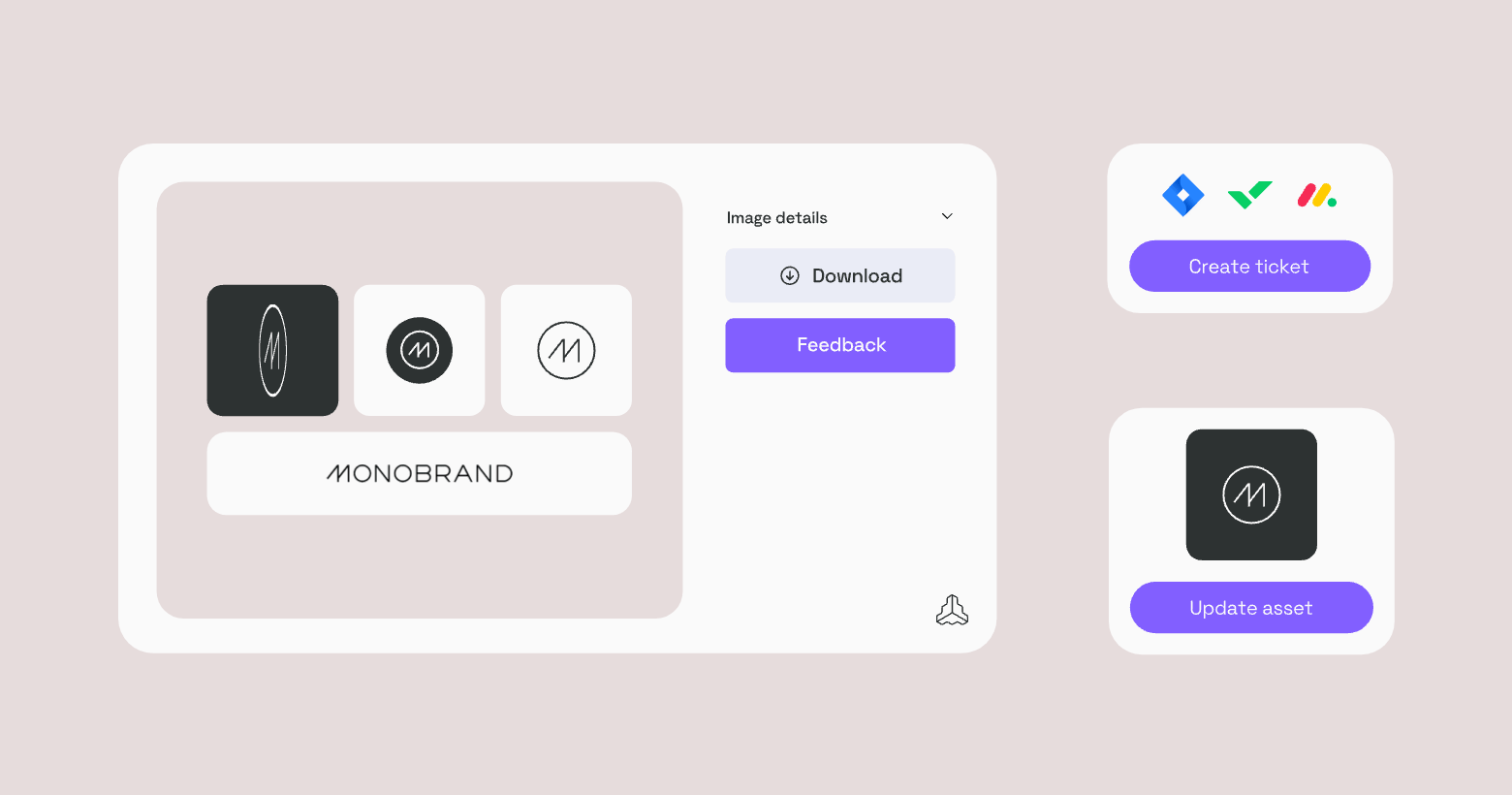 Jennifer can start the workflow with one click and ensure only relevant people are included in replacing the visual. By announcing the change, she can ensure everyone is updated on the new section.
Use case 2: Request an image change for a digital campaign
While browsing for images to use in his digital campaign, Miguel comes across a visual that could work but needs some modification. He wants to remove the skyscrapers in the background to better fit the campaign's aesthetic and ensure people have more selection in the library.
Let's find out how Miguel goes about requesting new visuals:
Send ticket: Miguel uses the "Feedback" button to create a ticket in the PM tool.
Initiate workflow: The project manager gets the ticket together with the file and the necessary information for the designer.
Approve changes: The designer creates the new visual and shares it with Miguel for approval.
Send visual to asset library: Miguel's happy with the visual and uses the integration between the PM tool and Frontify to send the image to the designated asset library.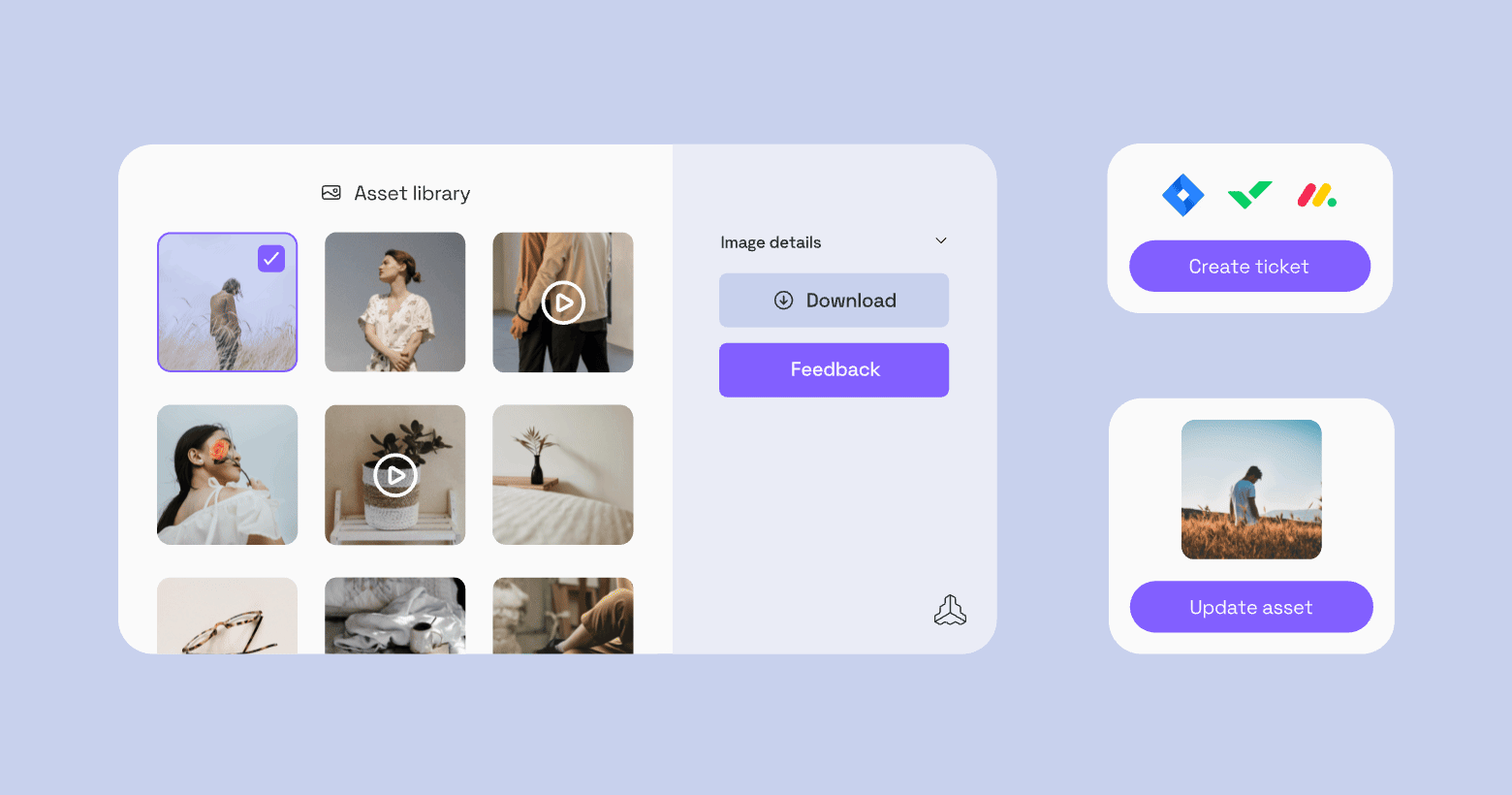 Thanks to the PM tool, Miguel can ensure that everyone working on the campaign can access pictures of the new skyline.
Use case 3: Use automated workflows to update libraries
Julian's working on a new white paper about next year's fashion trends. Once he finishes the copy, he needs several new images to complete the work.
Let's find out how Julian gets the visuals he needs.
Inform PM about tasks: Julian starts the process in his PM tool UI and briefs the project manager about each asset.
Initiate workflow: The project manager gets the ticket with the requested assets and informs the designer.
Approve assets: The designer creates the new visuals and shares them with Julian for approval.
Move visuals to Frontify: Julian sets the PM tool workflow status as "Complete." This ensures that the images go directly into the Frontify section he had designated before.
Distribute and track white paper: The white paper is ready, and Julian can seamlessly distribute it to the world through the integrated ecosystem. He evaluates the publication's performance with the Frontify Analytics Dashboard.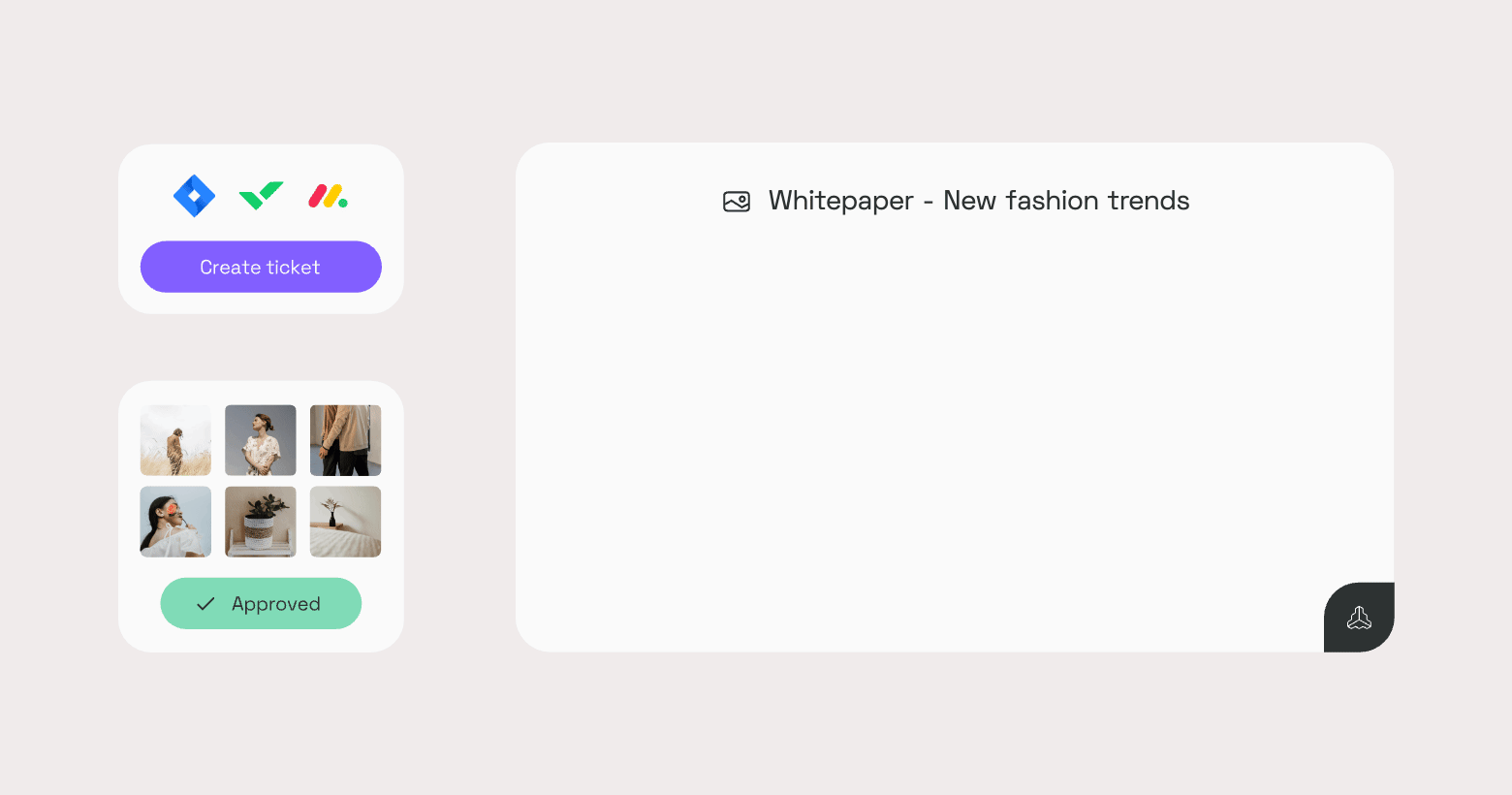 Thanks to this project, the content and marketing managers have a variety of visuals that they can use for digital campaigns — including banners and social posts — and extend the assets' life cycles. Because of Frontify's analytics, the team can further improve and optimize its assets and marketing strategies.
A match made in brand management heaven
Jennifer, Miguel, and Julian are just three examples of the many people who benefit from more intuitive and efficient collaboration.
PM tools are great allies in streamlining processes and making teams more productive: By connecting your PM tools and brand management platform, you can make the processes smoother and more efficient.
At Frontify, we're integrating several new PM tools to let brand builders work in the environment they love. To learn more, visit our webpage or contact us directly. We're always happy to help!
"
Thanks to our integration with Frontify, marketing and creative teams can keep work streamlined and productive by keeping work flowing and assets on track. This enables them to collaborate, create, and exceed consistently.
"
Jonathan Yim
Head of ISV Partnerships, Wrike

Lorenzo Orazi
Product Marketer