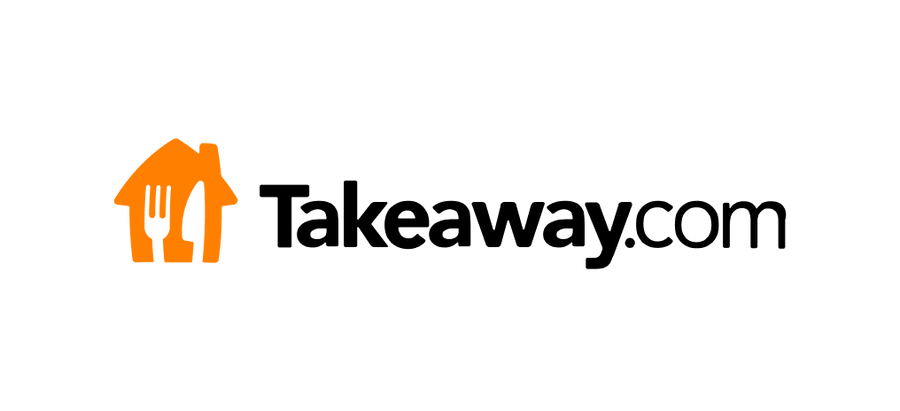 Brand Efficiency Through Centralization
Providing millions of people around the world with first-class food delivery services, the Takeaway brand is one of a kind. Regardless if you know them by their English name or one of the specified market-based ones, like the Dutch "Thuisbezorgd" – it's a brand that truly resonates with their users.
Takeaway uses Frontify since 2017
Brand Guidelines
Digital Asset Management
Creative Collaboration
We met with Dimitrios Arapis, the Customer Experience Coordinator at Takeaway. He told us that with a growing number of active markets, their branding efforts have become increasingly valuable. Having one place for documentation, where assets and guidelines are truly centralized, seemed like the logical solution – one place of truth for individual markets and global ones alike.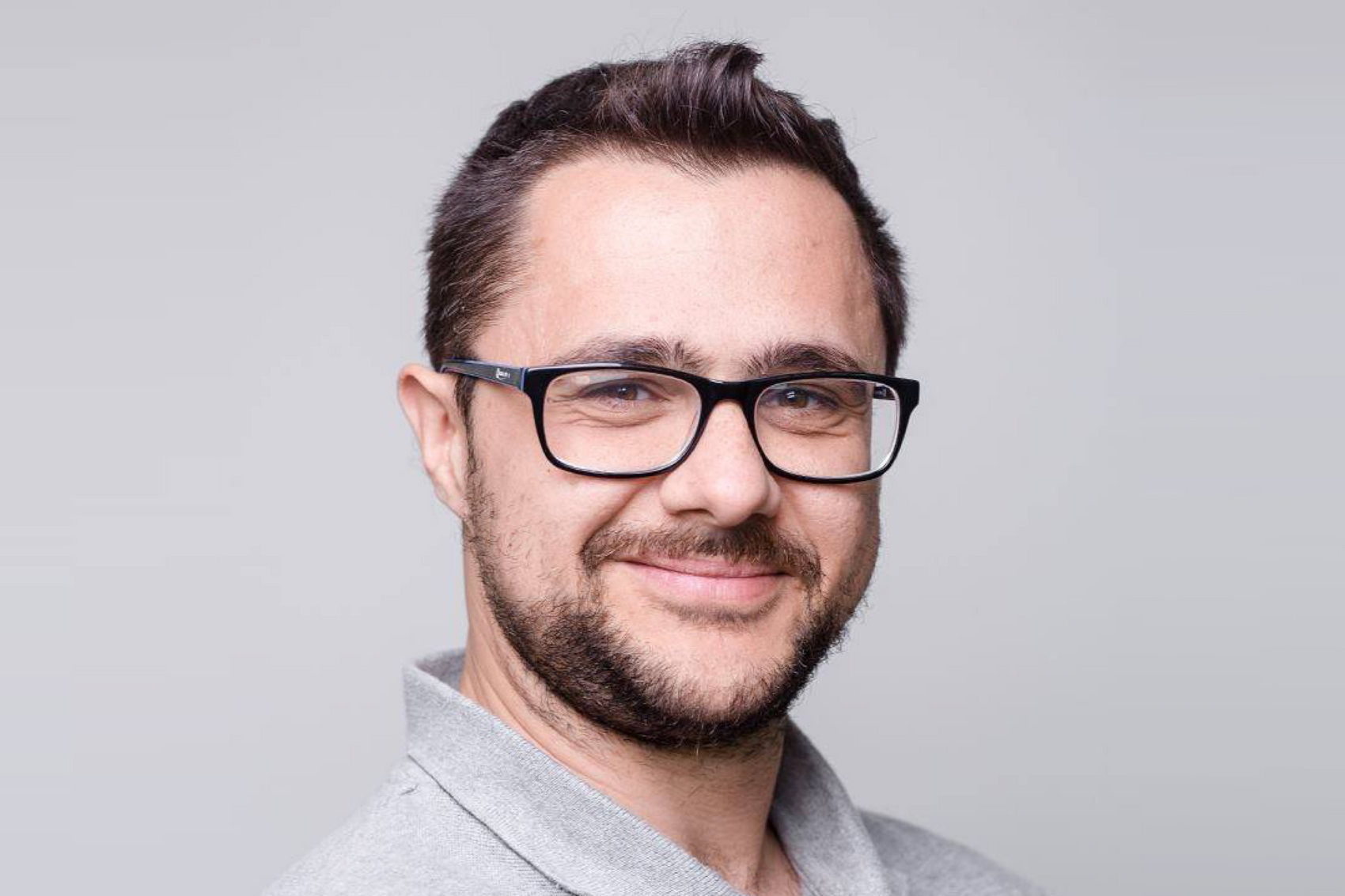 The main ambition of the Takeaway brand is to build quality experiences for every touchpoint, presenting a consistent brand perception for every customer. To achieve that, they're making sure no market is limited by operations, by providing them with a centralized brand platform – where everything comes together – enabling all of those involved to create unified brand experiences.
With a brand active in eleven different countries, all with slight aesthetic variations, Takeaway has created custom guidelines to fit them all. That way, they're able to spearhead communications in specific markets while simultaneously governing their brand – giving clear instructions on how to operate locally, on a global scale.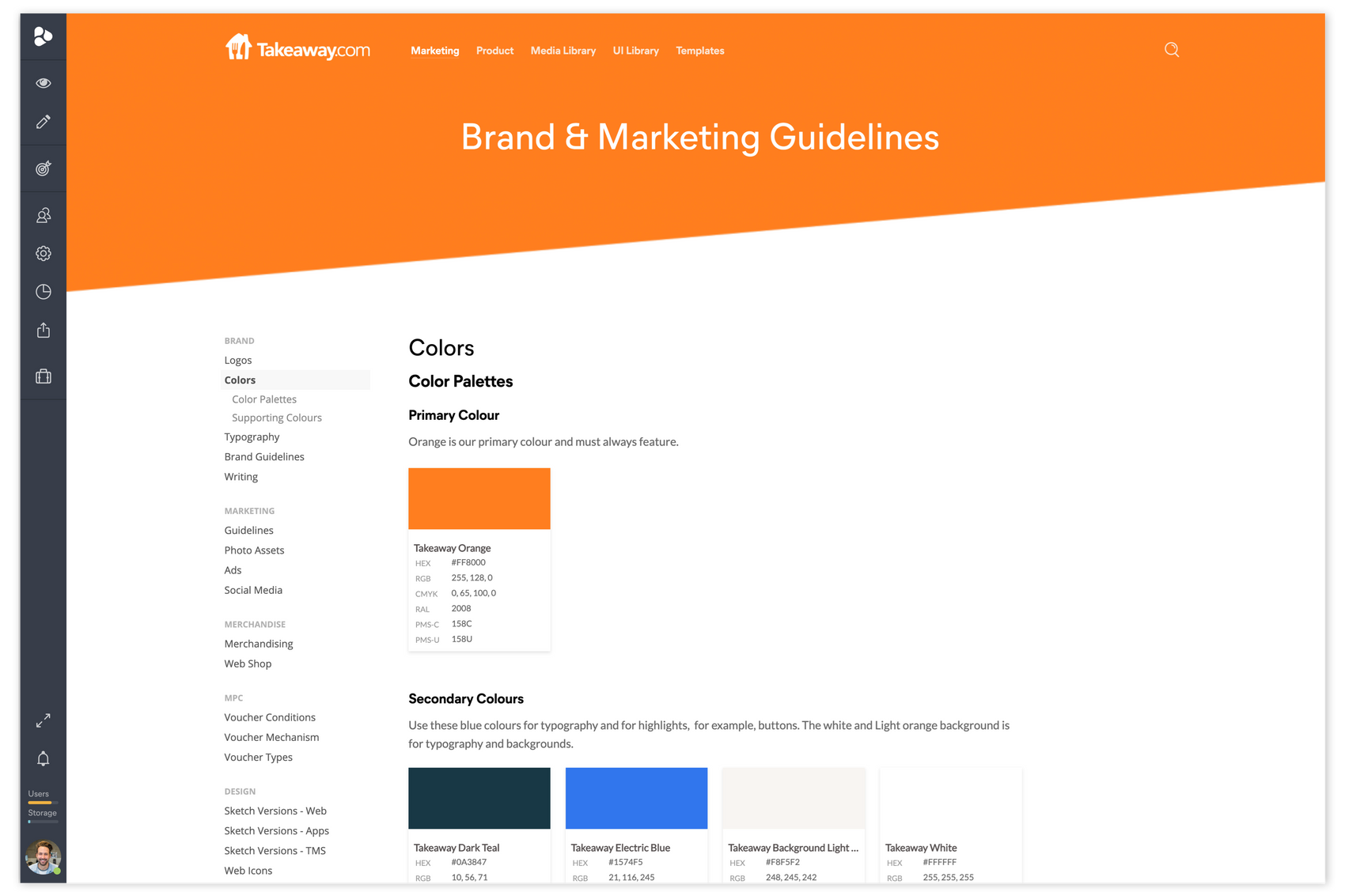 Before Frontify, the various departments had individual solutions living on different servers including Google Drives and Dropbox. Naturally, that meant a lot of meetings and lengthy emails in order to locate assets and manage operations. With Frontify, they could cut down on meetings, reuse what's already been created, and limit redundant efforts. By removing the silo-based friction from their everyday business, Takeaway could begin operating collaboratively, without losing momentum.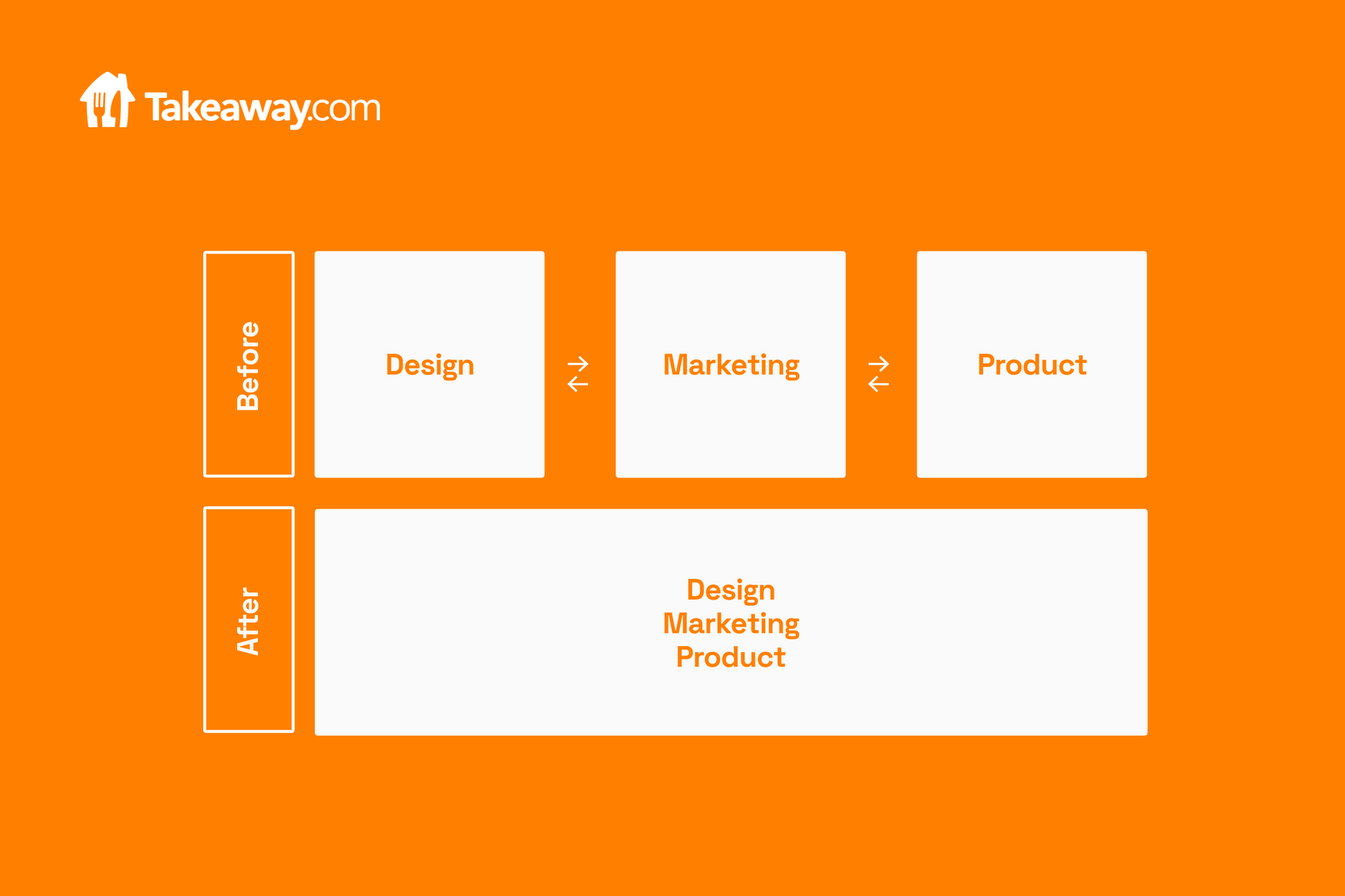 To find the perfect solution, we tried a couple of different tools, most of which were self-hosted. The main problem was always the magnitude of maintenance needed to implement material, grant access, share updates, and iterate on new concepts. All the self-hosted tools were hard to work with, but when Frontify came along – we found a match.
The entire implementation of Frontify was done internally. Takeaway first contacted every department, each previously with their own software solutions. They started breaking away from the internal silos. Pretty soon branding teams, marketing professionals, and developers started shifting their practice into Frontify. The design department, in particular, deciding to heavily use Frontify in every region, enabling Takeaway to have thousands of brand assets in Frontify – a number that's increasing by the day. Takeaway's design department can now greatly reduce the number of inquiries from internal and external peers searching for assets or guidelines, and with the time saved put extra efforts on managing new campaigns.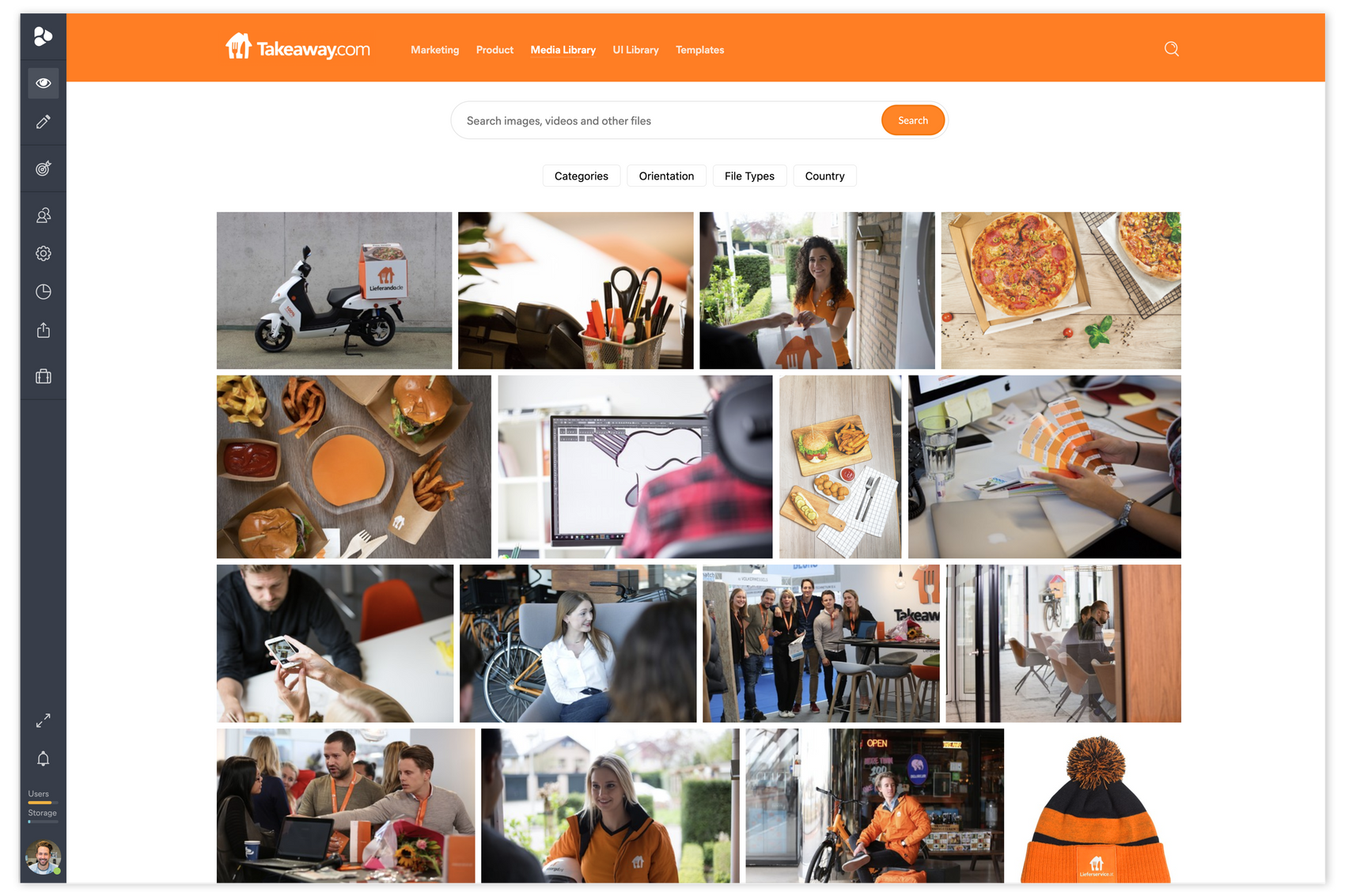 A wide range of teams at Takeaway are using the Frontify software today: there's a branding team, for all brand assets in every individual country; designers for assets, photos, and visual implementation of campaigns; content teams for guidelines and texts; and product teams controlling how the product is composed, with every conceptualized touchpoint in place. With the increased oversight, the different departments are now fully aware of what the product team is doing, opening up for a more transparent working environment.
Frontify is now a place where we can run consistency-checks. Recently, we started introducing our Customer Support to Frontify – ensuring that the tone of voice and general content they're using on a daily basis is always on-brand. We love it.
For Takeaway, Frontify fills a multi-purpose role in their organization. The ability to share links allows them to make Frontify a daily work hub for each and every department. For example, a recent redesign was made in Frontify, where Takeaway worked closely with an external agency setting everything up. Takeaway could then monitor the progress day-by-day and see the new visuals come alive in Frontify.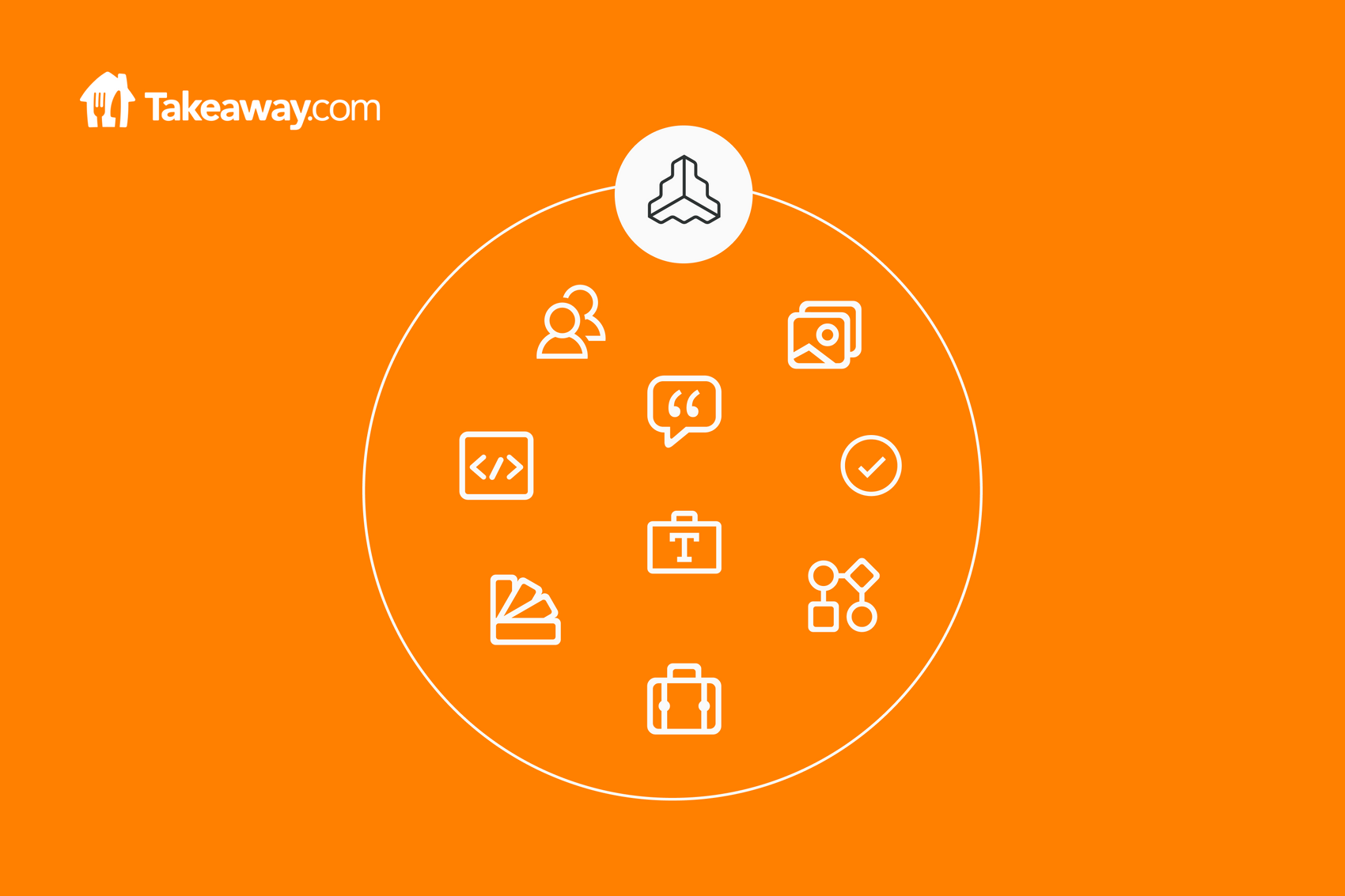 Now that we can access suitable assets and guidelines, everything is streamlined. The simple structure of the UI allows us to easily find things. Metadata and asset tags can now be connected to multiple assets – helping us to find them instantly – and thanks to this increase in structure, efficiency has improved immensely.
Takeaway's initial goal was to improve internal processes; a target they met and exceeded. The Takeaway Brand Manager is already transforming the branding department with the ability to control the guidelines in a wider sense. With Frontify, there's less active monitoring needed, benefiting the branding team by freeing up time for work on new projects, and the entire organization is empowered to which allows the branding team to execute more work on other projects, empowering the entire organization by keeping different teams and markets organized – while clearing up time for new projects.