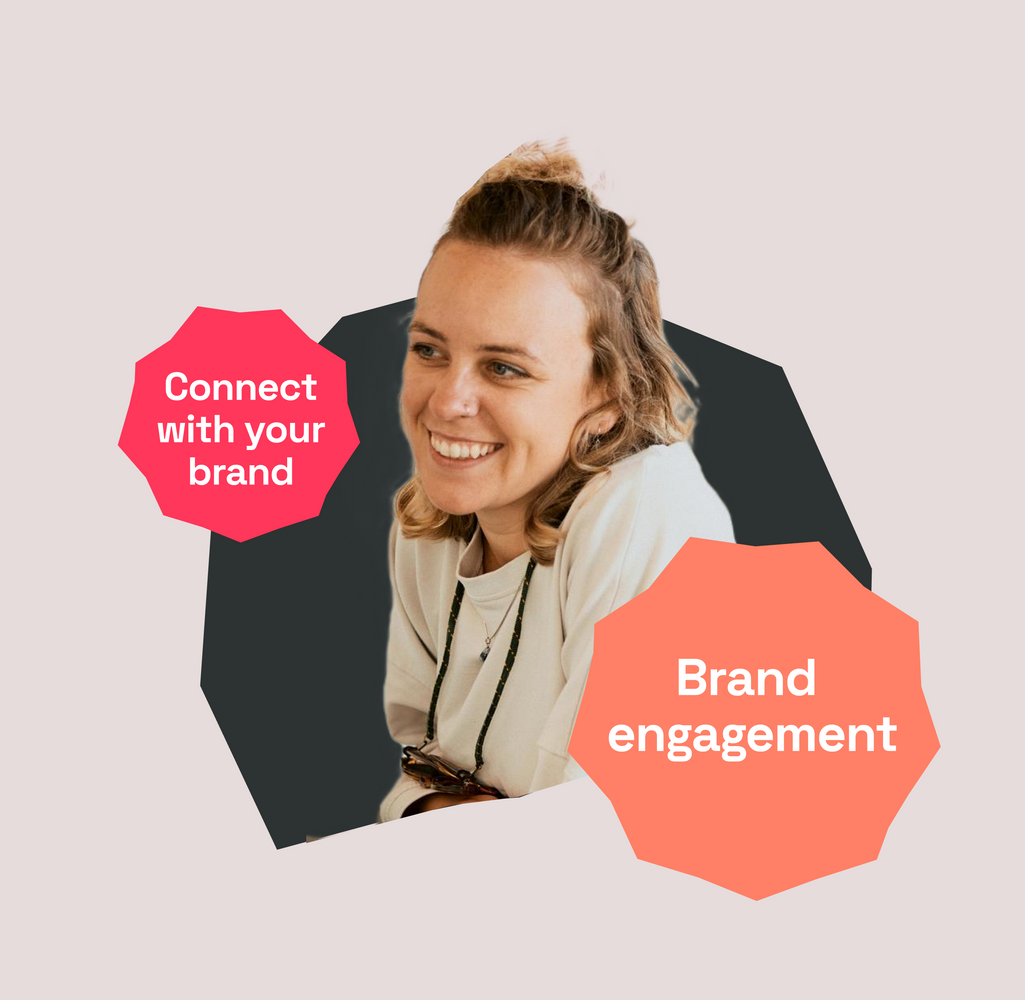 Customer brand engagement: Everything you need to help customers connect with your brand
Engaged customers spend up to 2x more money with the brands they love, but brand engagement doesn't happen by chance. Discover 6 ways to connect with your customers.
An engaged customer is incredibly valuable to your business. Research shows that emotionally connected customers spend up to 2x more with their preferred retailers. If your brand can help create that connection, you can deliver a significant boost to your company's bottom line.
While brand engagement doesn't happen by chance, companies can use established tactics to help current and potential customers engage with their brand and build that emotional connection.
What is customer brand engagement?
Customer brand engagement is the relationship companies develop with their existing and potential customers based on all their interactions and experiences with the brand across different channels and touchpoints. When companies think about building brand engagement, this usually means helping customers connect with their brand to turn them into loyal, long-term advocates for their business.
Customer brand engagement is important because it builds a sense of connection between consumers and the brands they shop with. This connection is the emotional response customers have when they see your products, receive your communications, or think about your brand. In fact, Salesforce found that 62% of customers feel emotionally connected to the brands they buy from most.
It also helps improve brand loyalty and customer retention by encouraging one-time purchasers to become repeat shoppers. Emotionally connected customers have a 306% higher lifetime value than customers who aren't engaged with your brand.
These two benefits combine to boost word-of-mouth referrals and recommendations. If they trust and value your brand, customers will recommend it, which will help you reach a new audience of potential customers. 90% of consumers are more likely to recommend brands they trust to friends and family. Even with the wealth of online reviews available today, personal recommendations from the people closest to you are still one of the most trusted sources of brand recommendations.
6 Ways to help customers connect with your brand (From real-life examples)
1. Share user-generated content
Build trust with your customers by sharing content created by your customers. For example, reviews, photos, and videos of your products help build brand engagement as potential customers get to see what your products look like in real life.
User-generated content is more genuine than your staged, "official" product content. So it's not surprising that 80% of consumers say "a photo from another customer is more valuable than one from a brand or retailer" when making their buying decisions.
Made.com brings user-generated content to its website and social media channels. For example, it features customer reviews on its product pages. It also re-shares customer photos on social media, turning them into shoppable posts to help convert social media engagement into sales.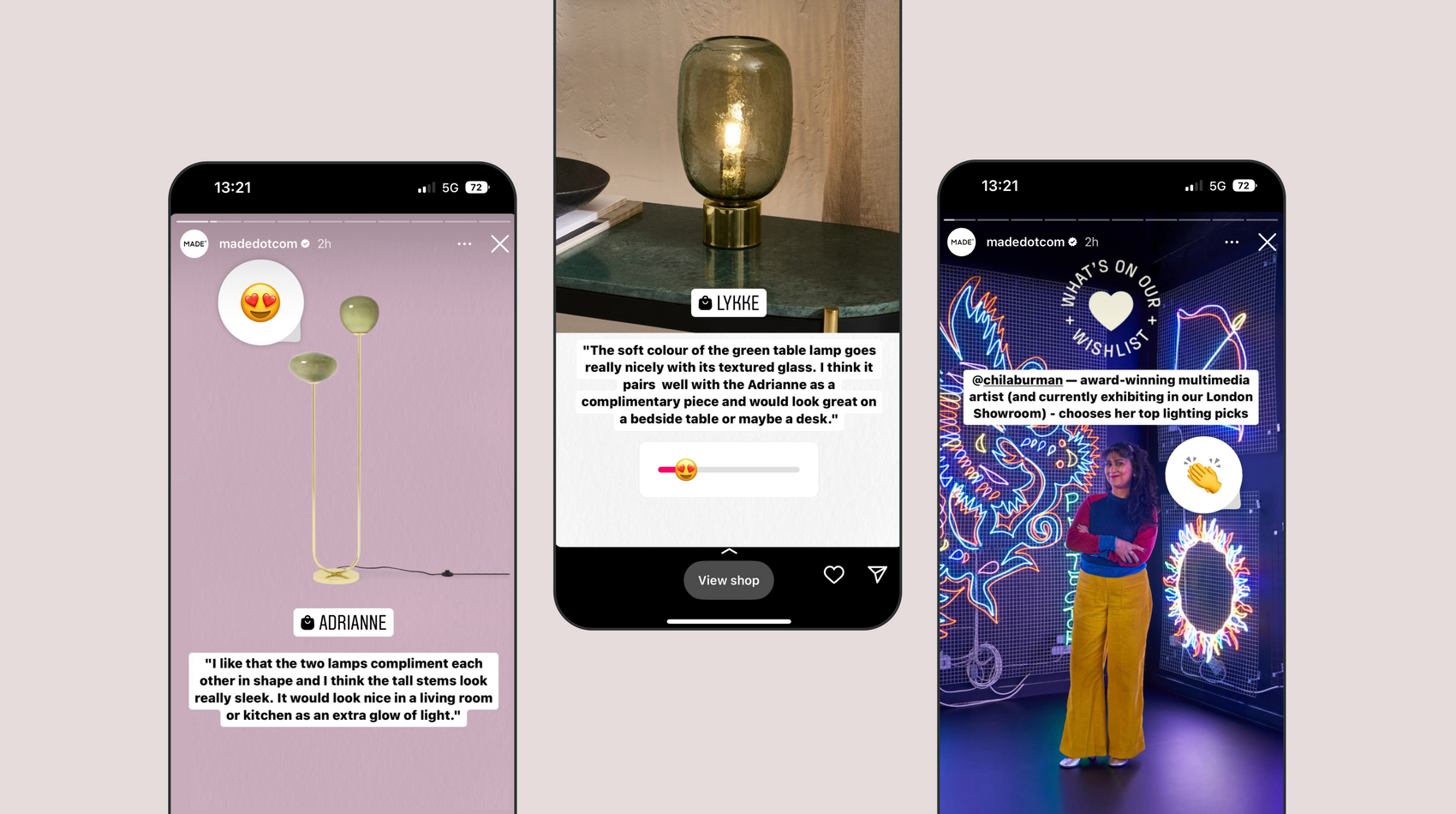 This content builds customer brand engagement from two sides. First, current customers will share their photos or reviews and get a serotonin boost when you acknowledge or share their feedback, strengthening your relationship with them. Then, potential customers will see that content and feel more connected to your brand as they trust your products more.
2. Connect with customers on social media
You can build customer brand engagement by interacting with customers on social media rather than just using your accounts to push out "approved" marketing content. For example, you can respond to customer queries or react to their posts, so they know you've seen it – especially if they tagged your company in the message.
For example, Glossier uses its Twitter account to answer customer questions and provide support to ensure its customers feel heard when they have a problem. It also replies to individual customers who share photos or positive feedback with heart emojis and other reactions.
Interacting with customers on social media helps them to build a personal connection with your brand. It turns you from a faceless company into someone that's connected with them, one-to-one.
3. Run events to help your customers connect in real life
We spend so much of our lives online that allowing your customers to connect with you (and each other) in real life can strengthen your relationships with them.
For example, Space NK runs pamper sessions, product demonstrations, and skincare masterclasses in its stores. Its events bring together customers with a shared interest in skincare or beauty products and give them exclusive access to products and professional expertise.
Running masterclasses, sponsored networking events, expert talks and panels, in-person product launches, or even user conferences all get groups of your customers together in the same place at the same time. This helps your customers feel like they're part of a community, brought together by your brand.
4. Build trust by increasing brand consistency
Brand consistency is presenting your brand in a unified way across different channels and teams. It covers visuals (how your brand looks), messaging (how it sounds), and values (what it means to your team and customers).
Consistency is essential for building trust in your brand. It means that every time a customer interacts with your brand, they get the same impression as the time before, so they know what to expect from your company. They don't get one vibe from your marketing ads and another when they contact customer support.
Brand consistency strengthens your reputation and builds brand recognition as you present your brand in a consistent manner. For example, sports brand Borussia Dortmund (BVB) needed to maintain brand consistency when it expanded into new markets. As it opened international offices in Shanghai and Singapore, it needed to maintain its brand identity to preserve the relationship with its fans and customers.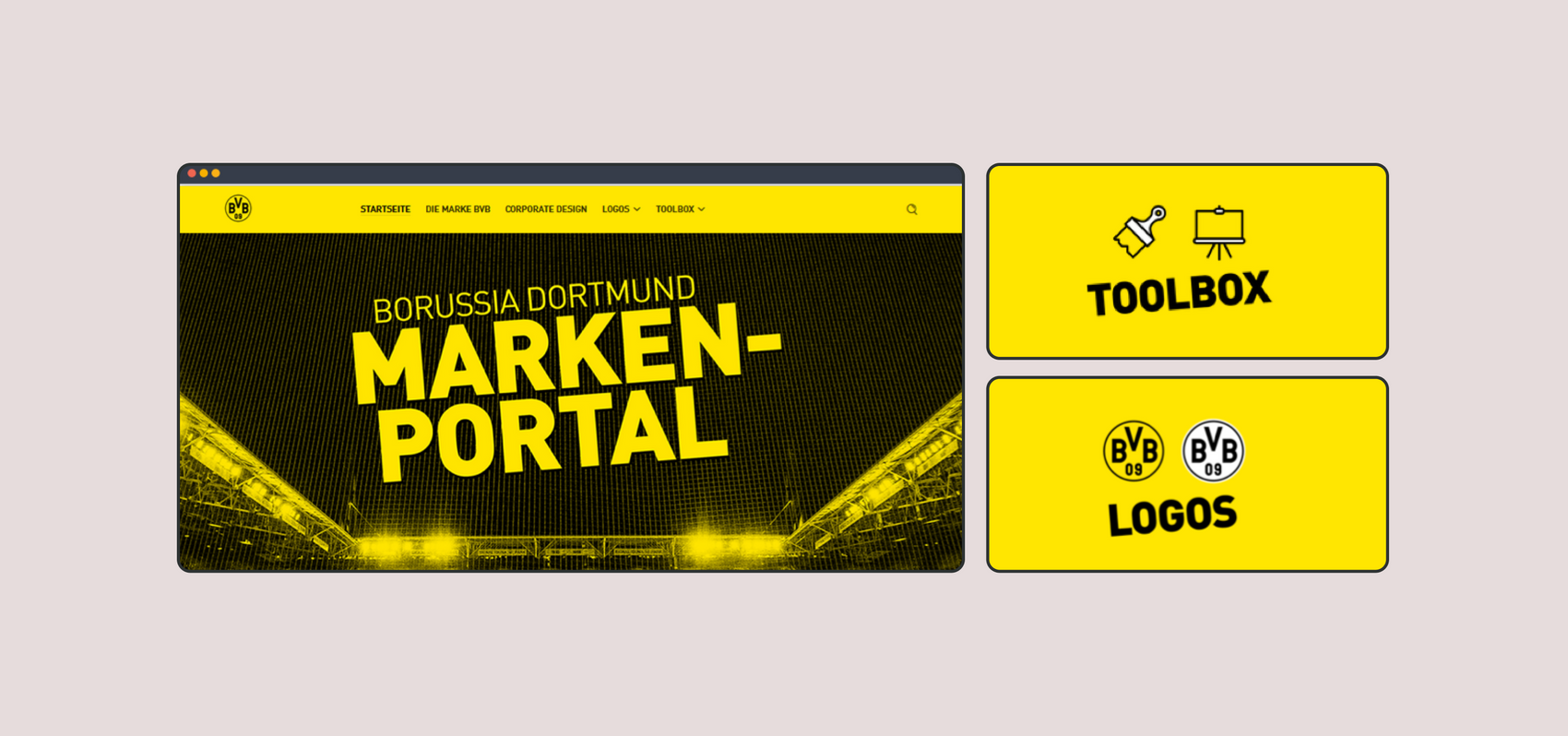 It used Frontify to create a centralized Brand Portal so that its employees could access vital brand guidelines, elements, and resources – anywhere in the world. This helped the brand improve visibility in its new markets while maintaining its brand image and reputation.
5. Provide first-class customer service and support
Customer support helps build brand engagement, as a high-quality support experience turns a negative (needing support in the first place because they have a problem) into a positive. 36% of people actively share details of their customer service experience with others, which shows that it's an important brand touchpoint for your customers.
For example, pet supply retailer Chewy is "dedicated to providing an exceptional customer experience" and "raising the bar with around-the-clock access to our pet experts." It provides 24/7 support across multiple channels, including social media and live chat. This high-quality service is recognized and appreciated by its customers, who regularly share feedback and gratitude on social media.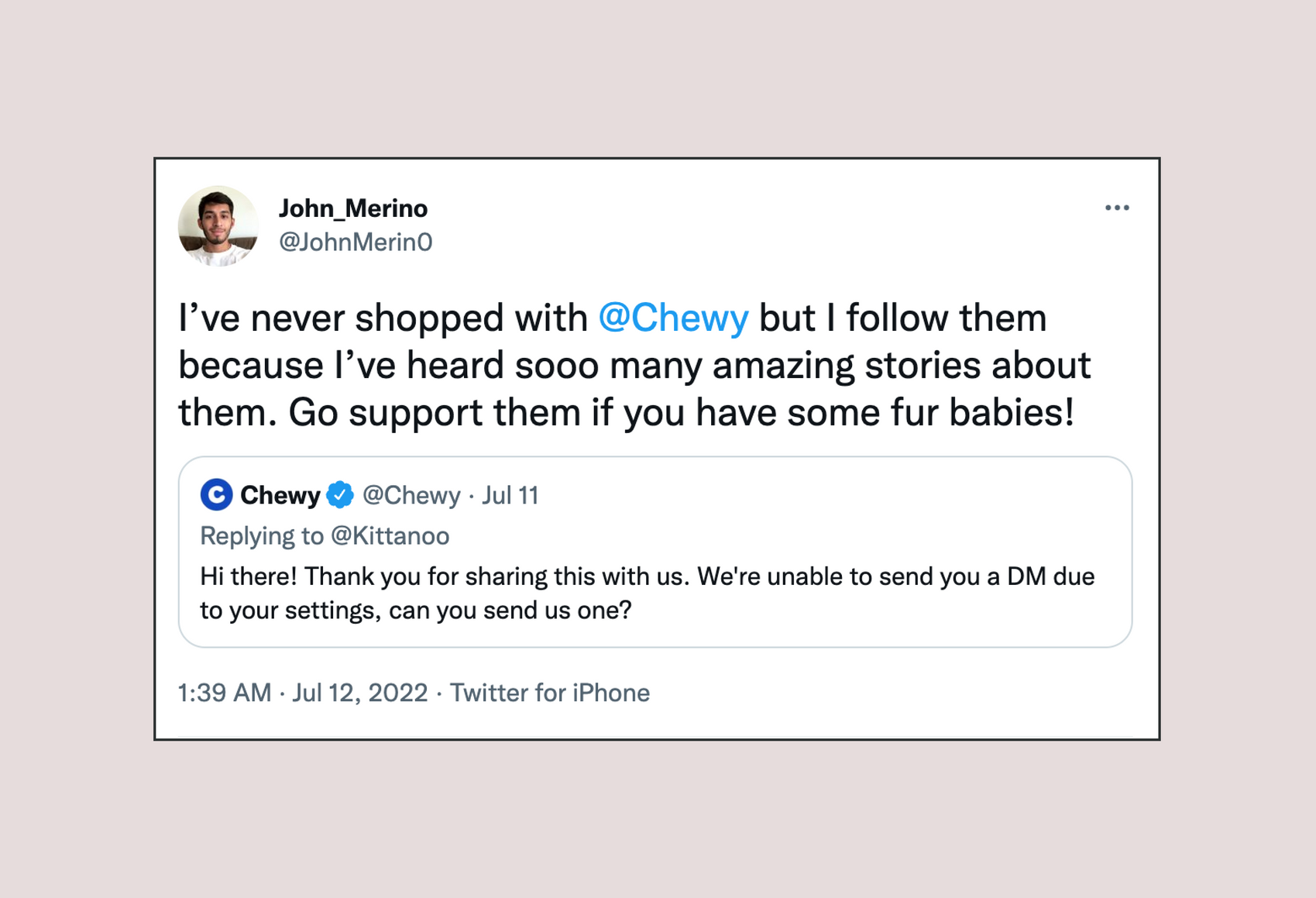 First-class customer service can improve customer loyalty and make people more likely to recommend you to their friends and family. This turns your loyal customers into warm lead generators for your company. If someone starts browsing your products after hearing about your great customer service from one of their friends, they already have a more positive view of your company than someone who finds your website via an advert or other marketing activities.
6. Build a connection based on shared values
A less practical, but still important, way to build customer brand engagement is by creating a sense of connection around shared values and purpose. Companies can build a stronger relationship with their customers if it's not purely transactional. Sharing values (and acting on those values) helps to build a brand relationship that's about more than just your products.
For example, Patagonia sells clothing for outdoor sports such as hiking, climbing, and surfing. Its customers spend a lot of time outside in the natural world and are likely to be passionate about causes related to nature and the environment.
So Patagonia supports a number of environmental issues and causes, including donating "1% of sales to the preservation and restoration of the natural environment." It showcases its activism efforts prominently on its website, with a link in the main navigation menu alongside the link to its shop.
Supporting a shared cause or belief that's important to your audience, customers, and employees helps create an emotional connection with your brand. And that emotional connection often turns brand fans into customers: 52% of consumers choose a brand over an alternative because it "stands for something bigger than just the products and services it sells, which aligns with my personal values."
How to monitor customer brand engagement
Look for brand mentions on social media
Customers often go to social media platforms to share their brand experiences. Monitor social media to see what customers are saying about your brand and products to understand how they feel about it. Are they raving about your latest product or venting about a bad experience in-store? These are all examples of customer engagement with your brand.
Review comments and replies to your social media posts to keep track of how customers feel about your brand and what they're saying about you. Use social listening tools to monitor keywords and find mentions of your brand that aren't tagged, such as hashtags or plain text. These will help you see how customers are engaging with your brand online and give you the opportunity to connect with them by replying to their posts and comments.
Track number of reviews and customer ratings
Reviews take time to write, especially if they contain photos or videos of your products. If a customer invests that time and effort, it's a clear sign they're engaged with your brand (even if it's a negative review).
Track the number of reviews and product ratings you get month over month. If you're seeing an increase in reviews over time, that suggests your customer brand engagement levels are increasing. You can look for trends in ratings, comments, and customer sentiment to identify opportunities for improvement, as well as things your customers love about your brand.
Measure customer referrals
Customer referrals are another clear indicator that customers are engaged with your brand. They mean that a customer likes your product or service enough that they'll recommend it to their friends, family, or professional network.
If you have a dedicated referral program set up, you can track the number of referrals sent over time. You should also keep an eye on the number of successful referrals – that is, referrals that result in a new customer sign up. If you have lots of customers who send referrals but only a very small percentage convert into sales, that suggests you need to do more to engage potential customers.
If you don't have a dedicated referral program, you can monitor customer referrals by asking new customers how they discovered your brand. While this is less accurate, it'll still give you an idea of whether your current customers are actively recommending your brand to their network.
Track the number and frequency of returning customers
If customers are engaged with your brand, they're likely to return and buy from you again, rather than just being one-time purchasers. So if you're seeing growing numbers of repeat customers, that's a great indicator of increasing levels of customer brand engagement.
Track your percentage of repeat versus first-time customers and see how the breakdown changes over time.
Every department should help to build customer brand engagement
Brand engagement is typically thought of as a marketing-owned priority. But every brand interaction and touchpoint a customer has strengthens their relationship with your company, so every team that interacts with your customers helps build customer brand engagement.
You need to ensure all your employees understand how their roles and customer interactions contribute to your brand. Learn more about how every team builds your brand – from sales and marketing to customer support.