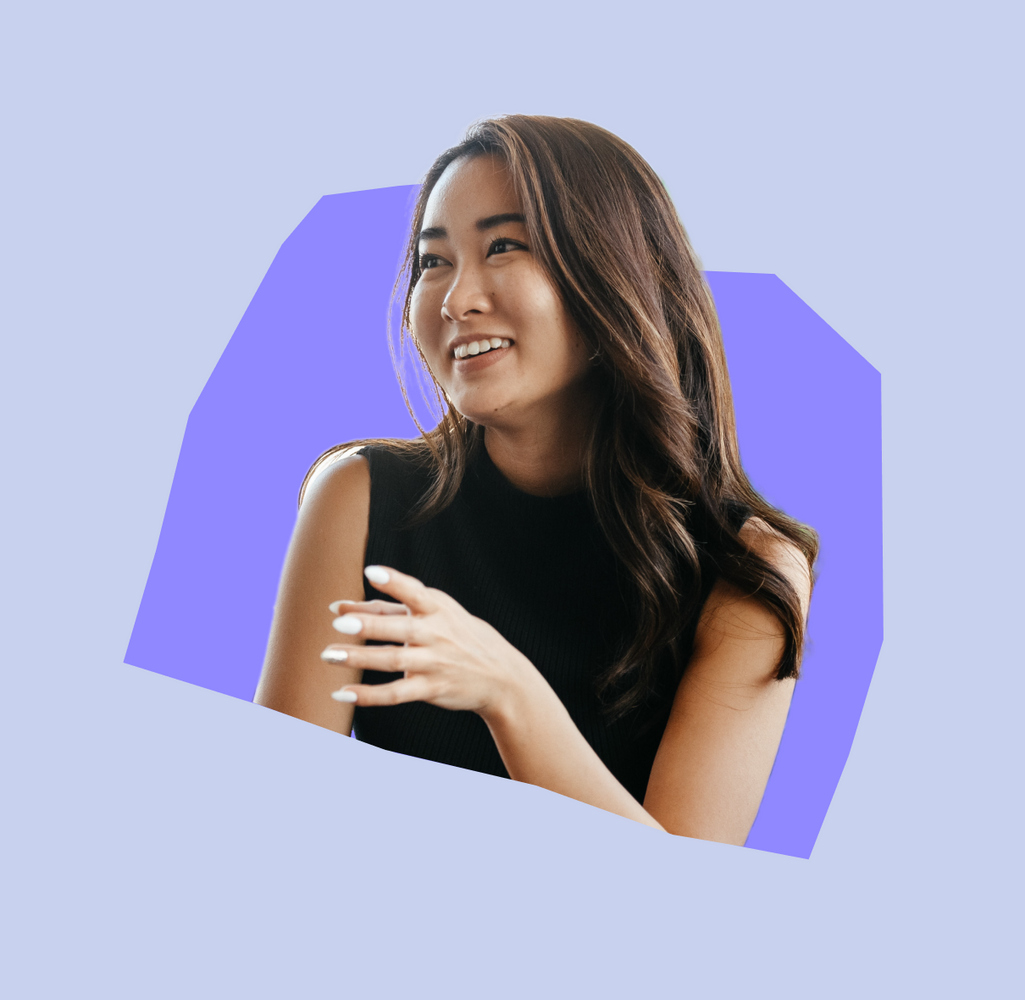 Brand storytelling: What it is and how to do it
Brand storytelling can be why customers choose your brand or why people want to work with you. But what is it and how do you start telling your brand story?
"Once upon a time…" Those four little words make you lean in a little closer and pay attention because they promise something magical: a story.
You're unlikely to start every piece of marketing content or sales presentation that way — if any. But you shouldn't discount the power of storytelling for your business. It's easier to connect with your audience with stories rather than plain facts and figures.
Brand storytelling is a tool to help people connect with your company. It can be why customers pick you over the competition or why your job ads get 10x the applicants compared to other companies in your space.
What is brand storytelling?
Brand storytelling is the process of using narrative techniques to connect with an audience, and shape and clarify a brand's identity. "It's everything you do, big and small," explained Frontify's Chief Storyteller, Karl Wikström.
"As an example, your brand story is expressed in your marketing, the product you deliver, the stories you share on social media," he added. "It's the experience you create for your customers, but also for your employees as well."
A strong brand story comes from a combination of discovery and invention.
The discovery element comes from uncovering customer stories and team experiences within your organization. It's essential for bringing authenticity to your story. Look for the consistent data points, ideas, and values that run through customer feedback and employee experiences — these are the core elements of your brand story.
Then the invention element is the aspirational side of your brand story. Take those day-to-day experiences and turn them into a narrative that helps people connect with your brand and understand your brand's purpose.
The business benefits of brand storytelling
The concept of a brand story may seem a little vague to some team members. But knowing who you are, what you stand for, and being able to communicate that at all levels brings concrete benefits to your company.
Greater clarity in the business
A defined brand story can provide clarity within the company because the whole team has a shared understanding of what your brand means and what it stands for. Karl explained, "You have a very clear shared idea of why your brand exists, who you're for, and what you want to do better than anyone else. It's the foundation for making yourself relevant to your customers."
That shared understanding helps guide decision-making because everyone's working towards the same outcome. It also helps create internal alignment around how you present to the market, because all departments can share the same narrative.
"
You have a very clear shared idea of why your brand exists (...) It's the foundation for making yourself relevant to your customers.
"

Karl Wikström
Chief Storyteller, Frontify
Helps you identify business opportunities and risks
Your brand story can help you identify opportunities that will strengthen your brand, or risks that could weaken it.
For example, you can use your brand story to help make decisions around things like changes to your production process, marketing campaigns, or partners to work with. For each one, consider: does this fit with the established narrative for our brand? Does it feel authentic, or will it feel like we're departing from our brand's ethos and purpose?
Karl explained, "One way your brand story can really help is when you're thinking about collaborating with other companies — maybe in a marketing partnership, for example. You can spot if they're a bad fit for your brand and if partnering with them will risk angering your customers by going against your brand values."
Helps you attract potential customers and employees
Your brand story helps people feel connected to your brand based on shared values and belief in your company's purpose.
This can help you attract good-fit customers — Accenture found that 64% of consumers feel that "companies that actively communicate their purpose are more appealing than those that do not." Customers connect with your brand through its narrative. That emotional connection can make them more likely to become loyal, long-term customers than if they were only attracted by your product offering.
Similarly, your brand story can help you attract top talent. People will want to work for your company based on a shared set of values and because they know (and believe in) your company's mission and purpose.
How to tell an effective brand story
Your brand story can set your company apart from its competitors. But before you start seeing the benefits, you first need to develop, refine, and practice your brand story.
Follow the seven principles of brand storytelling
There are lots of ways you can think about constructing your brand story. We use these principles as our starting point.
Purpose — Why does your brand exist? What's your brand mission? To use a well-known example, Nike's purpose is to "bring inspiration and innovation to every athlete in the world."
People — Who are you for? Who are the talent and customers you want to attract?
Problem — What is the core problem you are solving for those people? This will become the foundation for your marketing and sales messages, so you need to dig into this principle.
Promise — What is the unique value you deliver? You don't need to offer something completely unique, like a product feature or service — your competitors can easily replicate those. Instead, focus on the value you bring or the values that guide you.
Personality — How do you do things differently in a relevant, noticeable way?
Paradox — What tension, contradiction, or conflict are you resolving? Having something you stand against can be just as helpful as knowing what you stand for. For example, in the early years, HubSpot built its brand story by positioning itself against traditional marketing tactics used in outbound marketing.
Protagonist — Who's the "main character" of your brand story? Is it your brand or your customers? What makes your brand heroic? Or how does it make your customer the hero?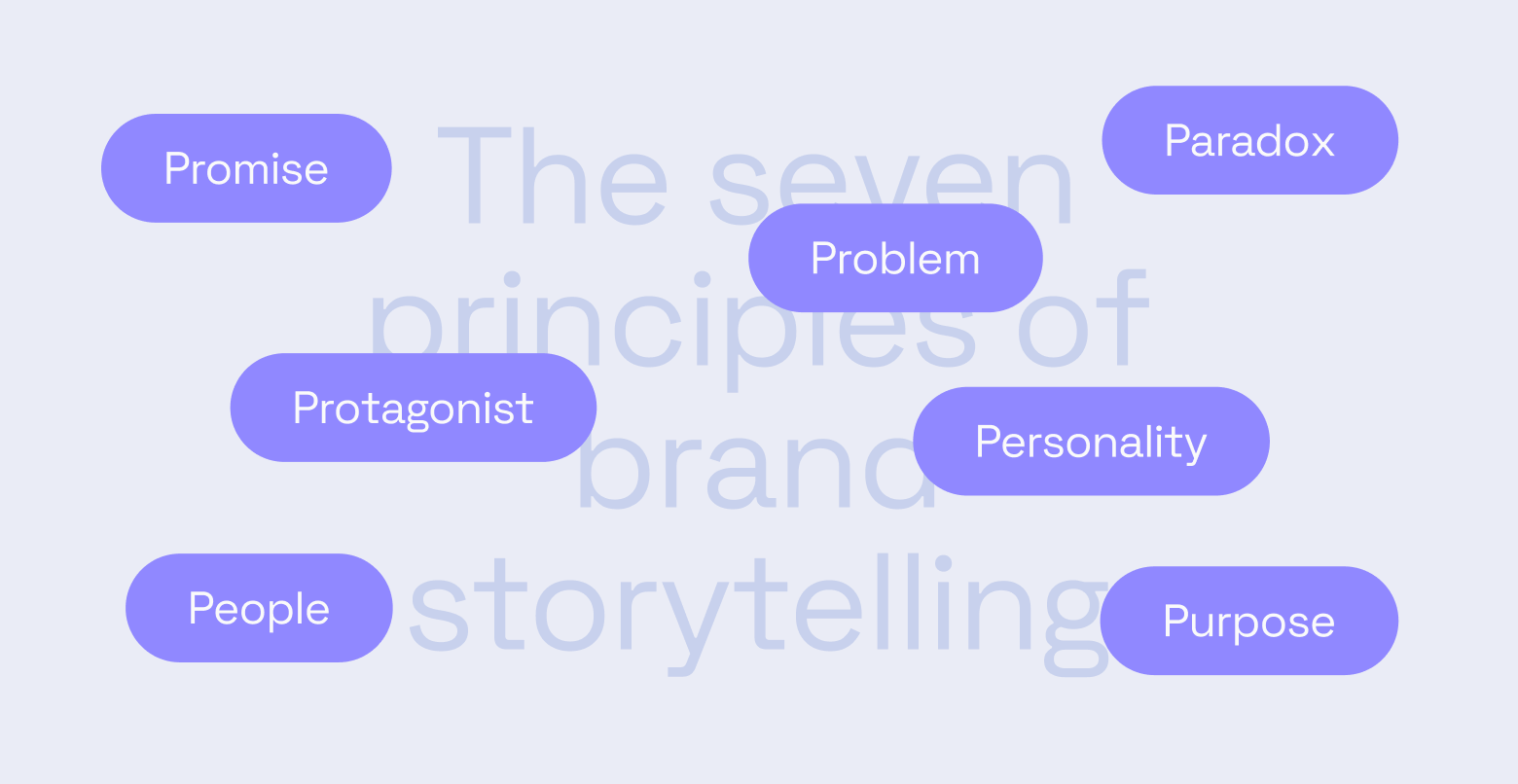 These seven principles aren't unique — they come from many different storytelling techniques and approaches. But used together, we've found they help you start to shape and understand your brand's story.
Choose a storytelling framework that fits your brand
There are many different storytelling templates and frameworks to choose from. But the right one for your brand will depend on your current brand maturity and where you need more clarity. Some brand story frameworks and approaches we recommend include:
The Brand Gap — This book by Marty Neumeier presents five disciplines to help companies bridge the gap between the strategy and execution of their brand. The framework helps you work out how to differentiate your brand and collaborate effectively to build it.
Alchemy — This book by Rory Sutherland (Vice Chairman at Ogilvy) is less of a framework or template. However, it's still an interesting read on how you can create a compelling, powerful, and emotional brand story by turning the rational rules of business on its head.
Start with Why — This was one of the first books to bring wide attention to the importance of purpose to branding. In our opinion it's best used in conjunction with other frameworks to be practically useful.
Building a Story Brand — This book by Donald Miller gives you a framework to help identify the hero, conflict, and resolution that will be a big part of your brand's story. Working through the framework can help you clarify the core elements of your brand story and understand how to work them into your company narrative.
The most important part of telling your brand story is clarity. So going through the process of putting your brand's values, purpose, and narrative into different frameworks and approaches can help you think clearly about each part of your brand. Applying these frameworks or templates can help you clarify your narrative or uncover new insights.
Brand storytelling examples from three leading brands
Your brand story is expressed through your company's actions. That includes your content marketing messages, product positioning, and every customer interaction. To inspire you when developing your own brand story, here are three examples of brands that excel at creating compelling stories and brand narratives.
Patagonia
Patagonia's brand story focuses on its environmental mission to protect our planet. It brings its brand story to life through its core values and company initiatives like Worn Wear and 1% for the Planet.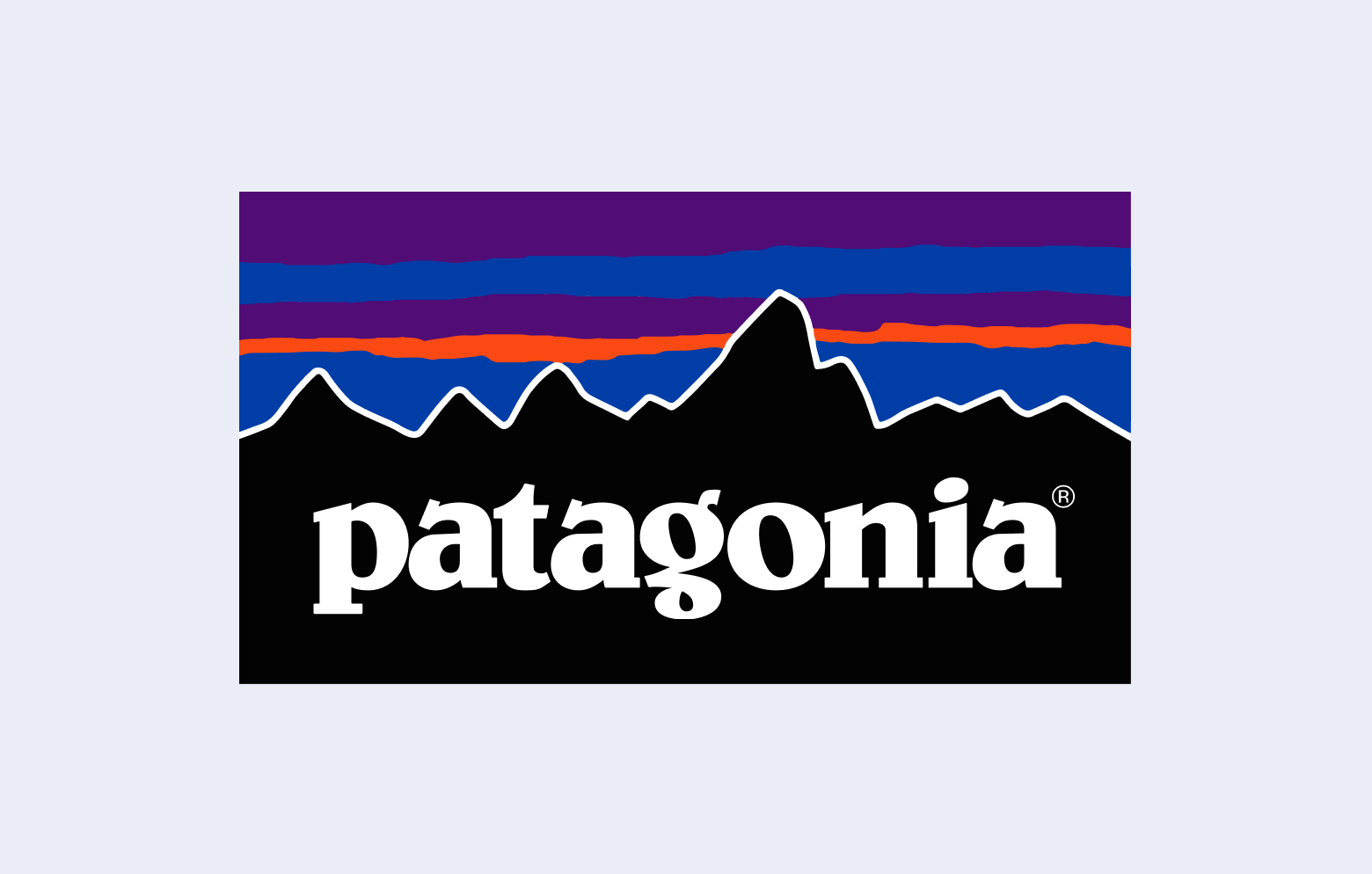 Their website has a dedicated activism section where customers can find out about organizations Patagonia supports and the impact it's had so far. And in late 2022, Patagonia announced that its founder Yvon Chouinard had transferred company ownership to two entities: Patagonia Purpose Trust and the Holdfast Collective. This change means that business profits will be distributed as a dividend every year to help fight the climate and environmental crisis.
Patagonia's brand story is especially compelling and powerful because it's been their mission for more than 40 years. They've shown consistent and continued dedication to their cause and made it a core part of their company's narrative.
Liquid Death
Liquid Death is a water brand that's using its brand story to stand out from its (many) competitors. While established brands in its space focus on tranquility, purity, and health, Liquid Death borrows from energy drink and beer brands to stand out.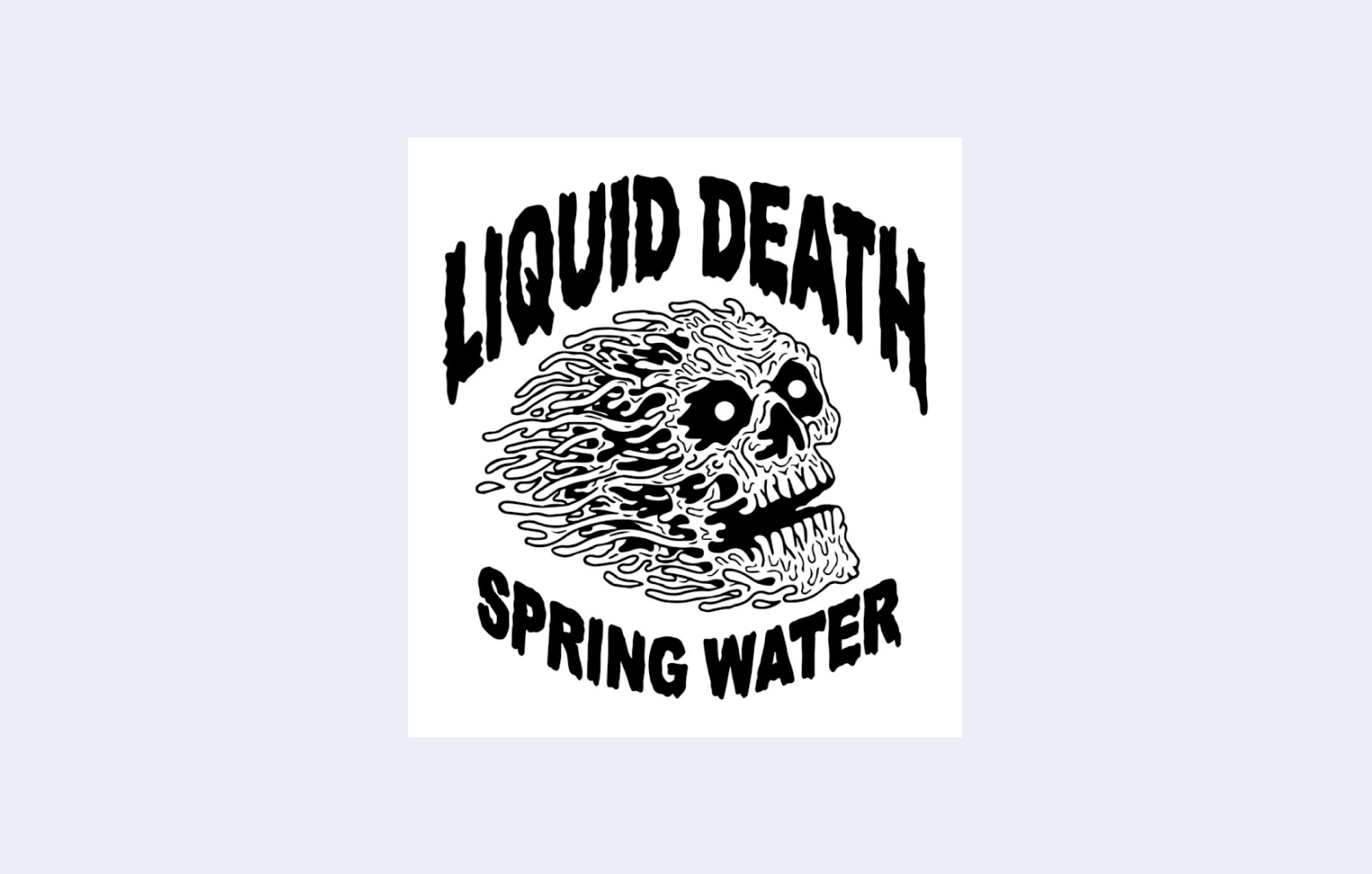 Its mission is "to make people laugh and get more of them to drink more water more often, all while helping to kill plastic pollution." It brings its brand story to life through its product packaging (it looks more like a can of beer than a bottle of water) and an irreverent tone of voice. For example, it invites customers to "sell their souls" by signing up for its newsletter.
Their brand story is compelling because it completely subverts your expectations of how a water brand looks and sounds. It's the complete opposite of many big names in its space, and this approach helps it appeal to its target audience.
Drift
Drift has used brand storytelling to stand out in the crowded world of B2B marketing software. Drift founder David Cancel explained, "From the very beginning of Drift we've tried to explain what we're trying to solve, not with a pitch, but with a story."
Its mission is connection, so it puts people at the center of its story, content, and communications. Its customers and employees are the "protagonists" in their brand story, so it features them prominently on its website and in its content marketing.
For example, articles on Drift's blog aim to bring in expertise from its team as often as possible. A recent article opens with "Hi there 👋 I'm Ruth, Senior Website Manager at Drift. And today, I'm going to explain how you can future-proof your website personalization strategy." This makes you feel like you're learning directly from someone on the Drift team.
Their approach to brand storytelling is so successful because of how well they champion their customers and employees. Many B2B companies aim to leverage their team and customer voices, but few do so as well (and often) as Drift does.
Bring your brand story to life
Your brand story is more than just a slide in a presentation or page on your website.
It's expressed through your actions every week, month, and year. You bring it to life with every customer interaction, marketing activity, and internal meeting. So when it comes to successful brand storytelling, the most important thing is to remember to practice what you preach.

Karl Wikström
Chief Storyteller