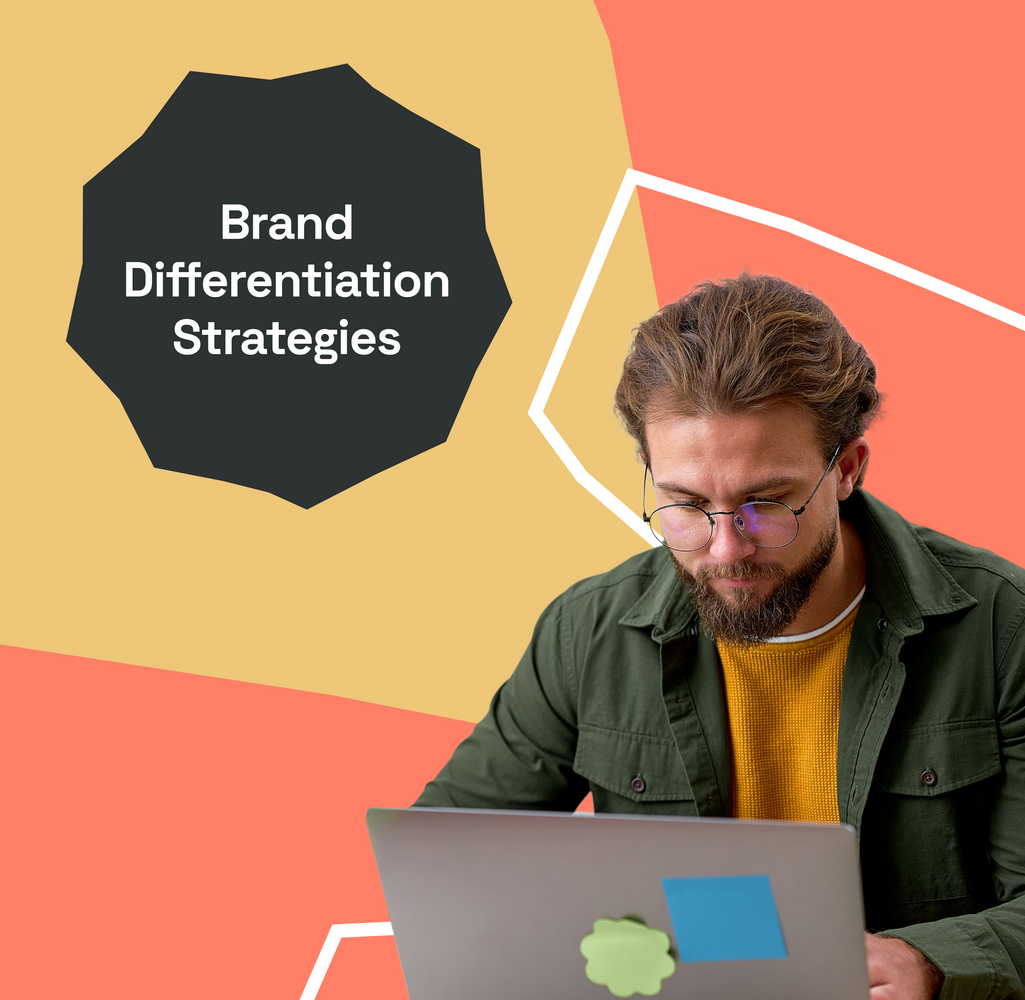 What is brand differentiation? 10 strategies for differentiation.
46% of customers can't tell the differences between most brand experiences, so here are 10 proven ways to set yourself apart from your competitors.
You've spent weeks on your new advertising campaign and scheduled your social media posts down to the second. But afterward, you research its impact and discover the horrible truth: lots of people have confused your ads with those of your competitors. Gartner found that 46% of customers – almost half – "can't tell the difference between most brands' digital experiences." So, brand differentiation gives you a real opportunity to connect with your customers and make sure they remember your brand in the future.
What is brand differentiation?
Brand differentiation lies at the heart of a successful brand marketing strategy. In today's competitive marketplace, it has become paramount for companies to not only identify but also showcase their distinctive qualities, thereby creating a compelling unique selling proposition. By effectively harnessing brand differentiation, organizations gain a deeper understanding of their competitive advantage and successfully rise above their rivals, leaving an indelible mark in the minds of their target audience.
If you're unable to differentiate your brand from your competitors, you'll struggle with low customer retention, high customer acquisition costs, and no brand loyalty. Over time, these problems can significantly damage your business by stifling its growth.
To effectively implement brand differentiation and gain a competitive edge, businesses can employ a range of proven strategies that capitalize on their unique qualities, resonate with their target audience, and elevate their brand perception.
Here are 10 proven ways to differentiate your brand – to give customers real reasons to choose your products over those of your competitors.
1. Offer Top-Quality Products
For your customers, your products are the embodiment of your brand. So, focusing on the quality of your products (or the product experience for non-physical products like software) can differentiate you from your competitors. This could include:
Using premium materials and components
Adding features or functionality that give more value to your customers
Using sustainable, eco, or fully recyclable materials and manufacturing processes
Offering a more comprehensive product range
Providing product customization options
If you want to differentiate based on product quality, you need to show customers that your products are better than those of your competitors. Then you will become known for your product quality, which will help build your reputation as a desirable brand.
Luxury watch brand Rolex is seen as an industry-leading brand, recognized for both quality and innovation. Since 1905, Rolex has registered more than 500 patents, including creating the first fully waterproof watch. Swiss-made watches have a global reputation for quality and accuracy, and Rolex capitalizes on that reputation. Its headquarters are in Geneva, and it has multiple production facilities throughout Switzerland.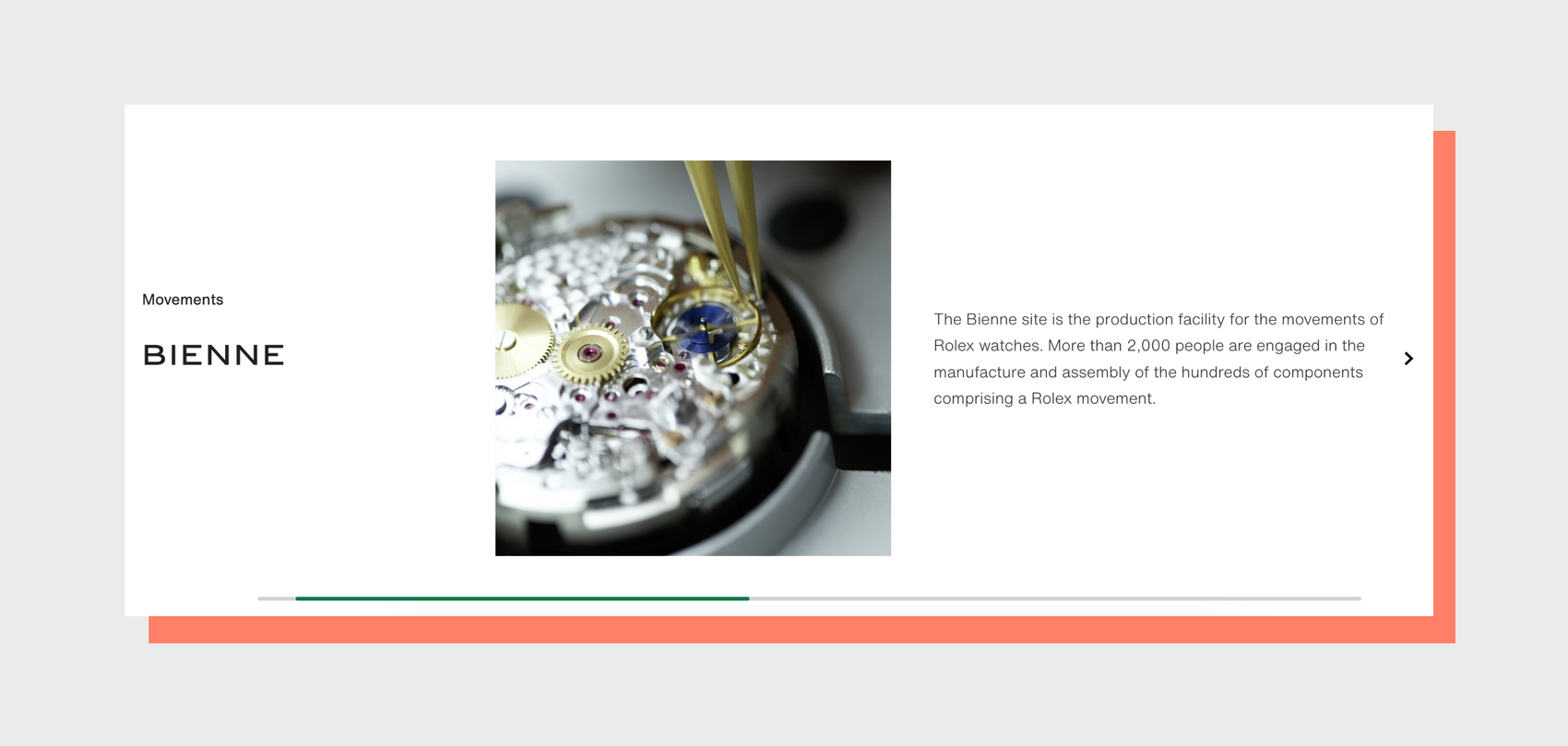 Rolex is recognized as a Swiss watchmaking pioneer, and the brand is synonymous with quality and luxury. Source: Rolex
If you're aiming to differentiate your brand with your product offering, the first step is to identify what part of your product will be your differentiator. For example, you may want to invest in top-quality components, or you may wish to focus on other differentiation options that may appeal to customers who gauge quality in other ways, such as using vegan or sustainable materials. Then you can work your differentiation messaging into your marketing, product descriptions, and sales scripts to ensure customers know what makes your products unique.
2. Stand Out With a Unique Visual Identity
Your brand's voice and visual identity can help your products, messaging, adverts, and other content stand out in a crowded market. A distinctive visual identity is one way to differentiate your products from your competitors and build brand recognition.
For example, the oat drink brand Oatly needed to differentiate its products on two fronts – first from dairy milk brands and then from other milk alternative drinks. It developed a chatty, irreverent brand voice that doesn't take itself too seriously and a bold visual style that stands out on supermarket shelves and online adverts.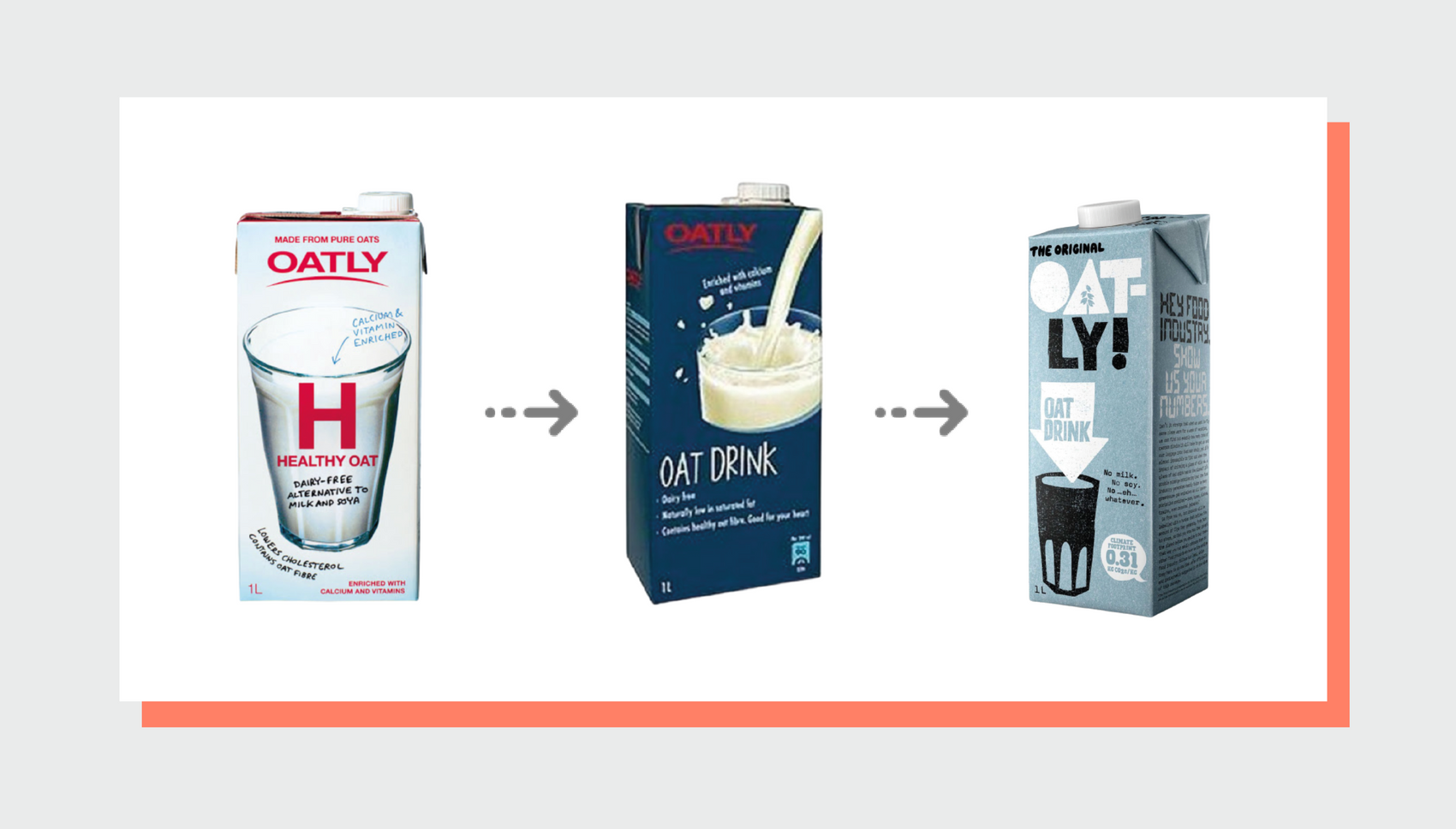 Oatly's changing packaging designs demonstrate the evolution of its brand identity. Source: The HMT aka HealthyMarketingTeam
Oatly also recognized the opportunity to stand out with its packaging designs. Many companies play it safe with the copy on their packaging, sticking to ingredients and a bit about the company. In contrast, Oatly uses effective copywriting to inject humor and playfulness into its packaging and set it apart from its competitors. This irreverent personality is best demonstrated by a short video on its website's "about" page, titled 'Why does Oatly's packaging look so weird?'
For physical products, a strong visual identity – such as bold colors or a striking illustrative style – will make your products stand out on shelves in retail stores where they'll sit alongside similar products. Online, a unique brand identity will mean customers are more likely to recognize your adverts, emails, or social media posts, even if they don't mention your products.
If you're looking to differentiate your brand by strengthening your unique brand identity, it's best to explore that as part of a bigger rebranding project. Start by analyzing your competitors' visual identities, and identify opportunities to set your brand apart from theirs in a way that still feels authentic to your brand values and personality.
3. Share Your Customers' Values
According to a 5W Public Relations report, 73% of consumers prefer buying from companies aligned with their values, so developing strong values can set your brand apart from other companies in your space. In addition, shared values help you build an emotional connection with your customers because they value your company for more than just the product they bought.
Ice cream brand Ben & Jerry's shares its progressive values – and causes it supports – prominently on its website. The brand also makes frequent corporate statements on social and political issues and events. Ben & Jerry's CEO Matthew McCarthy explained, "We do these things not to sell more ice cream but because we care about people and have values. All businesses are collections of people with values; it's a force that's always there. But … companies usually make their values known through things like lobbying: money that never sees the light of day."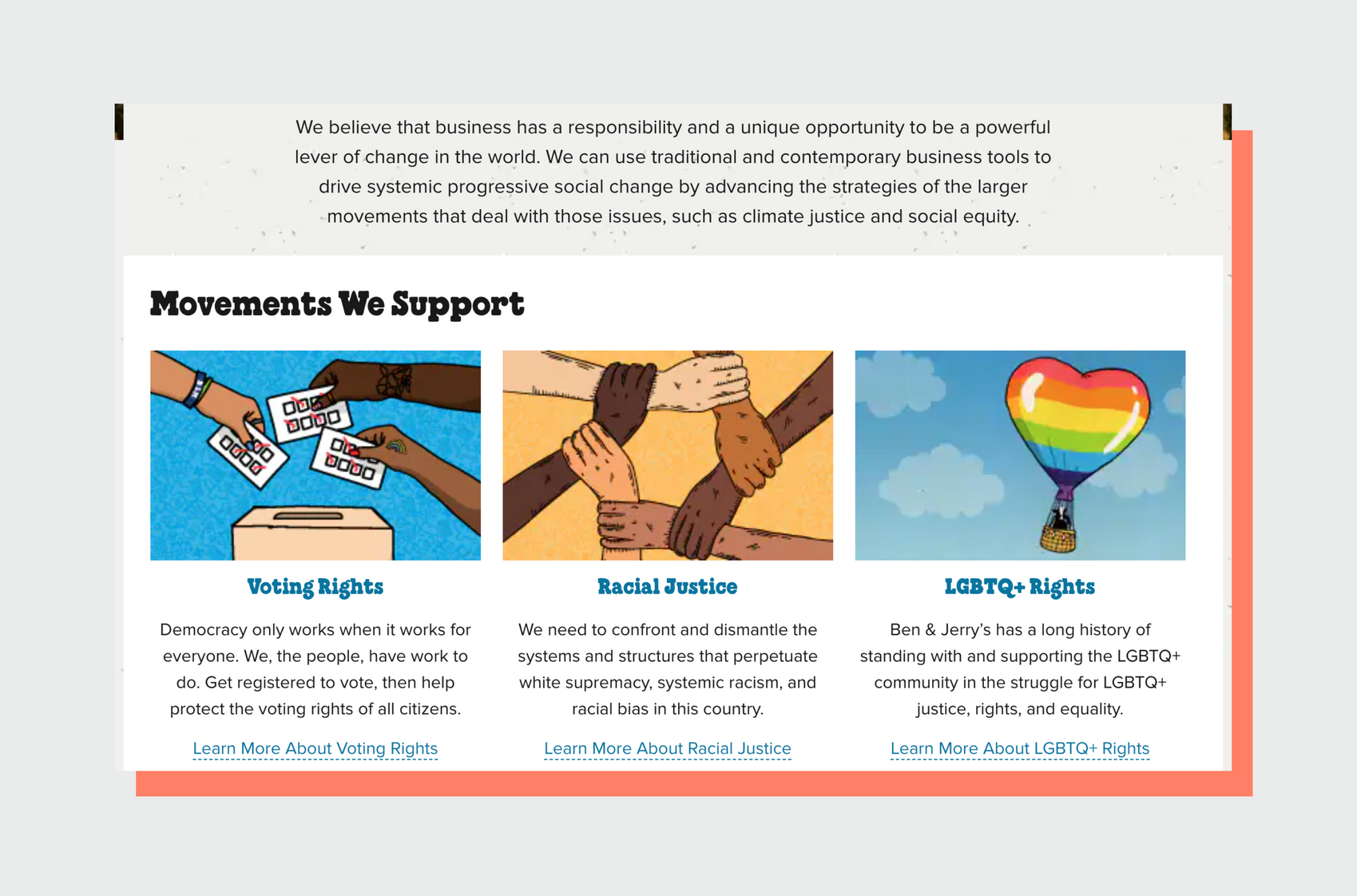 Ben & Jerry's supports several movements that align with its progressive brand values. Source: Ben & Jerry's
Shared values can be the reason a customer chooses your company over a competitor. If your company has values and supports causes that align with their personal values, customers will feel like you're the best option for them. Your brand values can make customers more likely to buy from you in the first place and make them more likely to remember your brand in the future.
To differentiate your brand based on your values, start by defining your brand values internally. Make sure you choose brand values that you truly believe in and align with your company's mission. Otherwise, you'll end up with a set of values that feel inauthentic to your brand – and customers will be able to tell. Authentic brand values can help you connect with customers, but inauthentic values will put customers off and make you stand out for all the wrong reasons.
4. Support a Charity or Cause
If you have strong brand values, you can further differentiate your brand by supporting a charity or good cause. Many companies say they support various social causes, but far fewer take action and invest their hard-earned budgets in charitable giving. Supporting a charity will help you build stronger connections with current and potential customers, as your connection will be built around a shared sense of purpose rather than just a transactional relationship.
For example, video conference software Whereby launched a tree-planting initiative at the beginning of 2021. Whereby's limited-time campaign helped it stand out during the COVID-19 pandemic when many people relied on video conferencing tools for work meetings and social interactions.
Whereby's campaign to plant "one million trees just by hosting a free meeting" gave it a unique differentiator against other, bigger-name video conferencing tools like Zoom or Microsoft Teams. It made it as easy as possible to support the cause: customers could use Whereby's free plan and plant trees at no cost to them. So, while Zoom may have been the better-known option, Whereby gave potential customers a values-driven reason to choose its product rather than those of its competitors.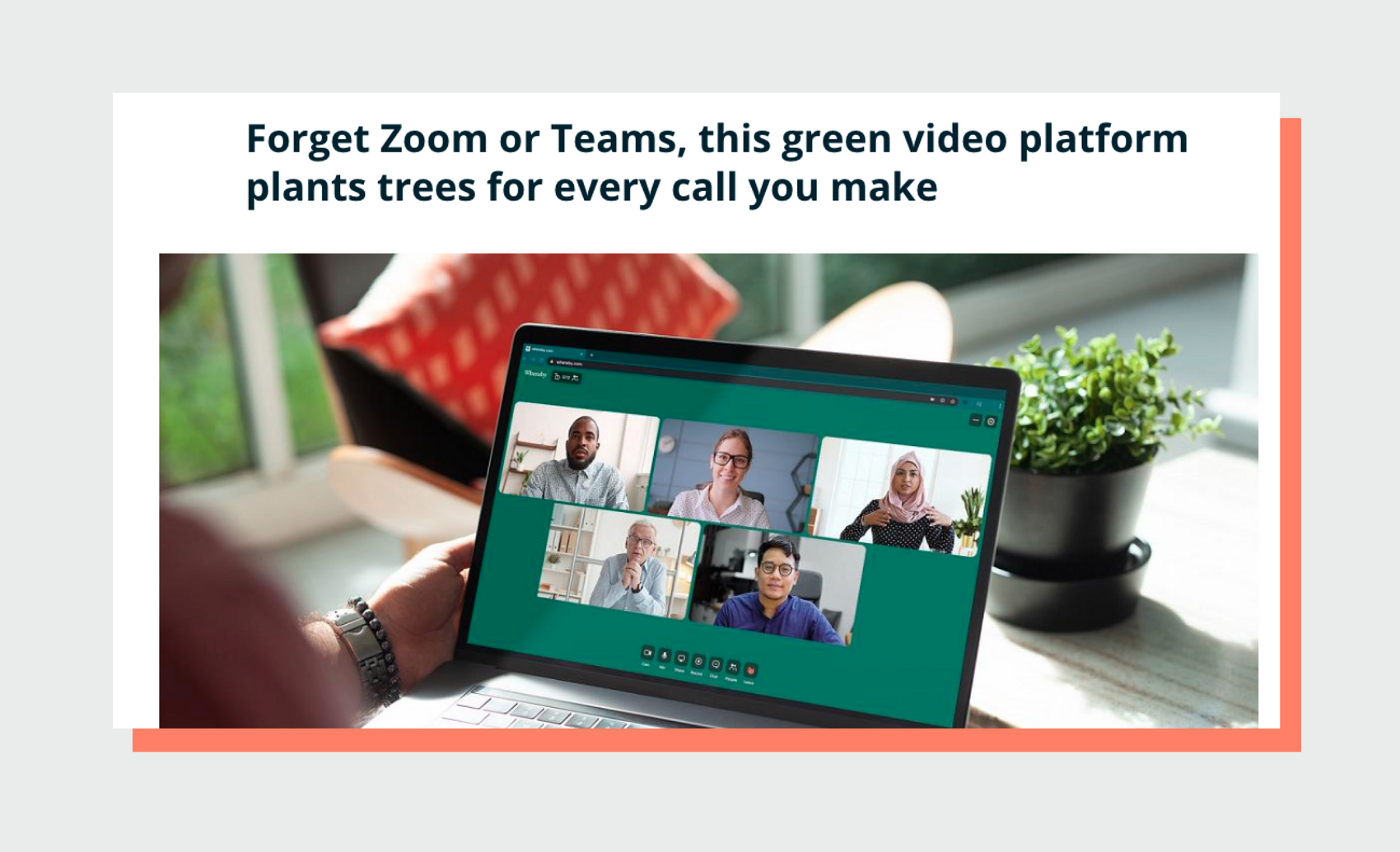 Whereby differentiated its brand from better-known competitors by supporting a climate-positive cause. Source: EuroNews
Research by Clutch found that 75% of people are "likely to start shopping at a company that chooses to support an issue they agree with." Supporting a charitable cause helps communicate your brand values and means your customers know you for more than just your products or services.
While some companies may have the budget to donate a percentage of their profits to charity each year, there are many different ways to use charitable support to differentiate your brand. For example, you could partner with charities for specific campaigns (or on a long-term basis). Alternatively, you could set up regular donations or take part in team volunteering days with local charities or causes to build connections in your area.
5. Provide Exceptional Customer Service
A great customer service experience can turn a negative experience with a company into a positive – and become the thing the customer tells all their friends and family about. As well as differentiating you from your competitors, providing exceptional customer service makes it easier for you to retain more customers.
Zappos is well-known for delivering excellent customer service. Its number one company value is to "deliver WOW through service." Since it was founded in 1999, Zappos has made customer service a top priority. As a result, it has built a reputation in the Ecommerce space as a leading example of a customer-focused business.
Customer service is so important to Zappos that the logo on its home page includes the tagline, "Powered by service." You can read blog posts and watch videos to hear different members of the Zappos team discuss the importance of exceptional customer service, which further demonstrates how it's a priority for everyone in the business.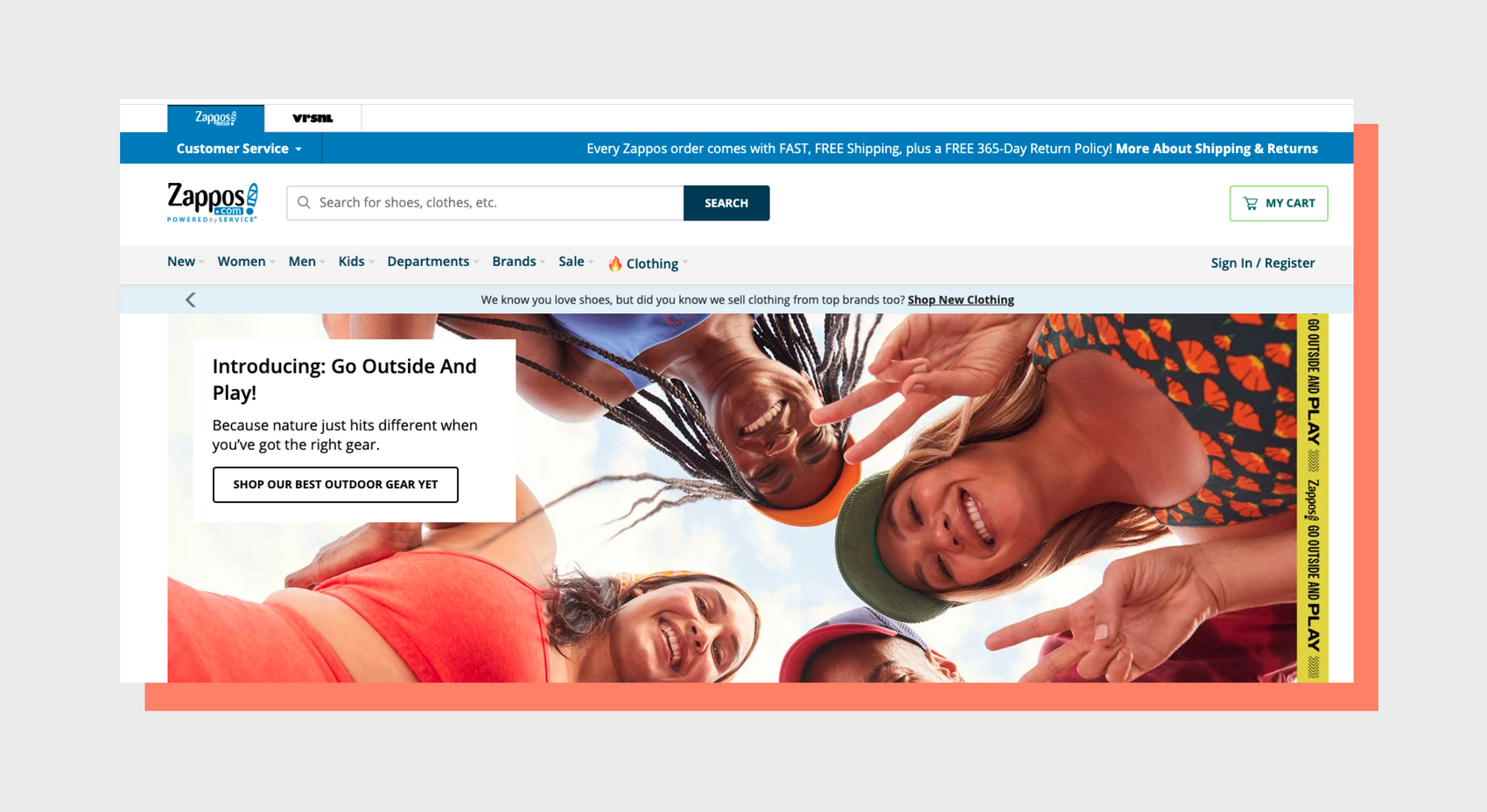 The Zappos logo highlights how important customer service is to the company. Source: Zappos
But while great customer service can help you attract new customers, poor-quality service can lose them. Zendesk found that 61% of customers would defect to a competitor's product or business after just one bad experience with your company.
If you want to differentiate your brand by providing first-class customer service, it needs to be a priority for the whole business. That means allocating budget to your support team rather than taking a race to the bottom and seeing how cheaply you can provide customer support. Companies like Zappos succeed at customer service by investing in it early and making it a company priority owned by the C-suite to ensure the rest of the team understands its importance.
6. Create a New Product Category
Category creation differentiates your brand by taking you out of a crowded market and starting your own niche. The goal of category creation is to become known as the leader in that space, not an also-ran in your original market.
For example, software company Drift created the conversational marketing category to set its products apart from other popular live chat tools. By redefining its product, it moved away from the traditional users of live chat tools – customer support teams – and engaged a new audience of marketers.
Drift coined the term conversational marketing, which became the name for its product category. Source: Drift
The first step in creating a new category is to give it a name. "Defining the name of the category is a big step to helping the world understand the container for the problem," explains the Play Bigger team, who wrote a well-known book on category creation by the same name. They add, "The category name is often comprised of the market type, the nature of the problem, and the audience who has the problem."
Category creation is a long-term project (much like building your brand). It won't be the best option for all companies looking to differentiate their brand because there are quicker and easier brand differentiation options to choose from. Just like brand building, category creation requires commitment, engagement, and consistency from your whole company because you're creating your own space in the market, which doesn't happen overnight.
However, companies that succeed in creating and owning a new category give themselves a long-term advantage that customers will struggle to match because you'll always be seen as the #1 choice in your niche.
7. Rethink Your Pricing Strategy
An often-overlooked opportunity to act differently is your pricing strategy. Switching from one-off purchases to a subscription or recurring payment model changes the relationship you have with your customers and can surprise customers with your innovation.
For example, Dollar Shave Club set itself apart from more well-known shaving brands like Gillette by adopting a subscription payment model. Shaving products are something that people use and repurchase regularly, and Dollar Shave Club capitalized on those repeat purchases by encouraging customers to try its products (at a discounted price) in exchange for subscribing to future product deliveries.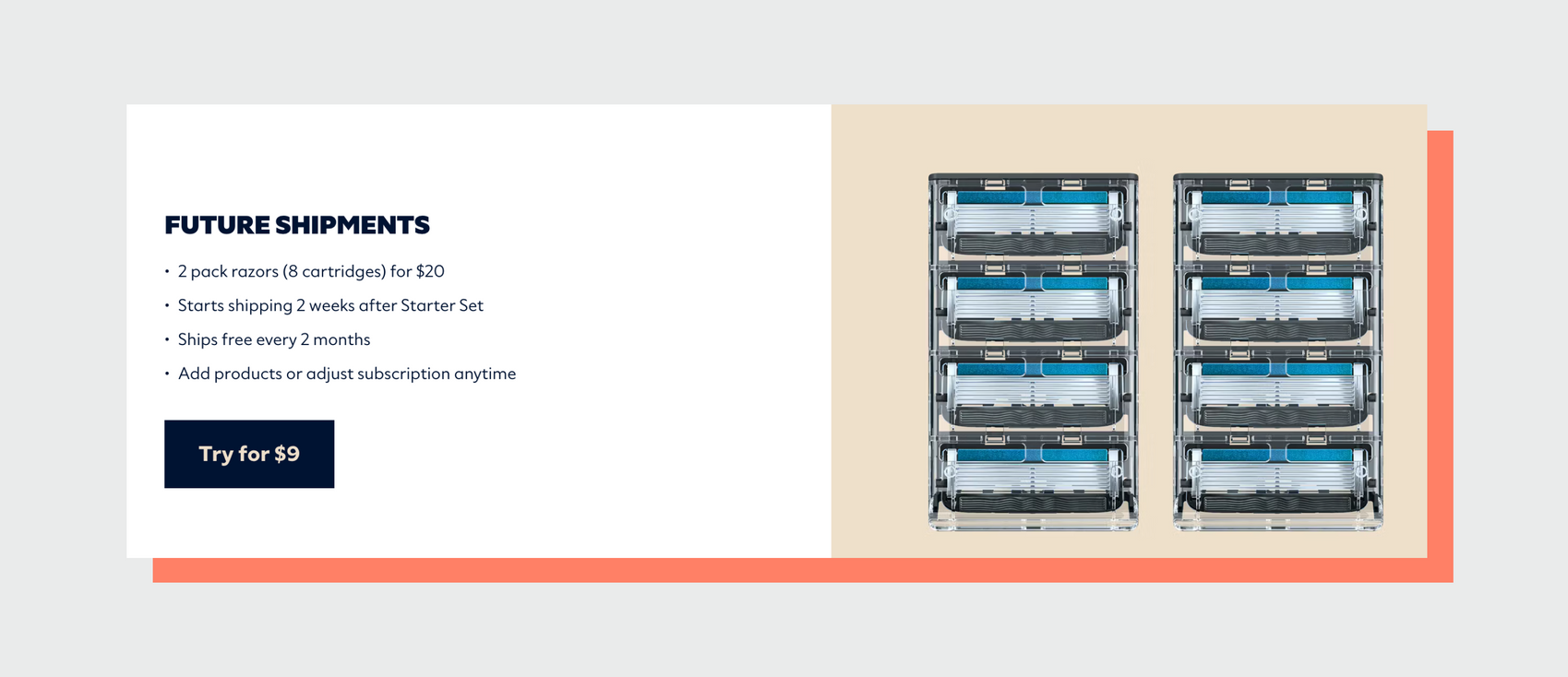 Dollar Shave Club attracts new customers with introductory offers if they subscribe to future shipments. Source: Dollar Shave Club
Taking a new approach to pricing can set you apart if you're the first in the market to try it out. A new pricing model encourages customers to rethink their relationship with your brand and products. Switching from a one-time purchase to a subscription model makes it easy for customers to keep using your products and stick with you for longer.
Alternatively, if your market is already saturated with subscription offerings and built on a recurring payment model, you can stand out by taking the opposite approach and making your products or services available for a one-off fee.
8. Build Your Brand Story
People connect with stories more than facts and figures, so developing a unique, authentic, and memorable brand story can help customers remember your company and build a stronger emotional connection with your brand.
Nike co-founder Phil Knight elevated the company's brand story by publishing "Shoe Dog: A Memoir by the Creator of Nike" in 2016. The book has more than 20,000 global reviews on Amazon, with 84% five-star ratings. Overall, 95% of its ratings are four-star and above. The book tells the story of the now-global brand's early days – and struggles. It helps customers build a stronger emotional connection with the brand by changing their perception of Nike, from a gigantic global brand to a plucky startup that's earned its position through hard work. The book means customers feel like they know more about the brand and are more invested in its continued growth and success.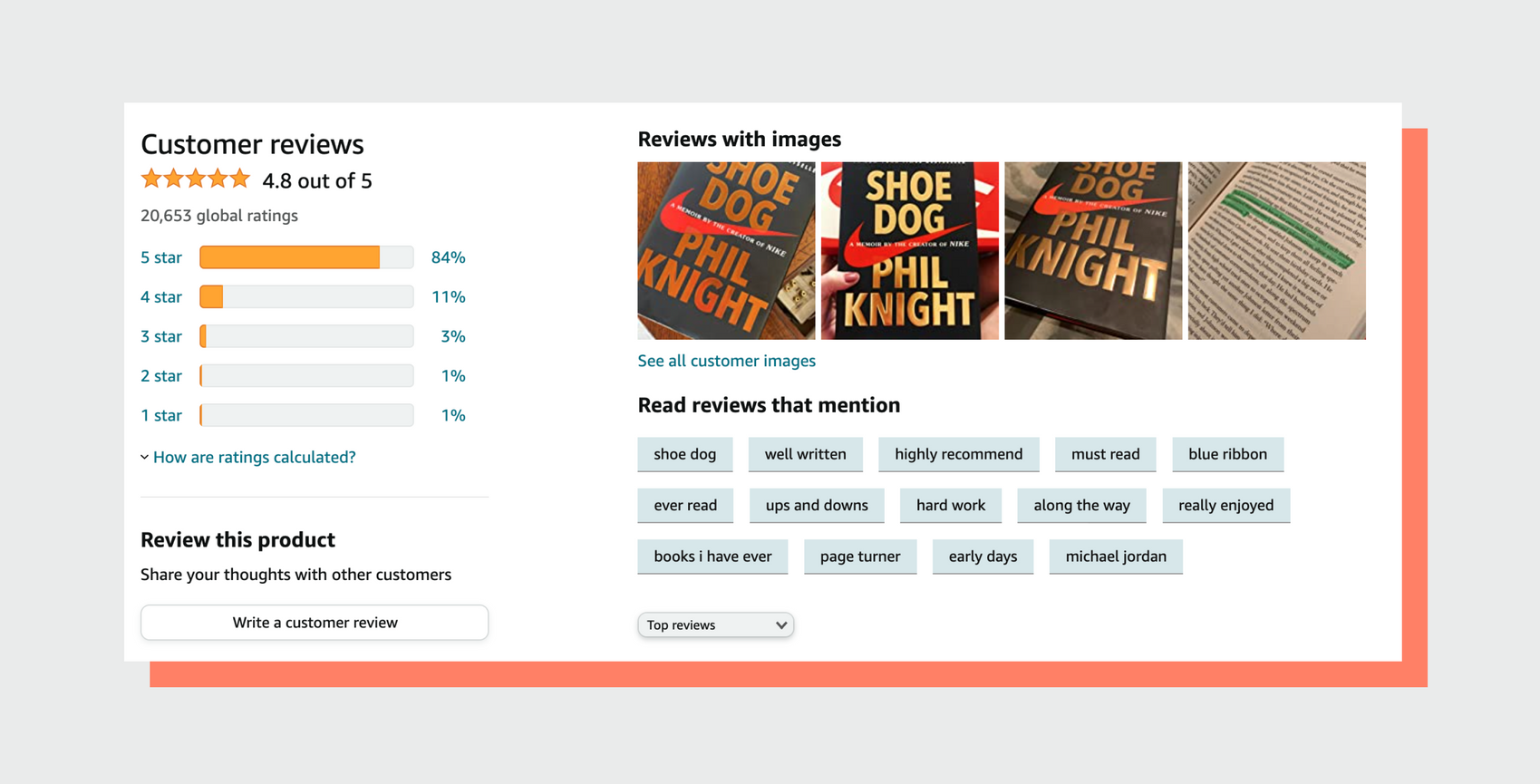 "Shoe Dog" tells the origin story of the Nike brand, helping customers build an emotional connection with the business. Source: Amazon
Your company may not have the global reach needed to secure a book deal to tell your origin story, but there are many other ways to build your brand story. The "about" page on your website is the perfect place to tell some of your brand story. Additionally, your founder or CEO is the perfect person to tell your brand story on podcasts, blog posts, or on stage at conferences.
9. Become an Expert in Your Industry
If you're seen as an expert in your industry, you differentiate your brand from competitors who are seen as being less experienced or less knowledgeable. It also helps to build brand recognition as customers see your company name in more places, such as conference line-ups, press coverage, podcast guests, and article bylines.
Basecamp has developed a reputation for being an expert and thought leader in the tech industry. The Basecamp team has written and published several books that are well-regarded in the tech and startup space. The books offer practical advice based on lessons the Basecamp founders (and other senior team members at the company) have learned building the business. "Rework" has a 4.5- out of 5-star rating on Amazon from more than 4,500 reviews, and "It Doesn't Have to Be Crazy at Work" also has a 4.5-star rating from over 1,000 reviews.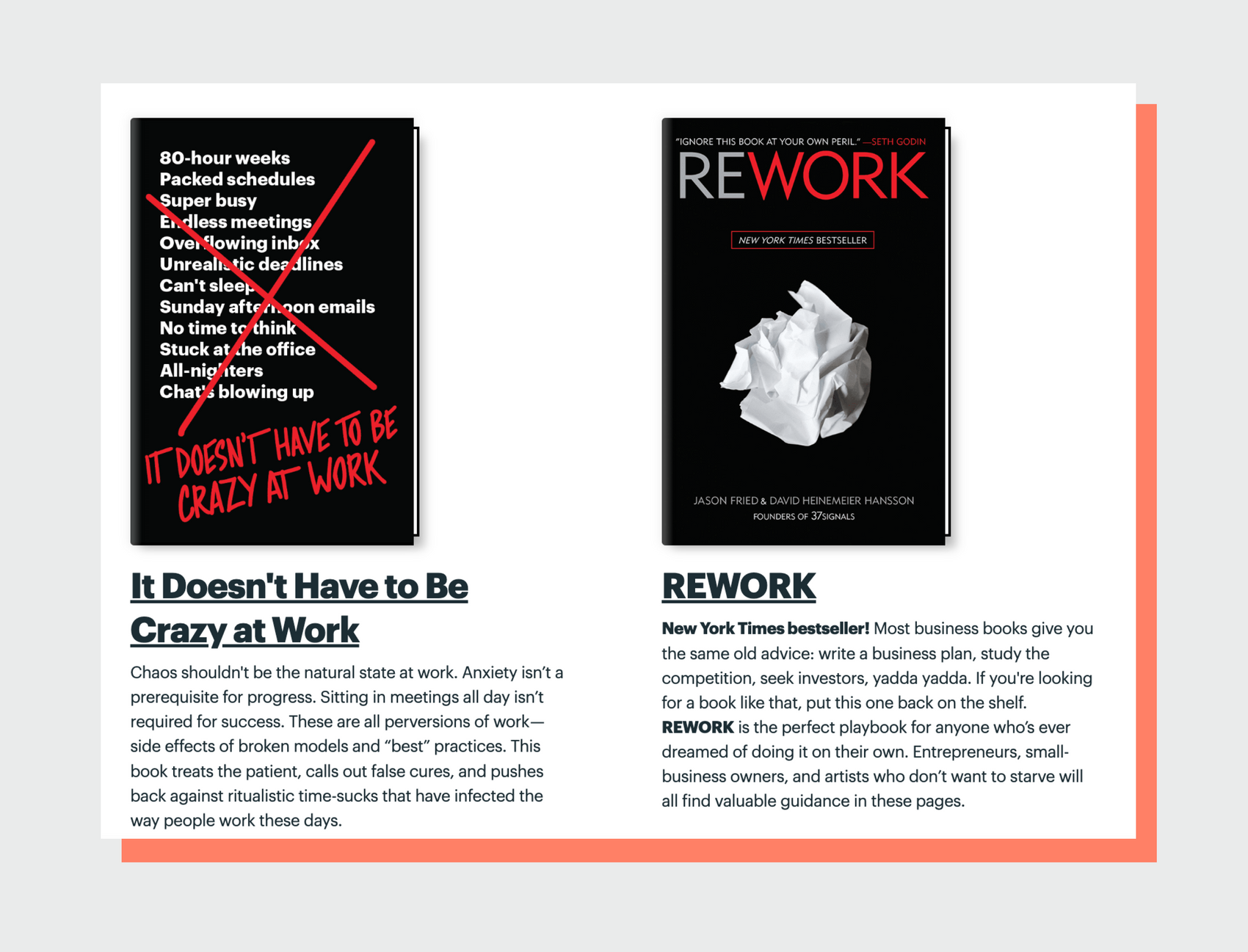 Basecamp's books have built their reputation as industry leaders and experts. Source: Basecamp
The books both address the same pain points as Basecamp's product, so they're not just showing their SaaS expertise, but their business thought leadership in general. These books have helped the Basecamp team develop their personal brand and be recognized as authoritative experts in their field. Today, they are regularly invited to speak at conferences and events to share their expertise in a different setting.
Your company has a wealth of internal expertise, so look for opportunities to leverage and demonstrate that. Every person on your team has the potential to become an expert in your industry by representing the company at events and publishing articles or videos. Look for opportunities to show off your team and their expertise so that your customers connect with the people who are building your business – not just the brand name.
10. Provide a Consistent Brand Experience
Brand consistency means that customers know what to expect when interacting with your business – reading content, getting emails, making a purchase, or contacting support. A consistent experience builds trust as you're seen as reliable, and there are no (bad) surprises waiting for customers. Over time, this can differentiate your brand as returning customers appreciate the consistent brand experience you provide compared with those of less reliable competitors.
For example, McDonald's excels at providing consistent food at all its locations and creating a consistent dining experience for its customers. You can walk into a McDonald's anywhere in the country, and it will look and feel the same. If you order a Big Mac, you always know what you're going to get. Customers know what items will be on the menu, how to order, and even how to clear their trays when they're done.
To provide a consistent brand experience, you need to set a baseline standard across all areas of the business that customers will interact with, such as:
Visual identity
Brand voice and tone
Product quality
Sales process
Support response time
Then, give employees tools to help them meet those standards consistently. For example, a brand management platform helps companies create a consistent visual identity and brand voice by giving employees from all departments the ability to find, use, and create branded assets and materials. It gives them guidelines and templates so they can confidently create on-brand designs and materials without compromising your brand consistency.
Brand Differentiation Is Your Secret Weapon for Attracting & Retaining Customers
Brand differentiation offers real business benefits that can impact your bottom line. You'll see lower customer acquisition costs because more people are aware of your brand, thanks to stand-out marketing and recommendations from friends and family. You'll benefit from improved customer retention as your current customers feel loyal to your brand and would prefer to use your products over those of a competitor. And you'll see stronger brand recognition in the wider market.
So, the sooner you start investing in your brand and differentiating from your competitors, the better. Learn more about how brand differentiation can be your biggest competitive advantage. Download our guide now.
Oskar Duberg
Senior Brand Content Specialist