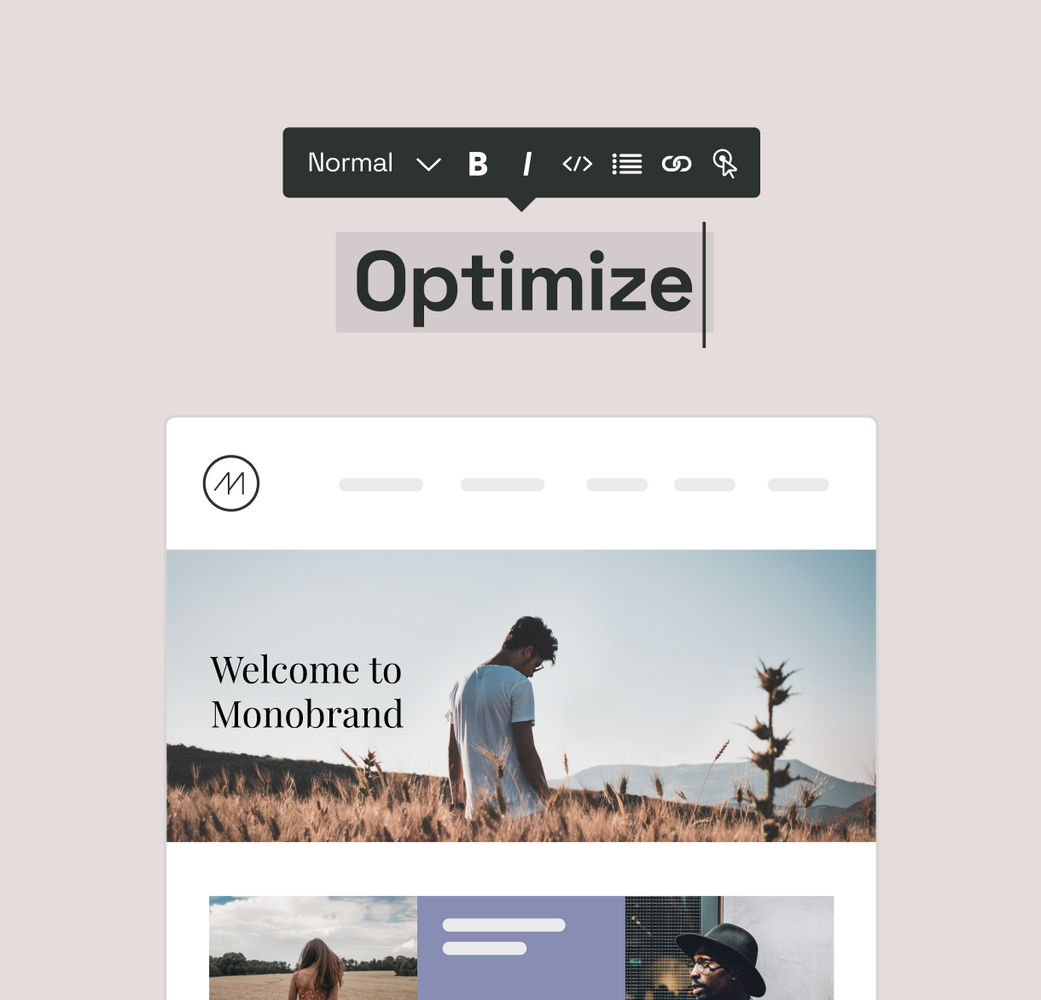 How to optimize your brand portal
Businesses that want to grow need a brand portal — an online space to organize, secure, and share brand guidelines and assets with employees. To help you evaluate and future-proof your brand portal, we developed an overview and a survey that shine a light on the critical elements of such a brand space.
A brand portal that helps brands scale in an ever-changing environment needs to simplify workflows, encourage collaboration, and improve efficiency. Sounds like quite a complex endeavor. But it all comes down to four pillars that ensure your brand portal boosts engagement: accessibility, security, compatibility, and analytics.
Usability: Finding and sharing assets
Using on-brand assets makes a huge difference to your brand equity. But hunting down the latest images and the correct logo can be time-consuming and frustrating. More often than not, people will speed things up by using something that looks "good enough" but may not be on-brand.
Wasting time finding the right assets and redoing projects lowers morale and hurts your bottom line. That's where a brand portal comes in: The portal provides everyone with access to images, logos, and files. An intuitive interface helps users upload, manage, and find relevant assets in no time.
Security: Protecting your brand
Safeguarding your brand guidelines and assets is critical to maintaining your competitive edge in the market. Unfortunately, many brand portals struggle in the security department: Either everyone has access to everything in the cloud or assets are stored on individual hard drives, causing confusion and leaving your business vulnerable to loss, damage, or theft.
When considering the security component of your current brand portal, make sure you can easily and instantly control the different access levels for internal and external collaborators.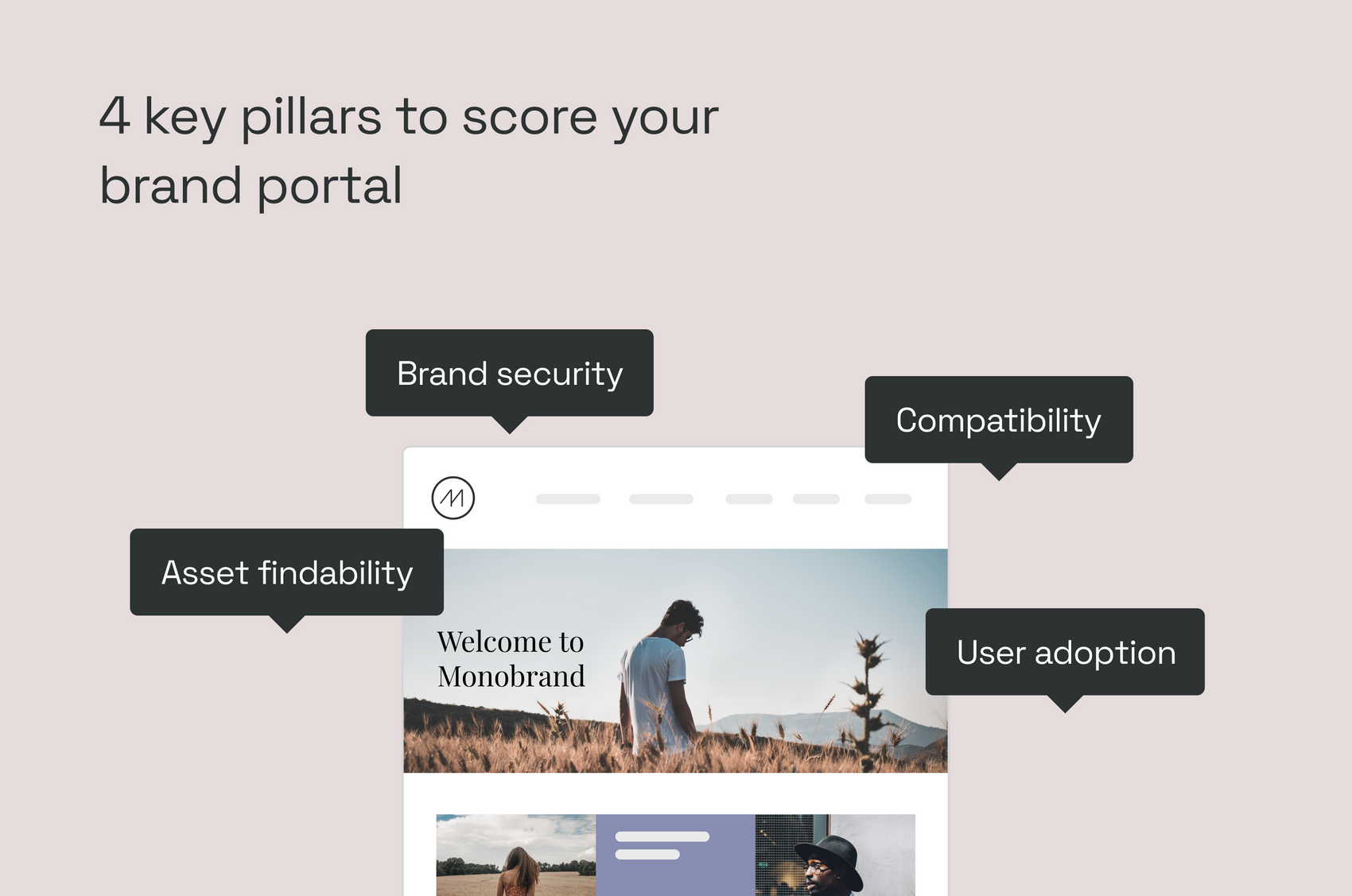 Compatibility: Connecting with other software
Not all technology plays nicely together. But since your brand portal houses assets and guidelines that are tied directly to most of your departments — from creative to sales to HR — the system needs to get along with the apps, platforms, and tools your teams use daily.
So, when assessing your brand portal's compatibility, ensure it integrates with the apps and platforms your teams use. Ask about plug-and-plan options and how integrations are handled and kept up to date.
Analytics: Empowering users
Ultimately, it doesn't matter how great your brand portal is if no one actually uses it. The brand team will still spend most of their time answering questions and sharing assets. Creative teams will continue to flounder, not knowing which assets they should use in their projects. And your brand equity will take a hit because teams publish campaigns and content that don't match your brand identity.
Your brand portal can achieve its full potential only through its users: That's why you need to reliably track user adoption with built-in analytics. Focus groups and employee surveys can also help learn about users' challenges and opportunities.
Now it's your turn: Take our survey to evaluate your current brand portal — and find out more about how to optimize your system. If you can't see the questionnaire below, please refresh the page.
Optimizing your brand portal
While your final score can give you valuable insights into your brand portal, conducting a cost-benefit analysis is critical when making updates or adding new tools to your toolstack. In doing so, you may find it more efficient to migrate your brand assets and guidelines to a dedicated brand management solution like Frontify rather than cobbling software together.
How Frontify's brand management solutions optimize your brand portal
With Frontify's cloud-based environment and apps, you can put brand assets and guidelines right at your employees' fingertips, no matter where they are. Our intuitive interface makes organizing, searching, and sharing assets easy.
Our enterprise-grade security, access levels, and single sign-on authentication means you won't have to worry about the safety of your assets: Only those who should be able to see them will have access. Best yet, Frontify integrates with dozens of different solutions — from Figma and InDesign to AEM, Slack, Storybook, HubSpot, and Sharepoint — making it easy for your teams to collaborate and use the right assets in their projects.
Want to learn more about Frontify? Connect with our team.
Thomas Meichtry
Account Director, Global Strategic Accounts
Hayley Campbell
Branding Expert & Content Writer