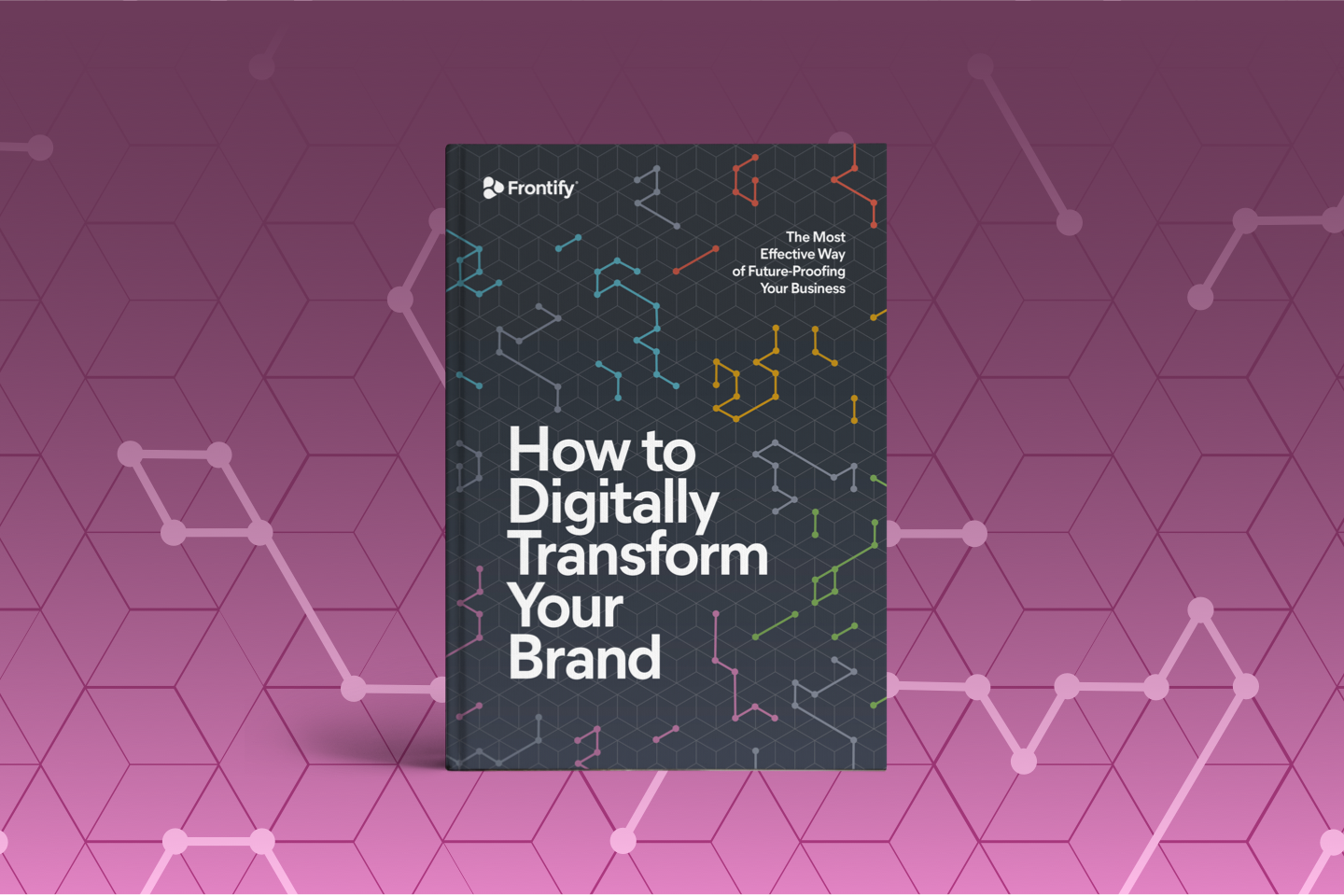 Digitalization: Managing Virtual Brand Teams
Whether you're fully remote or working with freelancers and satellite offices, you need an easy way to manage everyone and everything. We've got some ideas that might help.
When we think about digitizing our brands, we usually only think about the impact it has on our customers. However, as our teams spread out and work more remotely, it's also a change that impacts our ability to work. In a good way.
See, when we start working remotely, we're often faced with concerns about productivity, communication, collaboration, and brand management. But digitizing our brands (and our brand management process) actually makes it possible for us to work remotely without sacrificing any of those things.
Here, we'll unpack exactly how that works, and how you can capitalize on it to simplify brand management in today's work environment.
How Does Digital Transformation Impact Brand Teams, Today?
Digitizing your brand or undergoing a digital transformation has a lot of benefits for brand teams.
First and foremost, it makes it possible for disparate people and teams to work together seamlessly on brand related projects, regardless of where they're located on the planet. The reason for this is a digital transformation takes everything that would traditionally be a physical asset or process and turns it into a digital one that can be accessed and used from anywhere in the world, at any time of the day or night.
It moves communication from in-person conversations that would typically only happen in the office to video calls and chats. It moves collaboration from conference rooms to the cloud. It even takes document sharing to a new level: replacing old, slow, clunky processes with newer, more agile ones.
This enables your employees to stay aligned in their brand related work, ensuring that the integrity of your brand stays intact, even if people aren't able to meet and work together in person.
5 Tips to Simplify Brand Team Management
Regardless of whether you're managing satellite teams, dealing with a partially remote dynamic or have gone fully remote, keeping your employees connected can take a lot of work. So, here are five tips to make it go a lot smoother.
1. Automate Tasks
No one likes tedious tasks, and few actually have the time to do them. Unfortunately, that doesn't make them magically disappear. To keep your brand management process running smoothly, all of them have to get done.
Luckily, with Frontify you can completely automate quite a few of those tedious tasks.
For Marketers
Using the template feature, you can shave down the amount of time spent recreating campaigns and digital assets, by simply reusing previously created projects. For example, you can pull a full-fledged InDesign ad that your designers created for a Spring sale and swap out the text and image to make it a Summer ad. And any formatting that the designers "locked" will remain in place, ensuring that the ad isn't accidentally moved off-brand.
For Designers
You can also completely avoid the old "download, upload" process of moving assets from one tool to another, by exporting them directly. For instance, instead of downloading large design files from Sketch and waiting several minutes (or hours) for them to upload into your asset library, you can use a built in integration to push projects straight from Sketch into Frontify. You can even make edits to previously exported files in Sketch and have them update in Frontify with the push of a button.
For Developers
Frontify isn't just for designers and marketers, though. It can also streamline the tedious work that developers deal with, on a regular basis. One place you can see this is in the hand off between front end designers and back end developers. Using Frontify, developers can see approved designs without needing a brief or access to Sketch. They can simply view the asset under inspect mode and copy the code into their development project.
2. Prototype Assets
The last thing you want to do is invest time, money and energy into developing a website or app that doesn't look or work the way you want it to. But often, building a working prototype isn't a viable option, either. Not only does it require a lot of expensive tools, but it also pulls your designers and developers away from important work they're already doing.
Frontify solves both of these problems, by making it quick and easy to prototype projects, before they're actually developed, designed, and rolled out.
For instance, say that you're in the process of redesigning your website. Your web designers have mapped out the UI, but you want to see how it would actually work, before you hand it off to your back end developers. By plugging the designs into Frontify as image files and adding a few clickable elements, you can "navigate" the site as a rough version of the finished product. You can jump from the "homepage" to the "contact page" by clicking the "CTA" and work your way around the site.
And if you're happy with the way it looks and feels, you can loop in your developer to get them up to speed. Then, they can pull the code directly from the design files that were exported to Frontify from Sketch, InDesign, Adobe XD, or Figma. It's really that easy.
The best part is, there's no need for anyone to purchase or learn tools that they will rarely use again.
3. Clean Up Workflows
Sometimes, despite our best efforts, processes get clunky. Feedback loops take a lot longer than they should. Approval processes get cumbersome and require lots of tedious work. And projects slow to a crawl, as miscommunication abounds as to who is supposed to do what and when.
This can be compounded, when your employees work in separate spaces, as people turn to messaging apps, email, and sporadic video conferences to connect and clear things up. However, you can take care of the messiness really quickly, by simply introducing Frontify into the workflow.
In fact, you can use Frontify's workflow feature to create a better workflow. You can create a project and add it to a built in Kanban board. You can add people to the project and assign them tasks. You can approve steps directly in the platform. And you can notify employees when it's time for them to take care of their part of the project.
Employees aren't completely left in the dark, while they're waiting though. Anyone with access to the project can check in on the status of the project, any time they want.
4. Centralize Your Brand Assets
It's one thing to have people unsure about where to find assets and how to use them when you're in the same office space. But when you're located 30-45 minutes apart (or more), it's even more challenging.
Employees end up flooding your inbox asking for copies of logos. They ping your Slack channel for information on messaging guidelines. And sometimes, they just use the outdated versions of core brand assets that are saved on their laptop. All in all, not good.
There is one really easy way to deal with all of this, though. You just centralize your brand assets in Frontify's asset libraries. With Frontify, you can keep everything stored neatly in one place and tag all of your assets to make them easily searchable. You can decide how you want them organized and who has access to what too. There's no set system in place.
And if you're worried that a team or individual will make changes to assets without permission, you can set controls to limit editability. That way, you don't have to check in on projects regularly or micromanage certain people. You have parameters in place to ensure that nothing is modified, if you don't want it to be.
Regardless of your needs and team dynamic, storing all of your assets in Frontify will enable you to cut down on the emails and Slack messages you get on a weekly basis. Everything can be found in the platform, and all questions can be answered there too.
5. Simplify Communication
Obviously, when you're working from multiple locations, communication is key. Figuring out exactly how to communicate with your teams can be tricky, though, especially if your teams already rely on different tools.
Fortunately, Frontify enables you to centralize a good amount of your communication. For instance, you can set up notifications to get updated any time you're mentioned in the comments of a project you're working on. You can also integrate Frontify with Slack and respond directly to messages from there. Any and all comments made in Slack will integrate back into Frontify, to create a single thread in both places – meaning you won't have to log into Frontify each time someone says something.
Beyond being a designated tool for communication, Frontify also makes it easy to share information with your teams in clear, transparent ways.
One way you can do this is by targeting assets, so they can only be seen by specific people or teams. For example, you might give your designers exclusive access to color swatches, while the rest of your company is only given access to the finished logo assets. And you might give internal teams complete access to your core messaging, while restricting the viewing privileges of external partners to a limited selection of your messaging. You may even give certain people (like freelancers) temporary access to your assets – so they can complete a project for you.
Regardless of what your needs are, you can control access to your assets down to the content block level, ensuring that key brand information reaches the right people.
Conclusion:
Managing brand teams is tough, especially if you're supervising people in any sort of remote capacity. But by moving your processes and assets into the cloud, you can make it a whole lot simpler.
Hayley Campbell
Branding Expert & Content Writer
Oskar Duberg
Senior Brand Content Specialist